With the advances that have been made in technology in the past few years, watching porn online is no longer the only option. With the introduction of interactive sex toys, you can immerse yourself in the action on your screen and have an even more intense experience.
This review takes a look at one of the sites that offer interactive porn videos to determine if it is worth the hype.
➡️ Click here to learn more about FeelXVideos and get 50% OFF your 1st month!
What is it?
FeelXVideos is a site that comprises of interactive porn videos which you can sync to a compatible teledildonic device. Launched in 2015, FeelXVideos is under the ownership of the DatoroMedia BV, a Dutch company. The site features a massive collection of interactive video, and new content is uploaded every week.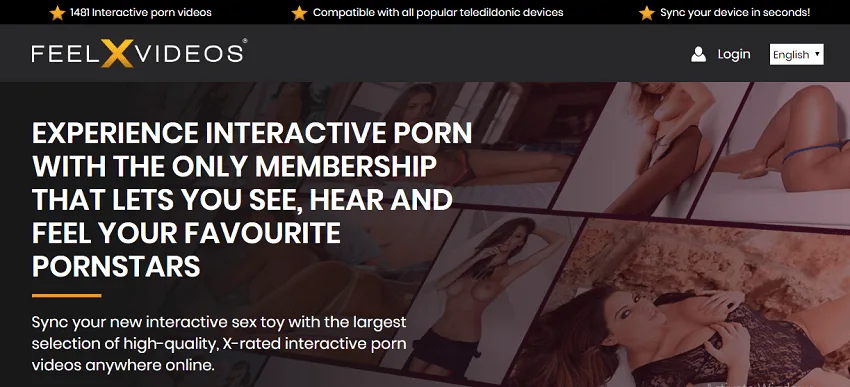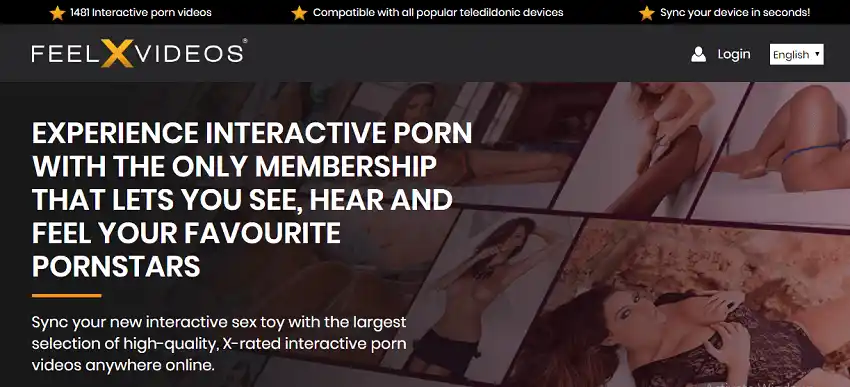 Features
Over 1,000 exclusive videos
FeelXVideos features a massive library of porn scenes that continues to grow. All the videos are full length, allowing you to fully enjoy the various storylines.
5 to 10 new videos weekly
There are 5-10 videos added to the already massive video collection on FeelXVideos weekly. As a result, you will never run out of content to discover and explore on the site.
1080p video quality
FeelXVideos offers 2D video content in 1080p high-resolution quality.
Support for Kiiroo
The site is compatible with interactive sex toys that are based on the Kiiroo technology, like the Onyx1, Onyx2, and the Fleshlight Launch.
Well-known adult performers
FeelXVideos features well-known porn stars that have proven popular with most male audiences.
Interactive videos
The videos on FeelXVideos are interactive, which means that you can connect a compatible sex toy and fully immerse yourself in the videos. These toys are synced to the actions of the performer you are watching.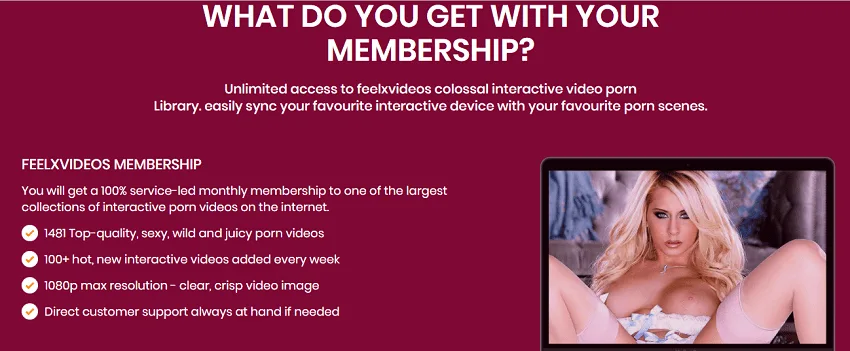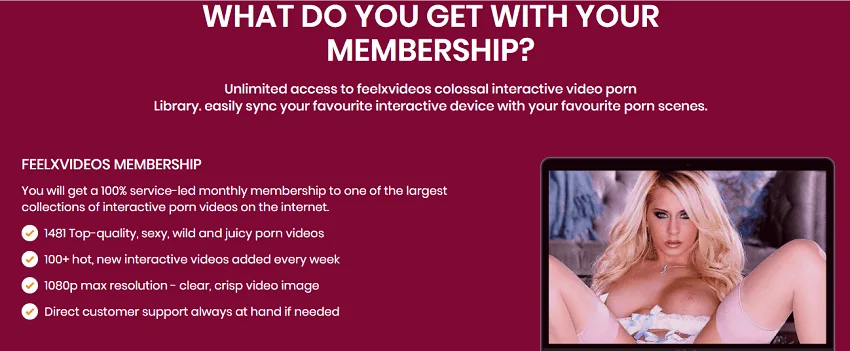 How does it work?
FeelXVideos is not too different from other porn sites out there – when you log in, you will be presented with the member's landing page that contains thumbnails of scenes featured on the site from a handful of categories.
As a member, you have unlimited access to exclusive content, interaction with your favorite pornstars, weekly updates, ad-free viewing, and ability to view on any of your devices. To use FeelXVideos, register an account, select an offer, and then connect a compatible interactive sex toy.
If you are looking for an interactive scene, you will want to search based on category, or if you want to browse more, scroll through the "most popular" or "latest" videos. If you know exactly what you are looking for, type in the keywords in the search bar.
However, scene categorization is not too accurate, and some of the search results you receive may be irrelevant. Consequently, even if you search or opt to use the category options, you might end up with results you didn't expect.
Therefore, you might want to try searching for the performer names instead for more accurate results.
Each video on the site taps out at a quality of 1080p. Although this is quite impressive, many other porn sites offer a minimum of 4K. If the quality is a turn off for you, you might want to try watching on a 4K monitor.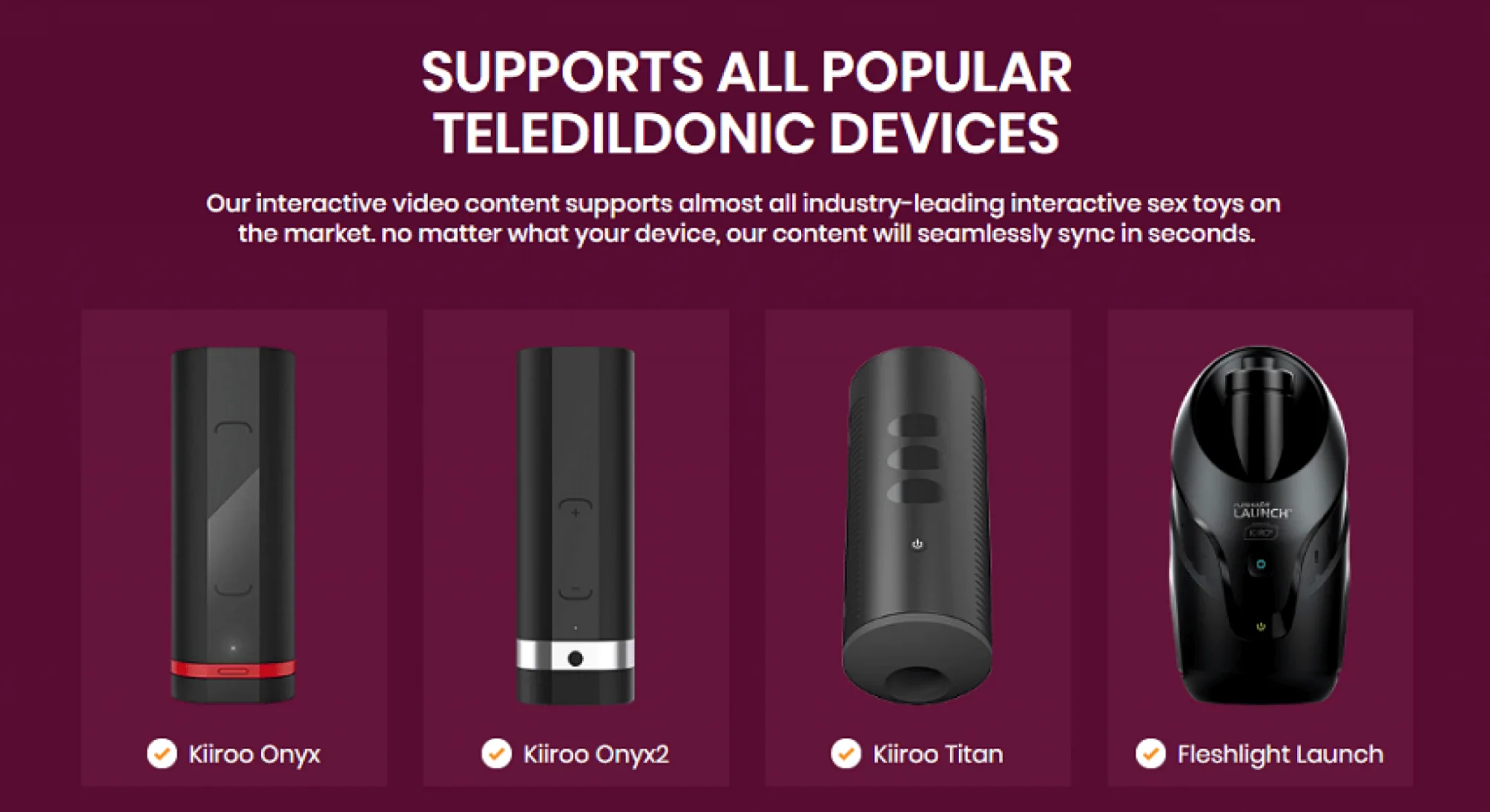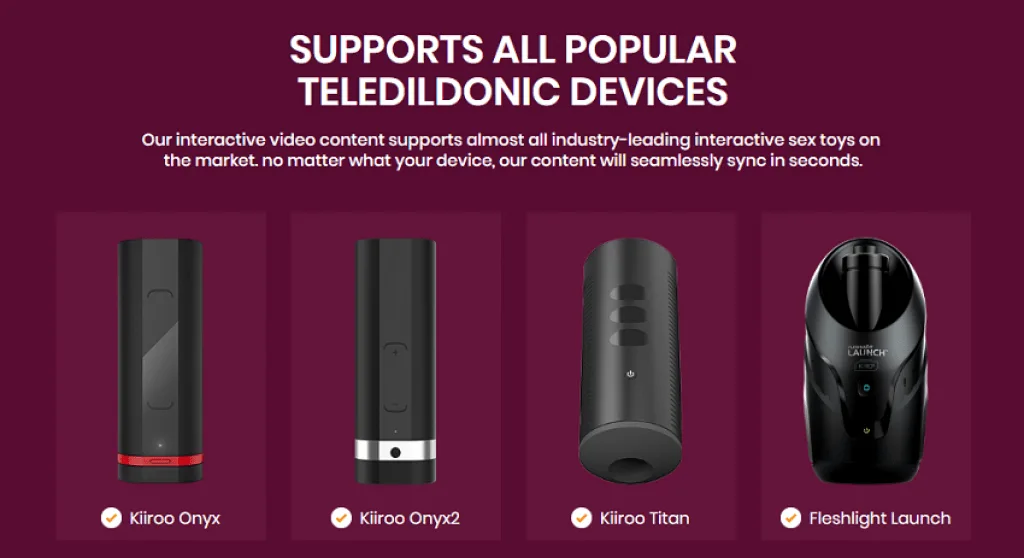 When it comes to sex toy compatibility, FeelXVideos supports all toys based on the Kiiro technology, including:
Kiiroo Fleshlight Launch
This is an automated male masturbation device that features a space where you can mount your fleshlight into and consequently sync to a porn scene on FeelXVideos. When you use it on manual mode, you will be able to control the length and speed of your strokes.
On the other hand, if you use it on interactive mode, you get to fully immerse yourself in interactive porn content.
Kiiroo Onyx2
The Kiiroo Onyx 2 is a lightweight interactive male masturbator that delivers massage-like sensations to the penis. It is lined with a skin-like fleshlight sleeve and is designed to increase your stamina and endurance to allow for a more pleasurable orgasm.
The Onyx2 effortlessly syncs with the interactive videos that you will find on FeelXVideos, allowing for an almost realistic sexual experience.
Kiiroo Titan
This is an interactive sex toy that incorporates touch-sensitive vibration technology in its design, making it an ideal sex toy for men that favor deep penetration combined with vibrating, stroking motions.
The Titan is great for maximizing endurance and increasing stamina, allowing you to build up to a mind-blowing orgasm. Since you can sync it with FeelXVideos, the Titan allows for an immersive sexual experience.
Other interactive toys that are compatible with FeelXVideos include Kiiroo Onyx1, OhMiBod Fuse, and Kiiroo Pearl and Pearl 2.
Here are the steps to follow to connect your toy interactive toy with FeelXVideos:
Download the FeelConnect app and install it on your device. You will find in the App Store on iPhone and on Google Store on Android phones.
Before opening the FeelConnect app, ensure that your Bluetooth is turned on. Go to the menu bar of the app and click on "connect a device"
From the list of Bluetooth devices you will see in the app, select your sex toy and click "add selected devices"
To confirm that your device is functioning properly, slide the slider to the right. When you see the "test" option, click on it.
Click on the side menu to open it and then select "add a website"
The app will require that you permit camera access. When you click allow, a QR code scanner will open. When you scan this QR code on the FeelXVideos website, the FeelMeNetwork will pop up on your list of websites. Your interactive toy will then be connected to FeelXVideos.
Once you do this, you won't have to scan the QR code again. To get connected, open the FeelConnect app and turn on FeelXVideos by pressing the turn on/off button in "devices", and then press the turn off/on button in "devices" to connect your device as well.
There are over 1000 videos that are compatible with interactive sex toys, and there are 5-10 new videos added every week.
You can only view these videos online, which means that you will need a fast and reliable internet connection to be able to stream content smoothly. You can watch the content on your smartphone, tablet, or desktop.
FeelXVideos features an indicator that you will find on the top right corner of the screen that stays green or red depending on whether you have managed to connect your device.
If your device fails to connect, try to see if you can connect it to the FeelConnect on your phone. Ensure that the Bluetooth on your device is turned on. If you still encounter problems, contact the FeelXVideos support team for further help.
To view the details of your account, click on the profile icon that you will find on the top right of the FeelXVideos site and select the "account' option. There, you can manage your account, profiles, and watch history.
You can also add several devices using the site and view what is connected on the account detail page.
User experience
There is a wide variety of interactive porn offered on FeelXVideos, with their library including popular porn categories such as lesbian, threesome, MILF, anal, Asian, teens, stepmom, and stepsister among others.
All the content that I came across on the site worked with my smart sex toy, which was refreshing to see especially since some other similar sites only have a handful of interactive videos.
In my testing, I didn't experience any lag issues or drop-outs. Unlike with other sites where you would click the back button and your toy would continue with the synced content that you just closed, the synchronization with FeelXVideos responded quickly.
I also didn't have to worry about the mood-killing delays that often occur as you are forced to wait for your device to be in sync with the navigation on-screen.
Pricing
As a member of FeelXVideos, you are required to pay a monthly fee of $34.95. For the first month of your subscription, you are given a 50% discount, which means that you can get access to all the content on FeelXVideos for 30 days at $17.50. You can make payments via PayPal, epoch, or credit card.
If you make the first verification transaction of $0.01 via PayPal or credit card, your PayPal account, bank account number, or credit card number will be submitted to FeelXVideos.
You will then be required to authorize the site to deduct $34.95 monthly from your PayPal account or credit card after the trial period expires.
After the trial period, your subscription to FeelXVideos will be automatically extended. You won't have to attach anything, and you can cancel your subscription at any time. If you decide to cancel within the trial period, there will be no charges to your account.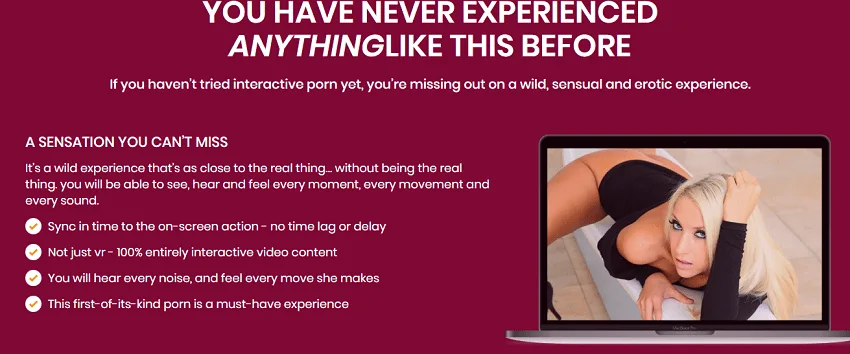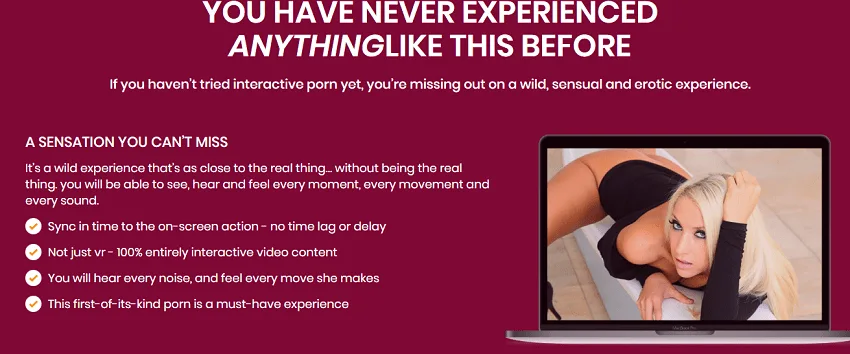 Pros
A large library of porn videos
FeelXVideos has an impressive collection of porn videos, with categories such as anal, lesbian, threesome, oral, and teen, to mention a few. There are over 1,000 interactive porn videos to choose from.
An interactive porn selection
The videos that are featured on FeelXVideos are interactive, most of which are shot in POV format. This makes it feel like you are having sex with your favorite porn actor.
A user interface that is easy to navigate
The FeelXVideos user interface is intuitive and easy to use even as a first-timer. Once you set up an account, you can have your interactive sex toy connected to the app within minutes and start enjoying the various interactive scenes.
No pairing/disconnection issues
You can connect your interactive sex toy with FeelXVideos within minutes, and as long as you have a reliable internet connection, you won't have to worry about disconnection or your toy falling out of sync.
Every week, five to ten videos are added to FeelXVideos. This means that you will always have something new to discover and enjoy on the site.
Popular porn stars featured
The scenes that you will find on FeelXVideos feature a wide variety of well-known porn stars, with some of the familiar names including Jessica Drake, Lisa Ann, Tanya Tate, Jasmine Jae, Asa Akira, and Bobbi Eden.
Compatible with high-quality male masturbators
To maximize your experience using FeelXVideos, pair your interactive sex toy with one of the numerous interactive porn videos. An interactive sex toy seamlessly syncs with the videos so that when the actor on your screen moves, it vibrates and stimulates your member in response.
Your privacy is not compromised
You don't have to worry about someone discovering your purchase unless you want them to thanks to the discreet billing.
Cons
Inaccurate search results
When you try to search by typing keywords into the search bar or by category, you don't always get accurate results which can be a bit frustrating. You might be forced to use performer names instead, which can be an inconvenience to those who are not too familiar with the porn stars.
Relatively low video quality
Each video on FeelXVideos tops out at 1080p. Although this might seem impressive to some, many similar sites offer videos that are at least 4K.
Despite offering a wide variety of videos, you cannot download them. When your subscription times out, you will not have access to the videos anymore.
Lack of choice in terms of membership
Unlike with most other premium porn sites where you can save a considerable amount of money by opting to sign up for an annual membership, FeelXVideos only offers a monthly membership option for users.
Considering that you will have to pay a monthly fee of $34.95 after the first month, this is somewhat expensive especially if you don't use the site daily.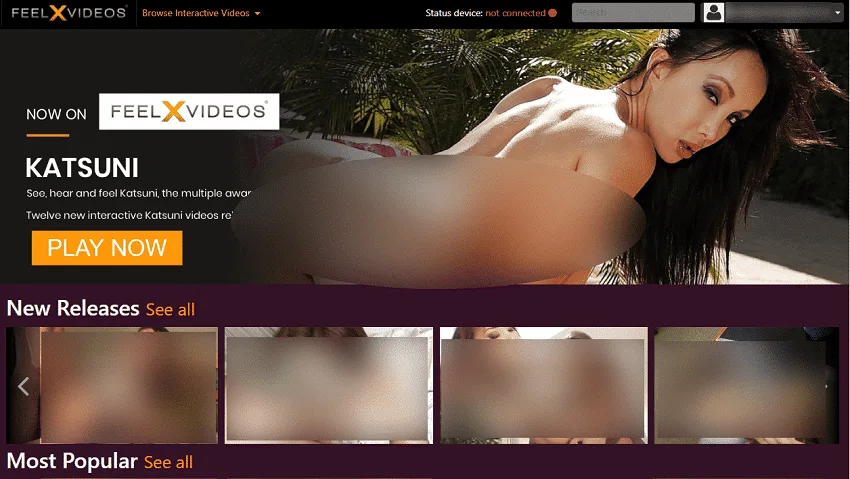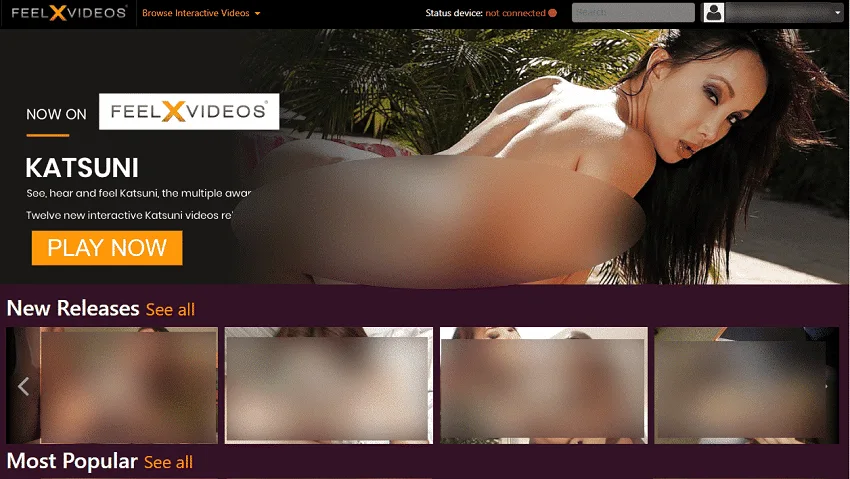 Verdict
FeelXVideos offers a varied expansive library of interactive porn videos that work with several compatible devices.
Despite some downsides such as the lack of higher resolution videos and lack of choice when it comes to membership, the many benefits of the site outweigh them, making it worth a try, even if it is only for the discounted first month.
➡️ Click here to learn more about FeelXVideos and get 50% OFF your 1st month!