Long before COVID-19 reared its infectious head, the writing was on the wall that in-person retail shopping was, for the most part, on the way out.
And nowhere is this more evident than when what's bought is of a, shall I say, a sexual nature as a significant number of people remain too shy to do this kind of shopping in person.
In response, we've seen an explosion of online retailers specializing in putting as many intimate products into your eager hands as you can handle—all without needing to step outside the safety and comfort of your home.
The thing is, these new shopping sites aren't created equal, with their quality of products and customer service varying wildly from one to another, which frequently leaves potential customers concerned they either they won't get what they ordered, or if they paid far more than they should have.
And one of the biggest of these sites is Ella Paradis, a one-stop-shop for all kinds of sensual, sexual, and practically every other type of pleasurable product available.
So let's take a look at Ella Paradis and, after weighing its good points versus its bad ones, if it's an online retailer worth your erotic purchasing dollars.
What Is Ella Paradis?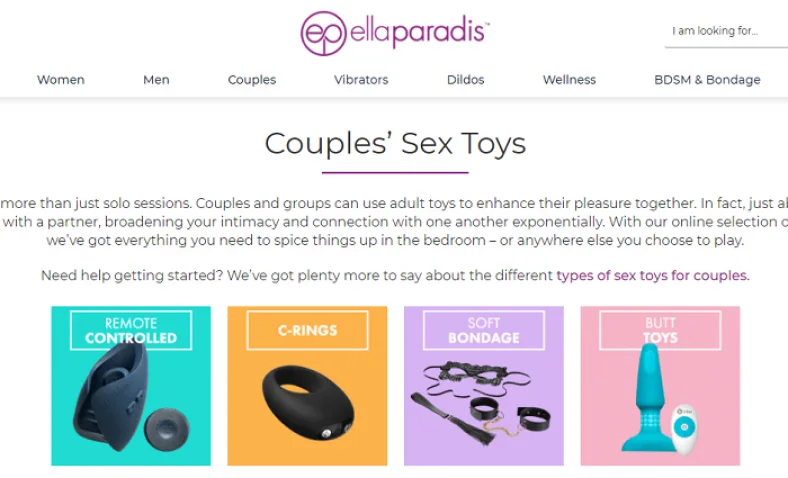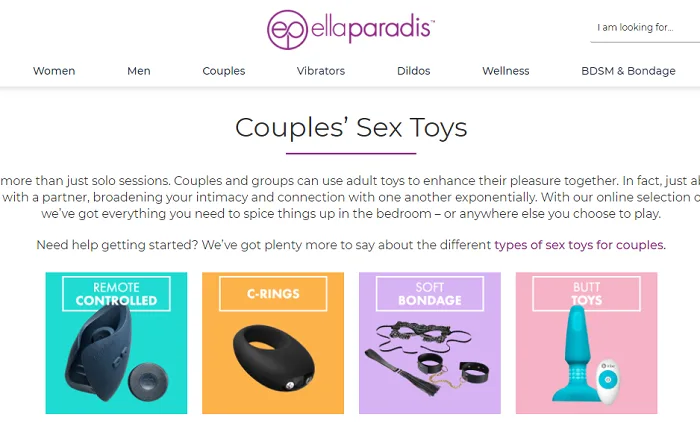 Headquartered in Miami, Florida, Ella Paradis was founded in 2015 with a mission, as they put it on their site, to "deliver a great experience overall by making pleasure accessible to everyone with quality products at affordable prices."
If you're puzzled by the company's name, they enlighten us by explaining that "Ella was the most popular name for girls. Paradis is a homage to the most romantic city in the world, Paris."
That, I guess, kind of makes sense. Putting aside their somewhat odd name, Ella Paradis certainly seems to be trying to live up to their mission by establishing an online retail outlet that seems to offer nearly anything a person might desire—and stuff that's not immediately sexual, either.
What Ella Paradis Sells
Visiting the Ella Paradis site, you'll immediately be aware of their scope through their sections, which begins with Sex Toys and then breaks those down by gender and then couples, followed by toy-type specifics like Vibrators and Dildos, broader subjects like Wellness and—for the kinky folx in the audience—BDSM & Bondage, before ending with a Brands breakdown.
If you're non-binary or considerably more up to date regarding what sextoys are out there right now, you know that this breakdown of products and possible customers' gender and relationship statuses is woefully out of date.
This is, after all, 2021, and seeing a site that hasn't gotten the memo that gender is a spectrum, in addition to not including toys that don't fit into dildos or vibrators, is pretty jarring.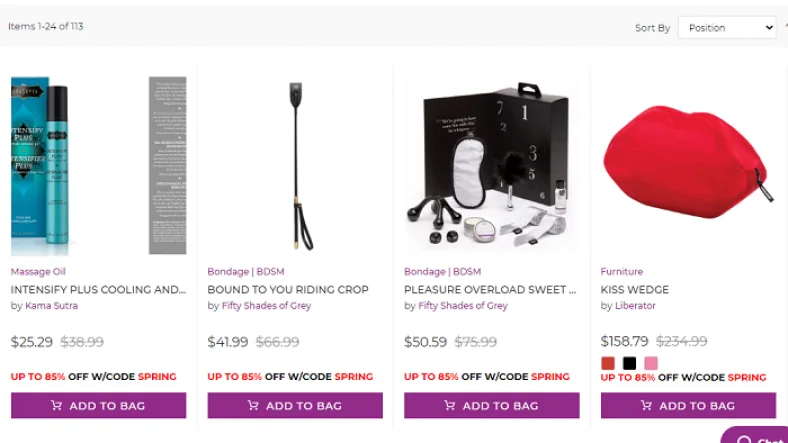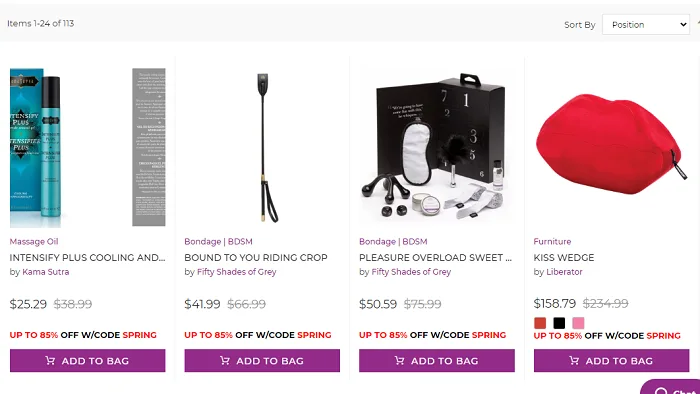 On the positive side of things, what they sell under these sections seems to be pretty comprehensive and nicely broken down into much more informative sub-sections.
They also have informative articles on everything from "15 Health Benefits of Masturbation That You Need To Know" to "How to Have Sex When Your Partner Is Trans"—with that last one showing that they aren't entirely behind the times.
They know nothing about safe and responsible BDSM
However, as someone with 30+ years of experience in the BDSM community, I can't let it slide that far too much of what they're selling in their BDSM & Bondage section … well, it's crap.
And not merely because most of it's poorly made, which a lot most assuredly is, but that a lot of their products are also inherently dangerous.
Case in point that they sell handcuffs, which are well known for causing extremely serious injuries. So severe have people been hurt by them, I'd go so far as to say that any site that sells them should automatically be banned from offering anything BDSM-related.
Another strike against them is that they have the gall to have a sub-section offering Fifty Shades Of Grey marketed products, as that book (what us BDSM people call it) has absolutely nothing to do with the safe and responsible play—and everything to do with emotional and sexual abuse and techniques that, if followed by the ill-informed, would result in disaster.
Ordering From Ella Paradis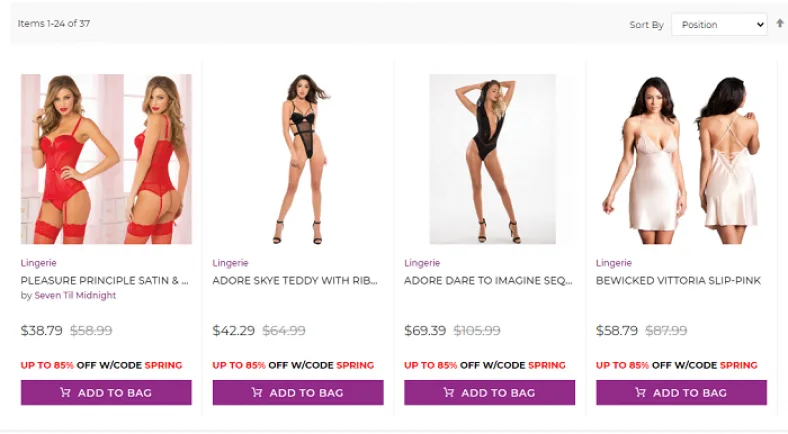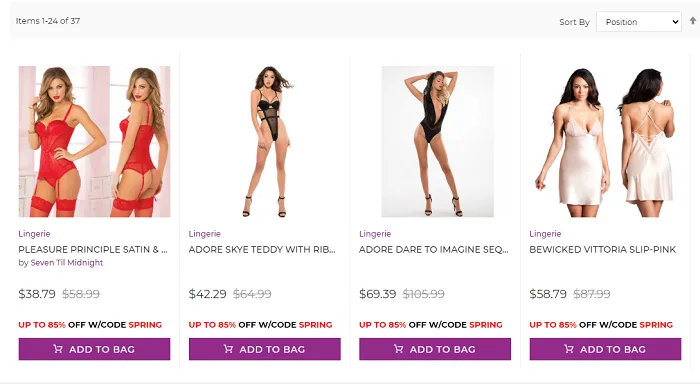 Here I have to give them brownie points, as they tick every box in "what most everyone wants" when it comes to online shopping.
Off the bat, each product's page has hyperlinks to its section and manufacturer, the price versus Ella Paradis's discounted one, if there are customer reviews for it, and more information that should answer any question anyone might have about this or that item.
Ella Paradis also has a points system, with how many you get from each purchase noted on a product's page as well—with customers receiving a bonus number of them if they register.
Another plus in their column is that you aren't required to register to make a purchase, unlike other sites that can make customers feel like they're opening themselves up for unwanted and annoying spam messages when they do register.
They'll include a gift card if your order is over a set amount, as well. Regarding pricing, they are very upfront that they offer a price matching guarantee—that's a rather nice feature when considering how expensive sextoys often are.
Paying for your Ella Paradis order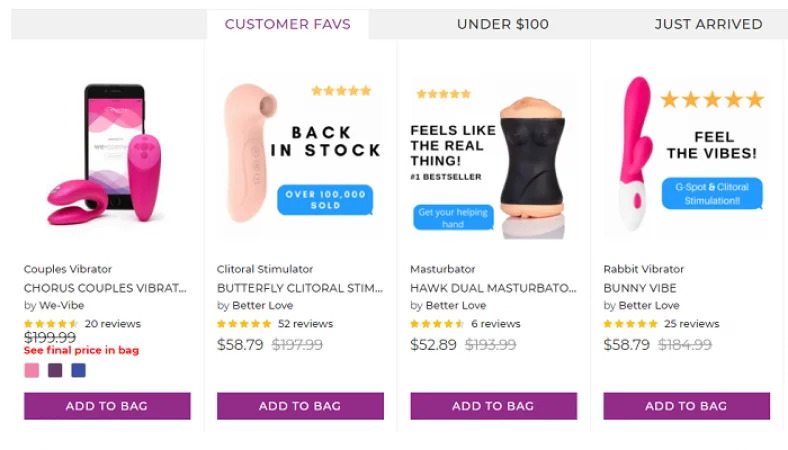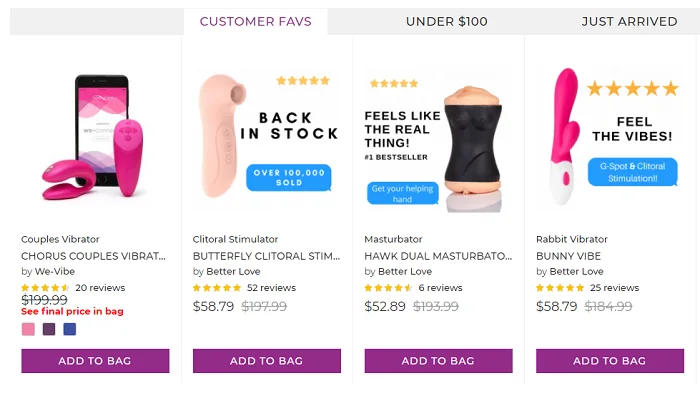 Another plus in their favor, Ella Paradis, allows for an impressive number of ways to pay for your order, starting with all major credit cards including Amex and Discover.
If you use PayPal, they've got you covered, or if you're an Amazon person, you can one-click use that account to pay for your Ella Paradis order.
And if you're spending more than your bank balance can swing, through Quadpay, you have the option to set up payment plans—though with more than likely a pretty hefty fee or interest rate attached.
What About Shipping?
Here Ella Paradis gets a tick in that other column: the not-so-good one, as shipping is not automatically calculated until you're ready to pay—which makes it hard to figure out what you're going to end up spending.
Though after you have clicked on your payment preference, you have three options: no cost shipping if you can handle getting your order in five to eight days, with pay shipping starting at three to five days to get your stuff, then a rush which will put your sextoys or whatever else you want in your hands in anywhere from two to three days. There's also an option to receive their protection plan against damage or theft for an additional fee.
These, of course, are all based on orders in the continental United States, so if you happen to live in Alaska or Hawaii, you're going to have to cough up more to receive your order—to the tune of a lot.
On Ella Paradis's Customer Service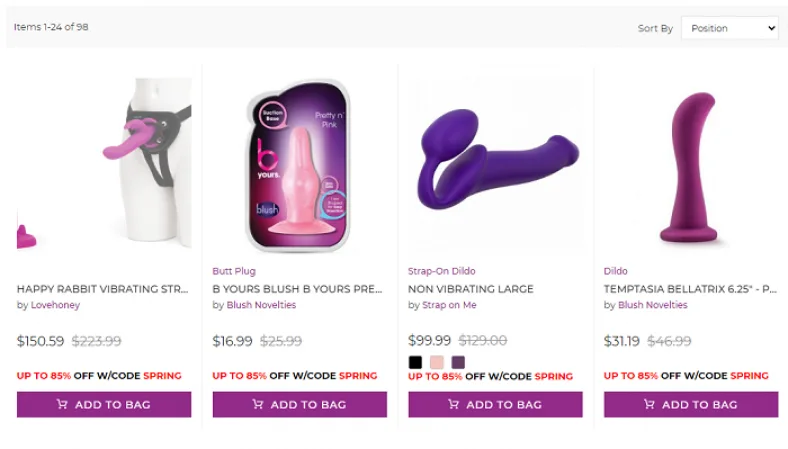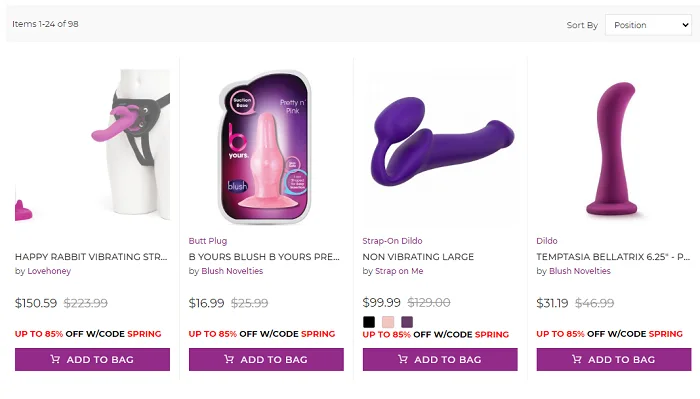 Unfortunately, while they provide ways to get information on your order, including canceling it and a form to fill out that's emailed to them, Ella Paradis doesn't offer anything like live chat customer service.
Or even, to my aggravation, a phone number to call. Before you ask, no, I don't consider that as perhaps too much to hope for, as this is, after all, a US-based company that appears to be focused predominantly on serving that country, it shouldn't be all that difficult to provide a way to talk to someone.
What Other People Are Saying About Ella Paradis
Am I alone in my thoughts regarding this company? After visiting Trustpilot's page, I was surprised to find out that, if anything, people have less positive things to say about Ella Paradis than I ever could.
What's worse, 94% of the opinions were at the bottom, solidly pegged at bad, with only 6% giving their experience with Ella Paradis an average rating.
And take a look at what they are saying, with subject lines like: "yet, still in business… how??" and the utterly alarming "Terrible customer service and scam…"
I could go on, and if you're considering purchasing anything from Ella Paradis, I heartily encourage you to look at these and similar reviews before you do, as it's evident this is a company that seriously needs to improve on its not-so-great reputation.
Pros Of Ordering From Ella Paradis:
Has an adequate number of items for sale
Offers a respectful range of products
Takes all major credit cards, PayPal, and an option to pay-by-Amazon
Price matching guarantee
Cons Of Ordering From Ella Paradis:
Abysmal rating on Trustpilot
Is woefully ignorant regarding what is and isn't safe BDSM equipment
Product categories are not gender or orientation inclusive
Shipping costs outside the US are far too pricy
Poor customer service
The verdict
Putting aside my somewhat strident criticism of their … shall we say severe lack of understanding what BDSM is and isn't about, the bottom line is if Ella Paradis is a place where you should purchase sextoys, lubes, and various accessories?
And where I, your humble reviewer, find myself falling back on that tried and true cop-out that it depends.
As in if you're looking for kink gear, then I say look elsewhere, so too if you're living anywhere beyond the borders of the continental United States–unless Ella Paradis is selling something you totally, completely, 100% can't find elsewhere and you're willing to pay for the shipping to get it into your hot, little hands.
There's also the question of customer service and how Ella Paradis doesn't have the most stellar of reviews on Trustpilot. Here's the thing, though, and trying very hard not to besmirch that site's integrity, but that's one site that has only a relatively small number of comments.
So there's a reasonable chance that there are all kinds of first-time buyers out there who had such a good time they've since become regular and loyal, customers.
So, yeah, I have to say that you should consider all this before clicking on any of those Ella Paradis ADD TO CART buttons, and if you do decide to try them out, please share your experiences with the rest of us.