Kiiroo is famous for their high-fidelity line of FeelStars strokers.
These advanced pocket pussies, using a similar basic design to rival Fleshlight, are among the highest technology strokers on the market.
With FeelStars, each cup begins with a vulva based closely on the genitalia of a real porn star, and an interior designed to that star's specifications, with her direct input.
The trademark design sense of Kiiroo's sex toy builders shows through in these toys as well, as each of them is jam-packed with ridge lines, edges, and nodules and bumps to bump up your pleasure game.
We tried out the Feel strokers of each of these stars. How do each of them stack up?
Are they better than the original FeelStroker? How do they actually compare to their originals?
Are they worth getting? Or are they simply toys?
And of this exceptional series of strokers, which one stands above the rest?
All the information you need to sort out the different FeelStars strokers is right here.
With each of them modeled after a real celebrity porn star's vagina or lips, your FeelStars stroker is the closest thing you can get to with having sex with these beautiful women.
What They All Have in Common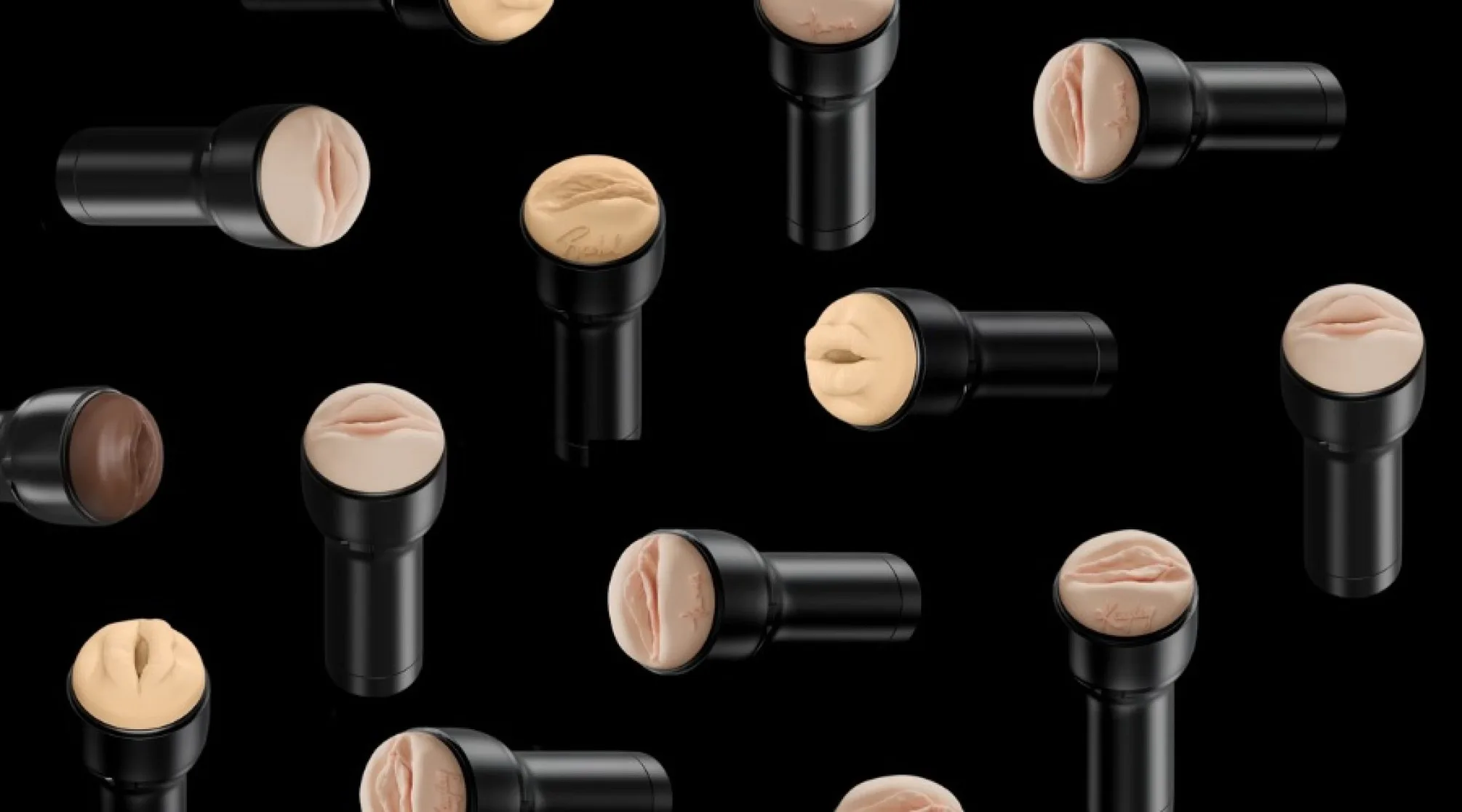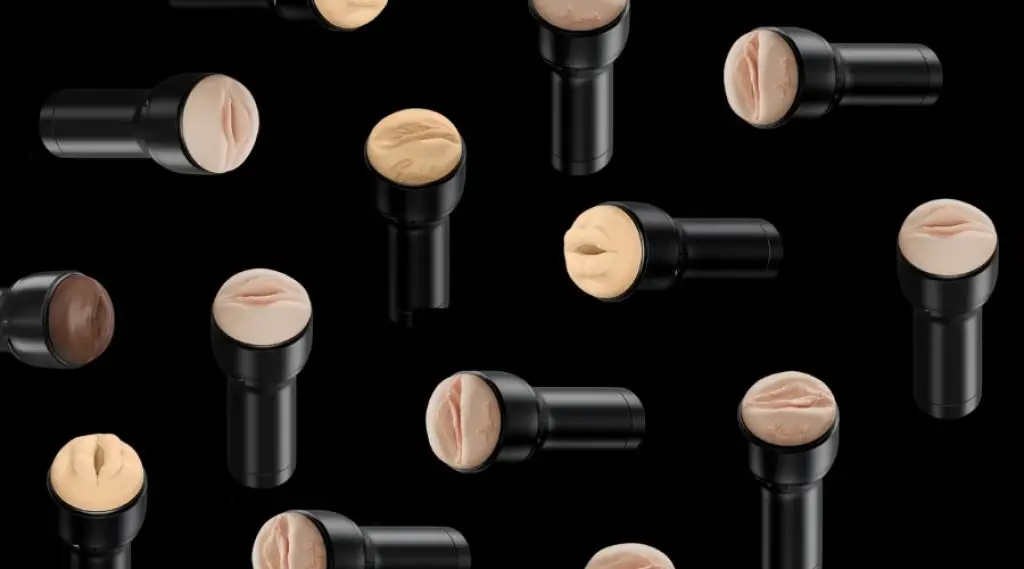 In common to all of the FeelStars strokers are their construction. The FeelStars series are notable for using a proprietary thermoplastic elastomer material that is particularly stretchy and resilient.
This is one of Kiiroo's selling point contrasts against competitor Fleshlight, which uses a more traditional silicone material.
Compared to Fleshlight's silicone, the TPE (known as "RealFeel" by Kiiroo) material is pretty amazing stuff, giving you a more realistic feeling and better warmth retention if you start it up by bathing it in warm water to bring it up to body temperature before you start going ahead and sticking body parts inside of it.
All but one of the FeelStars toys has a sculpted inner space with multiple chambers, giving you a distinctive experience that doesn't necessarily feel realistic, but is definitely uniquely pleasurable and a trademark of the FeelStars line.
Kiiroo has put a lot of research into these devices, and the way they make it difficult to hold back an orgasm is a selling point of sorts.
If you can't hold out very long, they offer a series of "Stamina Training Program" videos that you can synchronize your stroking to, and they will help you learn to draw out your pleasure.
Ahead are a set of stroker tubes that are based on some of the most distinctive porn stars working today: Kayley Gunner, Reagan Foxx, Skyler Lo, Rachel Starr, Rae Lil Black, Reya Sunshine, Tanya Tate, Victoria June, and Ashley Barbie.
Kayley Gunner is a Machine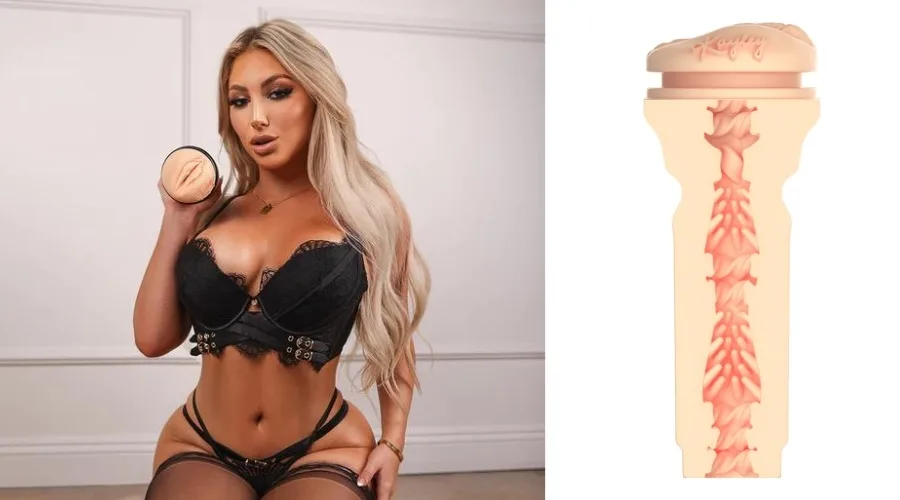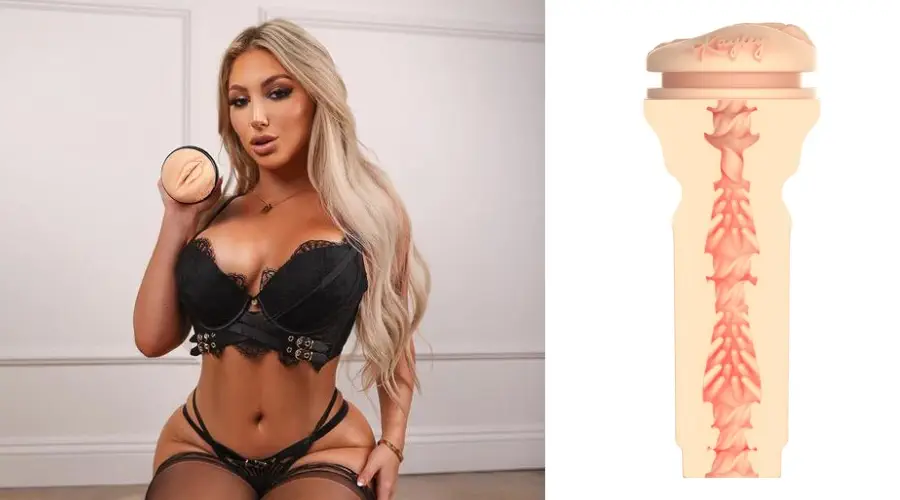 Emerging out of the world of X-rated cosplay, American bombshell Kayley Gunner, whose stage name is a reference to the fact that she's a former machine gunner in the United States Army, is one of the hottest young porn stars out there.
Kayley Gunner, by her own story, got out of the military and started looking for a job where she could control everything about her employment, and found it in cam porn and eventually OnlyFans.
With a compelling storyline and a contract with Brazzers, Kayley Gunner also is one of the best FeelStars in Kiiroo's stable.
Her namesake and modeled Kiiroo FeelStars stroker is a tremendously popular option for the pleasure of masturbation.
FeelKayley's three chambers contain twisting tongue-like nodules.
The length of 8.6 inches should be enough for almost any user, and with the endorsement of one of the most popular stars on OnlyFans today, it's one of the best in the line, with a very lifelike and lively inner body.
FeelKayley's interior chambers have soft edges, giving her a more natural feeling. The TPE material her toy is made of is the absolute latest generation of that material from Kiiroo.
The Keon toy has a special Stamina Training Program that interacts with FeelKayley.
In fact, FeelKayley was the first toy in the Kiiroo FeelStars line that was specifically designed for the Stamina Training Program, a series of interactive porn games designed to help you last longer before orgasm.
There are lots of choices for building your endurance with these toys, but we think FeelKayley, and the Stamina Training Program are among the best of these.
Reagan Foxx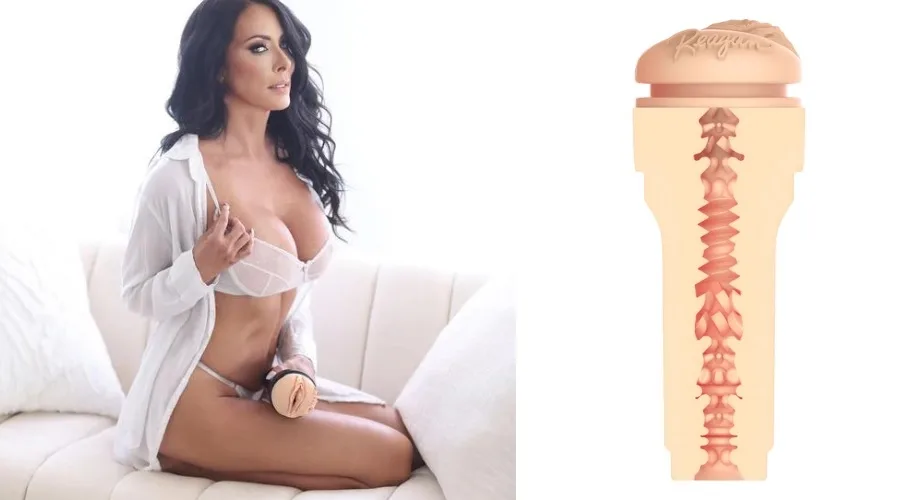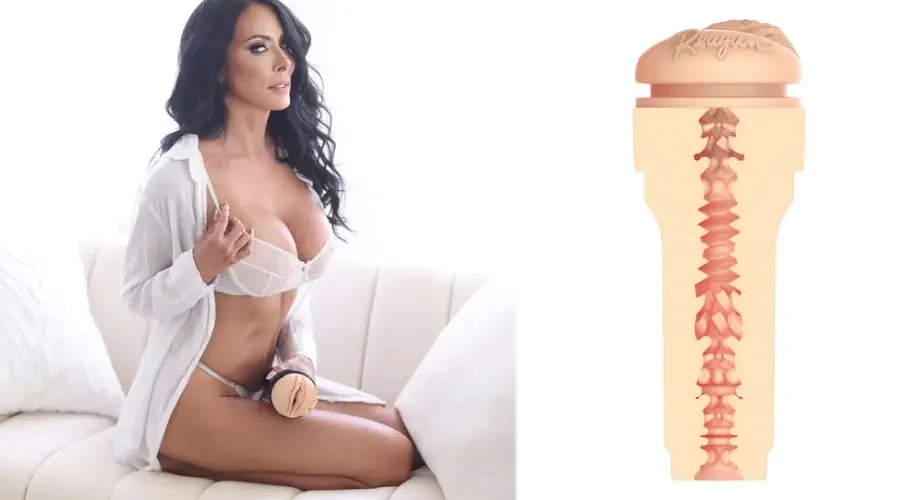 Named 2022 MILF of the Year, Reagan Foxx's FeelStars is another one of Kiiroo's fanciful creations, with blunt spikes, twisting nodules, and a spiral section in just the first two chambers.
With all of this, you will likely not last long with Reagan as your temptress. Packaged individually or with a Keon bundle, FeelReagan promises to suck you dry in no time at all.
The intense midsection "harmonica" of spiral lines is one of Kiiroo's particular trademarks.
It grips the mid-part of the shaft with extra intensity, making it hard for you to hang on even if you've learned to desensitize your glans or hold back your orgasm by gripping the base of your cock.
With its unique sleeve texture, you might think this is all good, but the high intensity can make it a little bit off-putting for people who aren't completely at one with their stroker.
The complicated, crenelated inner surface takes more time to dry than most.
With that, the very aggressive inner texturing could make FeelReagan too intense for the more sensitive among us, creating pain instead of pleasure.
If that sounds like you, even if you're a fan of her videos, consider some alternative options in the toy department.
Reagan's stroker is not for the beginner among us, and you might find yourself put off by the category as a whole if it ends up hurting.
Skyler Lo Rewards Patience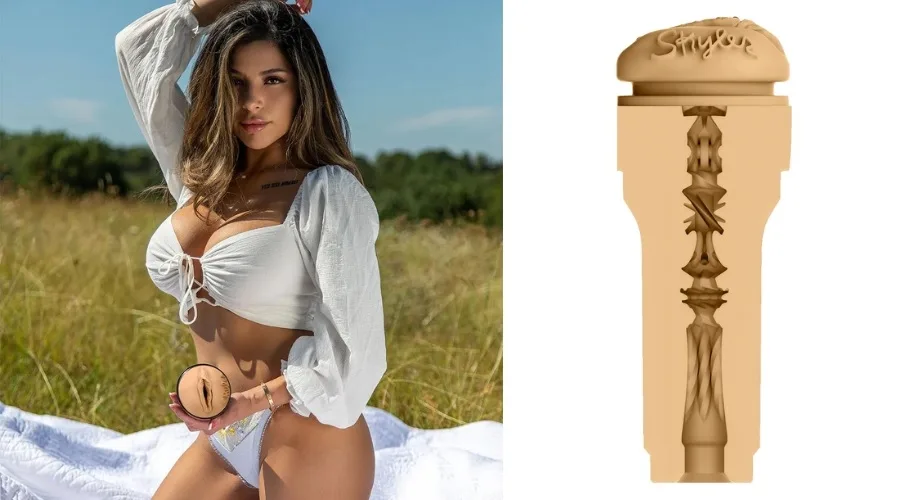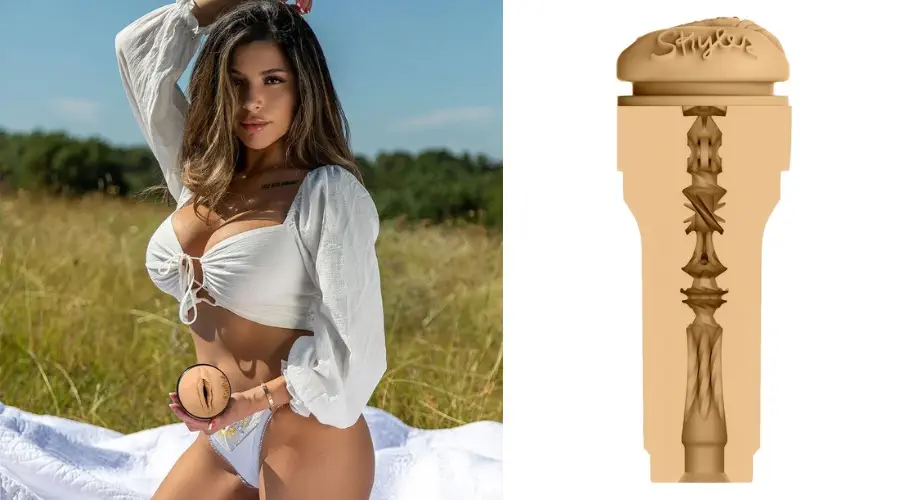 FeelSkyler is another one of the interestingly designed FeelStars interiors.
With an interior channel that looks like it could have been taken from one of George Lucas's prequel lightsaber molds, this will have you humming in nothing.
With the mind-blowing ribs and bumps you've come to expect from FeelStars, this three-chamber design packs the most interesting and rewarding textures in early.
With an easy insertion compared to other Feel strokers, your experience will quickly be rewarding, especially if you use it with PowerBlow or Keon.
Skyler rewards a slow-burn insertion, with a really intense section toward the end where your glans is probably going to reach full insertion, and this is going to either get you off quickly or torture you the first time you're out in it if you don't start slow and warm up.
So, take my advice, play Skyler's stroker almost like you're playing with a real woman – go slow, open up, and you'll be rewarded with some of the most intense orgasms you've ever experienced, and can keep yourself going for a surprisingly long time.
FeelSkyler is one of my personal favorites among this batch of strokers. She is highly worth the price of her toy.
Rachel Starrs and Stripes Your Pleasure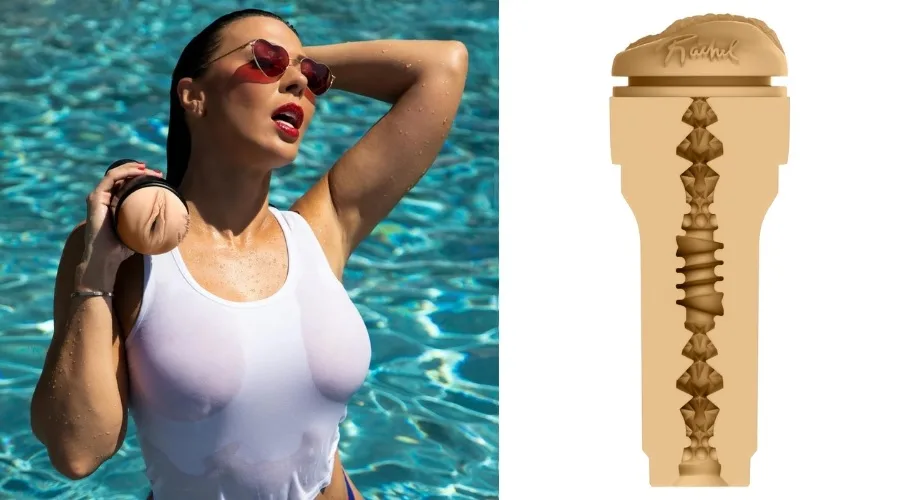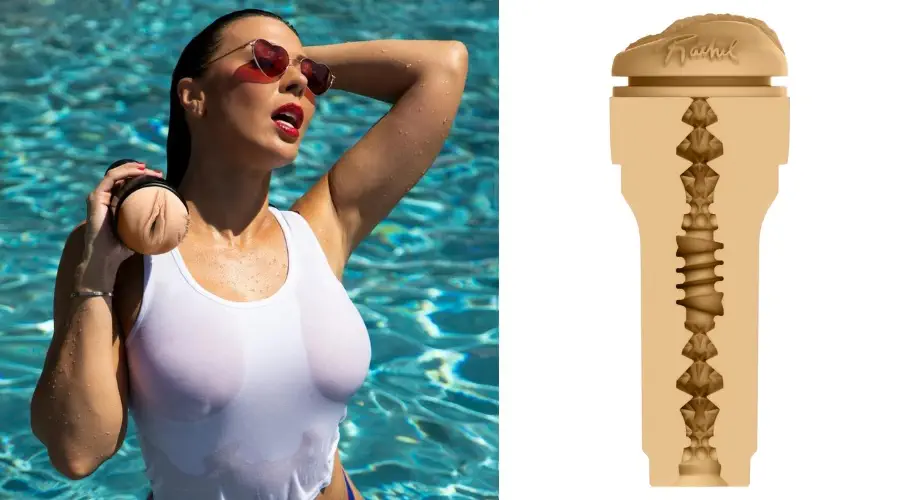 Evolving from a young bombshell to a true MILF over her 16-year (to date) porn career, Rachel Starr describes herself as an all-round Texas gal, and Starr's sleeve is one of the most American to date, with both "stars" and "stripes" sections for the 39-year-old's signature strokes.
The "stars" are star-shaped bumps that lead into a corkscrewing stripe section that then cedes to a second group of stars that make the whole thing perfect for almost any penis size on the planet.
If you're interested in a bunch of rewarding textures, Rachel Starr is your gal.
Another of the earliest FeelStars to be designed with use in the Keon in mind, Starr's stroker is a winner whether used on its own or with Kiiroo's signature interactive masturbator.
Whichever way you choose to use her, Rachel Starr wants to make sure you know that she's here to make your flagpole stand at attention, right before she drains it and sends you into the throes of your ecstasy and then to whatever fate awaits you after you finish with her toy.
Rae Lil Black Is a Japanese Dream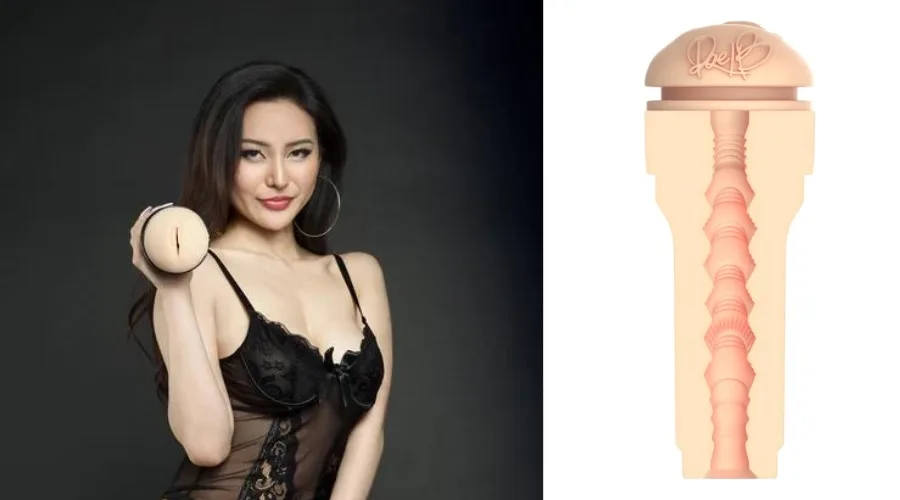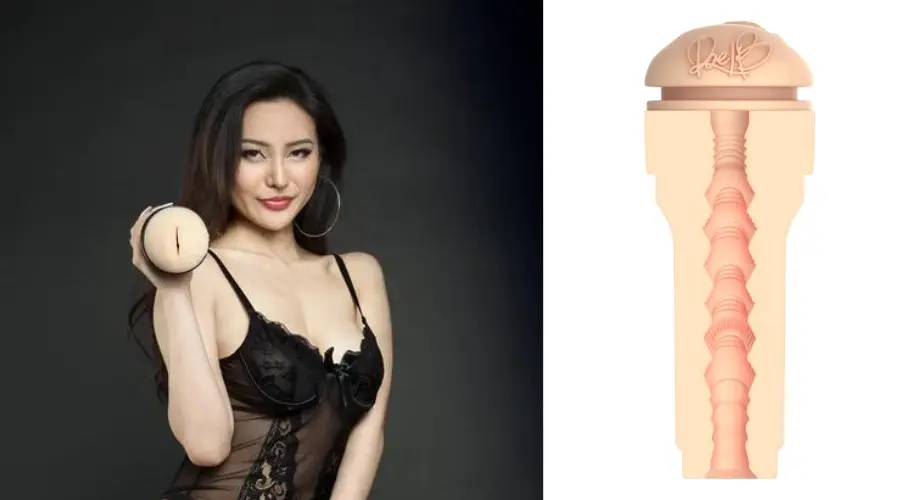 With a series of leaf-shaped mini-chambers sculpted out inside, the Rae Lil Black FeelStars takes on a new level of sculpted sizzle for you.
The flowing pass-through rings, featuring a new radial line design unique in the FeelStars lineup, is aimed toward endurance and longer stroke sessions rather than the rapid in-out-and-off sensation of many of the other FeelStars.
Rae Lil Black's tight texture is as mind-blowing as her curvy Japanese dream girl figure and its realistic opening is a true testament to the star it's modeled on.
This is really an intense piece of equipment from one of the foremost adult social media personalities on the internet right now.
Even though the chamber isn't "realistic" as such, the use of a single chamber, rather than a number of differently sculpted chambers designed for a specific effect, makes the toy feel more realistic, since real women only usually have one "chamber" in their vaginas.
If you know a woman who doesn't, let me know. For "science."
Reya Sunshine Is a Ray of Sunshine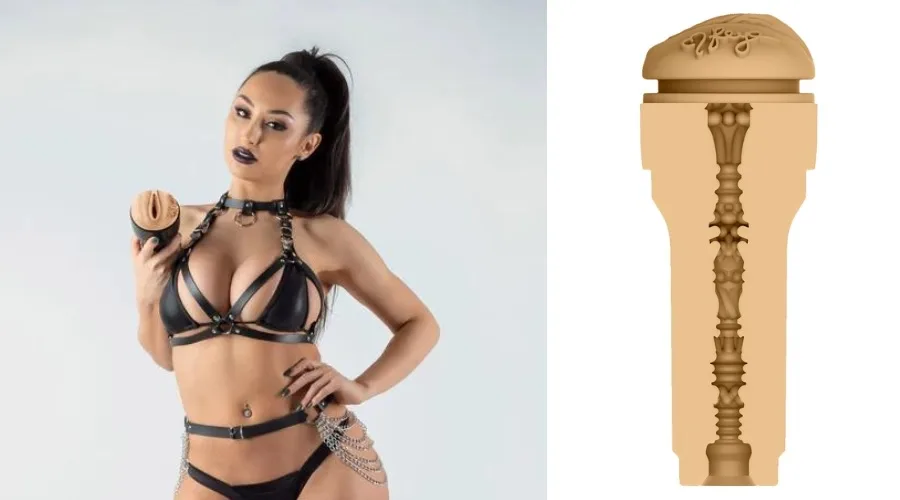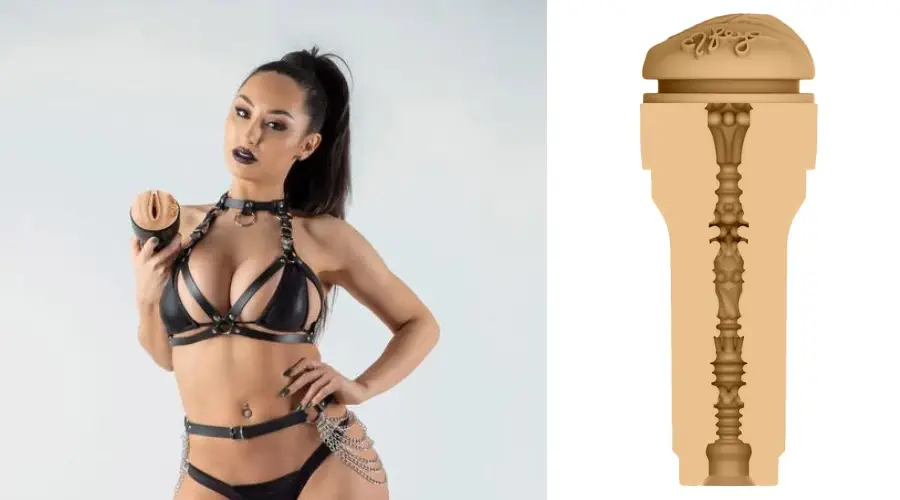 Reya Sunshine moved from cam work to scripted porn over her 7-year career that shows no signs of slowing down to date, and now she has her first celebrity model pocket pussy.
Teaming up with Kiiroo to make her stroker extra-special, FeelReya both features a perfect image of her pussy but also a uniquely shaped inner passage starting with a nodule-lined tunnel and pulling out all the tricks to make sure your orgasm doesn't wait.
With am inner passage that never relents, Kiiroo shows off the fact that they do not believe in keeping their customers in suspense.
If you last for minutes with FeelReya, your endurance definitely does not need any work.
Tanya Tate Is a UK-based Multiple Threat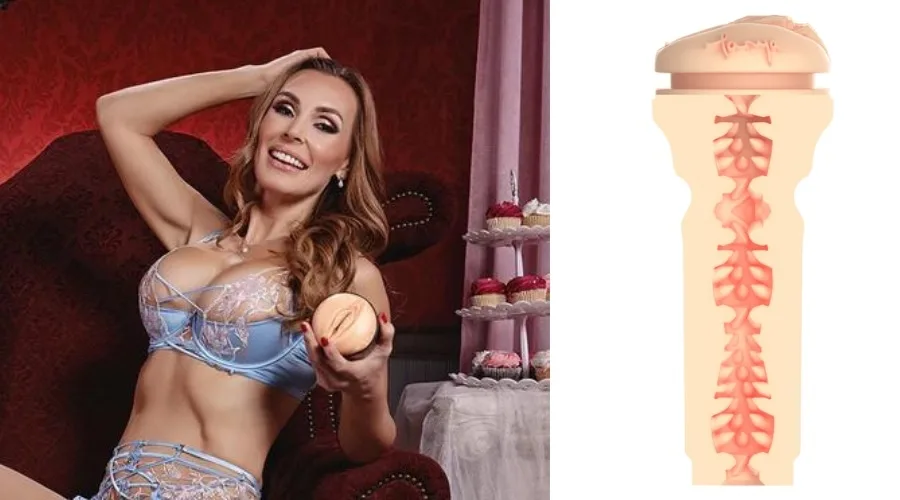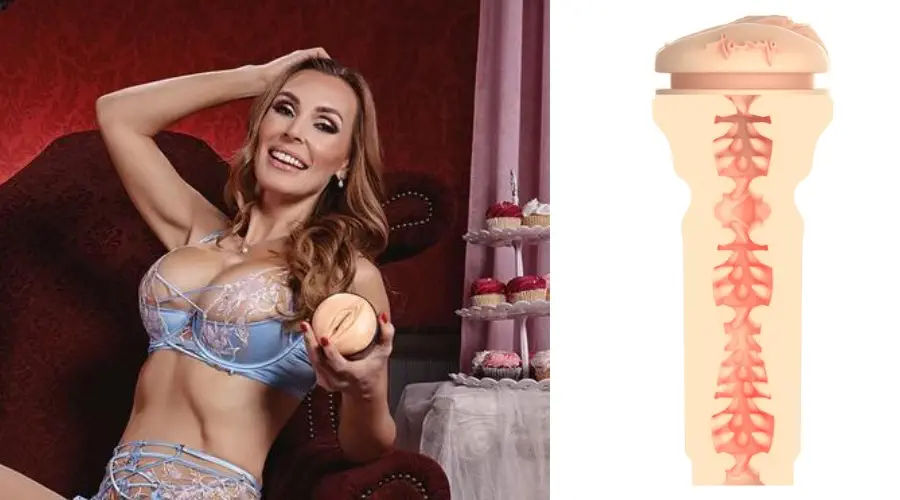 The Tanya Tate FeelStars is based on UK-based porn star Tanya Tate.
With an unconventional start to her porn career – Tate was 30 before she got her first exposure on camera – the interior of her toy is an unconventional anatomist's dream, with three chambers full of inward-facing nodules.
If you're looking for an unconventional way to scratch that itch, her FeelStars is the way to do it!
The Tanya Tate stroker was one of the first to be made with the PowerBlow in mind, too.
International cosplayer Tate's choice is one of the better options for FeelStars novices, with its relatively straightforward interior.
If you're looking to get started on your FeelStars collection without much in the way of difficulty in learning the ins and outs of the series, you can do a lot worse than Tanya Tate's FeelStars stroker.
Victoria June Is a Mouthy Pleasure Machine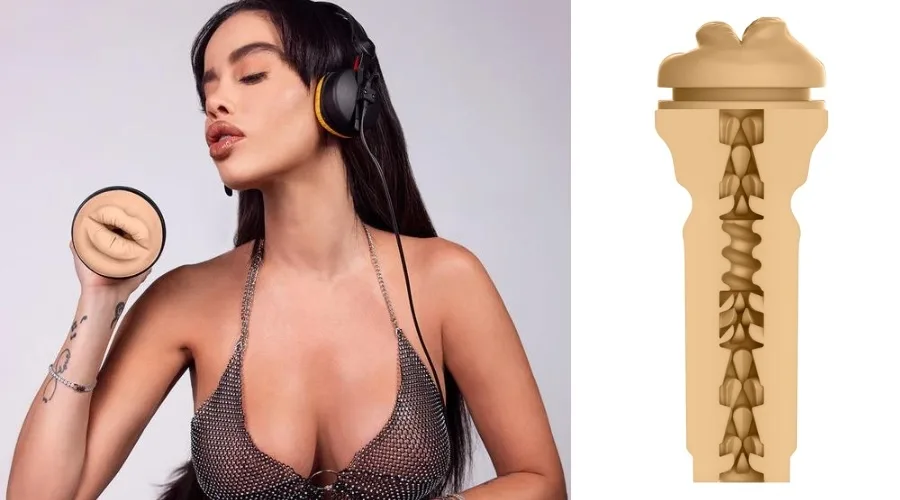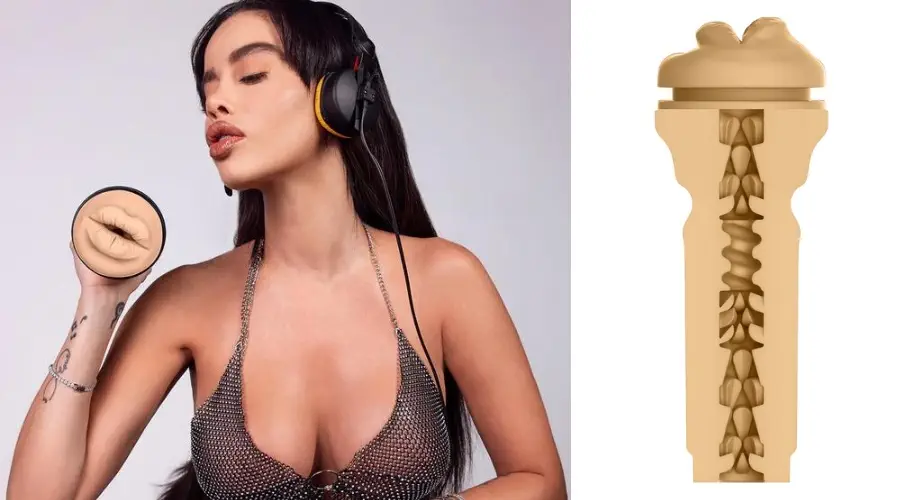 A brunette from Brooklyn, Victoria June started her career in Miami in 2018, joining Bangbros lineup.
The first of the two Victoria June strokers by Kiiroo, the Victoria mouth is a different experience altogether from the vagina-modeled strokes.
Molded after Victoria's own actual mouth and lips, the interior tongues in the first chamber give a surprisingly realistic feeling for the initial blowjob sense before you push into the corkscrewing mid chamber and then two other rows of rubbery tongues.
Victoria's mouth is designed to amp up the blowjob experience, and it does an amazing job of this.
Making the Victoria mouth stroker an even more versatile experience, it was designed for use with the PowerBlow blowjob simulator.
With this amazing pedigree, the mouth stroker is a great change-up in the Feel stroker line. Time will tell if we get more mouths like Victoria's.
We hope so; the unique setup of her stroker Is set to make her one of the most exciting options in the FeelStars line since its inception.
Like her vagina stroker, the mouth is one of the most technically sophisticated made by Kiiroo for the FeelStars line.
Victoria June's Vagina Tests your Endurance.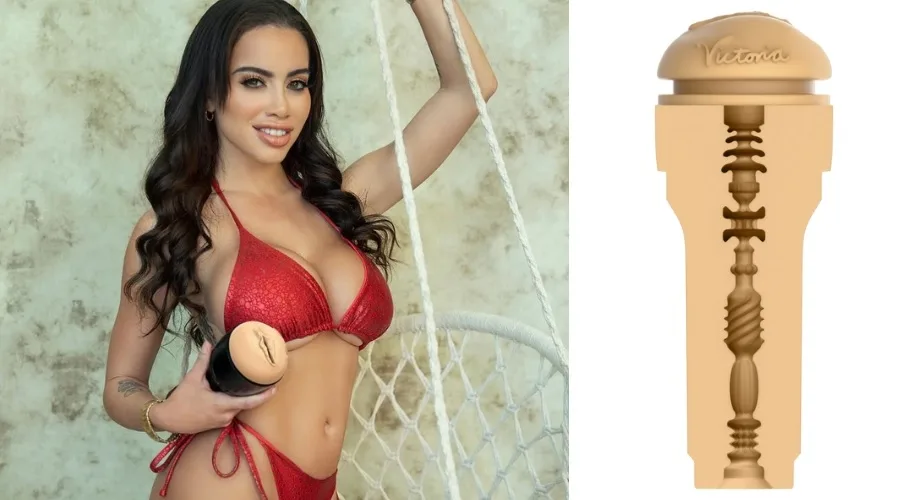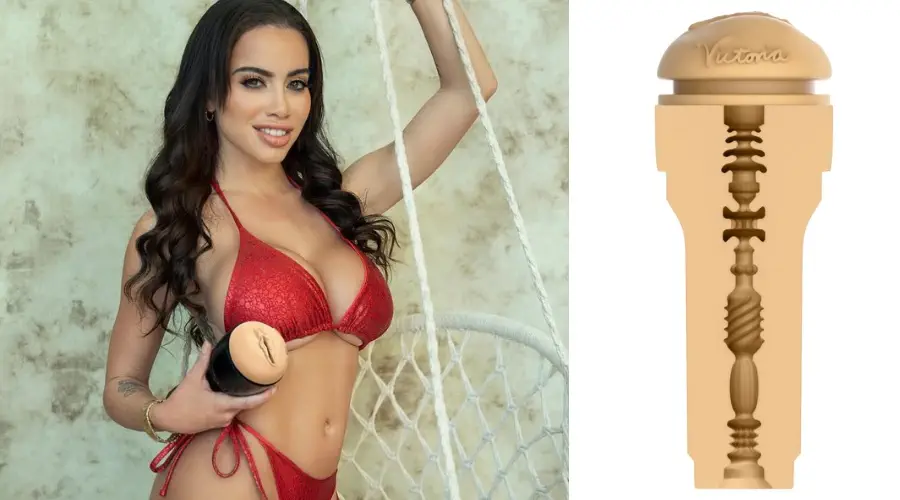 There are two Victoria June strokers by Kiiroo. This is the one patterned after her vagina, and it's the closest you can get to having sex with her.
Compared to some of the other options in the Feel line, Victoria June's is a little more geometric and sharp-edged. This creates some fascinating sensations.
With four separate chambers, FeelVictoria definitely lacks a naturalistic feeling, especially with the geometric shapes of the chambers rather than the more natural-feeling interior of other strokers.
We're fascinated by this one, but also have a few reservations. Kiiroo would have absolutely been forgiven for using the same interior as the same star's mouth stroker.
What it lacks in the naturalism department, however, FeelVictoria more than makes up in sheer pleasure.
It's one of the tightest strokers I've ever encountered and makes orgasm – and quick orgasm – a practical inevitability.
If your goal is just to get off quickly, or to get your partner off quickly and efficiently, FeelVictoria is the best choice you have by far.
But that quick orgasmic capability can also be a problem if your goal is prolonged pleasure, whether with or without an orgasm.
FeelVictoria is a great option, but it's not the best choice to be your only stroker.
Ashley Barbie Is a Serious Test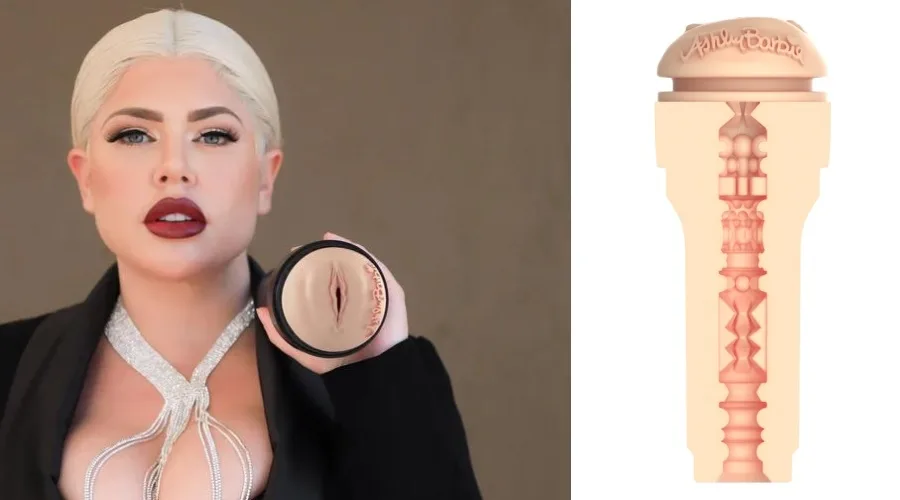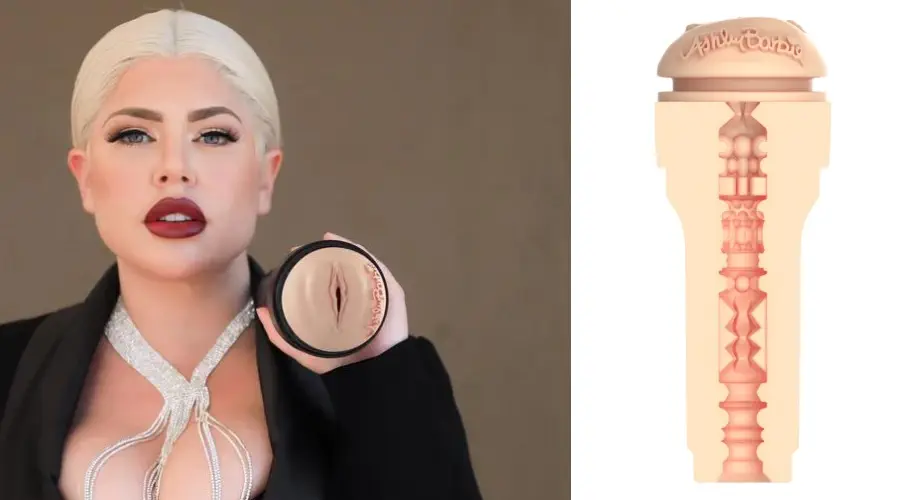 Ashley Barbie, aka Ashley Michelle, is an incredibly hot star with a plush, curvy look to her. Her body is simply perfection.
We love the look of the FeelStars stroker based on her vulva, too. Based out of Atlanta, her Instagram channel has been parleyed into a lucrative adult video career, starting with Bangbros.
The Ashley Barbie stroker is another one of the more technical options in the world of strokers.
Unusual for the FeelStars series, it's the second chamber of her stroker that's the tightest one, making it easier to orgasm quickly in it, since it removes some of the pressure at the base of the penis.
Pressure there is usually a way that guys prefer to avoid orgasming too fast, so with this toy's many tight chambers, it's a sure way to avoid that simple way.
Ashley Barbie's stroker isn't the most naturalistic feeling stroker in the series.
What it is is one of the hardest-hitting speed orgasm machines that Kiiroo offers, making her a great option if you're just reaching into the world of endurance enhancement, or if you'd rather just focus on pure pleasure than on enhancing your orgasmic endurance.
She's also a fantastic star in her own right and using her stroker while watching her videos is a way to make sure that you get the most pleasure out of her.
Buyer's Guide


Any of these FeelStars is going to be a great buy for your pleasure.
You're going to enjoy using each of these stars' feel-alike vulvas, and the interior designs are there to make sure that you have the most out of each one.
Each is designed for a different way of peaking your pleasure, whether it's the prolonging joy of the Kayley Gunner model or the sharp, rapid peaks of Ashley's and Victoria's.
The Feel strokers are inevitably going to remind you of the Fleshlight sex toy.
This is neither good nor bad – Fleshlight is one of the pillars of male sex toy sales for a reason – but it just is, and you'll need to understand that your toy is going to be either seen as an improvement on or a knockoff of the Fleshlight no matter what.
It's the toy that makes the orgasm, though, and we're happy to stand by our belief that Feel is a little nicer and a little more realistic than Fleshlight, owing mostly to the more realistic TPE material.
If you're looking for:
The fastest possible orgasm, or the greatest challenge in delaying: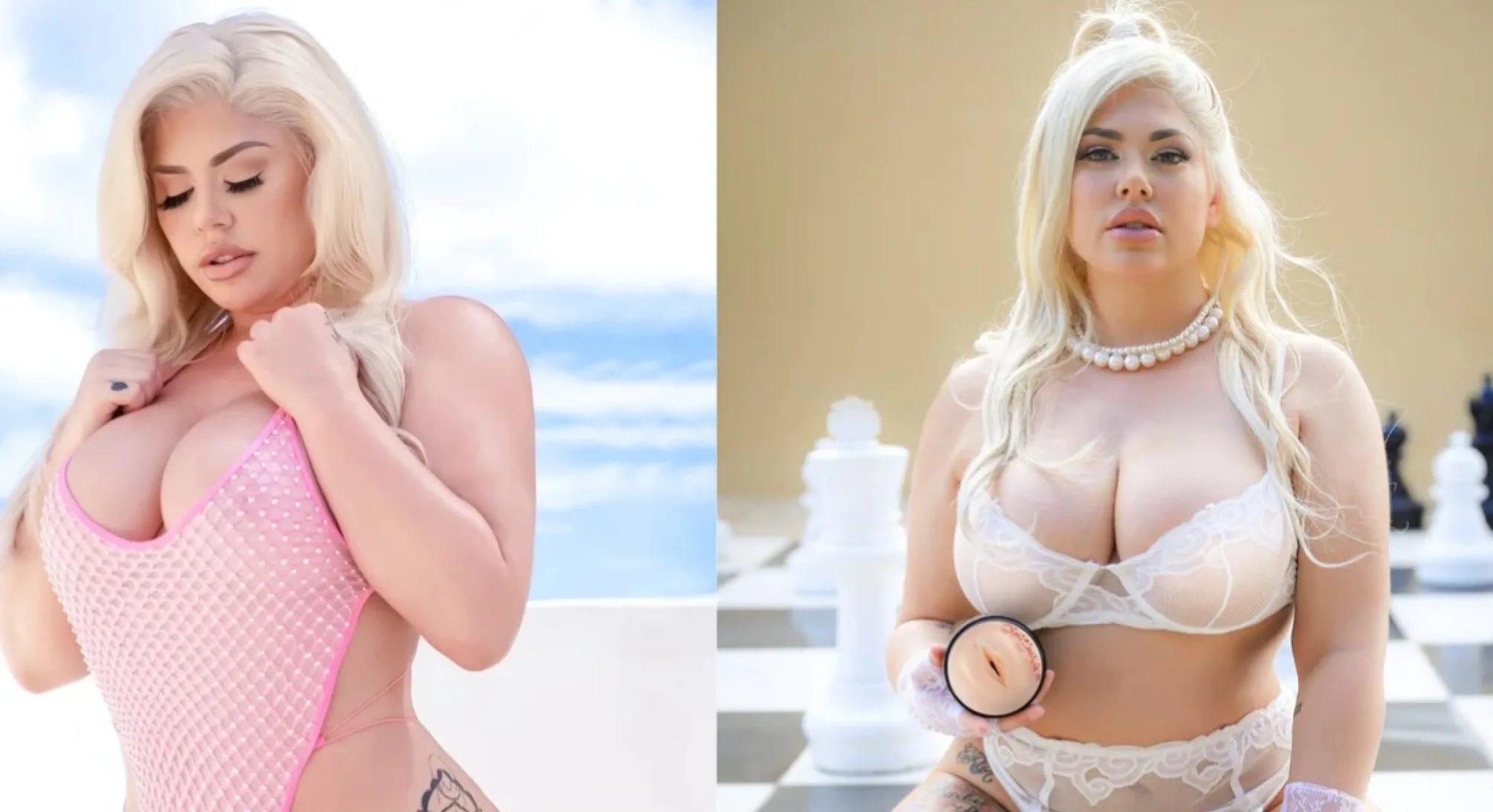 Ashley Barbie's stroker is one of the quickest, sharpest orgasms we've tried, and makes it the hardest to hold yourself in.
If what you're looking for is to get aroused, get in, and get off, the Ashley Barbie toy is your absolute first choice.
Close seconds are the Victoria pussy and mouth. These two strokers will never be mistaken for natural orifices, but they're absolutely nuts for your nut.
The most realistic experience
Rae Lil Black's is by far the most realistic of the Feel series strokes.
This is because its vagina is composed of a single albeit ribbed section, while other Feels are designed around multiple distinct sections that combine for a feeling which while very pleasurable is not particularly realistic.
Your best bet if you want a realistic stroker experience is FeelRae.
One caveat to this: Many of our reviewers feel that Rae Lil Black's stroker feels more like a blowjob than vaginal sex. So, if that's a problem, you've been warned.
A great experience for all sizes
The Rachel Starr FeelStar (or is that "FeelStarr?") duplicates its first chamber in its final chamber.
If you're of smaller size, this could be an interesting option because unlike some of her stablemates, Starr's stroker means you won't be missing out on any interesting sensations toward the end.
Because the first and final are duplicated, this also means that she's an option for improving your endurance, since you can go in with more control and choose your final depth.
With one of the best pocket pussies on the market, Rachel Starr is a true option for any connoisseur.
Thoughts on the Line
All of the FeelStars are pretty amazing options.
They represent an international array – though most are from the United States, the Japanese Rae Lil Black and English Tanya Tate give you some real options on the international stage, and the US-based stars are not the same old stars that you'd expect to see with a branded pocket pussy.
They're all very adventurous choices as well, with ages ranging from 23 to nearly 40 represented for those who are interested in their stars on different levels than just the purely transactional.
If you're looking for a stroker with some personality, any of the FeelStars is going to start your motor with a variety of options for your textural excitement.