By M.Christian
Of all the interactive masturbators on the market today, The Handy stands out for its innovative design, unique connectivity options, and, most of all, how many websites support it.
This opens up all sorts of erotic possibilities because those sites aren't restricted to the same sort of adult videos.
In fact, they span a huge range of sexual interests, orientations, and fetish-fantastic subjects.
To help you figure out which of them might be right for you and your Handy, let's take a quick look at what they offer, how much—if anything—they charge, and their assorted pros and cons.
But first, we need to talk about what makes The Handy so special and why when it is used with any of these sites, it can lead to some truly amazing erotic experiences.
What are handy-compatible interactive websites, and what makes them interesting?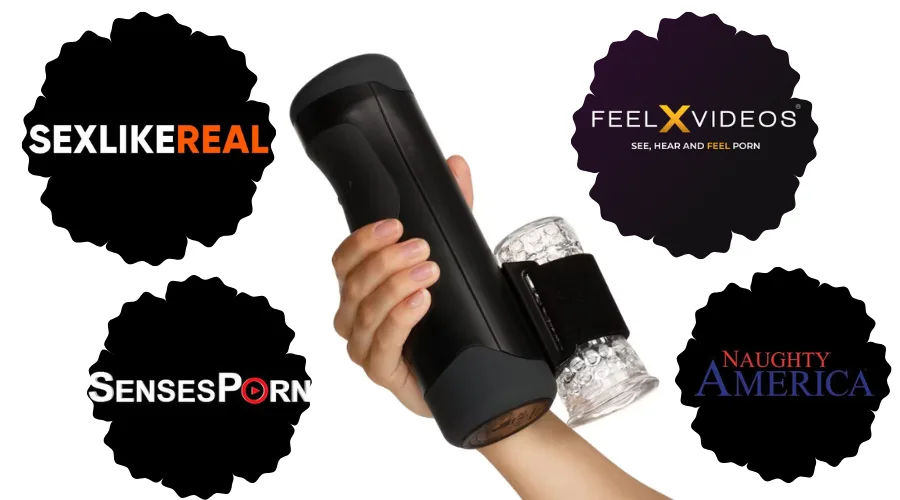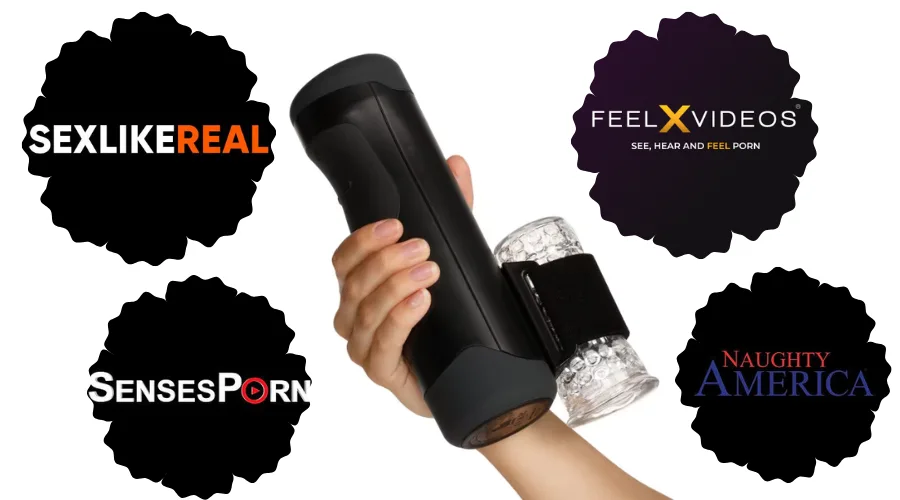 Developed by a highly qualified team of Norwegian engineers, the Handy isn't just your run-of-the-mill stroker.
To start, its software is open source. Unlike other sextoy manufacturers, which usually keep theirs under lock and key, the minds behind the Handy let anyone play with theirs.
This enables sites and users to discover new and exciting interactive possibilities for the Handy. It also makes sites like the ones on our list easily integrate it into any or all of their adult videos.
The Handy has other cool features. Like it doesn't just connect to your Android or Apple smartphone via Bluetooth, but for added security and stability, it uses WiFi as well.
Tired of your stroker running out of juice before you can finish? That won't ever happen if you use The Handy because it doesn't have a battery.
Being solely dependent on direct current has the extra benefit of providing greater power, making it one of the market's most potent and reliable strokers today.
1. SexLikeReal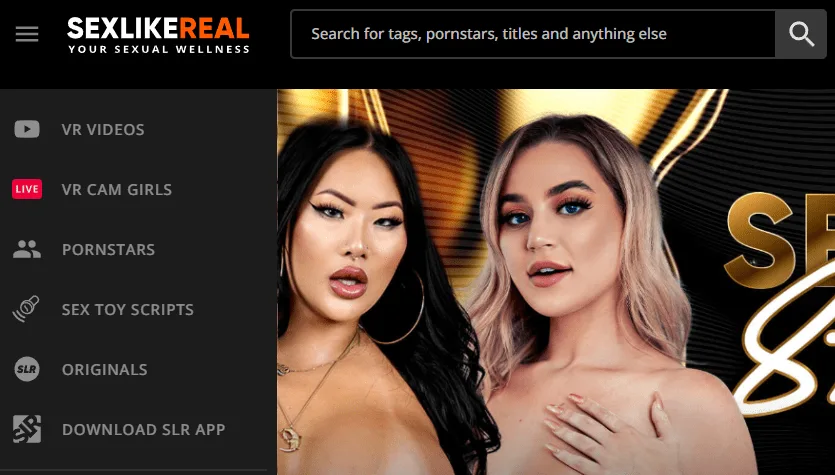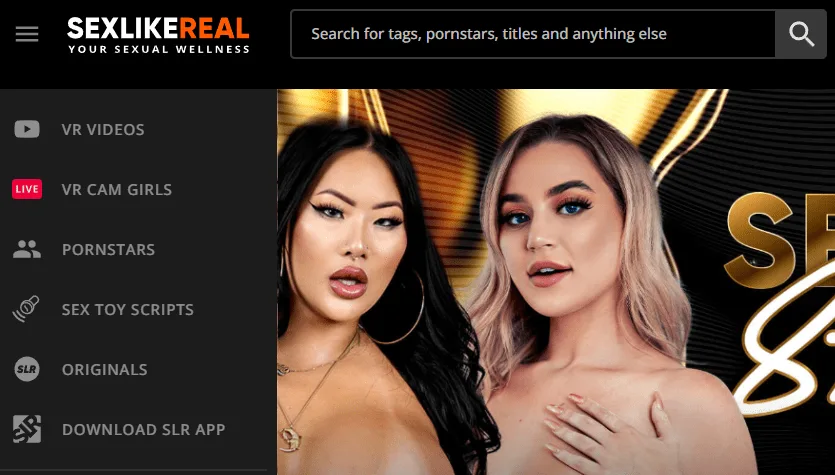 It shouldn't be a surprise that the first site on our list is SexLikeReal. After all, it is already well known for being a leader in sextoy integration.
It supports not just Kiiroo vibrators and masturbators but also all of Lovense's products.
Not to mention what we are here for, that it is also capable of working with The Handy.
So any of SexLikeReal's interactive adult videos, which there are more than you can shake a stick at, can be set up so your Handy will do its excellent and very pleasurable thing along with whatever is happening in them.
Making SexLikeReal an even more exciting site is how diverse and expansive its number and variety of videos are.
It would actually be easier to say what isn't on the site instead of trying to list everything it has to offer.
Then there is how most of its videos are in super-crisp 6 to an even crisper 8K, making watching them in virtual reality even more sexually immersive.
Uniquely, SexLikeReal has two different membership rates. One which grants access to scripting for sextoy integration and one that doesn't.
This allows people to opt out of something they may not want or be able to use.
After seeing for yourself how much of a blast watching its videos and feeling the action through The Handy you will want nothing but the site's scripted videos.
Pros:
Built around smart sextoy interactivity
A large amount of 6 and 8K titles
An impressive number of virtual reality videos
Memberships with or without interactive scripts
Cons:
Expense when compared to other interactive sites
It can be challenging to set up smart sex toys for it
2. Adult Time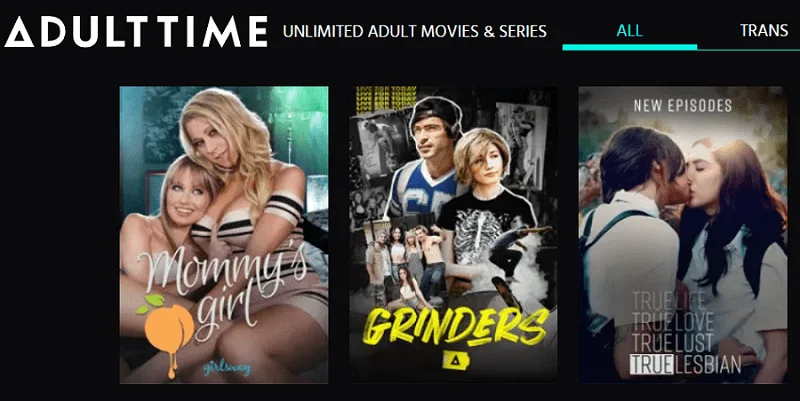 As you are probably well aware, adult videos often fall short when it comes to fleshed-out characters, engaging plotlines, and all sorts of story-driven possibilities.
As in, who watches porn for the characters, plot, or story?
But that doesn't mean there isn't a market for adult videos with all that and more.
Enter the folks at Adult Time, who produce everything from a vast assortment of movies and even their own serialized shows that combine the hot explicitness of porn with high-quality storytelling.
Topped off with how well it works with smart sex toys like The Handy.
So if you are craving more than just watching people have sex, especially with the extra-special thrill of feeling them when they fool around, no other site can match Adult Time.
Plus, Adult Time's catalog of shows and movies is impressively diverse.
From queer and trans performers and stories to a host of outrageously kinky fetishes, there's always something new to explore and get turned on by.
Pros:
Great variety of movies and shows
Titles expertly combine explicit videos with skilled storytelling
It is amazingly diverse, with plenty of queer, trans, and kinky performers
Works superbly with smart sex toys such as The Handy
Cons:
It may not appeal to people into shorter, cut-to-the-chase porn videos
Doesn't have a great number of interactive titles
3. FeelXVideos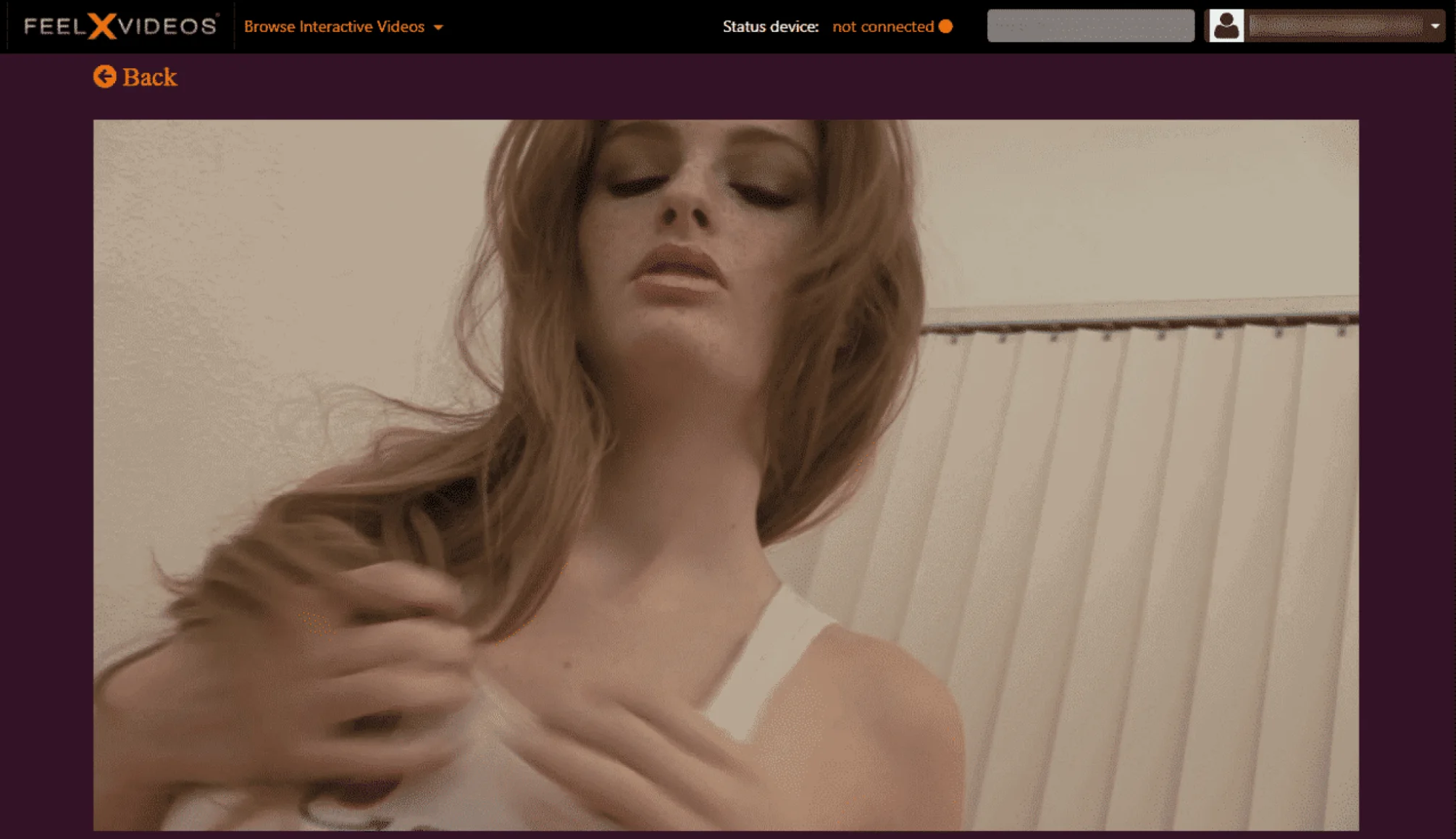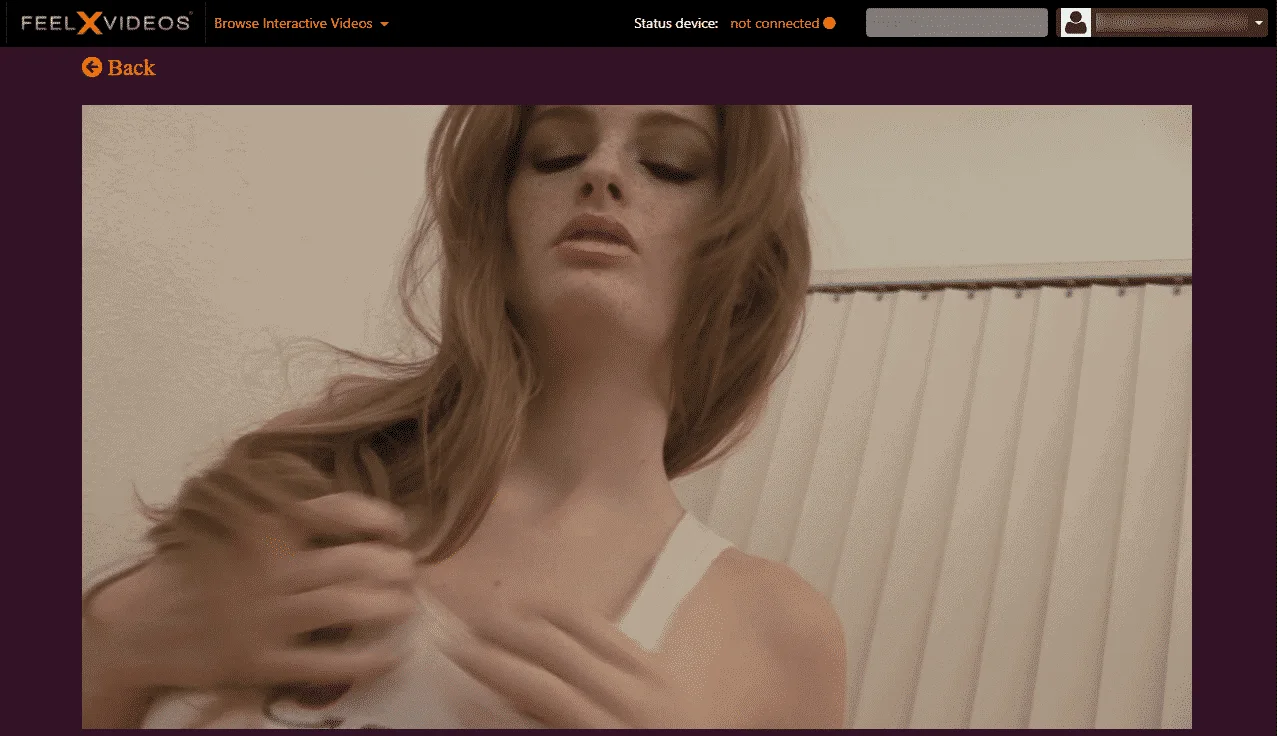 Famed for its massive catalog of adult videos and that most of them are specially designed for smart sextoy integration, no guide to The Handy supporting sites would be complete without at least mentioning FeelXVideos.
Yep, you read that right. While some websites have a few interactive videos, if that many, FeelXVideos is dedicated to giving its members as many as possible.
To the tune of three thousand interactive and non-interactive titles spanning practically every sexual activity imaginable.
And maybe even a few you couldn't. At least not until you become a FeelXVideos subscriber.
Particularly if you get off on male-on-male, steamy queer action, as it also has a respectable catalog of that as well as every other possible orientation and sexual inclination.
This makes FeelXVideos a great destination for high-quality adult entertainment videos but places it firmly at the top of sites with the highest number of interactive ones as well.
Pros:
An impressive number of interactive videos
All sorts of sexual subjects and performers
Works with most smart sex toys, especially The Handy
Cons:
The site is frequently awkward and confusing to navigate
Connecting smart sex toys is more awkward than with other sites
4. Czech VR Network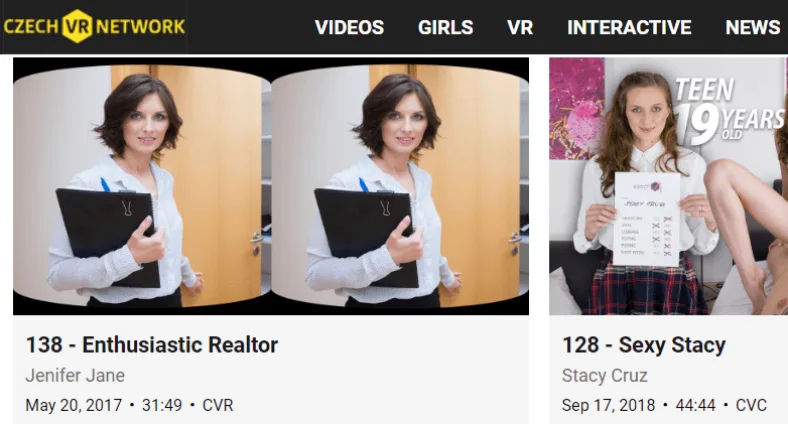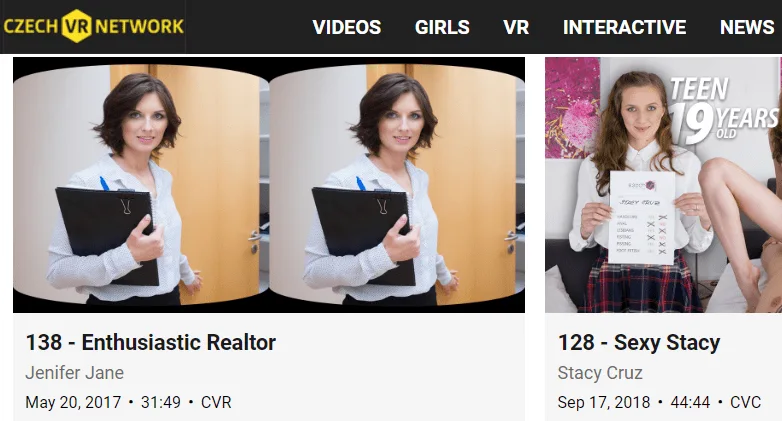 Craving interactive adult entertainment videos featuring performers with a so-sultry, always-steamy European accent?
Well, I have the site for you, as Czech VR Network will have you equal parts melting and wildly aroused with its unique approach to smart sex toy-supporting videos.
Coupled with high-quality virtual reality, it is just the ticket for immersing yourself in their hotter-than-anything Czechoslovakia-inspired content.
Though the Czech VR Network has enough native performers to fill Prague Castle, with enough left over to stretch across the Charles Bridge, that isn't only what will turn you on about it.
Case in point is that it's home to adult entertainment stars, amateurs, and a great assortment of videos and performers. So it wouldn't be too far off to describe it as a United Nations of porn.
Or rather, a United Nations of interactive porn because it has plenty to keep you and your Handy entertained for months.
This is only improved by its titles being in 4 all the way up to 6K high resolution—and offering a good percentage of those in fully immersive virtual reality.
Pros:
Highly regarded for its quality of interactive titles
Different kinds of adult entertainment sites with lots of interesting options
Videos in 4 to 6K and a respectable variety of VR ones as well
Cons:
Slightly fewer interactive videos than some of its competitors
Content isn't as diverse as offered by other sites
5. Naughty America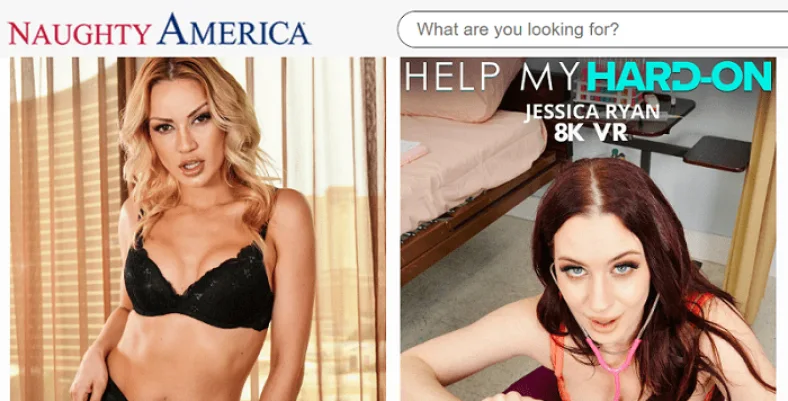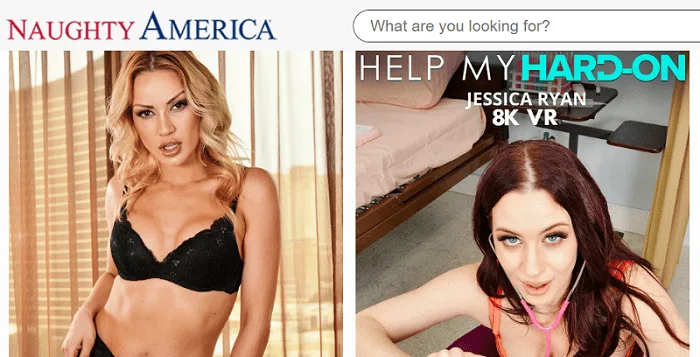 When it comes to giving the most bang for your Handy interactive buck, few sites can beat Naughty America.
With 4 and 6K resolution videos and a ton of virtual reality titles, with enough of them being smart sextoy supportive, there's more than enough to whet your erotic appetites.
We're not kidding when we say Naughty America covers all the sexual bases—and then some.
It even has a specially dedicated section of its site just for its Handy interactive videos, so you won't have to spend much time tracking them down.
Nope, just click this link, and lo and behold, you will have your pick of them to connect your Handy too.
Convenience that is only improved by them featuring top-tier adult entertainment performers and an exciting scope of activities, orientations, and a wide span of arousing sexual actions.
So it is no wonder that Naught America has landed on our number five slot of our The Best Handy-Compatible Interactive Websites—and if you check it out for yourself, you will immediately agree with our decision.
Yes, it is that good!
Pros:
An enthusiastic supporter of The Handy and interactive adult videos
A respectable number of virtual reality videos
Content is frequently 4 to 6K resolution
Section of the site focused on nothing but Handy-interactive titles
Cons:
Handy-interactive videos could be more diverse
Production quality is often hit or miss
More Handy titles could be nice
6. SensesPorn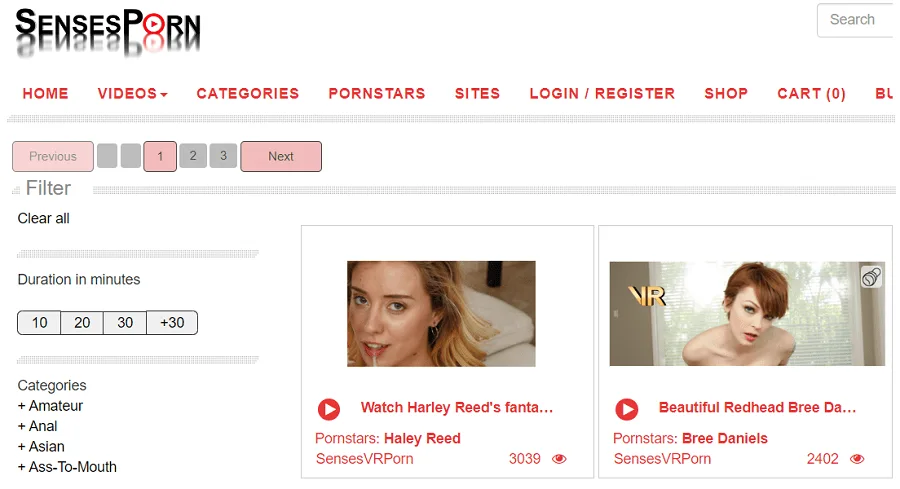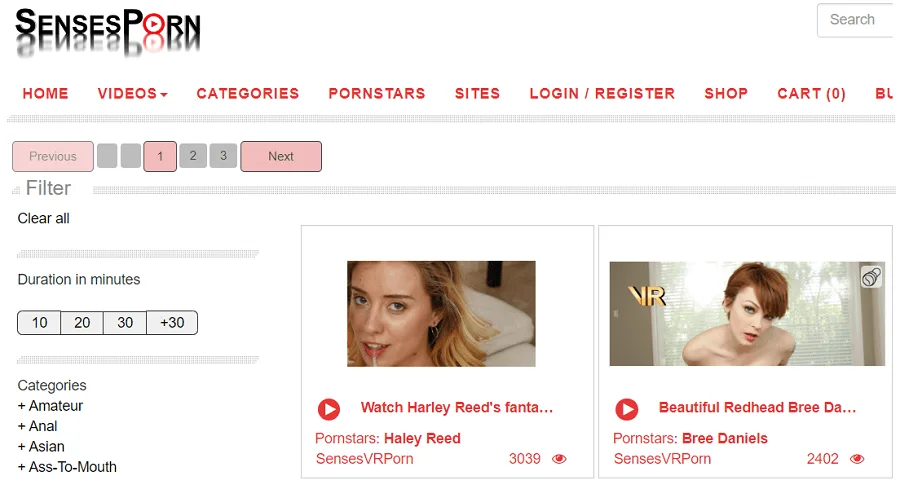 For our sixth choice of sites that can excuse the expression, handle the Handy regarding interactivity, you had to do with SensesPorn because of its extremely enthusiastic approach to feel-as-well-as-see adult videos.
It is one of the first things you will probably immediately notice about SensesPorn: a scrolling section of its homepage listing nearly every smart sextoy available today.
Of which it gives a big callout to the Handy. So you know that using yours to interact with their videos will not just be quick and easy but extra-exciting to watch.
It even has its own marketplace where you can buy a Handy as well as Kiiroo's Keon, Onyx Plus, and Titan.
This makes SensesPorn your one-stop-shop for adult entertainment videos and the very well-made toys built to interact with them.
It also has an enjoyably large array of categories, from Amateur all the way to Voyeurism—and everything in between—so it contains plenty of sexually stimulating titles to see, feel, and, more than anything, enjoy.
Helping its popularity is how it does not only have straight videos but is part of a network which includes SensesGays, the destination for gay interactive videos.
Thus it is one quick click to jump from one orientation to the other, which is ideal for people who like to dip their toes and other body parts into both sexual pools.
Pros:
All about smart sextoy videos
Works with The Handy and products from Kiiroo
Impressively large selection of adult entertainers and sexual activities
Cons:
It would be great if the site worked with other smart sex toys
Setting up interactive videos sometimes takes longer than it should
The site needs design and interface tweaking to be more intuitive
7. SensesGays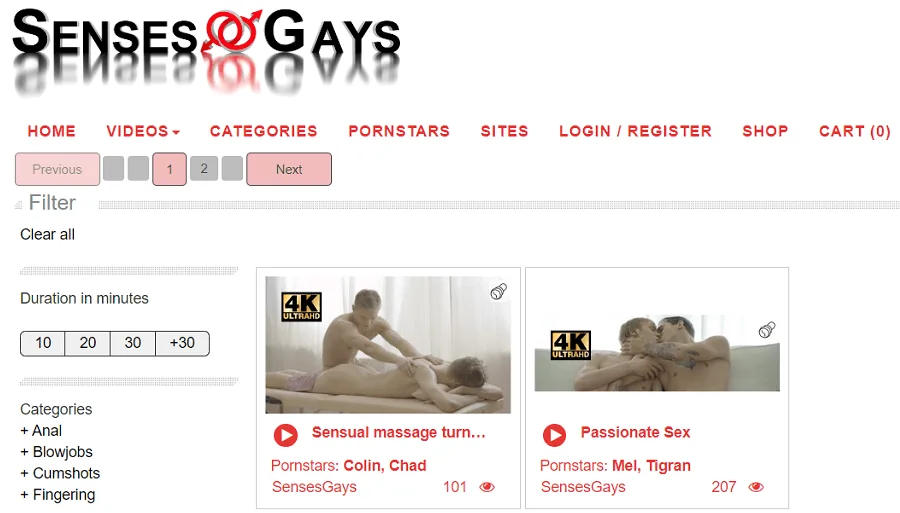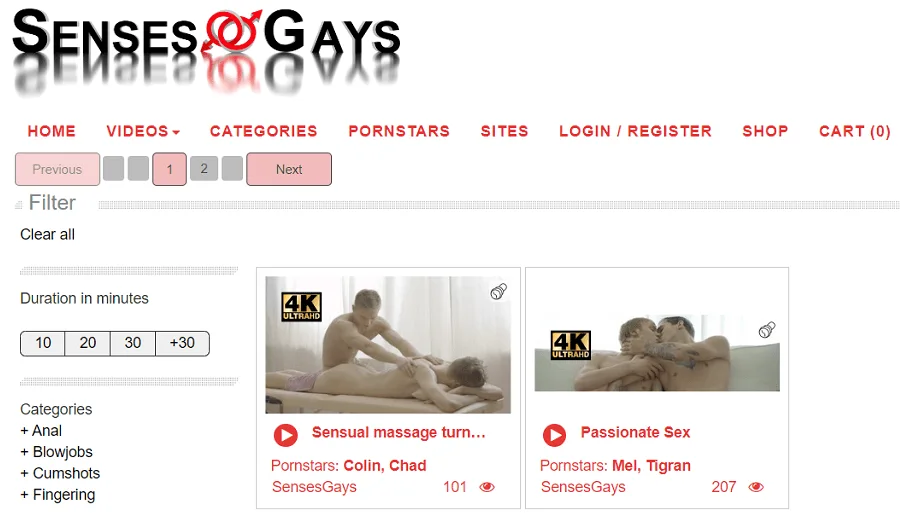 Speaking of SensesPorn and its connection to SensesGays, its partner site is so good, such a turn-on, and a great place for every kind of guy-on-guy interactive sextoy action we had to dedicate an entry to it.
Kissing-kin to the straighter-leaning interactive porn platform SensesPorn, SensesGays gives queer viewers everything it has but with a gay twist.
So it has the same great selection of Handy-supporting titles, with an identical variety of views. So it is one of, if not the most entertaining interactive porn sites.
If you only have a little interest in queer videos, even better if you want to sample what happens when they are linked up with the Handy, then SensesGays will make your heart go pitter-patter along with the rest of your body for days, weeks, and, who knows, maybe even years.
It's got every same-sex kink and activity, from classic anal videos to ones exalting the joys of fooling around with sex toys.
Most of these are the others up on the site that works very well with The Handy, which makes an already fun experience that much more arousing—if not thrilling—to experience.
Pros:
The same degree of passionate smart-sextoy support as SensesPorn
Great selection of videos highlighting an equally fantastic assortment of performers and activities
Also has a marketplace selling The Handy and other toys
Cons:
Lacks kink and BDSM-themed titles
Should have more diversity in performers and content
8. ConnectMyHandy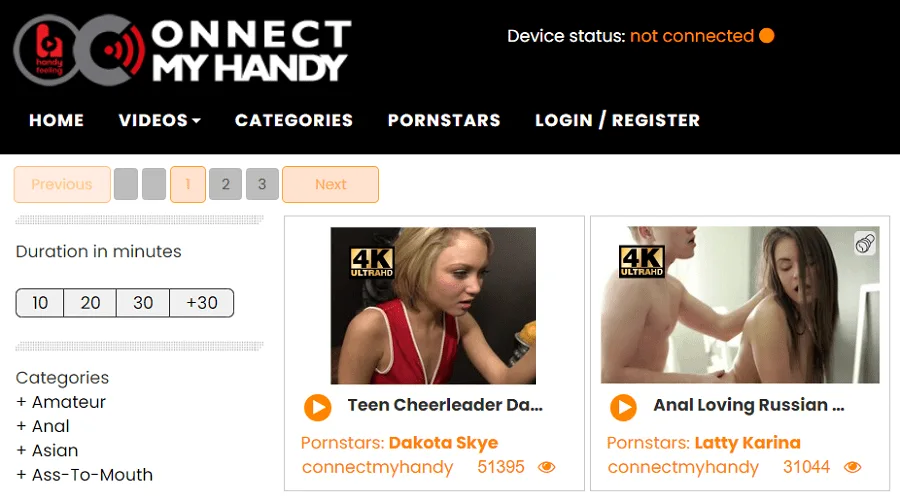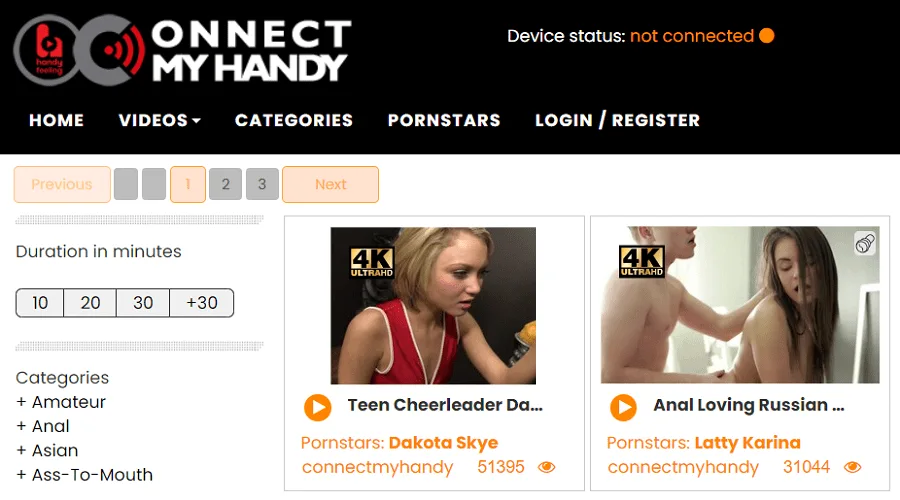 What is more exciting, more arousing, and more fun than all of the Handy-supporting sites we have mentioned so far?
Sure, having more videos to choose from would be nice. So would featuring titles in super-high resolution or virtual reality.
But topping them all is an entire site home to high-quality sample clips from SensesPorn—all of which are completely free.
Yes, you heard that right, as ConnectMyHandy is the site to check out tasty teasers for most of SensesPorn's titles without having to spend one thin dime to do so.
Just link your Handy to the site, fire up the clip of your choice, and hang on—and if you enjoy what you are feeling and seeing, you can sign up with SensesPorn to experience the full video.
This may not sound all that thrilling but take our word for it because it is way too common for sex tech supporting sites not to provide video teasers or samples, having a place that is nothing but that it is a huge breath of fresh air.
Besides, seeing what a video is like can make all the difference between choosing to sign up with a site or not.
This is also why ConnectMyHandy deserves a round of applause for being so gosh-darned smart about luring people to its parent site.
Pros:
Every Handy-supportive clip is free
A great way to sample SensesPorn videos
Easy to set up and use The Handy with it
Cons:
Videos tend to be most on the too-short-to-be-enjoyable side of things
Having at least a few full-length titles would be great
9. The Jerk Off Games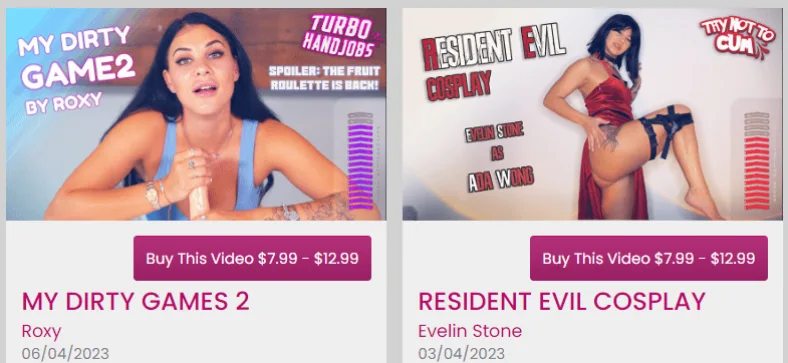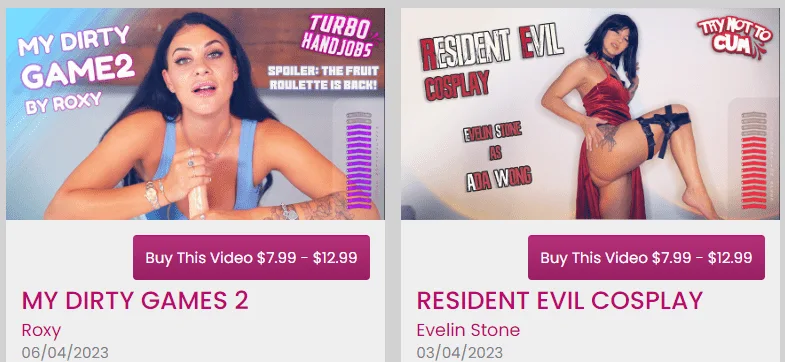 We have had sites with thousands of titles. We have had others with a staggering variety of performers and erotic activities.
We have had some built solely for smart sextoy interactivity. We have even featured a platform for free sample clips.
And though all of the websites on our list are all about the cool and arousing possibilities of linking their videos to the state-of-the-art Handy stroker, what we needed was something really different.
Buckle your seatbelts because The Jerk Off Games does not just have Handy-supportive content but ones that take interactivity to a whole new level.
The name might have given away why this site is so unique, but as with The Handy and using it with videos designed for it will change how you look at adult entertainment platforms, so too will The Jerk Off Games make you rethink just sitting back and watching them.
Because this is a platform for sextoy interactive games.
But not just how they work with toys like the Handy but with the added pleasure of allowing you to do everything from choosing how they turn out to having their performers dare you not to orgasm they tell you to.
Trust us when we say after playing any of these titles, you will not look at adult videos the same way again.
It's like smart toys like the Handy, and the idea of connecting them to interactive adult games are what we and every warm-blooded porn fan were waiting for.
And now that we can have our adult entertainment cake and eat it too, we recommend trying at least one, or maybe a dozen, of their games to see why we feel this is the next big thing—and what will probably keep you happily engaged for a long, long, time.
Pros:
A very unique approach to smart sextoy adult videos
Titles work very well with The Handy
Offers several different types of games
Overall, videos and games are of very high quality
Cons:
Though entertaining, having a greater variety of games would be even better
Really needs more diverse performers and sexual activities
How to pick the perfect best handy-compatible interactive website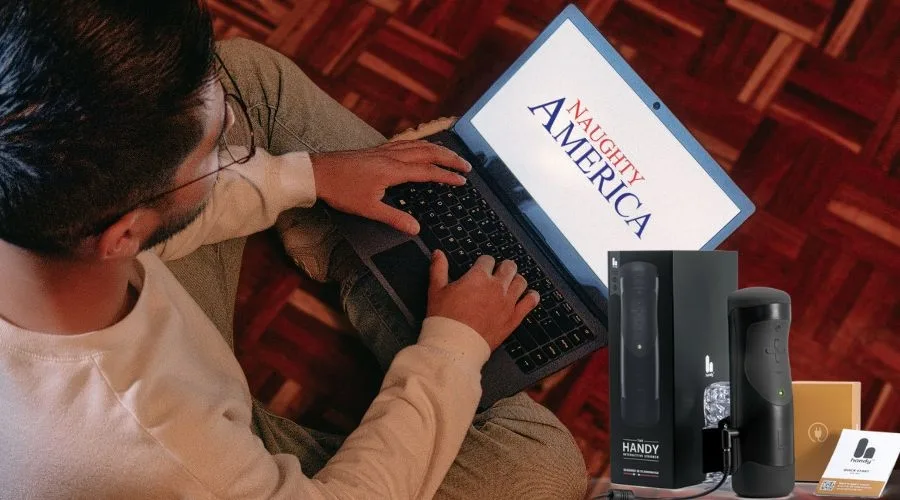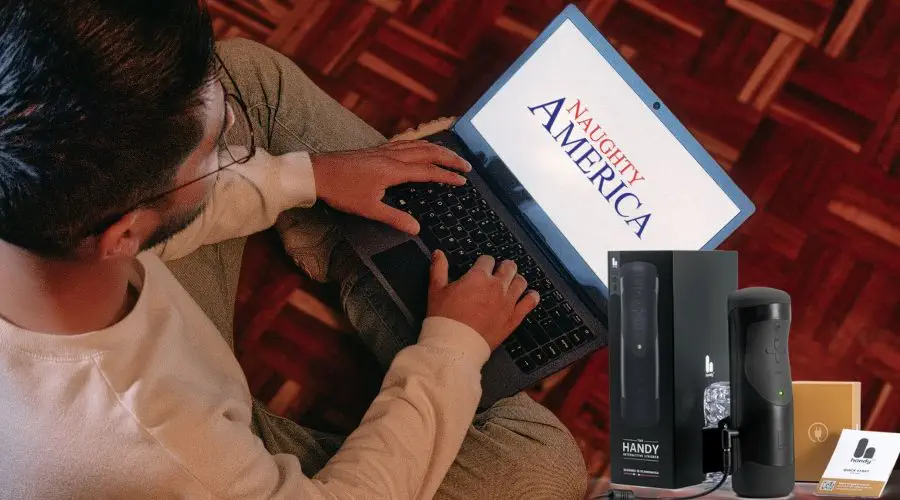 By now, your head is probably spinning around like a top.
What, you may be asking yourself, sets aside a great from a merely good Handy-supportive adult site?
How can I pick one from another? Why are some sites better than others?
To help preserve your sanity and steer you in the right direction, let's take a second to briefly go over the various things you should consider when choosing the perfect site for your Handy-enhanced porn watching.
Starting off by asking yourself what turns you on.
We mean not just experiencing the pleasures of having a Handy interact with a video but what kinds of performers and sexual activities rock your world.
Our logic is that once you figure that out, your next step would be to see which sites we have listed will give you the most of your favorite kinds of content.
The trick is you may have to think a bit outside of your sexual box, as even sites with thousands of views may not have enough to keep your libido satisfied.
After having too much fun working all this out, consider how easy a site is to use with your Handy.
While the Handy is an especially simple smart toy to set up, some sites make it more difficult than it should be.
Unfortunately, sometimes you do not know if a site will be more or less challenging for Handy interactivity until you pay to try it out.
Conversely, this will not be bad if it sells videos versus ones with membership or subscription packages. These pay-as-you-go platforms are also fantastic for test-driving your Handy.
Therefore they can prevent you from shelling out more than a few bucks only to realize they might be more trouble than they are worth.
Finally, there's the question of how interactive a site's videos are.
For example, the difference between getting only a few, more than likely annoyingly random strokes versus one where what the performer does and how your Handy responds are perfectly in sync.
The verdict
After weighing these and other factors for the sites on our list of The Best Handy-Compatible Interactive Websites, our suggestion of where you should delve into the arousing pleasures of sextoy interactivity goes to SexLikeReal.
But close behind it is SensesPorn.
The reason for our nearly-split decision is that SexLikeReal continues its amazing dedication to exploring smart sextoy integration and all the wild ways it could reinvent adult view watching when it comes to how much its with-script membership costs, we feel SensesPorn may be the more affordable option.
That and though SexLikeReal has fully embraced the erotic potential of The Handy, it works with toys from companies such as Kiiroo and Lovense as well.
Sometimes it feels like the Handy is just one of several. At the same time, SensesPorn limits its support to only it and toys from Kiiroo.
If pressed, we would have to give SexLikeReal a slight edge as it is rightfully one of the most respected, more advanced sex toy-supportive sites.
Further indicated by how it has super high-resolution videos, full-length and short ones, and a very generous selection of virtual reality ones.
Whichever site you choose, keep tabs on what the Handy's development team is doing because if they are anything, it is determined to keep improving their already amazing stroker—and make each and every one of us who own one even happier.