Fleshlight is synonymous with men's pleasure toys.
Within a few years, it had largely replaced the existing pocket pussy market, giving men better options for their orgasms.
And when you've gotten started with that, the next logical step is to keep pushing your options outward.
For Fleshlight, this meant branding its masturbators with the vaginal (and eventually, anal and oral) likenesses and endorsements of popular porn stars.
Starting with Puma Swede and Sandee Westgate in 2008, the Girls line remains one of Fleshlight's bestsellers, with new versions coming out every year, and inspiring the sincerest form of flattery from competitors, including Kiiroo's "FeelStars" line.
Lining up the Fleshlight girls and ranking them can be a tall order. We're going for it anyway.
Realism is relatively unimportant in grading these, because the designs didn't take realism into account, instead they're going for the best experience you can get from an adult toy.
As complex and multifaceted as the women they're molded on, the Fleshlight Girls line is an amazing experience for anyone who has a penis.
If you're looking for a complex experience, get a Fleshlight Girl and get ready to test your endurance with this amazing experience.
Riley Reid Turns a New Paige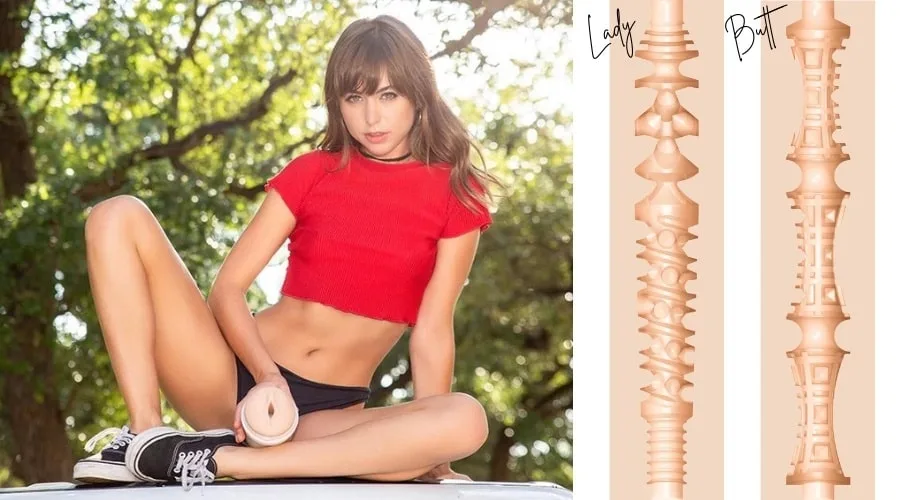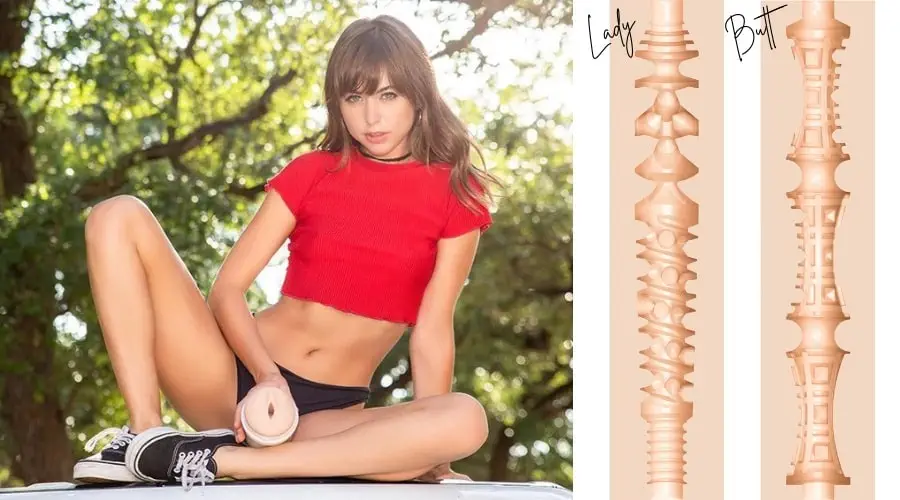 Originally performing in pornographic film as Paige Riley, Reid has the face of an angel and fucks like a devil, which any of her fans knows from her films.
In the business since 2010, her youthful looks and hunger for everything make her an exciting person to watch over her many adult films.
With that kind of personal touch, her Fleshlight girls toy, debuting in 2016, has been a big success. Its interior is a consistent nest of surprises that changes with almost every inch that you push inside.
With Riley Reid's spiraling length section, she really puts the screws to you in a way that – just like her raunchy videos – belies her girl-next-door good looks.
She's the ultimate sneak attack on your senses, and you'll succumb every time.
If you've enjoyed Riley's videos – and many have – the allure of having sex with a facsimile of her is going to be naturally appealing – and there's no better time to really treat yourself than the present.
Stoya is a Destroya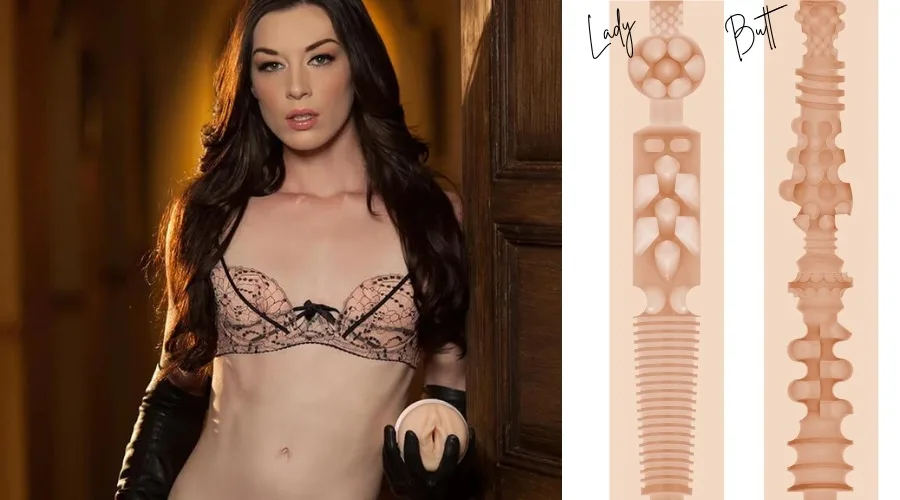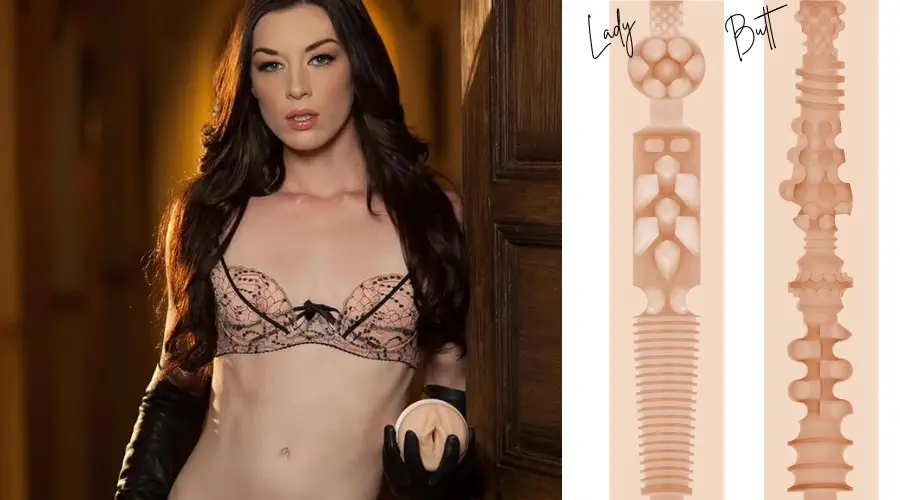 Breaking into adult entertainment in the late 2000s, Stoya became well-known for her experimental adult films, and her Fleshlight Girls model is one of the oldest still available today, first appearing in 2010 in vaginal form, and following up with an anal toy shortly afterward.
She's appeared in hundreds of adult films, has several IMDB credits outside the adult film industry, and is a regular sex columnist for Playboy under the pseudonym "Jessica Stoya."
With a resume like that, she is still one of the most popular female porn stars around, and although her film production has slowed significantly since 2014, her name commands respect.
Her Fleshlight Girls, as you'd expect, is every bit as groundbreaking as she is, featuring multiple chambers with tongues, teeth, lips, and all of the tricks you can imagine from an adventurous star.
The multiple-chamber design, of course, sacrifices realism, but it's one of the most popular available, and challenges even the most jaded men's stamina.
Overall, the Stoya Fleshlight Girl is amazing and given its longevity, men seem to agree.
She's not going anywhere anytime soon, as long as her namesake is interested in keeping her vagina in men's bedside drawers for the duration.
Stoya's toy also comes in an anal form, and she's very popular there, too.
Mia Malkova is making YOU stream this time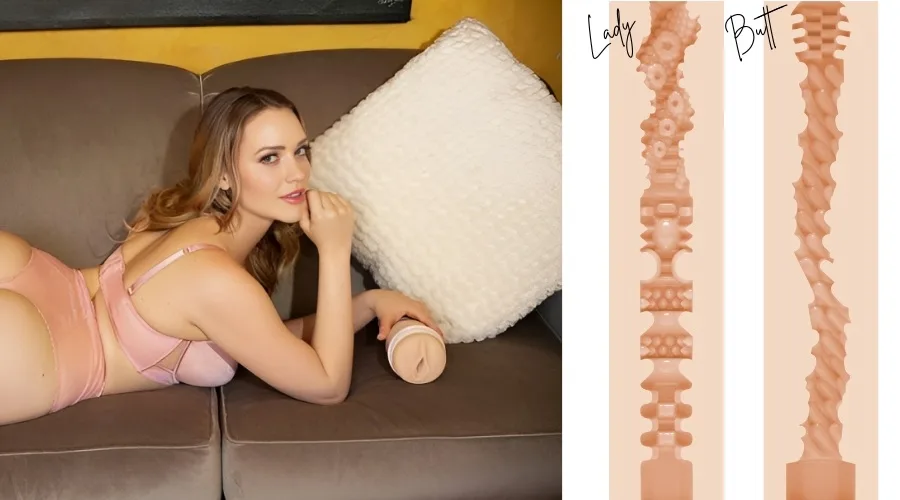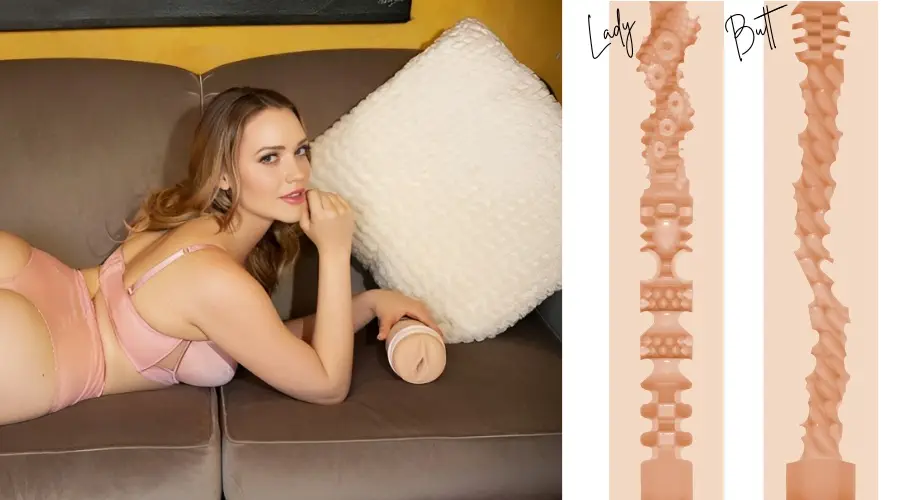 Mostly retired from porn at this point in favor of video game livestreaming, Mia Malkova was at her most popular as a pornographic actress in the mid-2010s, when she was one of the most-searched performers on Earth.
With most of her cash flow coming from her prolific video game Twitch livestream these days, she also has a lucrative side business with her licensed vaginal and anal replica from Fleshlight.
Fleshlight advertises her as one of their most intense toys, and with a twisting segment leading into a number of rings, it delivers on that promise.
The toy's names for the vagina (Lvl Up) and anus (Boss Level) orifices follow her post-porn career, too.
With a beaded tentacle design and a twisting, turning channel in both variations, the Fleshlight bearing her name has simultaneous ties to both her previous pornographic career and her current life as a game streamer.
We're not glad to see her go from the realm of on-camera sex, especially considering how adventurous she was in those encounters.
If you're not ready to be done with Mia Malkova as a source of your pleasure, consider her two adventurous Fleshlight Girls toys as your next adult purchases, and you won't regret it.
Dillion Harper is Bumpy Inside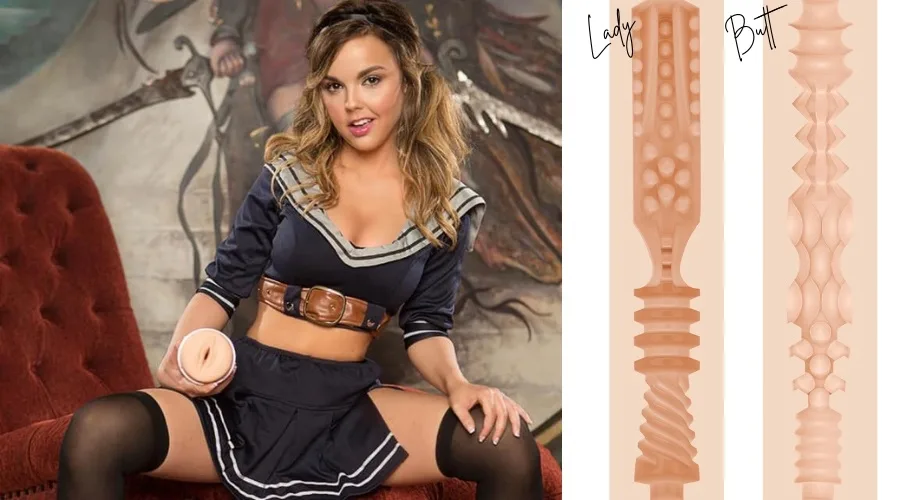 With 10 years in the adult film industry starting just out of college, Dillion Harper's hardcore history is as great and long as you can imagine, and her girlish looks have kept really well for someone in her early 30s now.
Her fleshlight is more of a straightforward experience, with loads of bumps and rings to keep you happy without getting complicated on you.
Her path into porn was a path out of poverty and she's excited to continue her career as she moves out of the basic porn niche into MILF and other new layers of the porn experience, saying she just loves to get naked on film.
With a simple, straightforward experience, trapezoidal bumps leading into a series of rings, her fleshlight is a tribute to the simple joys of sex without any need to try to create "new" sexual experiences that don't exist outside of the designer's imagination.
We think that this is the perfect way to explore the personality of the model these toys are based on.
Dillion Harper's professional calling in porn gave her a bit of a reputation as being trouble, and if you want to feel a little bit of trouble on you, consider picking up her Fleshlight toy.
She also has sex dolls based on her, but the Fleshlight is a lot easier to handle for most purposes, and definitely easier to take with you on trips.
Elsa Jean Can Be Your Lover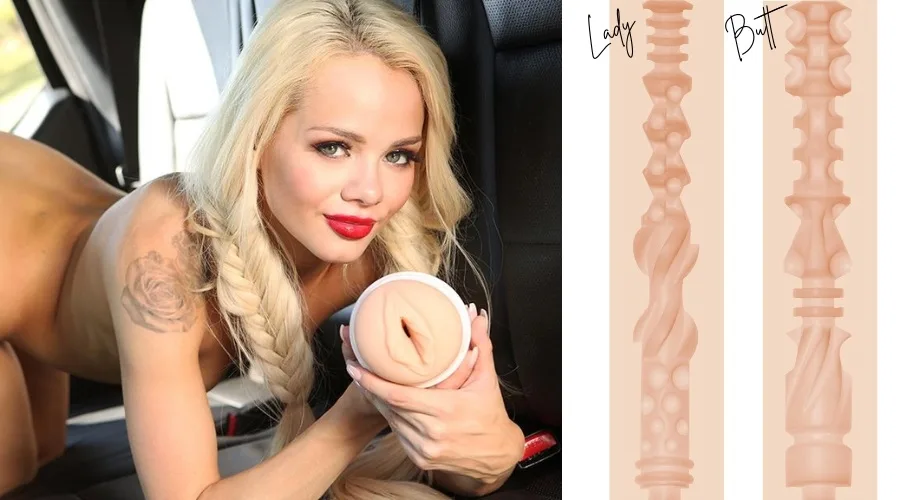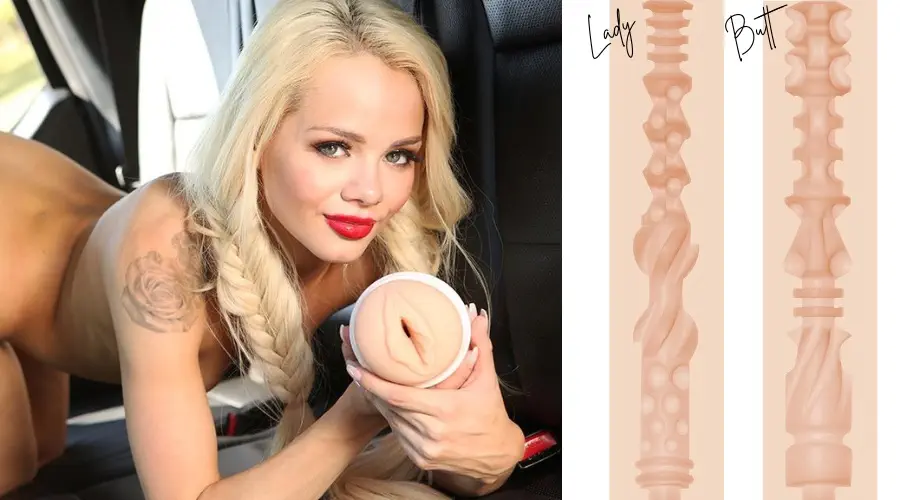 Midwestern Virgo Elsa Jean is 5'4" of wow, with a perfect sculpt of high-quality silicone sitting inside its case.
With a shimmy to her design, she reflects the carefree image of the woman it's based on.
Elsa Jean got out of school in Ohio in 2015 at the age of 19 and started immediately on her adult entertainment career.
Describing herself as someone with a higher-than-average sex drive, she started dancing in strip clubs shortly after graduating from college and then quickly went on to make her first adult films that summer.
Since then she hasn't looked back, being in the industry for the last 8 years.
Her Fleshlight zig-zags its way through three main chambers, with almost everything coming before the 7 inch mark of its 9.5-inch interior length.
This is a bonanza to more average or even shorter enjoyers, who often can't reach the exotic twists at the deepest ends of many male masturbator designs.
Well don't worry, my short kings, you've got a lot to look forward to in Elsa Jean's toy, the newest Fleshlight Girls in the bunch as of right now.
And for its newness, Elsa Jean is a serious winner, one of the best in the line, showing off the years of improvement that these toys have undergone.
Abella Danger's Lady is a Danger, And Her Booty Is Amazing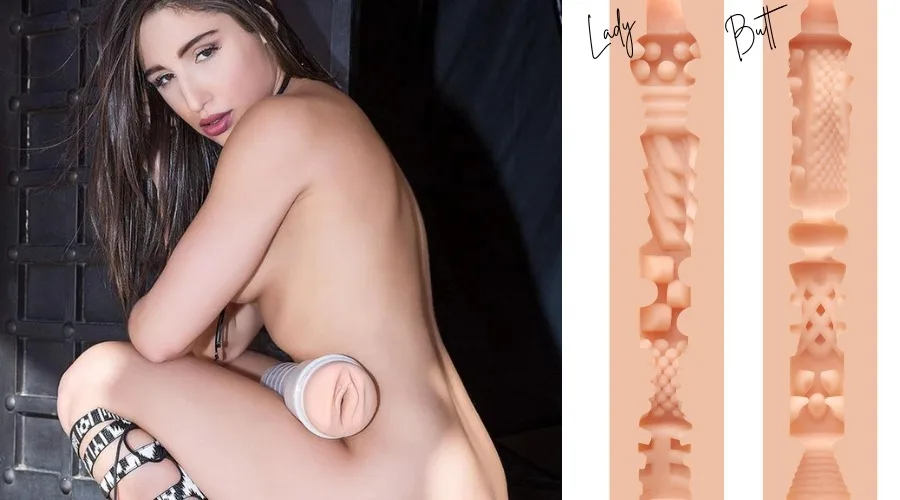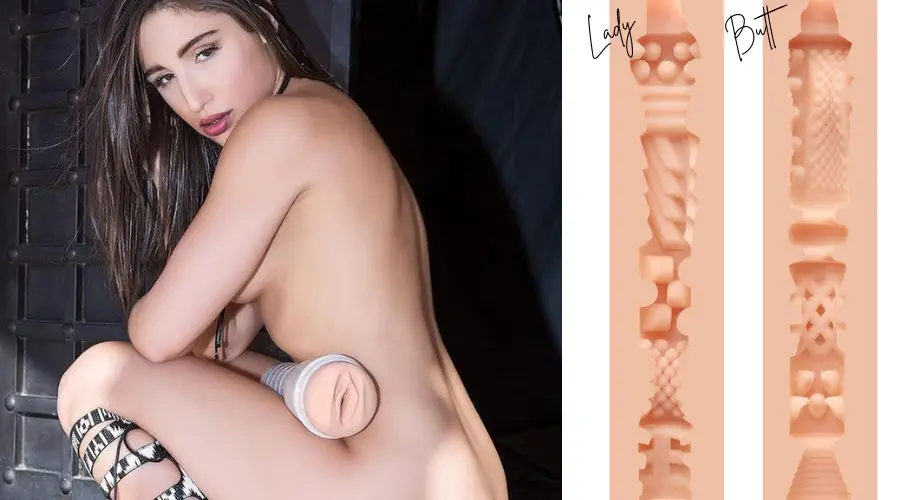 Abella Danger's pornographic career began around the same time as Elsa Jean's, and her sophisticated look gives her a completely different kind of appeal.
Danger's appeal is that adult look and her Fleshlight has six intense, adventurous chambers ranging from nodule-studded spinners to bumpy zigzags, making her Fleshlight one of the most complex ones in the collection.
Everyone is going to find something interesting as they go along and find the six (six!) different internal chambers.
With that huge number of internal chambers, one would be entirely justified in suspecting that not enough length is given to each, but this is a nice piece that gives every chamber of the toy just enough time to make sure that it's got the emphasis that it needs, and gives the user the feelings they want.
If you want the best, Abella Danger is someone who's ready to give you the best adult toy with her name on it.
Fleshlight's Abella Danger Lady is simply amazing and accurately represents all the possibilities of a Fleshlight in one luscious tunnel.
Autumn Falls Onto You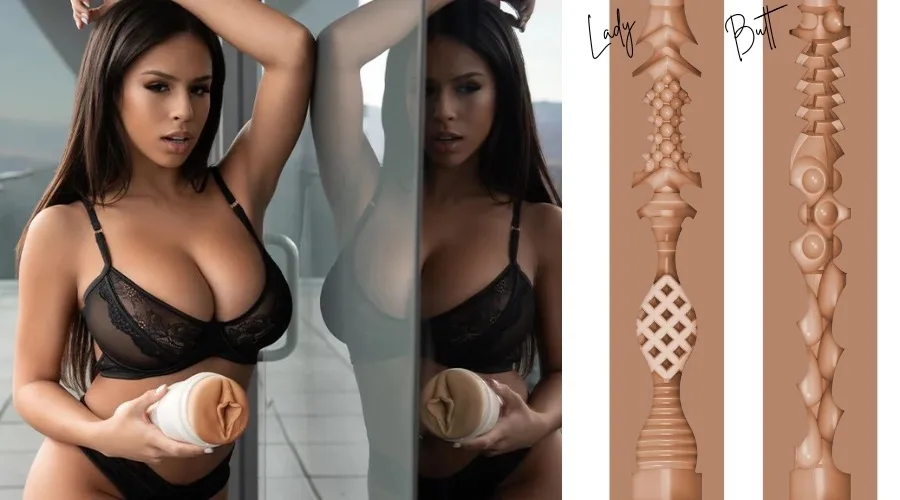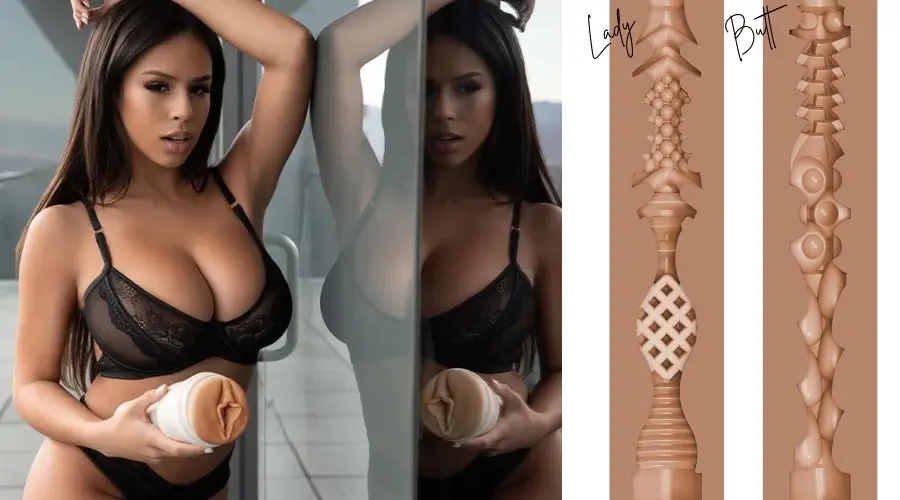 One of the youngest Fleshlight girls in the business right now, Autumn Falls at the age of 24 has the look of a model who's been in the industry for years, and her toy has all the latest tricks, with a five-chambered interior that's all about playing with angles.
With a mesh section in the second chamber and consummate V's toward the end, her Lady fleshlight is likely to burn through all of your stamina, for it to be smoothed away with pleasure bumps in the Booty option, if that's more your style and you have the money for both.
With these two separate options, Autumn Falls's Fleshlights are some of the best choices you have, and her "Peaches" toy represents an especially smooth choice for your orgasmic pleasure.
For many Fleshlight Girls, the Lady option seems to be the preferred one, but the smooth, larger bumps of the Booty option for Autumn means that her choices are more open-ended and so are yours.
Autumn's Fleshlight shows the advances of 25 years of Fleshlight technology and modern CAD design, and Fleshlight's experimentation is going to be especially rewarding to you.
Janice Griffith Gets To The Point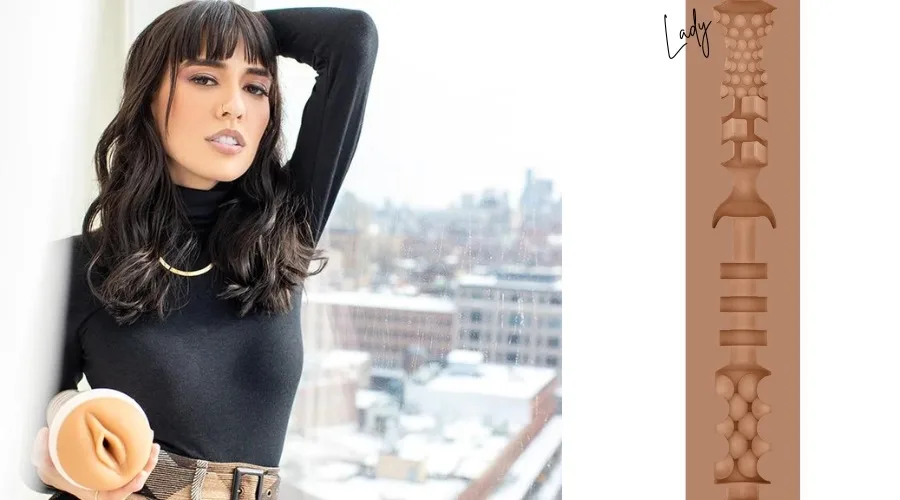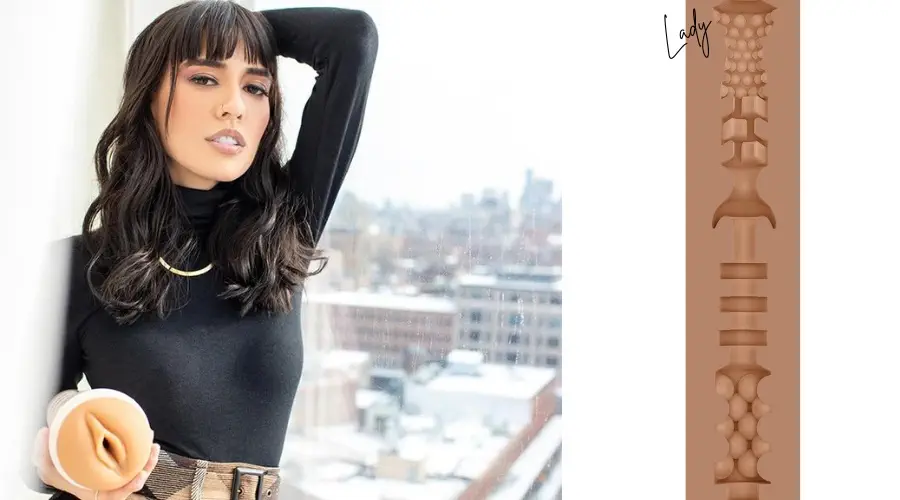 Sometimes you want the sinuous, pleasing undulations around you that modern CAD design can create inside a replica of a popular adult film star's vagina.
And sometimes you need to have something more like a lightsaber around you – something laser-honed around making you come.
And that's what you get inside this perfect replica of star Janice Griffith's vagina.
Tight and simple, this gorgeous entry into the Fleshlight Girls line uses fewer undulations and crests and more simple pleasure rings that make it feel simply like the best orgasmic toy you've ever experienced.
With Janice Griffith's branding, her Fleshlight is going to give you the best experience available. If you want simplicity and function, she has one of the best options out there.
Her toy just has one of the better layouts in the line, and its interior puts enough of the emphasis on where it needs to go that you're not going to have a big problem with getting off when you need to get off.
If there's any downside to her toys, it's the fact that there's only one design here, and that's both an advantage, as you don't have to figure out which interior form you prefer, and a disadvantage, since if you already know, you wouldn't have that choice.
But if you're not an ass man (or girl, we're not judging), this is a great simple option.
Eva Lovia Gives You Mia Marx Vibes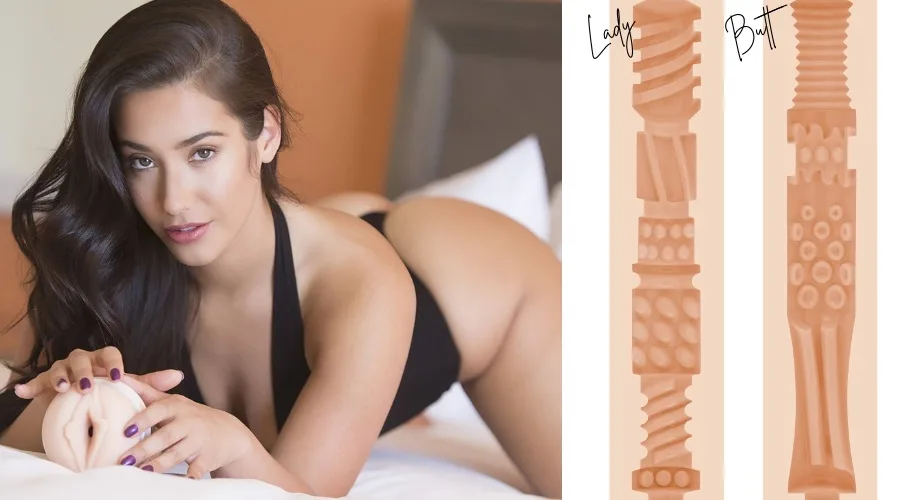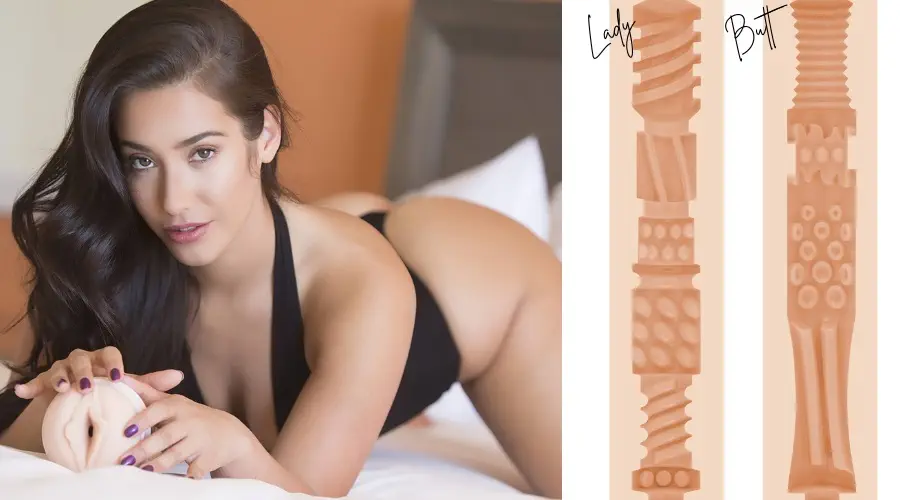 Eva Lovia, who entered the business as Mia Marx when she started in the early 2010s, got into porn – surprise – while she was in college, studying for a psychology career she never entered.
Her selectivity in her porn shoots is well-known, and she's going to be a great choice if you're looking for an adult superstar to watch.
Her Fleshlight toy reflects her personality, being an impressive and straight to the point toy.
If you're interested in a relatively realistic, naturalistic experience with just a little bit of technological edge, the Eva Lovia Fleshlights have similar insides.
The Sugar and Spice options (her Lady and Butt fleshlights) are way more similar inside than other options in the line, with similar early squeeze points, a relatively spacious middle section, and a squeeze on the end before you get into the final chamber.
With this simplicity, the Eva Lovia Fleshlight means one of the best toys on the market today gives you one of the most natural experiences.
If you're not the type to go for a naturalistic toy, of course, there's a lot of other options in the Fleshlight line, but it's almost more of a shame for you to miss out on Eva Lovia's Fleshlight.
Give it a try before you dismiss it just because the CGI imagery makes it look relatively plain.
Brandi Love MILFs your Cock With Both Options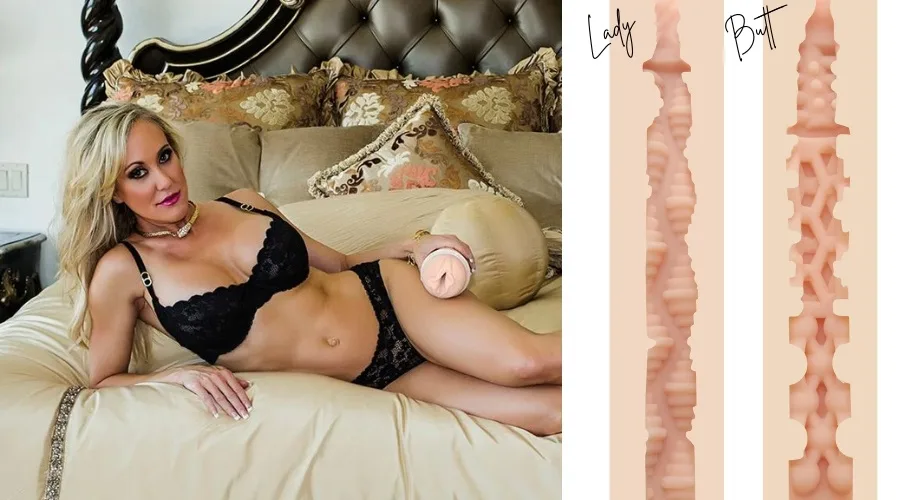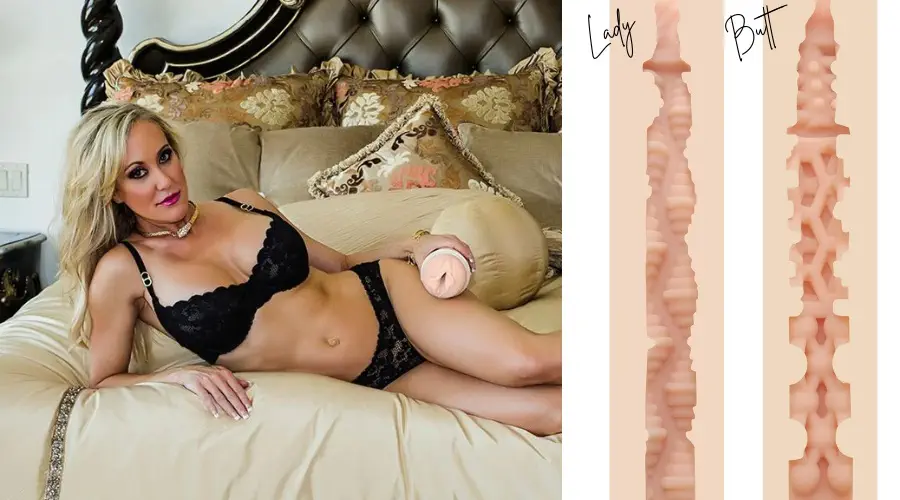 Marketing herself as the world's hottest MILF, and not without reason, Brandi Love started her amateur porn career back in 2003, and has been involved in hotwife-themed porn ever since her debut.
Her toy uses graded undulations to grip along the entire length of your cock, and like many of the seemingly simpler toy designs, there's no significant chambering in the Lady option creating differing sections, just one incredibly realistic texture that's pretty intense all along its length.
With this option, you're going to have one of the better choices on the market for a simple yet complex Fleshlight.
Brandi's "Shameless" butt opening is super tight in the entry, entering into a gridded midsection and a series of connected nodules toward the back, giving this toy the theme of anal virginity.
The interior of this one is textured a little more intensely than the "Heartthrob" lady option, making it the obvious choice if you're only going to get one of her.
With her age approaching 50, her Fleshlight is ridiculously hot and offers some of the most interesting choices for the discriminating user.
Madison Ivy Takes You to Wonderland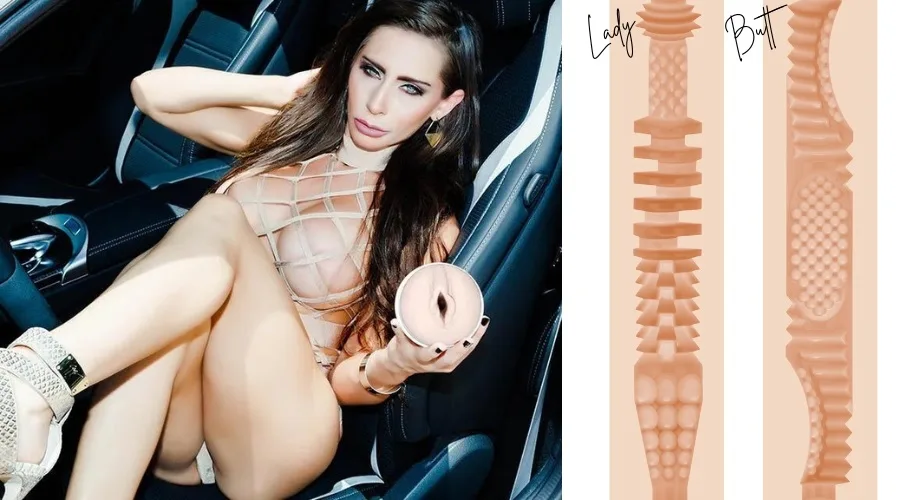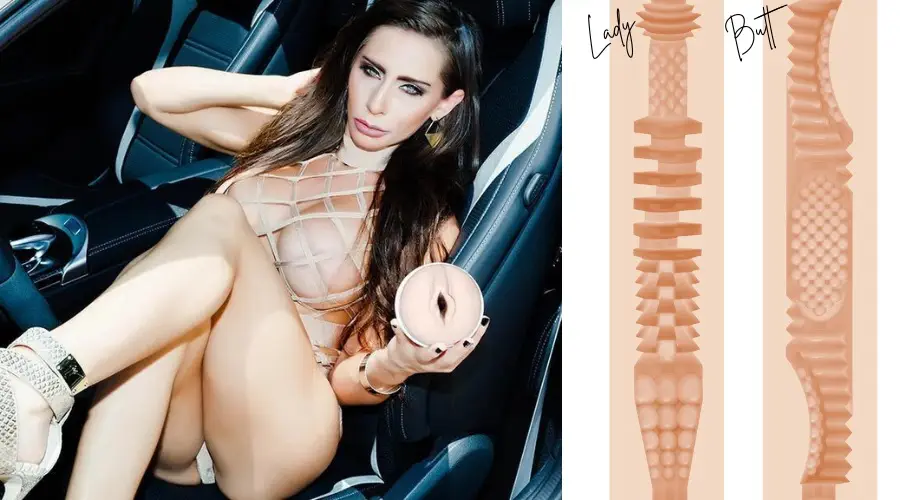 With her "Beyond" lady option or "Wonderland" butt toy, both of Madison Ivy's toys are great choices for anyone looking to get into her porn videos.
At a tiny, athletic 4'11", Ivy's body is curvy as hell and with a 4.8 review on fleshlight.com, she is one of the highest-reviewed toys on the site.
The "Beyond" pussy is less a series of chambers than a neverending assault of ridges on your most sensitive nerve endings that will challenge even the most disciplined man to keep from busting before he's even gotten all the way in.
The hyper-stimulating toy ends in a series of ridges that will take your breath away once you've gotten all the way in, making "Beyond" more than just a name brand.
"Wonderland" is another apt name, with this toy having another non-chambered design that undulates between pads of exciting nodules while you spiral deeper into the toy.
Madison Ivy is famous for her anal videos, and she clearly made sure that her modeled sex toys followed that fame by giving you one of the best pleasure options with that tight entrance.
The vortex of "honeycomb" plates makes Wonderland an incredibly exciting toy to take advantage of, and with Ivy's name and likeness attached to it, it looks like an instant classic of the Fleshlight line.
Attached to one of the sexiest porn stars on the Internet today, Madison Ivy's "Wonderland" is among the best of the many great choices available here.
FAQs
What Variations Do Fleshlight Girls Come In?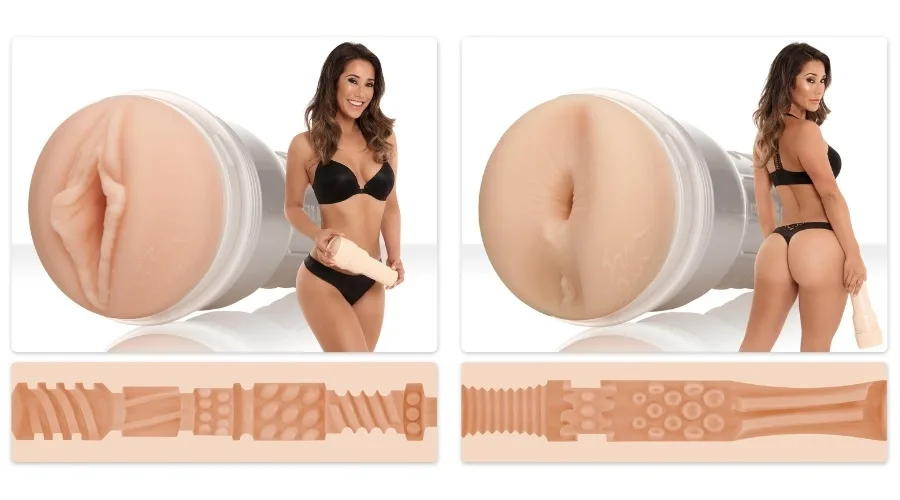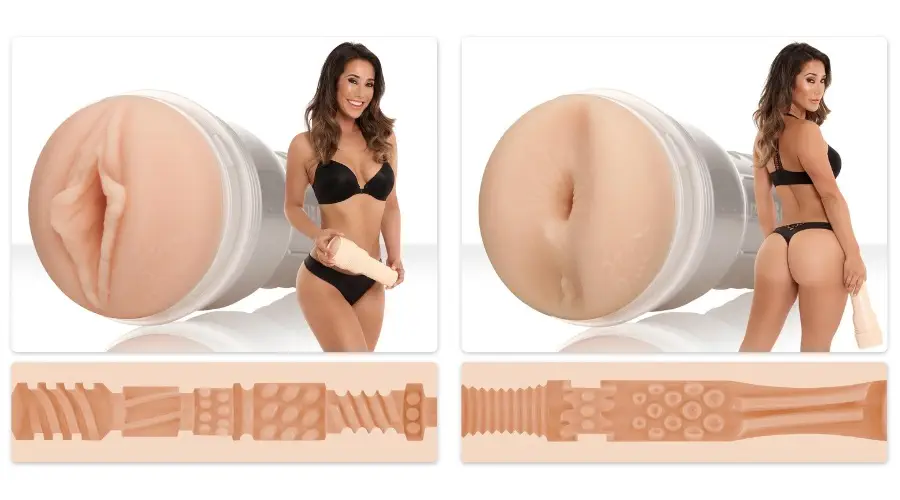 The Fleshlight Girls line has two variations for most girls: a "lady" (i.e. vagina) and "butt" (anal) entry. Each of these will have a branded name for every star.
The main length of each toy is the same for every star, with the entry differing.
The entry cushion also has a replica of the star's signature on the flesh part, and the entries are both modeled on her actual body.
If you're looking for the ultimate in porn star realism, you've come to the right place.
When do you want to replace your Fleshlight Girls?
As long as you make sure that you are washing your Fleshlight Girls regularly it should last for a long time – maybe several years if you do it right after depositing your liquid assets (har) inside.
If you're not so timely about getting them cleaned out, though, the deposits can build up and crust, and off odors and other nasties can appear, shortening the lifespan of your toy.
If you want to have long-term fun with your Fleshlight Girl, make sure you're washing after every use.
How do we clean them, then?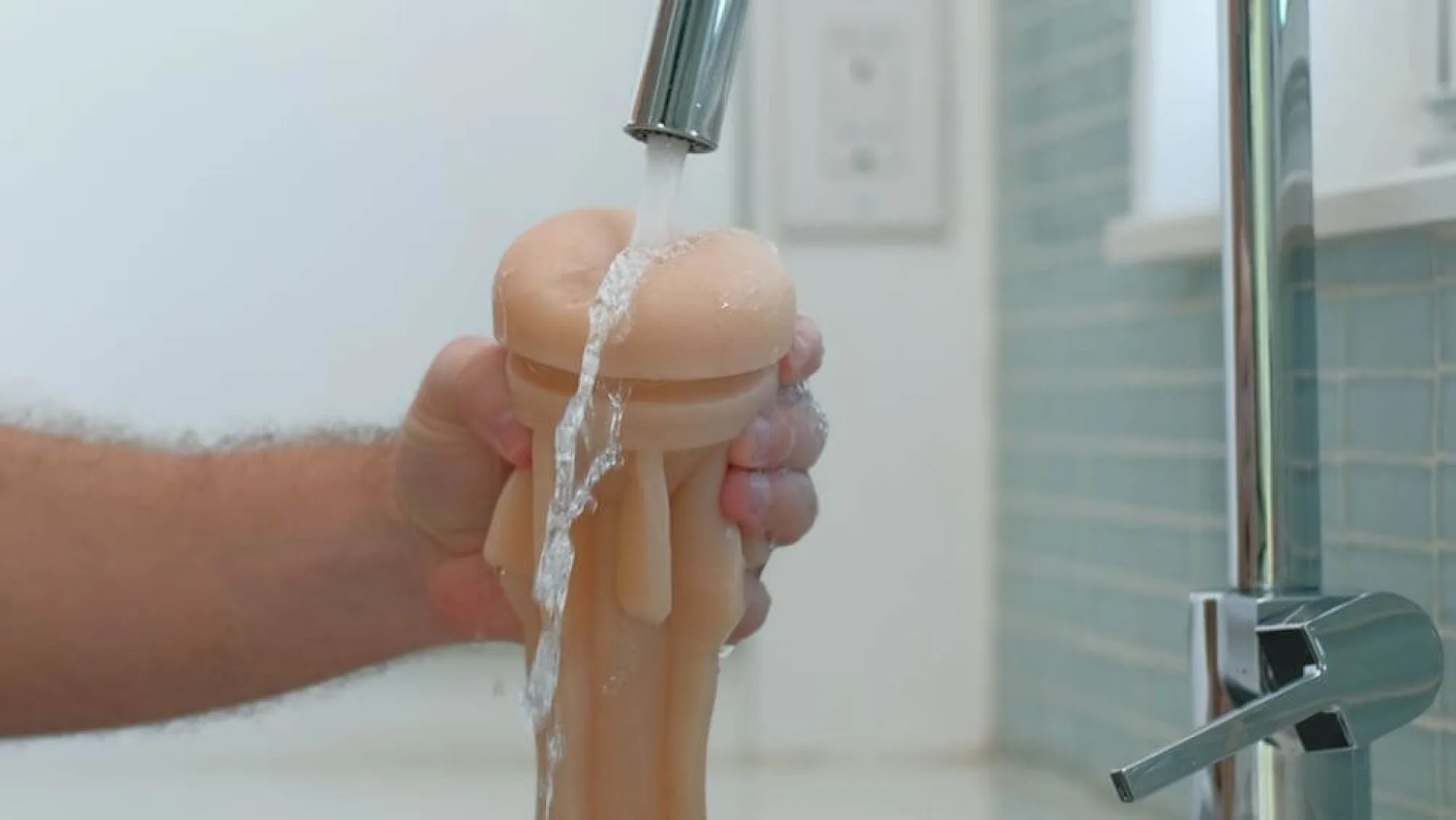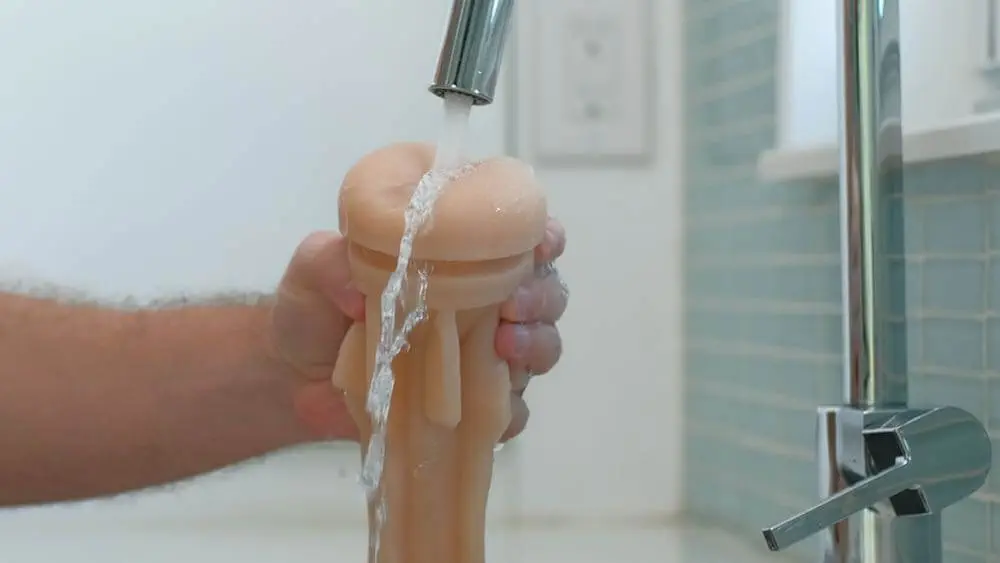 For practically any use, Fleshlight Girls are simply cleaned with soap and water. The silicone sleeve comes out of the case and can be flipped inside out for the most effective cleaning.
Some Fleshlights are particularly easy to clean, such as Dillion Harper's model. Some can be a little more difficult, like the more complex sculpts used by Stoya and Mia.
How Portable Are These?
The Fleshlight Girls line is, like other main-line Fleshlights, portable more in theory than in practice.
The Girls fleshlights are a full 10 inches long and can't really be easily concealed except in a backpack or briefcase.
Fortunately, if you're interested in portable Fleshlight fun, they do have more compact options.
Who's The Best?
As you can see from all of the above, this is really a choose your own adventure for your preferences.
There's not much in the way of bad picks here, which you'd expect from an adult entertainment company with Fleshlight's kind of pedigree.
If you're interested in butt play, you're going to need to by default steer clear of Janice Griffith, who only has a vaginal entry; otherwise you're pretty much good to go with every variation, and more importantly, every Fleshlight has a different internal shaft beyond the obvious differences at the orifice end.
My personal favorite is Abella Danger, but I'm just one person, giving an opinion on the internet. Pick your favorite porn star, get her Fleshlight Girls, and have fun inside.
The entire Fleshlight Girls line is full of great options for you to push into, so make sure that you give them all a try and find out what your favorite is.