Do the most cursory of searches for adult entertainment platforms, even narrowing it down to those focused on performers looking for ways to stheir social media presence, and OnlyFans will more than likely be at the top.
And for an excellent reason: that while the idea of these kinds of sites has been around for some time with the coming of COVID-19 and thousands of people looking for new sources of income, OnlyFans saw this need and ran with it … all the way to the bank.
Not to dismiss the sites that have launched since then, many I've reviewed here at Teledildonics, but though a fair amount of them are seriously worth considering for performers to sign up with, they all have something that, to date, just OnlyFans can offer: size.
Despite its flaws, and there's certainly has a number of them, by being the first popular platform, OnlyFans has become a kind of juggernaut: propelled forward by its sheer weight of market share—something all those other platforms are relentlessly driving themselves to barely come close to.
Can they do it? Alas, my fortune-telling skills are woefully inadequate, to say the least. However, there is a platform with the backing, industry knowledge, and determination to do just that.
>> Click to Join the #1 Adult Social Media Platform
What is AVN Stars?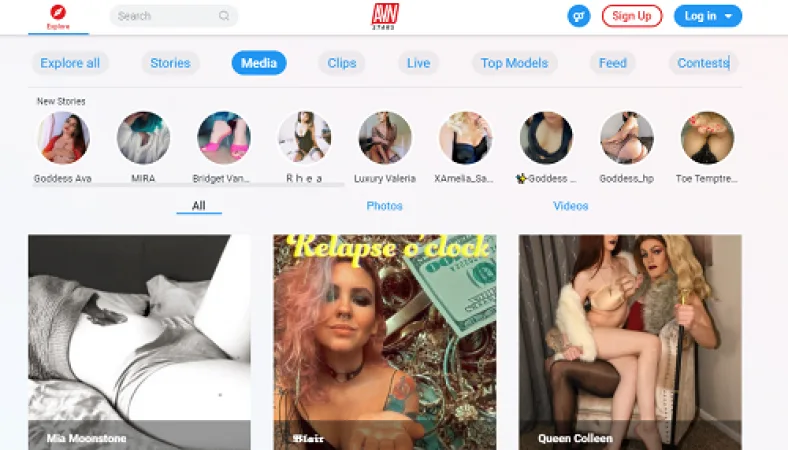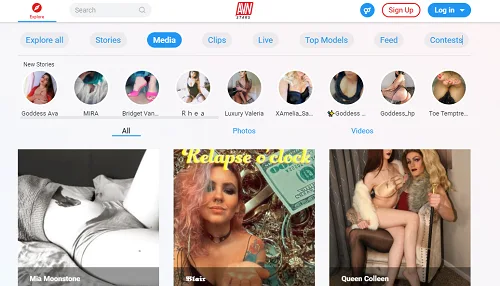 Anyone involved with the adult entertainment industry is aware of AVN, which stands for Adult Video News. Beginning back in that by-gone age of 1983 by the trio of Barry Rosenblatt, Irv Slifkin, and Paul Fishbein as a print (remember them?) AVN is all about the movers, shakers, up-and-comers in the explicit media world.
Things have changed since then, including Fishbein being the only remaining founding member, especially with the advent of the Internet. If you had to encapsulate AVN, you couldn't go too far off by thinking of it as the Variety of porn.
With its knowledge of the ins-and-outs (and ins-and-outs and ins-and-outs and ins-and-outs … sorry, terrible joke there) of the industry, it's not a huge surprise that'd become aware of the explosion of adult subscription-based adult entertainment platform.
Resulting in their creation of AVN Stars. As with similar sites, it's all about giving performers ways to develop or increase their fanbase and, through various monetization options, make money by offering fans enticing ways to pay to see more.
But it's not just an OnlyFans also-ran, as AVN has put their industry-experienced grey matter by giving their platform quite the passel of excellent features.
Beginning with AVN Stars
The biggie here is that performers, and anyone in their content, has to be at least 18 years old. Performers who want to make money will have to next provide a W9 tax form if they live in the United States—and verify their age.
AVN Stars is extremely upfront in welcoming anyone, no matter their gender or sexual orientation. Individuals aren't exclusive, either, as the platform is also open to businesses, producers, and studios.
This is a heaping helping of good news as networking is as essential as wooing and pleasing fans; having all those businesses, producers, and studios right with you on AVN Stars could lead to a few tasty meeting of the minds—and perhaps whole new opportunities.
Is there a fee to use AVN Stars?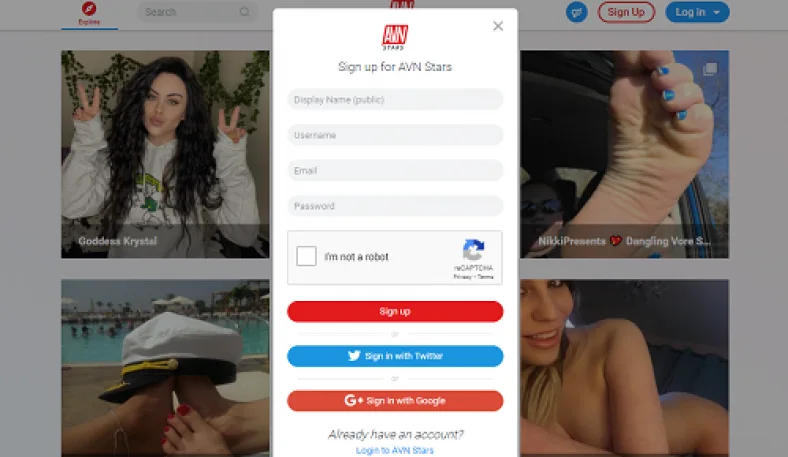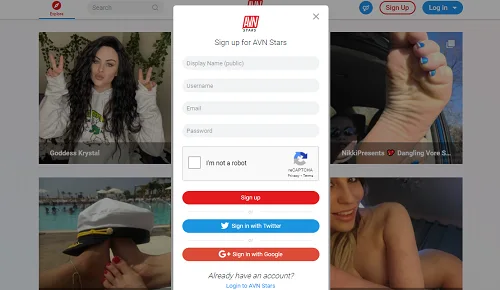 Like OnlyFans and all those sites using the same model, there are no fees or charges to use the platform. Also, like them, the way AVN Stars makes its own money is by taking a bit of whatever their performers make.
Breathe a sigh of relief if you may have concerns about that as that bit is a scant 20%, allowing content providers to pocket 80% of whatever income they generate.
But there's more, as AVN Stars has a particularly enticing referrals program as well: one that has the possibility of adding 5% to that when a fellow performer signs up.
Can you make a lot with AVN Stars?
Fully aware that I sound like a broken record … broken record .. broken record (lousy joke, take two), figuring out what you could, maybe, perhaps earn with AVN Stars hinges on how big your fan base is, how much of that you can convert into paying subscribers, what you do to keep them happy, and the effort you put into adding new ones.
A considerable part of is giving you, the performer, numerous ways to get your stuff out there—novelty and flexibility being a well-established method of gaining and retaining customers.
Something AVN Stars is well-aware of as it provides their performers with maybe not the most but still extremely well-thought-out monetization options for their performers.
Which I'll get to in a second (yeah, I admit to being a tease), but first, a quick word about that all-important topic: money … and how to get it.
Getting paid with AVN Stars
Are you sitting down, resting comfortably? Good, because here's a pleasantly eye-popping, head-spinning thing about this platform.
Daily—and, yes, you heard me say precisely that—payouts. Yep, though scant (very scant) platforms allow performers to do this, it typically comes at a cost. In other words: a fee.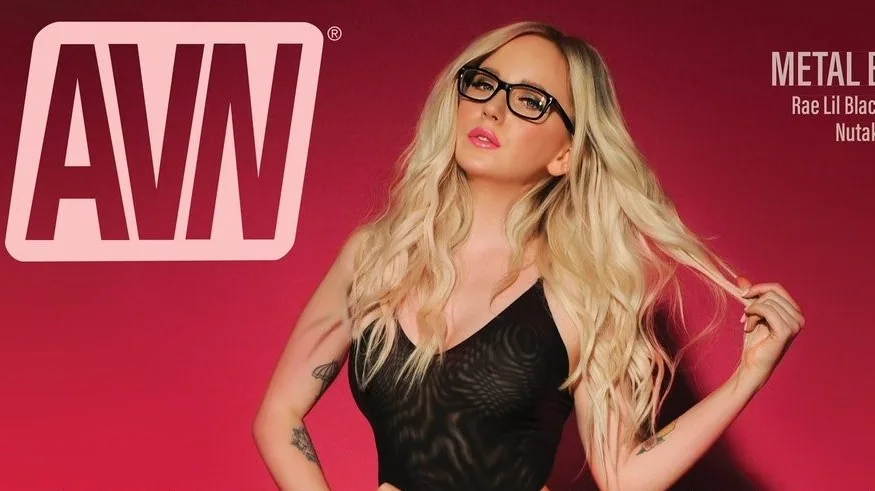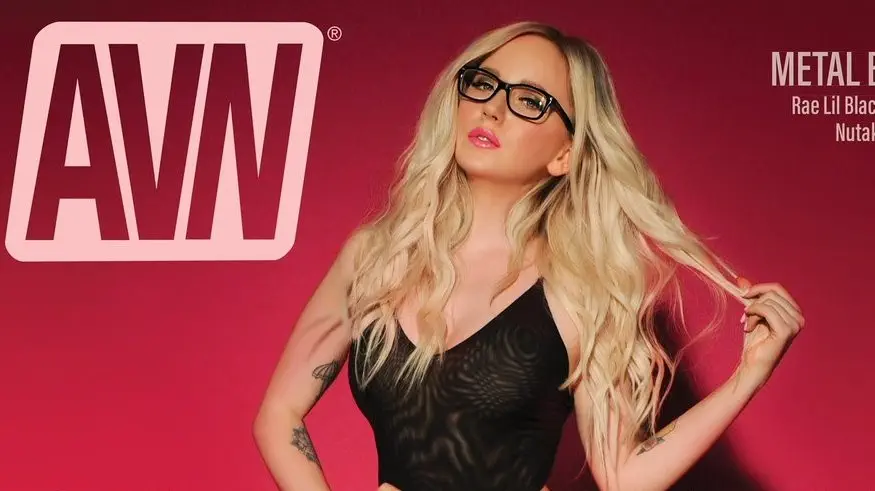 Not here, as to get your bucks out of AVN Stars, you merely need to have more than $25 earned. Which, by the way, is far lower than a good number of its competitors.
However, getting your money can take upwards of a week via Paxum or ACH. Still, even with this delay, receiving your money when you want versus by whatever schedule the platform sets can assist in performers to manage their income.
What you can offer your fans with AVN Stars
Thank you for your patience, which I hope will be well-rewarded, as AVN Stars has some juicy things in this department.
Subscriptions: nothing all that new here, which is far from a strike against them as this is what these and all those other sites are all about.
Clips: if you have them, you can tempt your fans with your choice of pay-to-view clips. Again, not incredibly unique, though AVN Stars touts their interface as one of the easiest to use: allowing a performer to just create a clip and then drag and drop it onto the site, followed by setting how much they'd like to charge their fans.
Fund Me: Working like tips, this allows fans to support performers by paying whatever they're willing to pay. Of course, you can also grease their wheels by whatever means you think will work best.
Live Video: in other words, livestreaming, and here's where things get interesting as, as far as I can remember, only two or three platforms have this.
Business Support: recall how I mentioned AVN Stars allows for performers and producers, studios, and, yep, companies to use the platform? Well, here it is: made extra alluring as this, after all, is fricken Adult Video News: one of the industry's prime news outlets.
What else does AVN Stars offer?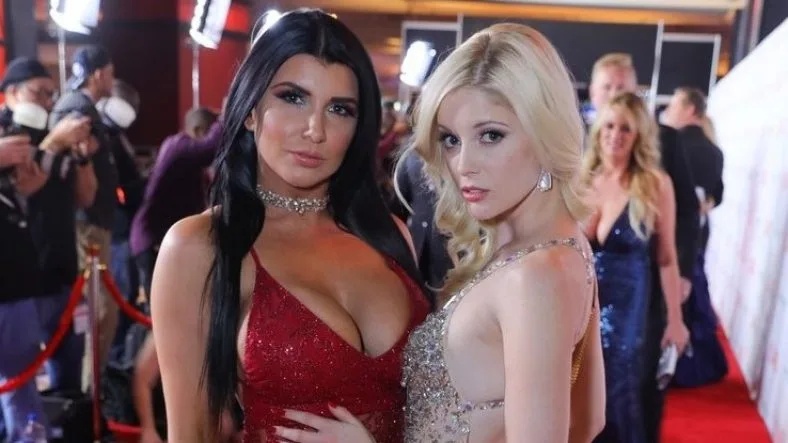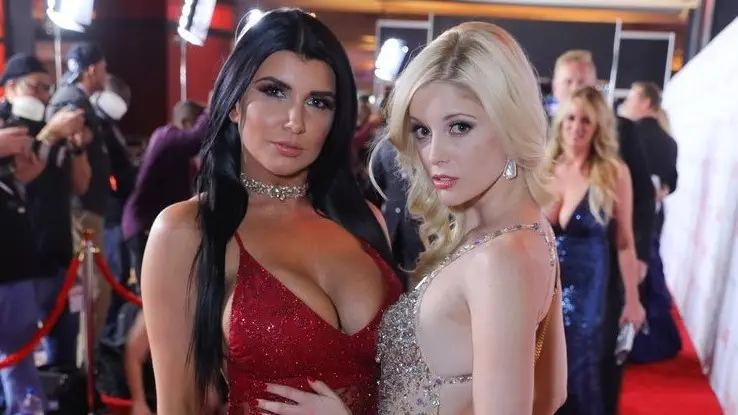 The possibilities don't stop there, as, on top of all this, the platform additionally has a watermark system that can be toggled on or off. Why you'd want to do the latter is beyond me, as with it switched on, content creators have their stuff automatically and invisibly tagged, so should wander away—like to a pirate site—it'll be easier to get it removed from there.
AVN Stars also supports geo-blocking. For those unfamiliar with this, it allows performers to deny access to their feed based on where someone lives. It may not sound like a big deal, but if you're residing in, for instance, a country unwelcoming to explicit stuff, then this could literally be a lifesaver.
Pros:
Porn industry giant with experience, connections, and knowledge of the business
Well-funded, professional platform
Ideal for those looking to make inroads into the adult entertainment industry
Pays out whenever a performer requests
Cons:
Relatively new platform
If you're not an explicit performer, then may not be a good choice
Not as expansive in regards to monetization options as with similar platforms
Might be an uphill battle to get established if you're not an already well-known performer
The verdict
Here's another thing about OnlyFans that perhaps doesn't get as much attention as it should: that while they aren't against explicit content, they aren't exactly welcoming towards it either.
Oh, sure, they'll take your money and let you post, but it isn't a form of entertainment they're all that familiar with.
At least not as much as AVN that, again, knows more about the adult business world than you or practically anyone else ever could. Because of this, and being open and frank that some sites offer more monetization venues and other good perks, I think that, yes, you should sign up with AVN Stars—with the bonus that it might be a fantastic networking tool in addition to supporting fans looking for explicit content.
On a slight side note, as with every review I do for Teledildonics and everywhere else, please don't take my word for this, as though I work to be as thorough as possible, some things will invariably slip under my radar.
True as well that I am not, and can never be, you, so while I may thumbs up or down to a platform, by all means, go out there, sign up, take it for a test drive, and make your own decision.
>> Click to Join the #1 Adult Social Media Platform