Sex toys do not have to be for women only, there are many products out there that couples can enjoy together.
A high-quality sex toy can really spice up your relationship and the Satisfyer pro 4 couples definitely has what it takes.
Use this product correctly and it is going to give you both maximum pleasure and help to keep your bond strong as a couple.
This Satisfyer pro 4 couples review has been put together to tell you everything about the product so that you can decide if it's right for you.
>> Click here to learn more about the Satisfyer Pro 4 Couples or order it now <<
https://www.youtube.com/watch?v=G_TZ_ErdOUo
What is the satisfyer pro 4 couples?
The satisfyer pro 4 couples is a vibrator that can be inserted during sex to enhance the sensations for the man and women.
When you first open the product, you might feel a little nervous because it has a very unique shape to it and you've probably seen nothing like it before.
When you know where it all "goes" however, the satisfyer pro 4 couples is going to become a firm favorite in your collection.
It is completely waterproof which means you can enjoy the toy in the bath or the shower if you want to experiment with it even more.
There are 2 buttons and also 2 motors on the device to activate different features of the toy and it's really easy to control in general.
The silicone material that the toy is made from means it is smooth and comfortable, it's also safe for your body and super easy to clean between uses.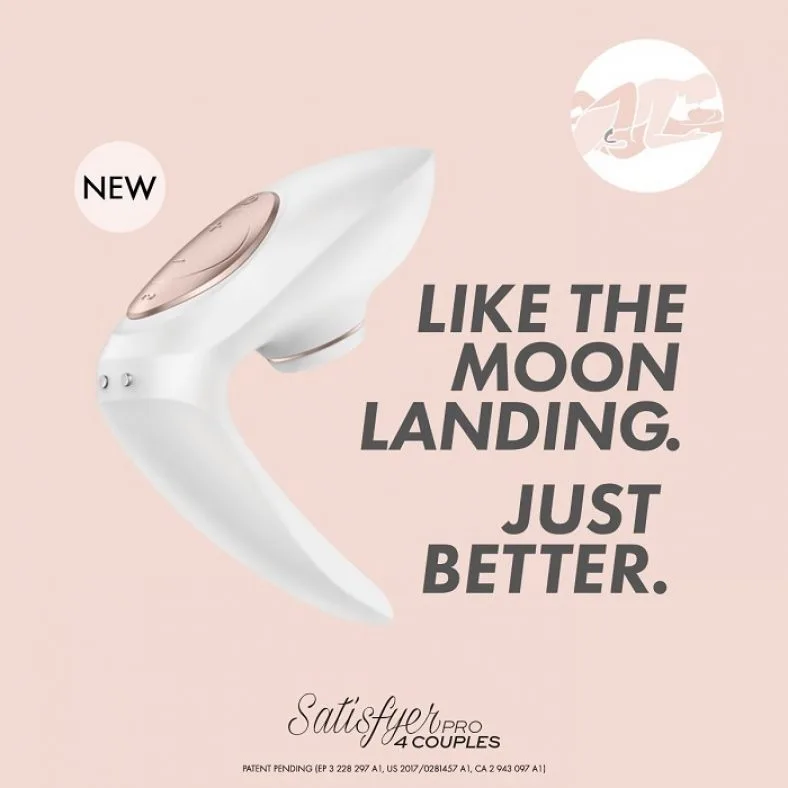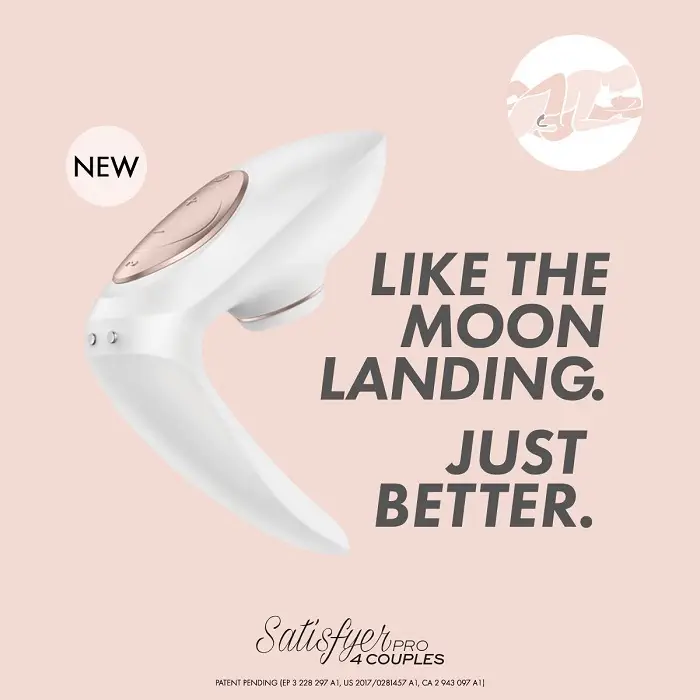 How does it work?
The Satisfyer pro 4 couples toy stimulates her clit, her vagina and his penis.
Once you get the product in the right place, the sensations are absolutely amazing and are sure to enhance your sex life.
The round hole at the underside of the device is designed to fit over the clit and the air pressure creates a pleasurable sucking sensation.
The lower pointed part of the toy slips into the vagina along with the man's penis.
The whole toy vibrates which creates added pleasure for the penis and to the vagina.
The man also gets more stimulation because the vagina will feel tighter due to the toy being in there too. While it might take some time to get used to these new sensations, once you do, you are both going to love them.
The suction on the hole will start as soon as the device is switched on, the intensity can be adjusted using buttons on the device.
There is another button to use which controls the vibrations of the toy. The Satisfyer pro 4 couples can be used with or without lubricant depending on your preferences.
What's in the box?
The Satisfyer pro 4 couples comes with the device, rechargeable batteries and a USB charger. This plus an open mind and imagination is all you need to get the amazing benefits from the toy.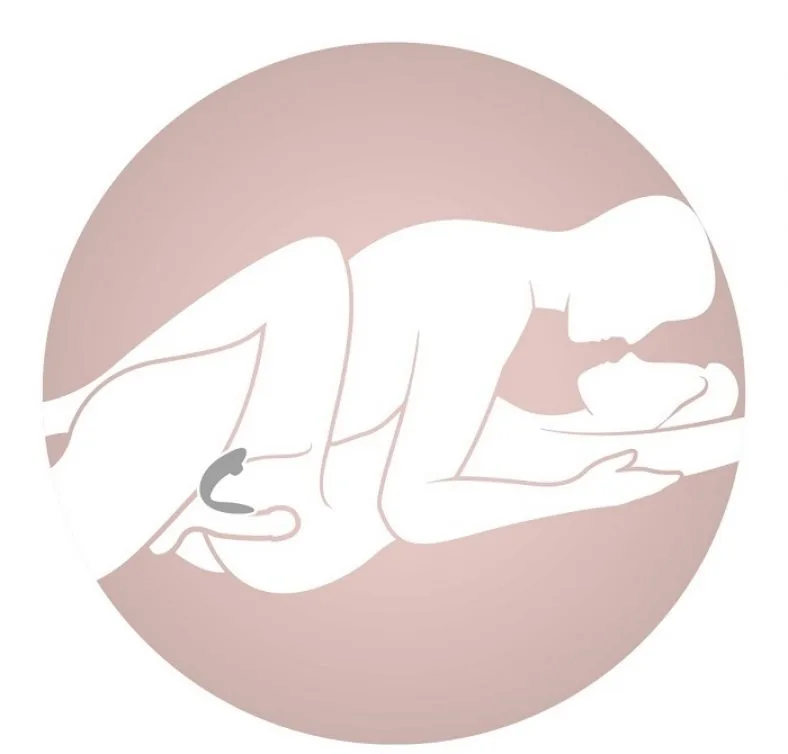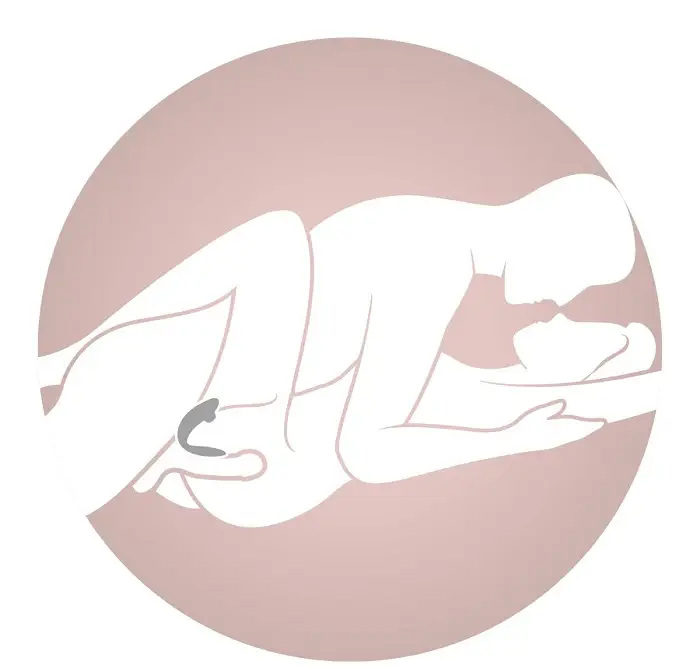 How does it feel?
This toy is probably going to feel different to anything that you have experienced previously but it is friggin amazing nonetheless!
The guy not only will feel vibrations on his penis, but it's going to be tighter which gives him more stimulation in general.
The woman will get clitoral stimulation in addition to penetration from the toy and her partner.
The Satisfyer pro 4 couples toy should help you both climax quickly and hard!
Pros
– The fact that the toy is aimed at both of you is really great. Often sex toys are aimed at just women but your lover can really feel like he is included in this experience and it can even help to spice things up in your relationship.
– It is waterproof so you can explore the toy in the bath, shower or even in the sea if you are feeling particularly dating.
– Satisfyer is a great sex toy brand in general, they have many high-quality products so you can rest assured that you are purchasing something that works really well. The satisfyer pro 4 couples also has many positive reviews from customers all over the world.
– The number of different sensations on this is fantastic, and the fact you can have sex while using it is pretty impressive too. Whether you like clitoral stimulation or penetration, you have both, and your man gets loads of benefits too.
– There are batteries included with your purchase in addition to a rechargeable USB cable to use at your convenience. Save on the price of batteries and even do your bit for the environment with this added benefit.
– The vibrator part of the toy is quite flexible so you can enjoy the Satisfyer pro 4 couples in whatever position you like with ease.
– Despite the 2 powerful motors, the toy is quiet which is ideal if you share with roommates or you just want to be more discreet with your sex toy use.
– It is very reasonably priced especially when you consider how high quality the device is.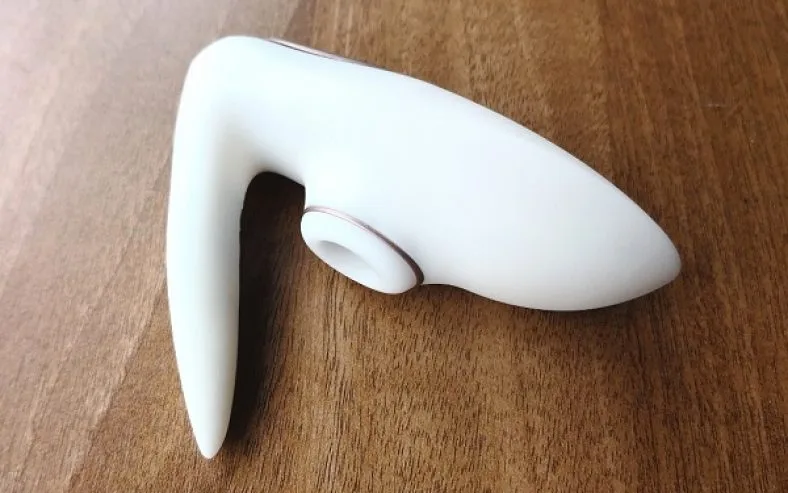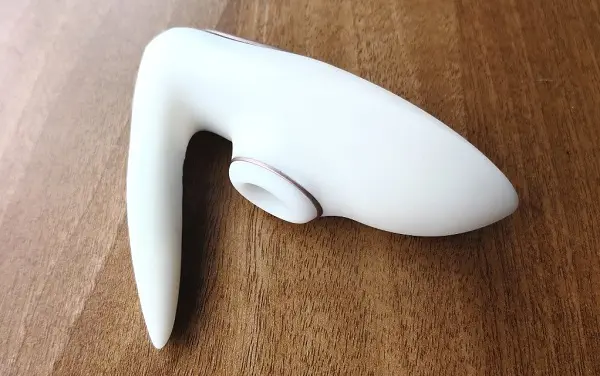 Cons
– The Satisfyer pro 4 couples doesn't have the best battery life which might be annoying if you are mid way through a session. Make sure it is charged before you use it to avoid any disappointment.
Final Verdict
As a couple, I hope you can see from this Satisfyer pro 4 couples review that this is a toy worth adding to your collection.
It has way more pros than cons and it has all the features necessary to make you both climax within just a few minutes.
The device is something way more than a tool just to get you off, however. Experimenting in the bedroom as a couple is really important especially if you have been going through a dry spell recently.
Being intimate with one another is an important part of any healthy relationship and the satisfyer pro 4 couples can help to keep that magic alive.
With all the cool features and available at such a good price, it's really worth giving this product a try for yourself to see if it lives up to the hype.
>> Click here to learn more about the Satisfyer Pro 4 Couples or order it now <<