Nowadays, it is almost next to impossible to find a good, versatile sex toy.
Whether you are looking to enhance your lovemaking sessions, or simply find a new toy for your collection, you are going to need to go through a lot of research to find the perfect one.
With so many choices and different options, you could literally spend weeks looking for the best match.
If you are ready to try something new and exciting, this Satisfyer partner plus review is going to give you the nitty-gritty on this fancy toy.
Design
In essence, this quirky little toy is supposed to be a fun addition to lovemaking with your partner.
Although it can be used as a standalone, it works much better if you use it to spice up your lovemaking with
a partner.
When it comes to design, its secret is in its simplicity.
It is a waterproof U-shaped toy with two arms, packing powerful dual motors at the end of each arm.
With a hard to miss button against one of the sides, you can control the vibrating speeds and patterns within seconds, giving you the control and flexibility you didn't know you needed in bed!
The idea is to have one of the arms vibrate against the G-spot, while the other one provides stimulation to the clitoris.
The design itself is smooth, sleek and very discreet.
Its dimensions are 3 x 0.8 x 2 inches, making it an ideal travel buddy for your next romantic retreat.


What's in the Box?
The Satisfyer Partner Plus is powered by a single Lithium-Ion battery and comes with its very own USB charger.
Although the initial charge takes up to eight hours to make sure your toy is good to go, once the battery is charged for the first time, you can expect it to last up to 120 minutes at top speed before you need to charge it again for future uses.
Keep in mind that you must let your toy charge for eight hours until the battery is completely full before using it for the first time.
Not doing so might result in a poorer battery life and less time spent enjoying the joy it brings.
As excited as you might be to try it out as soon as it arrives, patience is going to be better in the long run.
Materials and Texture
This couple's toy is 100% body safe. It is made out of high-quality silicone and ABS plastic.
The arms are soft and silky smooth, but if you do decide to use the faster vibration patterns, you may want to use of lubricant.
Although silicone is generally considered to be versatile and not particularly prone to getting damaged by oils, it would be better to use a water-based lubricant.
Since the Satisfyer Partner Plus is waterproof, it means that you no longer have to confine your lovemaking to the bedroom, allowing you more options and a way to keep things exciting.
Silicone is already a pretty slippery material, so don't overdo it with the lube, or you might just be in for a slippery surprise.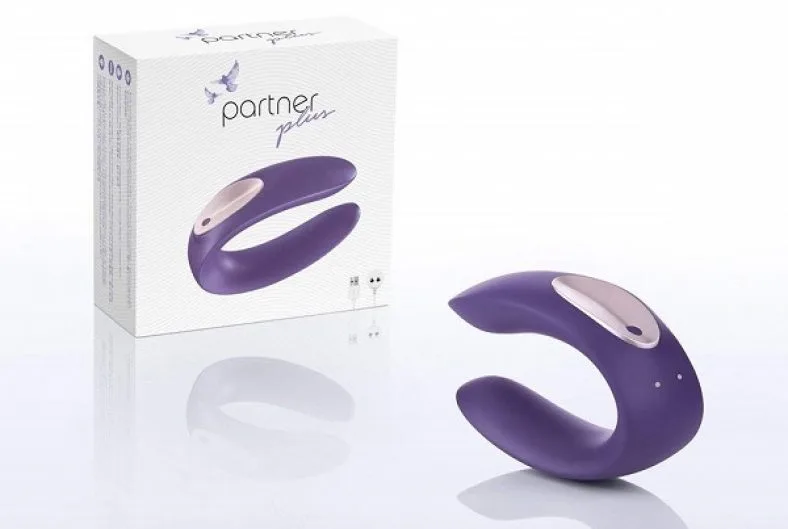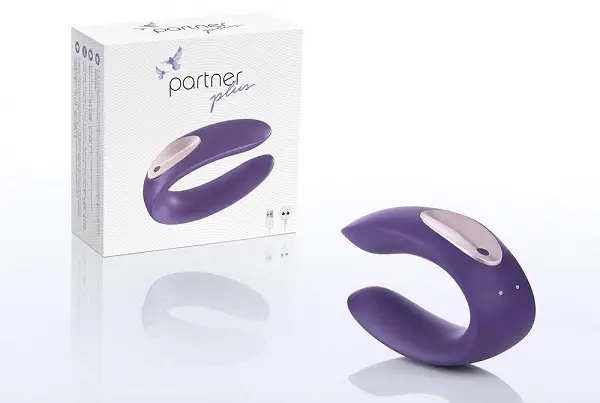 Performance
It is very straightforward and easy to use, so even if you are new to the concept of using sex toys in the bedroom, you don't have to worry about working yourself up into a headache trying to figure out how to use it.
The control button on the side of the clitoral arm controls everything, from powering the toy on and off, to altering between different vibration patterns and speeds.
With a total of 10 different patterns to choose from, all you need to do is press the control button if you want to increase the speed.
When powered off, holding the control button for a total of two seconds will start the dual motors at the slowest vibration speed, letting you work your way up from a soft and sensual massage, to a full-blown firework party.
Combine this blissful, simultaneous stimulation of two erogenous zones with actual penetration in your love life is already everything you've ever dreamed of.
Maintenance
Thankfully, silicone-based toys are not too demanding when it comes to care and maintenance.
A simple rinse of warm water and soap will keep the toy's cleanliness in check.
Although, if you are going to use this with a partner – you may want to consider soaking it in a bleach solution every
once in a while, just to make sure it remains clean and sterilized for future uses.
From time to time, you could coat it with a layer of toy renewer powder, but other than that you won't have to bother too much to keep your toy in top shape.
Of course, when you are rinsing off your toy, make sure that it is in no way connected to the charger or the power supply, because water may damage the charger and cause quite a few safety issues.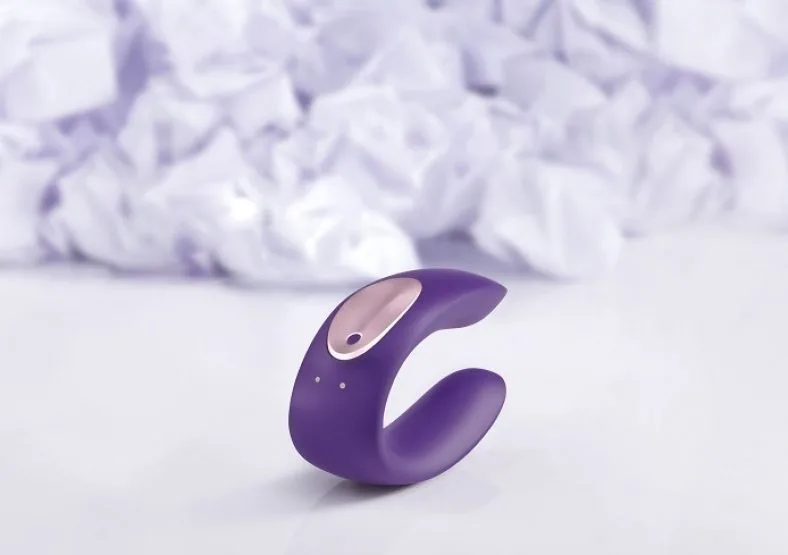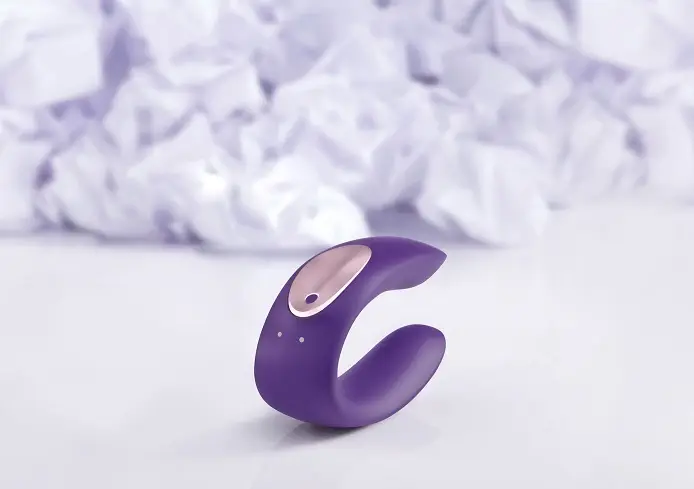 Satisfyer Partner Plus Pros:
A discreet, small couple's toy that packs a punch
Choose between 10 mind-blowing vibration speeds
Powerful dual-motors, controlled with a simple press of a button
Extremely easy to clean and maintain
Comes with a USB charger and a strong battery
Satisfyer Partner Plus Cons:
Predominantly designed with couples in mind
Should not be used with oil-based lubricants
Does not come with its own toy renewer powder
Final Thoughts:
This is a toy best suited for couples looking to spice up their love life.
Although you can use it on your own, you definitely don't want to miss out on the fun you could have if you used this with a partner.
This toy works on many levels, so it doesn't matter if you are merely scratching the surface and getting introduced to sex toys for the first time, or you are already the seasoned veterans of kinky play and would just like to add a new piece to your collection.
If you travel a lot and you like to go out with a bang, then this toy is definitely going to be your new best friend.