Pornhub is the undisputed king of the porn industry. With over 81 million daily visits on the site, their status as the biggest porn website in the world is unchallenged.
Their 2017 statistics only further attest to this fact: 50,000 searches every minute, 68 years worth of videos uploaded, 118 Gigabytes of data transferred every second.
It should, therefore, come as no surprise that they decided to get into the sex toy space.
Perhaps they got bored of being number one in their space, so they decided to find new markets to conquer.
Either way, it was not a surprise when they ventured into the interactive sex toy business, with the release of three new toys in January 2018.
The three interactive toys that they first released were the Virtual Blowbot Stroker and the Virtual Blowbot Turbo Stroker for men, and the Virtual Rabbit for women.
These three toys would come to set the standard for what interactive sex toys can be and what they can do. The Virtual Rabbit will be the focus of this review.
>> Click here to learn more about the Virtual Rabbit or order it now + get a FREE Pornhub Premium gift card granting you access to all premium content for up to 12 months! <<
So What Is It?
The Virtual Rabbit has been described as a teledildonic sex toy, meaning it features advanced technology that allows it to be a connected and interactive vibrator.
In simple terms, it is a vibrator that does more than any other vibrator does.
If you are a lady fan of Pornhub, then this is the toy for you. You love Pornhub for a reason. You should definitely add the Virtual Rabbit to your collection and take how you enjoy the site to the next level.
The Virtual Rabbit was produced by adult toy makers and lingerie retailers Ann Summers in conjunction with KIIROO.
KIIROO provided the necessary virtual sex toy software. Ann Summers is a popular British adult toy retailer, while KIIROO is a mover and shaker in the sex toy world based in Amsterdam.
So the team up of these two giants with Pornhub came only naturally. The result of this marriage is the Virtual Rabbit.
The Virtual Rabbit uses haptic feedback and combines intense vibrations with the virtual experiences you are getting from the video you are playing on Pornhub or a paired compatible device your partner has.
It utilizes these vibrations and virtual experiences to physically stimulate you and give you the most intense orgasmic experience you have ever had.
It works by mimicking the motions of the video you are watching and vibrates in time with the scenes to create that immersive experience we all long for, making you feel like you are the one having the time of your life in the video.
You can take this experience a step further by switching to Pornhub's VR videos and watching them using your VR headset. When all your senses are invested in the moment, total immersion will occur, and your brain will really believe you are in the scene.
Your back will arch from the intensity of the orgasm this level of immersion will give you…
What Are Its Main Features
The Virtual Rabbit is beautifully made, soft and silky black, with advanced innovative features that let it do things that other vibrators can only dream of.
This makes it your perfect companion for those orgasms that will make your eyes roll back. It has a 3.5-inch diameter and an 18cm length. All the materials used in its construction are non-toxic and safe, with is great news for all you health conscious adventurers out there.
It is USB rechargeable with a 100mAh lithium-ion battery that can hold up to an hour of charge. It takes about 3-4 hours to be completely charged.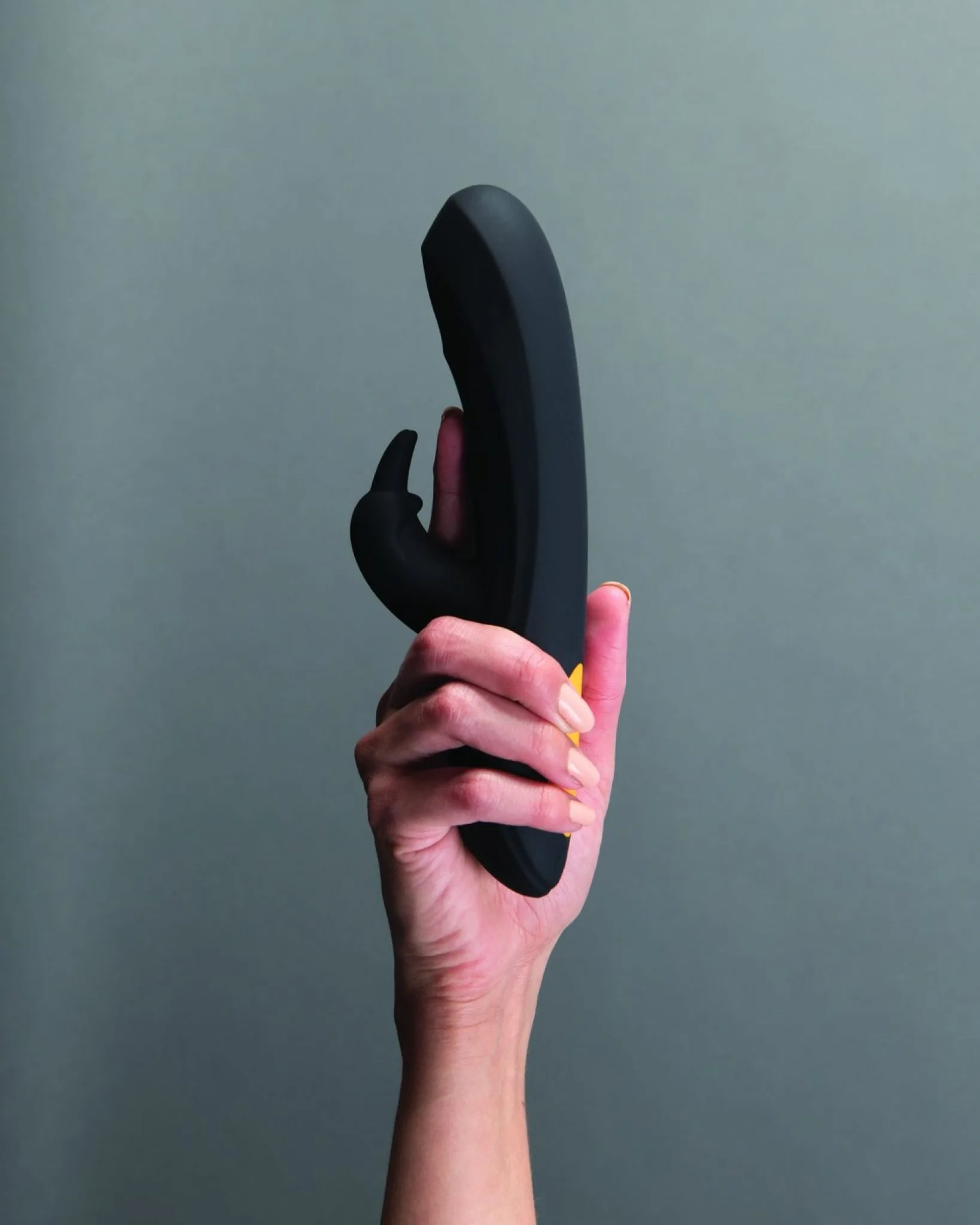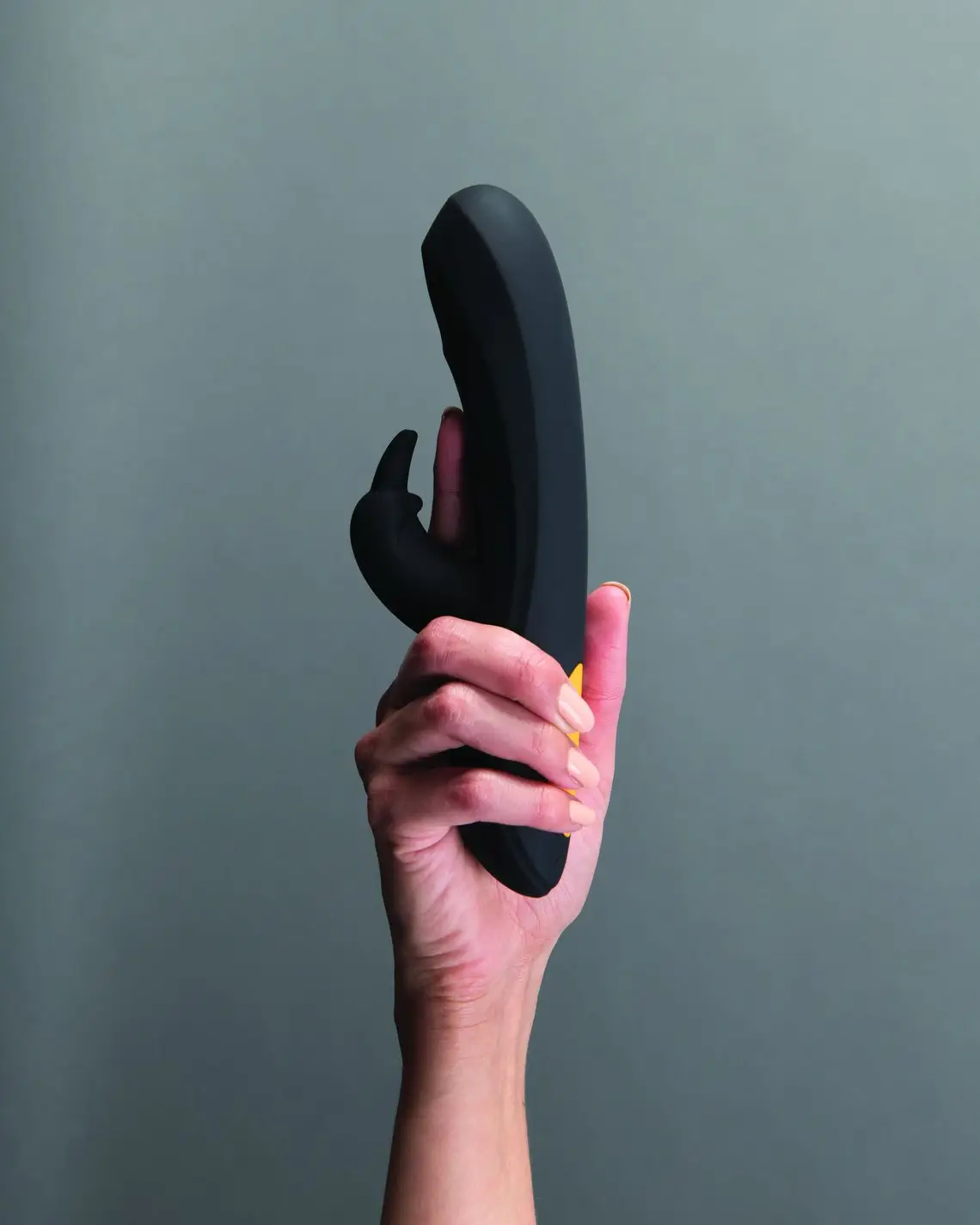 Its unique design allows it to function in three main ways:
1. You can use it as a solo weapon, for those times when you need a little stress release and escapism. You can get snug under the covers or alone in the bath and just go to town. It is water resistant, so that makes it the perfect tool for any situation. As a solo player, you can use your imagination and enjoy both clitoral and G-spot stimulation with its 7 functions and 5 otherworldly vibration patterns. Let it open the gates of heaven for you.
2. You can also take things up a notch and get some virtual assistance during your play time from trusty Pornhub. You can link your vibrator to the site and sync compatible interactive videos so that the Virtual Rabbit will mimic exactly what you see happening in the video. You will almost feel every trust and every throb inside you, and the clitoral stimulator will make you feel better than what the pornstars are feeling. You can also decide to further push the pedal to the metal and totally immerse yourself in the scene with Pornhub's VR videos and a VR headset. Just don't blame us when the neighbors come to your rescue because they heard your screams.
3. Finally, the Virtual Rabbit can be a source of shared pleasure. If you have that someone special (or someones, we don't judge), you can have them get their own compatible Pornhub sex toy and link it with yours. This way, the two of you can share intimate moments even when you are miles from each other. Your Virtual Rabbit will connect to their compatible toy via Bluetooth if they are close by, or via the Internet if they are further away. You will then use Pornhub's FeelConnect app to sync the motions of your Virtual Rabbit with your partner's toy. This way, they will be able to feel what you feel, and you will be able to feel what they feel, and it will be like you are there together in each other's arms. The FeelConnect App is available for free download in the Google Play Store and the Apple App Store.
What's In The Box
The Virtual Rabbit comes (no pun intended) in a nice glossy black box.
The box is Pornhub branded, with a few special features of the Virtual Rabbit listed at the back and on the sides, and a huge image of the Virtual Rabbit on the front. So it is anything but discreet.
Once unpacked, you can save the box and reuse it as storage for your toy. Remember, it is never a good idea to haphazardly throw your toys into your drawers along with your hairbrush and makeup and socks and panties.
It will pick up all sorts of dust and hair and bacteria, and you do not want that stuff anywhere inside you. So, whatever you do, always store your toys in a clean, separate place, and always wash them after every use.
Anyway, inside the box, you will find your Virtual Rabbit. It is soft and silky to the touch and has a beautiful black color. You will also find an instruction manual, two warranty cards, and a USB cable for charging the Virtual Rabbit. Pornhub offers a 1-year warranty on all its toys.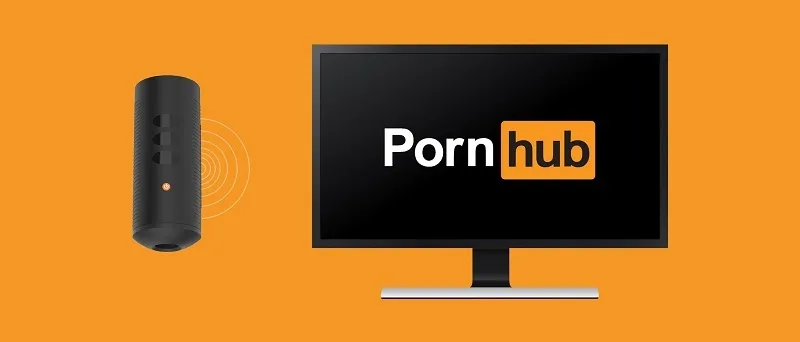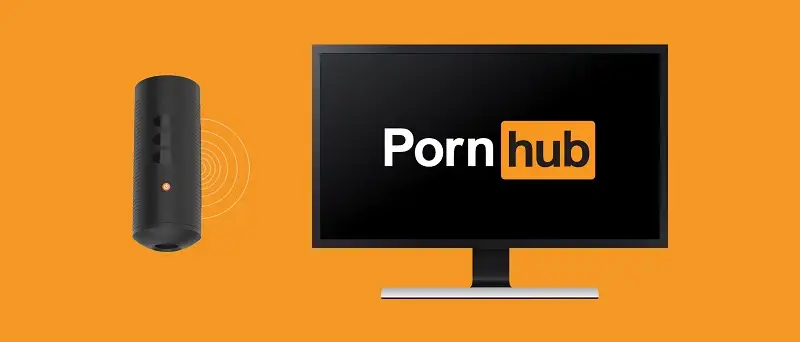 How It Works
The Virtual Rabbit is a clitoral and G-spot stimulating vibrator. It has a shaft that is inserted into the vagina and a clitoris stimulator that rests above the clitoris during use.
As it vibrates, both the G-spot and the clitoris are simultaneously stimulated to maximize the intensity of the resultant orgasm.
It has two motors, one in the clitoral stimulator and the other in the insertable end. These motors transmit 7 intense modes of vibrations over 5 intensity levels.
The vibrations can come from three different sources: they can come from you, the user, as you dictate what sort of speed and intensity you want through the controls.
They can also come from the interactive video you are watching, where the Virtual Rabbit mimics the motions of the video and recreates them for you so that you can feel like you are in the video.
Finally, the vibrations can be as a result of a synced compatible toy, where you can share the stimulations with your partner.
You can freely switch between manual mode and interactive mode. In manual mode, you get the option of using any one of 7 functions and 5 vibration patterns to make yourself orgasm.
With the Virtual Rabbit, you can orgasm on your own terms. You can use your imagination or a little visual stimulation. You can even choose to share the moment with someone you care about.
The impressive versatility of the Virtual Rabbit is unmatched.
It is the perfect way for any woman to feel free, take her power back and love herself a little more.
Use it with some water-based lubricant to enjoy the experience more. After using it, be sure to clean it and store it properly. It is water resistant and therefore very easy to clean. You can use warm water and mild soap to gently wash the surface. Wipe it down with a dry soft cloth and let it naturally dry for about an hour. Store it in a separate box away from other items.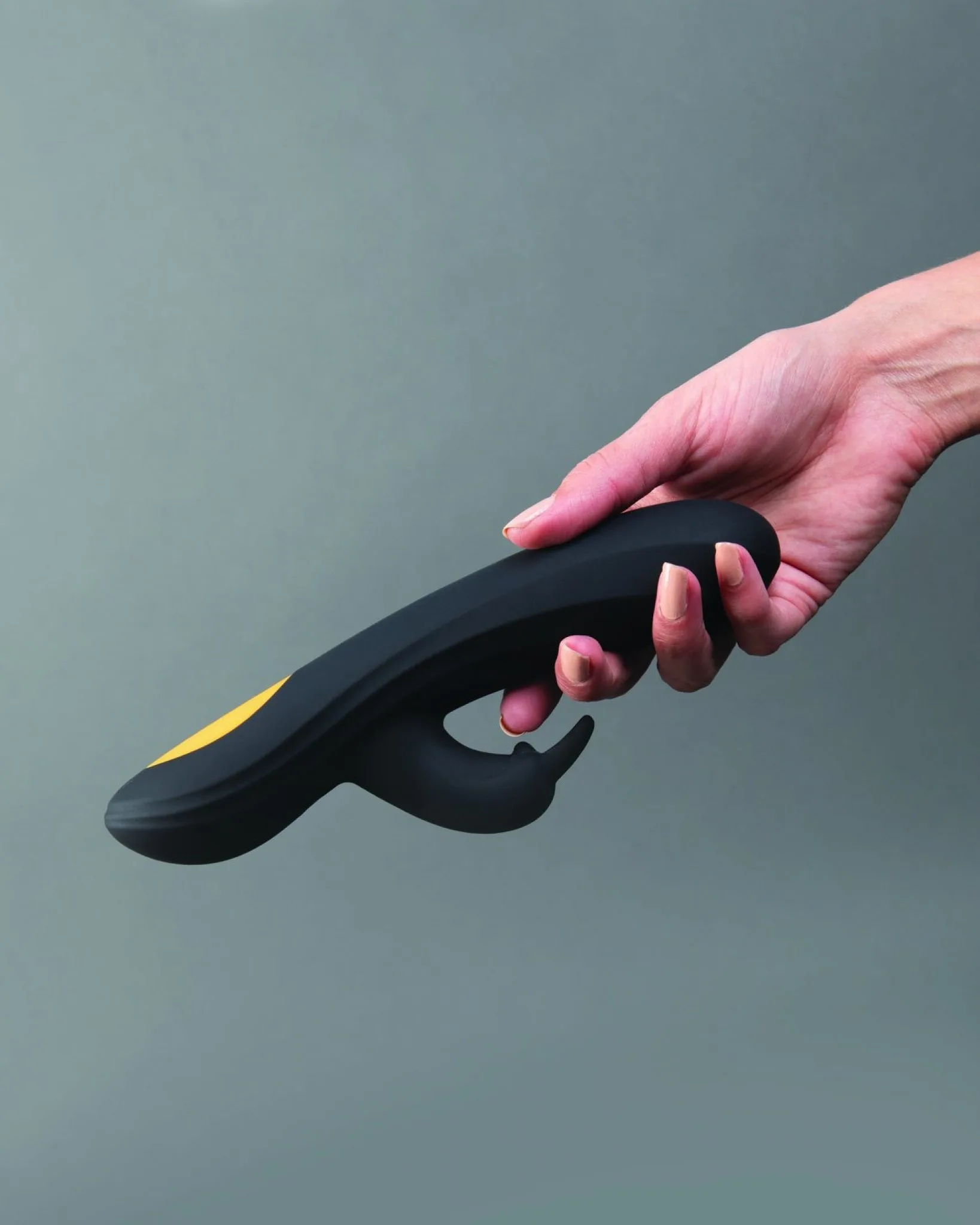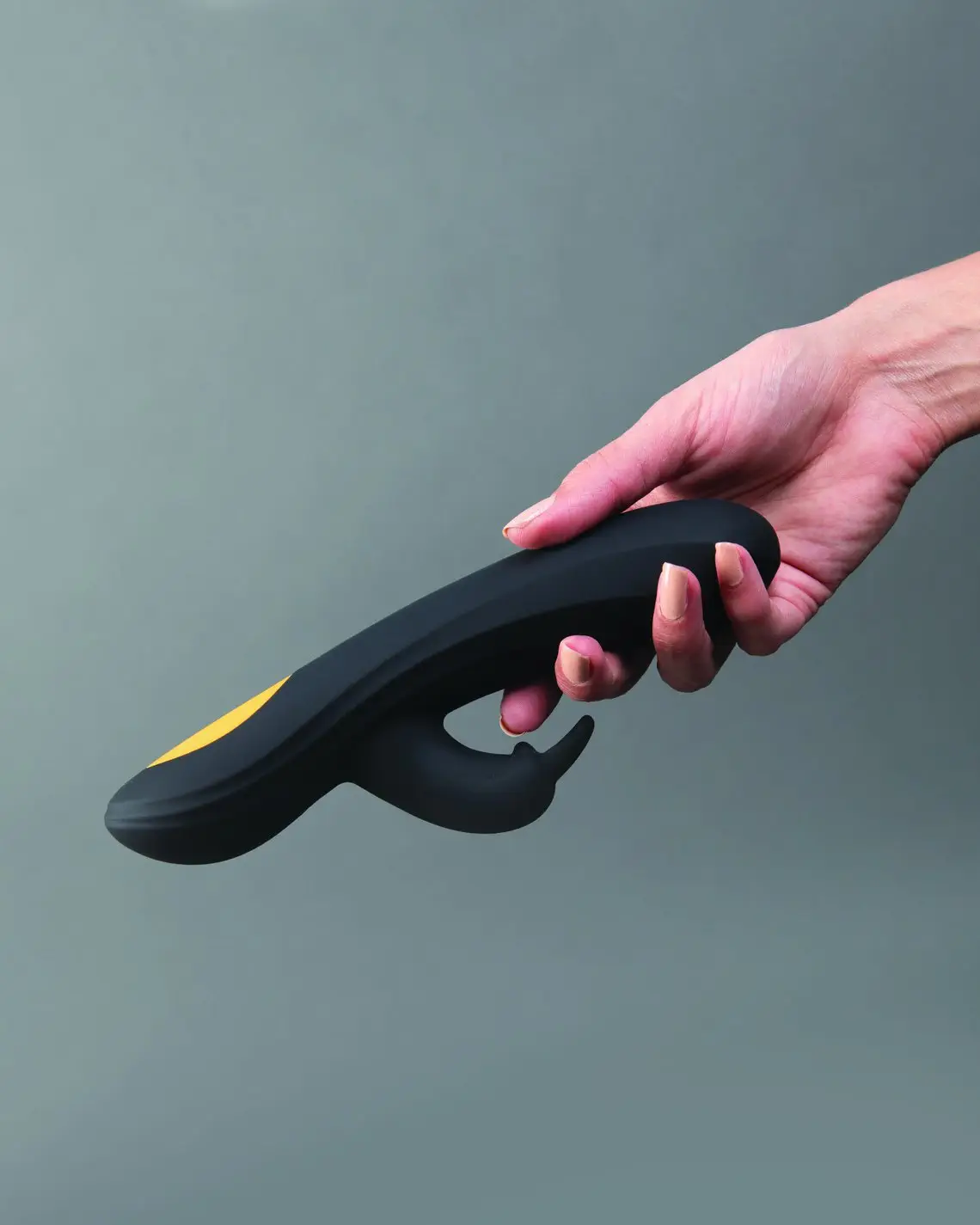 So How Does It Feel?
The Virtual Rabbit feels amazing.
Once inside you, you will wish it will never stop, as it gently caresses your clitoris while making you have multiple G-spot orgasms and simultaneous clitoral orgasms.
It is the perfect way to learn about your body while feeling good and loving the education.
A word to the wise, though, better make sure you are alone in the house when you use it. Or at least make sure you have soundproof walls. Because the Virtual Rabbit is here to make you scream, and it won't stop until you do.
Pros
The Virtual Rabbit looks feels and does its job amazingly well. Here are some more reasons why this should be your new favorite toy:
It is versatile. You can get creative with it, and have fun while at it. You can use it alone with the different controls, or you let your partner do it for you. You can get immersed in VR porn with it, or you can go gaga with your partner who is miles away without moving an inch from your bed. It offers endless opportunities and avenues for creativity. The only limit is your imagination. Think butt stuff. Wink wink.
It is a decent size and discreet. This means you can carry it with you as you go about your day in the office and quickly dash to the loo over lunch for that hair ruining quickie.
Its innovation in its field cannot be understated. Pretty soon this market is going to be flooded with such devices, and they are going to go mainstream. Then we'll wonder what we ever did without them, and how we ever lived without them. Just like it is hard to imagine a world without dildos. The pioneers need to be appreciated.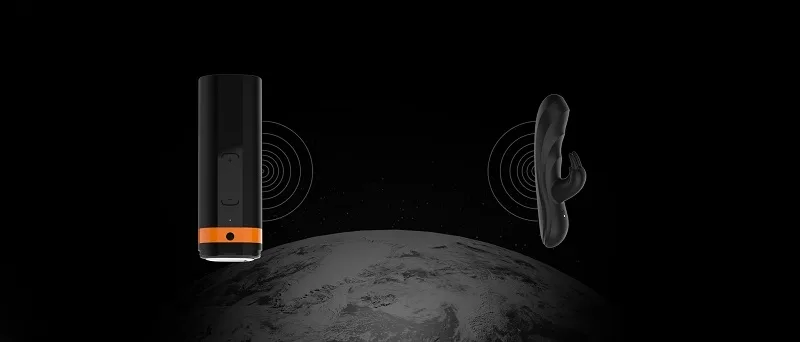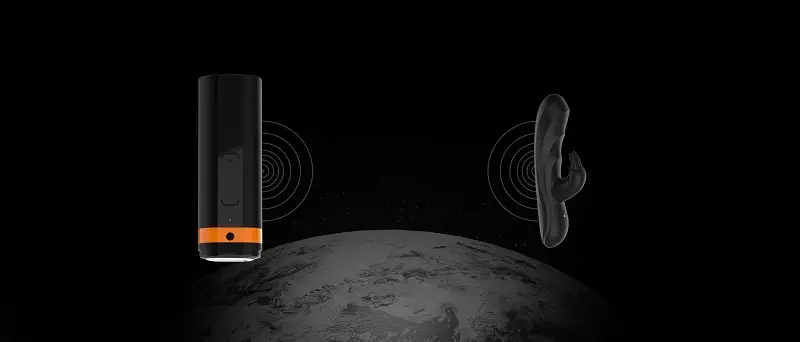 Cons
It is a bit pricey for most women. There are lots of other vibrators that have a lower price tag. However, by purchasing it, you are buying the brand and Pornhub compatibility, so perhaps it is really not that expensive?
Pornhub has a very limited number of interactive video on the website. Although they promised to be adding about 5 new videos every day, which they are, the numbers are still a little too low. With so many women having so many different tastes, the available videos can get a little monotonous after a few weeks.
It also takes forever to set up and sync with Pornhub. If you needed some instant gratification, it would be better to just simply switch to manual and go to town while watching a normal Pornhub video.
Final Thoughts
So who has the Virtual Rabbit been designed for? It has been made for the strong, independent woman, who is in charge of her sexuality.
If you know what you want and are not afraid to go out looking for it, then the Virtual Rabbit is for you.
If you are in a long distance relationship, or simply want to spice things up in your normal relationship, then this is for you too. You and your partner can rekindle that fire of passion by sharing intense orgasms, no matter how far apart you may be!
>> Click here to learn more about the Pornhub Virtual Rabbit or order it now + get a FREE Pornhub Premium gift card granting you access to all premium content for up to 12 months! <<