Advancements in technology have brought with them lots of innovations in the sex toy industry. In recent years, we have seen the rise of interactive sex toys that not only stimulate you physically but also mentally and emotionally, making it feel like your sexual partner is right there with you.
Interestingly, while this was a pretty novel idea just a few years back, the market is now flooded with products that can help you achieve this level of satisfaction. So how can you tell which one is the best when they are all claiming to be the best there ever was?
Also, while women were the primary market for sex toy manufacturers for several decades, things are slowly changing. There are now toys that cater specifically to men, and men couldn't be happier about that. But therein lies another problem: because so many high-tech products are being released every day, it can quickly get overwhelming when you have to get just one product to cater to your needs.
Well, to help you out, here is a look at the best male masturbators in the market today: the Lovense Max 2 and the Kiiroo Onyx+.
The Lovense Max 2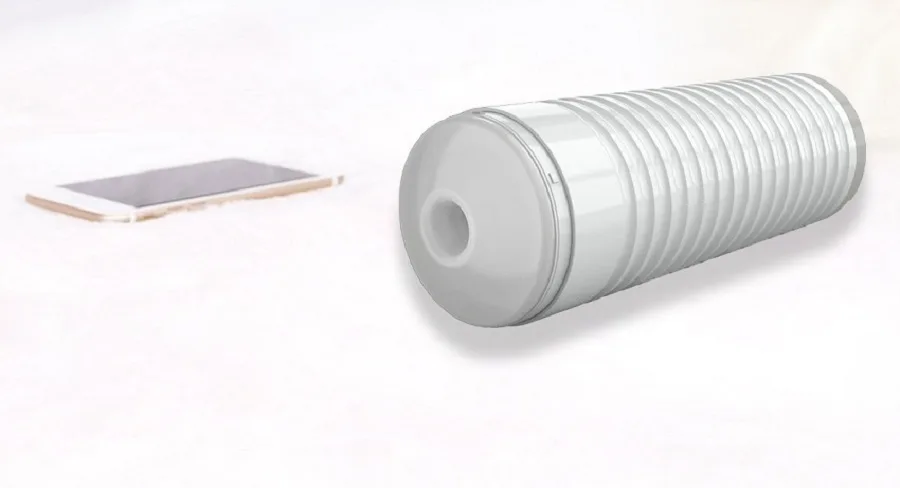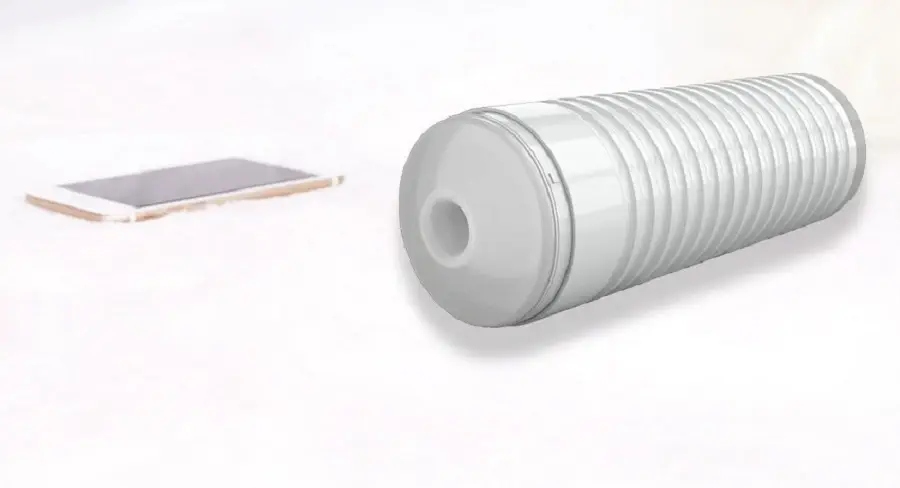 Designed for men, the Lovense Max 2 is a handheld male masturbator from Lovense. This is an upgrade from the original Max that was launched in 2013.
Since its launch, Max 2 has made waves in the sex toy industry for many reasons. It has better hardware, a newer, sleeker exterior case, and a better internal sleeve for your pleasure, along with a massive range of other features. This is why it has become the go-to toy for many men across the world.
Here are some of the things you will immediately notice with Max 2:
Key features of the Lovense Max 2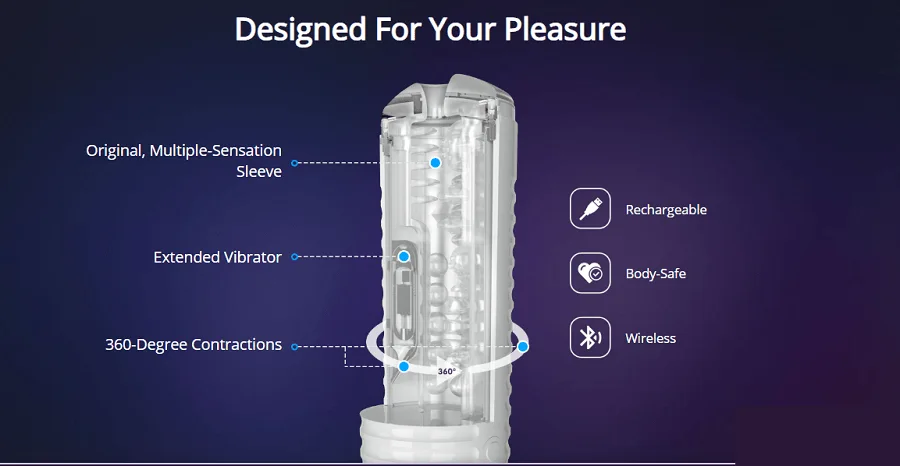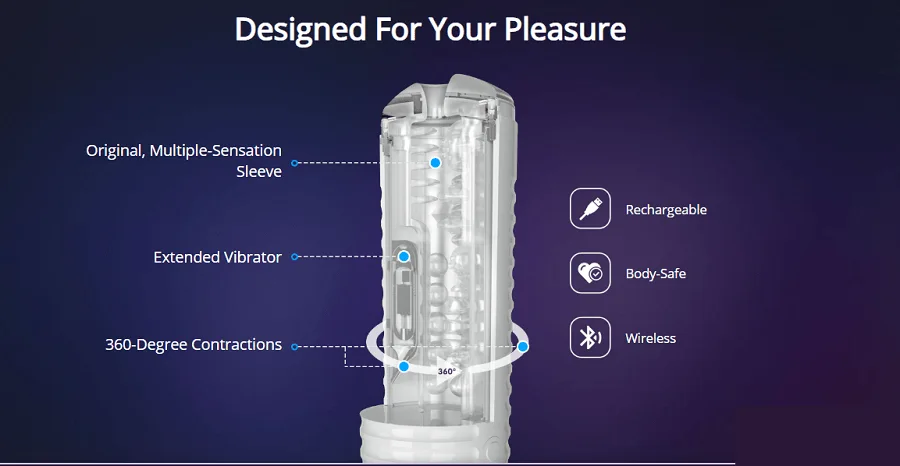 Connectivity
The Lovense Max 2 supports connection to interactive porn videos, VR porn, and camgirl shows. With it, you can put yourself in any sexy scene you want, feeling almost exactly what the people on screen are experiencing. You can also hand over the controls to someone else and let them determine the sensations you feel, or connect to a partner's device from across the world, resulting in mind-blowingly intimate sessions.
360-degree penis contractions
When you place your penis inside the Max 2, you will notice that the vibrations are coming from all around. It is a feeling unlike any other, and you will immediately be hooked from the very first moment you experience it.
A redesigned vibrator
The internal vibrator has been revamped and redesigned from its predecessor, making it more powerful. This means it will deliver stronger sensations and a more immersive experience, which is exactly what you are looking for in such a toy.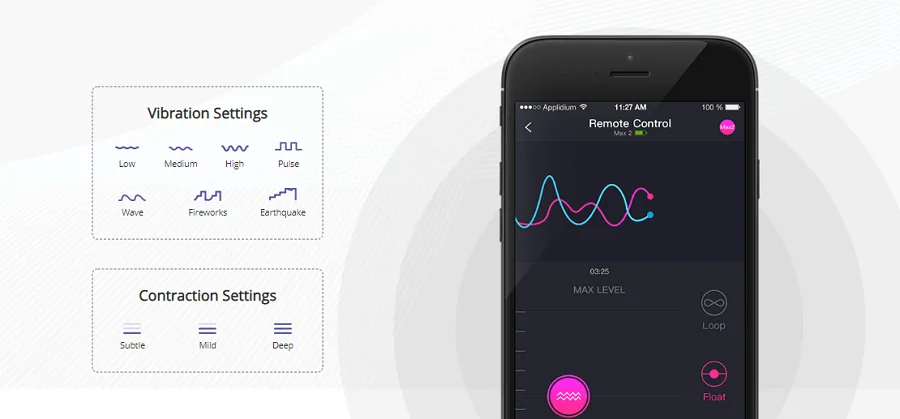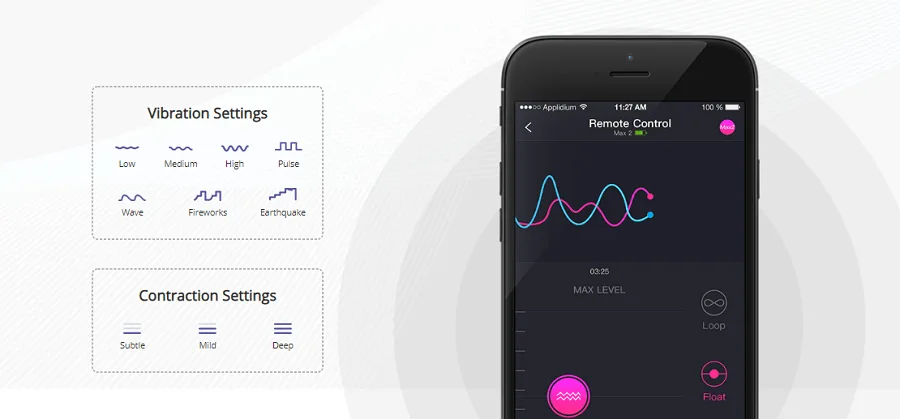 Improved sensors
The sensors in the Max 2 have also been upgraded. They help to make things feel more realistic, all to maximize your pleasure.
Adjustable air vent
This is important for adjusting the suction of your toy. The quick air release is also made for added comfort when placing your penis on the toy.
Supports the Lovense Remote App
The Lovense Remote App allows users to set their customized vibration and contraction patterns. It also allows you to hand over the control of the toy to a partner, no matter how far away they may be from you, taking your experience to a whole other level.
My experience with the Lovense Max 2
I had to try this one out. At first, it feels like an intense cock massage making it feel a lot less than sex because it does all the work for you. To me, it felt like a handjob with lots of lube.
You can control the contractions, vibrations, and the intensity of the motions. I loved how it gripped and massaged the most sensitive parts of my cock until I couldn't help but erupt with cum. To be honest, I came twice without actually touching myself. The internal lining is cushiony and soft yet really complex and difficult to put in words when it comes to how it feels.
Stronger contractions make it feel like your penis is being sucked by an experienced mouth, which I absolutely loved. When you couple that with the intense vibrations, and the stimulations it gives you especially on the tip of the penis, you get an irresistible pleasure device.
I also really loved how easy it was to clean my Max 2 after I was done with it. All I had to do was pull out the sleeve and wash it with some warm water.
Charging it is also straightforward: you can use any standard USB power unit. It charges fully in about an hour and you'll be ready to go again. It is a really fun toy that anyone who is technologically inclined will enjoy using.
➡️ Click here to learn more about the new and improved Lovense Max or order it now
Kiiroo Onyx +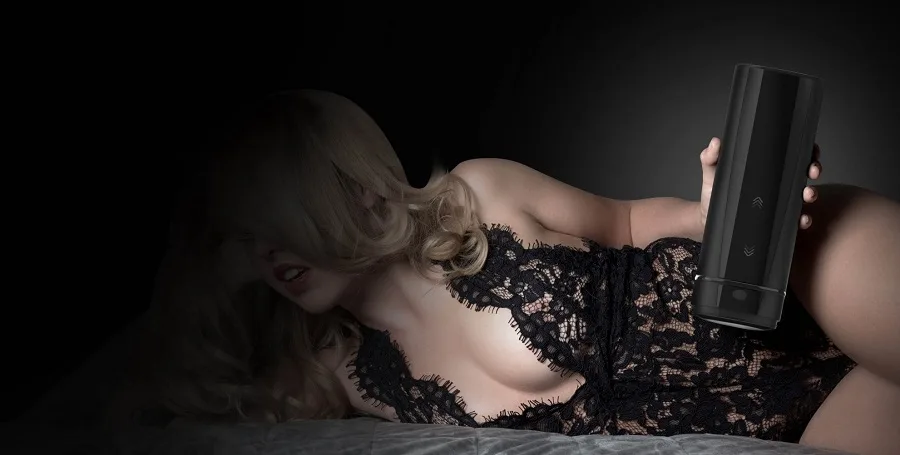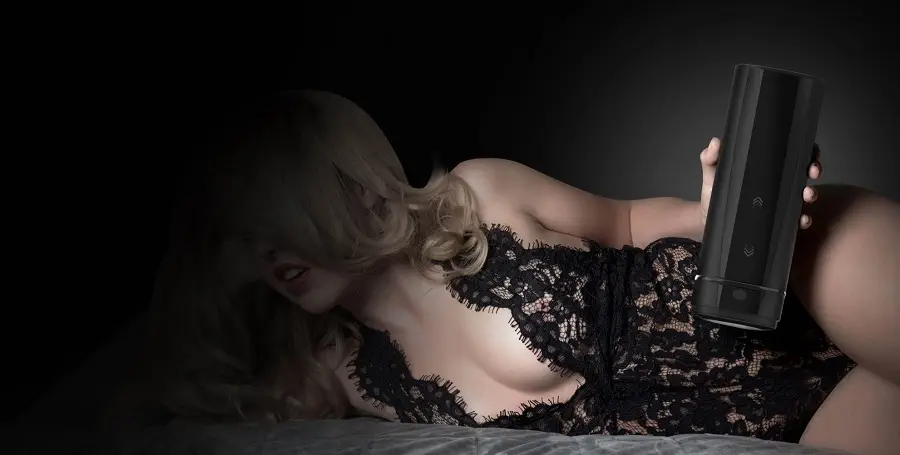 Kiiroo Onyx+ is one of the quietest and most discreet male masturbators in the market today. This is actually its claim to fame. If you have been looking for something so whisper-quiet than no one around you will ever know what you are up to, this is it.
Designed by the award-winning Kiiroo company, it comes packed with lots of other unique features that are all designed to ensure that you always get the ultimate satisfaction every time you use it.
When you buy the Onyx +, you'll get the product itself, a USB charging cable, authenticity and a warranty card, a quick set up manual, a real feel-sleeve, and water-based lube.
Key features


Touch control
The Kiiroo Onyx+ comes with touch control functionality that is used to change power and speed. This means that you will never have to tinker with pesky buttons. All you have to do is gently rub it to increase or reduce the speed and vibration intensity. Doing this actually makes it feel like you are caressing a real partner, which only adds to the immersive experience.
Quiet and discreet
Kiiroo Onyx+ boasts of the quietest, most discreet mortar in the market today. It can reach up to 140 strokes a minute while still maintaining whisper quietness, making it the perfect toy to get if you are a private person.
Connectivity
The Onyx+ also supports connection to interactive VR videos. This means you can put yourself in any sexy scene you want, feeling almost exactly what the actors are experiencing. Additionally, you can connect it to a partner's device from across the world, resulting in a mind-blowingly intimate session, which is perfect especially if you are in a long-distance relationship.
My experience with the Kiiroo Onyx+
From the moment I first laid eyes on it, I knew I had to give this amazing device a try for sure. After unboxing and charging it, I immediately lubed up slipped inside.
I left it on auto because I wanted to experience what the defaults could do for me. It was a little disappointing, sadly. I had to take matters in my own hands, so to speak, by switching to manual mode where I could control the speed and intensity myself. The sensation was amazing! It really lived up to its reputation, after all!
One of the only downsides, though, was the fact that it does not provide a thrusting motion. It only expands and contracts around you until you orgasm. If you want some in-out movement, you will have to do that the old-fashioned way with your hands.


However, the famous 10 rings really do a great job, and you probably won't even need to thrust. The sensations are amazing, and the rings themselves even feel like they are vibrating, which is pretty cool. The thing that amazed me most, though, is how quiet the toy was. It was quiet and it honestly felt a little awkward sometimes since I'm used to these toys making some noise as I use them. All in all, it was a great experience.
>> Click here to learn more or order your Kiiroo Onyx + with -10% OFF (promo code: "Fun10") <<
How they work
Both these toys are pretty straight forward when it comes to functionality. The Lovense Max 2 really shines when using the remote app. You can tailor the level of vibration and air pump usage, all while experimenting with dozens of free patterns.
The Onyx+, on the other hand, really stands out because of its 10 vibration control rings. It is also really quiet and discreet. Couple this with the seamless compatibility with interactive VR videos and you have a truly innovative product on your hands.
Pros of the Lovense Max2 over Kiiroo Onyx+
LovenseMax 2 is more intense, interactive, and easier to clean.
The fact that the Lovense Remote app allows you to experiment with more customized and exciting patterns also makes it better than the Kiiroo Onyx+.
Setting up the Love Max 2 before using it is also way simpler than the setup process for the Kiiroo Onyx+.
Lovense Max 2's experimentation with the quick air release and the adjustable air vent is also another major plus because it will give you amazing hands-free orgasms.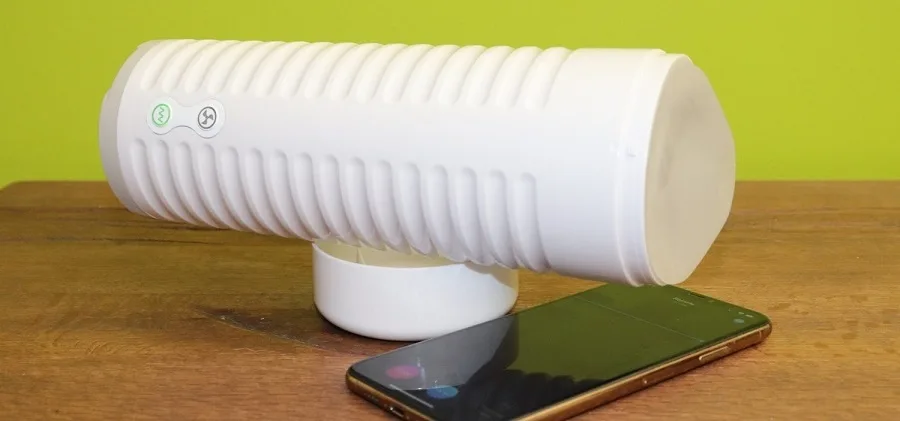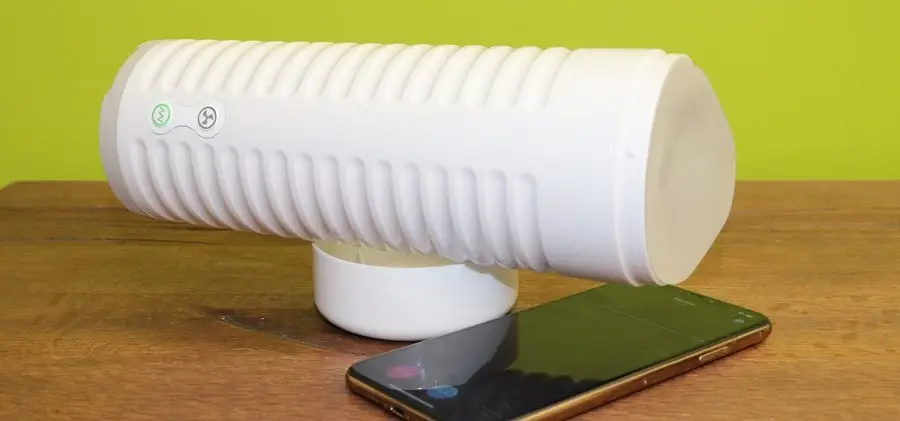 Pros of the Kiiroo Onyx+ over the Lovense Max 2
The Kiiroo Onyx+ beats the Lovense Max 2 when it comes to motor noise. It is quiet and discreet, emitting perhaps the least noise of any such toy. This cannot be said of the Lovense Max 2, whose contraction noises can be annoying sometimes.
The Kiiroo Onyx+ sleeve feels a lot more realistic than that of the Lovense Max2, which feels artificial and fake.
Final Thoughts
Both the Lovense Max 2 and the Kiiroo Onyx+ are amazing toys. They each have their own shortcomings, though. However, Lovense Max 2 is the clear winner for me among the two. This is because it comes with a whole host of new features that just take things to a whole other level, and you just have to appreciate that.
The Kiiroo Onyx+ is also amazing, but its features are rather limited. It is impossible to ignore the adjustable air vent, quick air release option, and the 3 settings for the air pump technology that have been carefully integrated to the Lovense Max 2. Couple that up with customizable vibration settings and you have a clear winner in the Lovense Max 2.
➡️ Click here to learn more about the new and improved Lovense Max or order it now
>> Click here to learn more or order your Kiiroo Onyx + with -10% OFF (promo code: "Fun10") <<