Love thy self. As human beings, we tend to forget the most essential things in life. Loving ourselves and doing something just for ourselves. One of the best ways to appreciate yourself as a woman is treating yourself to a high-frequency vibrator like the Lovense Hyphy.
Lovense has a wide variety of toys, but the Hyphy stands out in several ways. This article will look at Hyphy holistically and decide whether it lives up to the hype.
➡️ Check the current price of the Lovense Hyphy
What is Lovense?
Lovense is primarily an adult products manufacturer based in Singapore. The company was started in 2009 when its founder was in a long-distance relationship and developed an interest in teledildonics.
In 2013, Lovense made Max and Nora, the first app-based sex toys. It later went on to raise over $100,000 in crowdfunding on the IndieGoGo website to launch Lush.
With its experience in the adult products manufacturing industry, Lovense has established its position, a good reputation among users, and gained global recognition. It has also commanded a respected status for its quality, products, marketing innovation, and transparency of operations.


What is the Lovense Hyphy?
The Lovense Hyphy is a 2-in-1 sex toy incorporating a G-spot vibrator on one end and a high frequency on the other. One of its most identifiable features is its compact size and curved design. In addition, both vibrators in the Lovense Hyphy use different motors for optimal performance.
A theory suggests that the name Hyphy (presumably pronounced "high-fee") stands for "high frequency, affirming the toy's focus on performance.
Hyphy is designed for a woman who likes high-speed, high-power stimulation with a dot of jostling strength. The separate vibrator also caters to those who enjoy focused clitoral stimulation. The compact design also makes it easier to grip and get more aggressive when using it. Additionally, as with all other Lovense products, you have access to control the toy from an app or have a partner control it for you.
They Hyphy is a uniquely designed vibrator that has the ability to offer both satisfying penetration vaginally and anally. The secondary tip has three interchangeable attachments that provide a mind blowing hint of oral sex and/or nipple stimulation. Lovense Hyphy is insertable up to 4.53 inches / 115 mm at the girth end, with a total length of 8.5 inches / 216 mm with the clitoral stimulator tip.
With up to five hours of continuous use with just a single charge, it is possible to use all three of the amazing tips without worrying about losing juices beyond your own. The circle attachment is optimal for broad stimulation of the body. The U-shaped attachment provides a hugging sensation that is perfect for nipple and clitoral pleasure, while the tongue attachment nudges those sensitive parts with a feeling of oral sex.
Hyphy has a wide range of vibrational levels, speed options and three steady levels of operation. These can be customized, and when using the app, it can memorize your favorite settings. Up to 10 pattern combinations can be stored, but there are unlimited vibration patterns possible with this IPX7 waterproof vibrator. What users also love about this new model is that it allows for sound activated vibrations and can even be synced to music. What a way to go about setting the ambiance and mood for playtime!
What's in the package?
The Lovense Hyphy's packaging is the typical Lovense packaging that customers have grown accustomed to. However, there's one unique thing that you won't find in the rest of the Lovense packages. The Hyphy comes with its own hard case for recharging and storage instead of the usual satin baggie.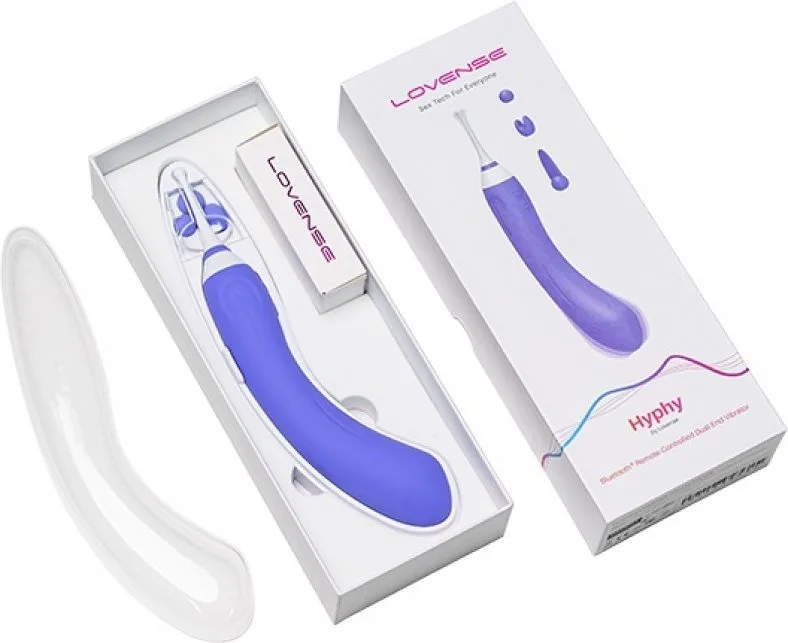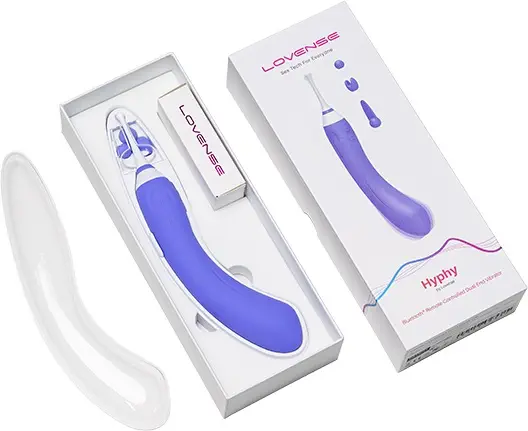 Lovense Hyphy's features
Hyphy comes with a few exceptional features that are aimed at giving you the ultimate orgasm. As we saw earlier, it incorporates two different toys.
A Zumio-Esque vibrating/oscillating tip with silicone attachments.
A robust G-spot vibrator.
It also comes with the Lovense app, which allows remote access to the toy and gives you the chance to tweak some of its controls, like vibration intensity. It also features three small silicon attachments to fit over the pointed surface that can be interchanged for different effects on the clitoris. Additionally, the storage and carrying case come with slots to place all three silicon tips.
Vibration functions and intensity
Of course, the best way to know how powerful the vibrator is is by looking at its vibration frequency figures. With Hyphy having its name as short for "high- frequency," we can expect nothing but high frequencies from it.
However, our vibrator experts believe that calling it "high frequency" might be a bit of an oversell. The term that really describes it is "buzzy."
While the term "buzzy" might sound derogatory towards the product, it doesn't mean it sucks. In fact, some people enjoy "buzzy" frequencies and even orgasm faster from them. The point here is that it's not as intense as the company would want us to believe.
Furthermore, it's not like it's gentle either. Its tip end runs from 140 to 150 Hz, which is even higher than most other toys in its category, like the Magic Wand rechargeable.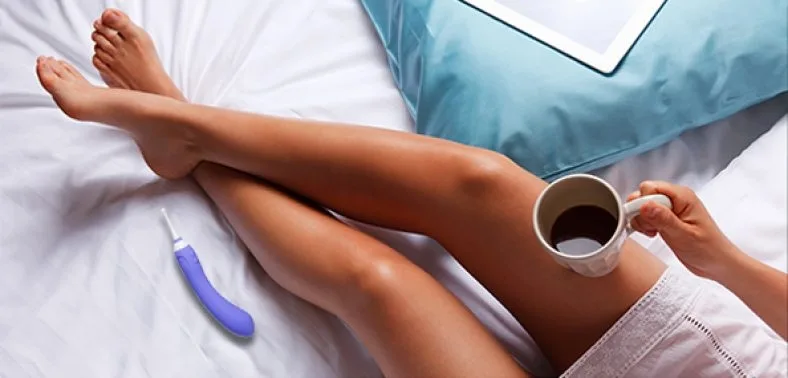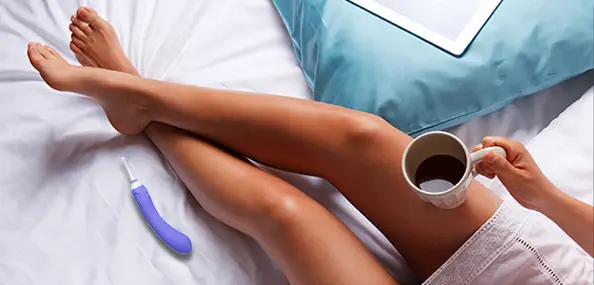 How does the Lovense Hyphy work?
Being such a high-tech product, the Hyphy is pretty straightforward to use. However, straight out of the box, its control button is not immediately instinctive. It will take you two or three trial runs to figure it out. Otherwise, you will keep switching it off accidentally.
Once you've got it figured out, the controls are easy:
Hold the (+) button for 3 seconds to toggle standby mode.
Then, tap the (+) button once to start the oscillating tip at steady speed #1.
Tap the (+) button once again to toggle to speed #2 and additionally for #3 and #4.
Finally, tap the (-) button to decrease the oscillating tip's speed.
To start the G-spot vibrator, turn on the oscillating tip as instructed in steps 1 and 2 and then hold down (-) for 3 seconds. This takes you to G-spot vibrator speed #3, not the lowest speed for some reason. Our guess is that since you're most likely going to be stimulated when you switch to your G-spot, Lovense figured that you might need to be on the highest settings.
To lower the G-spot vibrator speed, tap (-) when in G-spot vibrator mode. Alternatively, you can tap (+) to cycle through its vibration patterns.
If you tap (-) too many times, you will turn off the Hyphy (that's why it requires some trial runs). If this happens, tap (+) quickly, and it will return to either the oscillating tip or G-spot vibrator mode. It returns to whatever mode you were in before accidentally turning it off.
Controlling Hyphy with the Lovense app
Lovense was founded with long-distance relationships in mind. As a result, all their products have incorporated remote access features to help couples in long-distance relationships enjoy an exciting love life where they both participate actively.
On the Lovense app, you or your partner can control the oscillated tip intensity, which might be a neat trick if you want to start slowly and go harder as you approach orgasm. Unfortunately, you can't control the second vibrator (G-spot) on the app.
The three silicon tips
The additional nubs that come with the Hyphy are easy to install at the tip and offer three different simulation experiences:
The sphere nub for general clit stimulation.
The "tongue" that simulates oral sex.
The "claw" hugs the clit.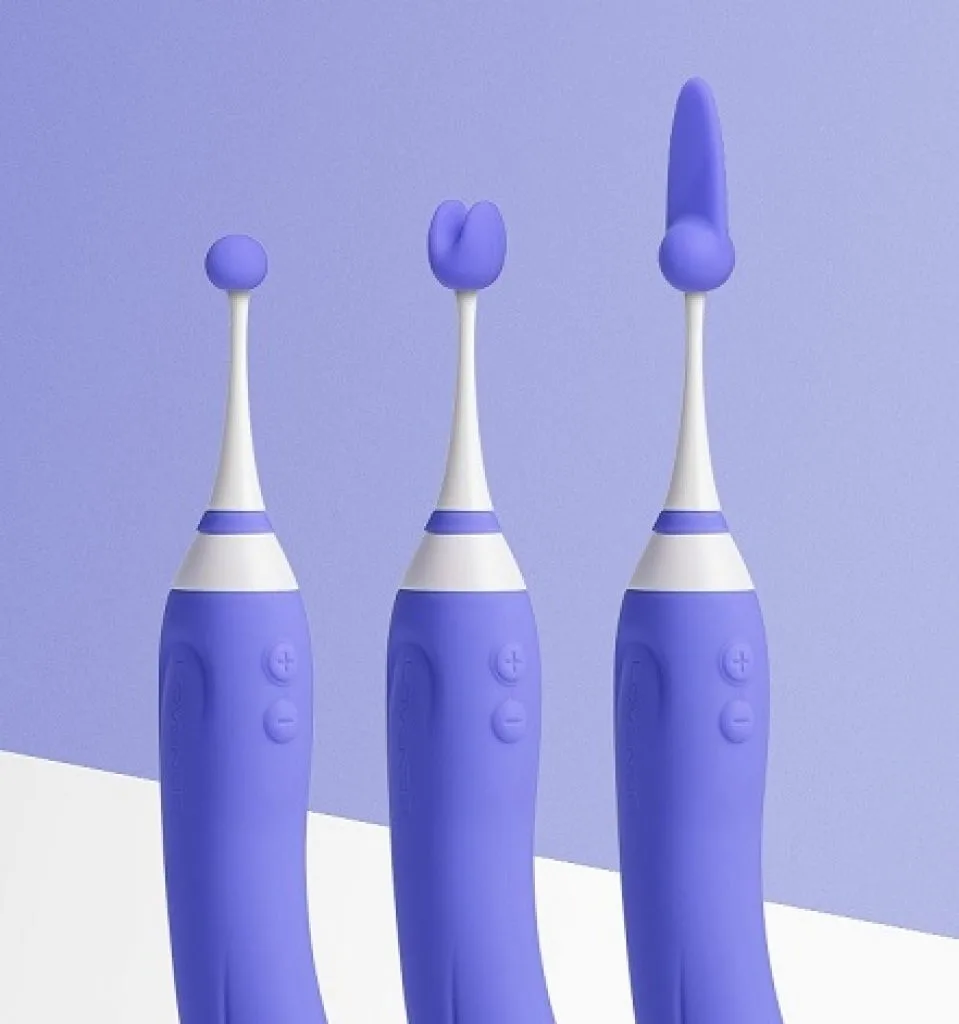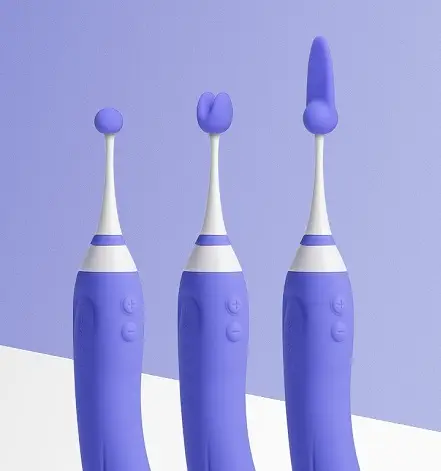 How it actually feels to use it
The oscillated tip is pretty intense and can be overwhelming on your clit when you use it unadorned. Slapping the "tongue" nub makes a slight difference and feels like a rapid cunnilingus session. The "sphere" is more like not having a nub at all, but it's easier on your clit than the naked tip. A few women will really enjoy the "claw" because it is much more focused and provides targeted clit stimulation.
The G-spot vibrator is quite okay but could do with a bit more speed range. Its head is gently curved with a subtle tip point.
Pros and cons of using the Lovense Hyphy
Pros
It gives impressive vibrations in such a small package.
The three nubs give it a versatile stimulating experience.
Two vibrator motors in one toy.
Up to 5 hours of action with one charge
App controls make it ideal for long-distance relationships.
The case makes storage and recharge easy.
Easy to clean.
Waterproof.
It is also fun to use on nipples and other body parts.
1-Year Warranty
Cons
The G-spot vibrator could benefit from a longer speed range.
Switching to the G-spot vibrator and immediately starting at speed level #3 might be inconvenient.
The controls are a bit tricky to master.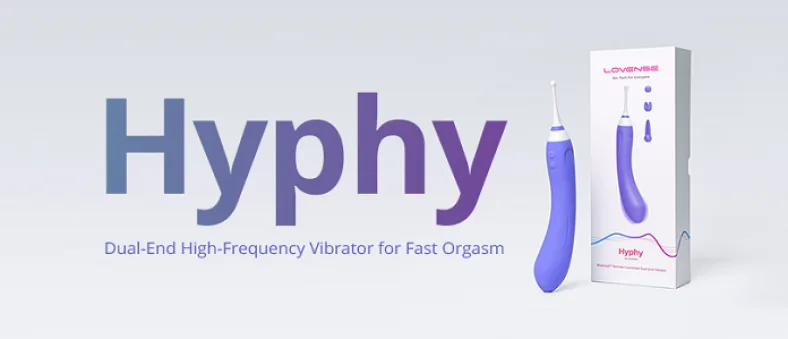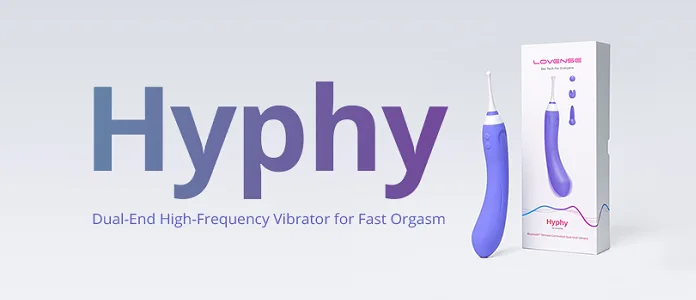 Frequently Asked Questions
What's included in the Lovense Hyphy package?
Hyphy, the Bluetooth Dual-End Vibrator
Charging & Storage Case
USB Charging Cable
User Manual
Quick Setup Guide
3 Tip Attachments
What is the remote app's compatibility?
The Lovense app is compatible with iPhone, iPad Air, iPad Mini, iPod Touch iOS 10.0 and later, as well as Bluetooth enabled Androids, Macs and Windows PCs with a Bluetooth adapter.
What is the best brand of lube to use with Hyphy?
It is recommended to use a top-quality water-based lubricant that is silicone safe when enjoying your Lovense Hyphy.
Is Hyphy safe to use in water?
Hyphy is completely waterproof, so it is fine to use in the bath, shower, pool or any other wet environment. However, it should be noted that Bluetooth connectivity under water is not stable.
What material is the Lovense Hyphy made from?
As with all of Lovense's sex toy products, Hyphy is 100% body safe and crafted from 100% silicone. There are no harmful chemicals or phthalates in the product, and Lovense thoroughly and diligently tests all devices for safety as a priority.
How do you program the Hyphy?
Pair the Hyphy to your internet connected device, and go to the Hyphy page under the My Toys Section. Tap the 'program' button to see the various options. Then, click on 'adjust levels' to set up the first three levels. From there, you can go to 'create new pattern' to add preset vibrational patterns that are ready to go when you are.
What does IPX7 waterproof actually mean?
IP stands for "Ingress Protection." This measures how well devices are protected from liquids and solid objects. The IPX rating means that the device has passed stringent waterproofing standards by a certified independent testing facility. IPX7 means that Hyphy can be submerged in up to one meter of liquid for up to 30 minutes safely.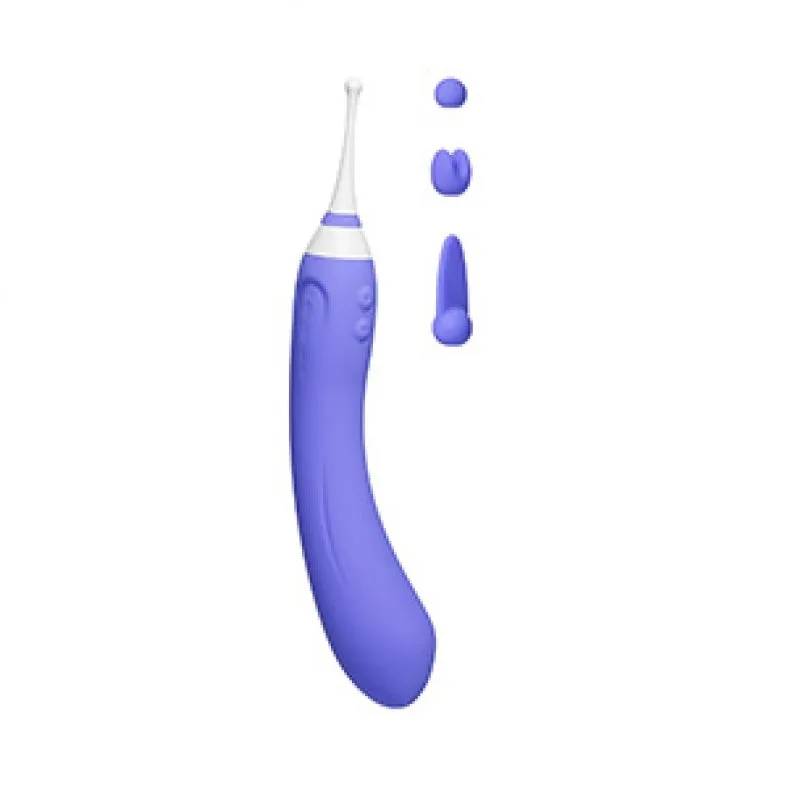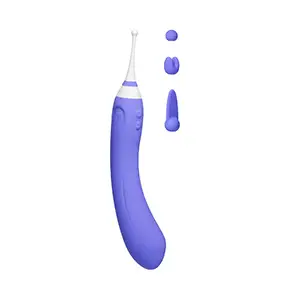 What are the dangers of overusing a vibrator?
Well, there is really no "overusing" a vibrator. In fact, several studies have shown that women who use vibrators regularly are more aware of their sexual health and are more likely to go for annual gynecological examinations.
Can a vibrator make your vagina feel numb?
Actually, yes!
Although vaginal numbness after vibrator use is a rare occurrence, it does happen. However, it is temporary and doesn't pose a risk to your health. Additionally, only 11% of women have reported experiencing it, with 3% experiencing it severely.
If you experience it more than once, you can try changing the vibrator's settings, position, or angle. You can also take a break and allow your body to rest.
Do married women use sex toys?
Vibrators are not a reserve for single women. A survey by Adam & Eve revealed that up to one in two married women use a vibrator. Surprisingly, only 29% of single women do.
While these numbers may sound surprising, it is important to note that there are countless married women in long-distance relationships. Married women, more than their single counterparts, might also need to bridge the orgasm gap.
Are vibrators only used for masturbation?
No, in fact, most couples that have been together for a long time will likely have incorporated a vibrator into their sex life at some point.
Is it possible to test a vibrator in public?
Buying a vibrator that doesn't satisfy you can be pretty disappointing. However, since you are most likely to buy one in public, testing it has always been a puzzle most women try to solve.
To answer the question, yes, you can test a vibrator in public. Not by actually using it where it's supposed to be used, though. Experts say that there are enough nerve endings at the tip of your nose to discern the differences between the vibes and speed. Therefore, if it feels good on your nose, it might actually satisfy you.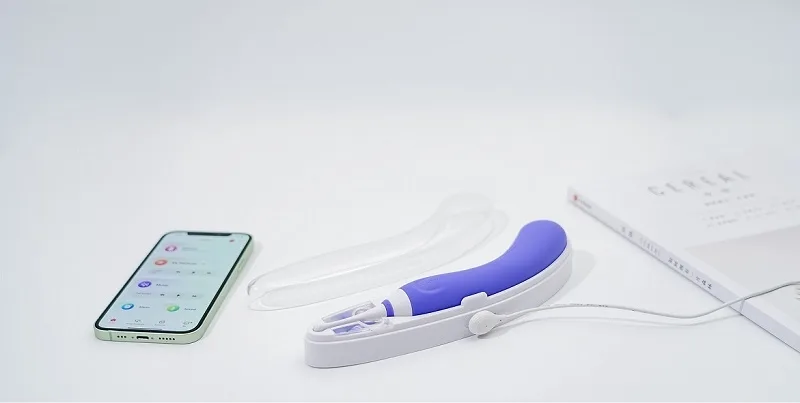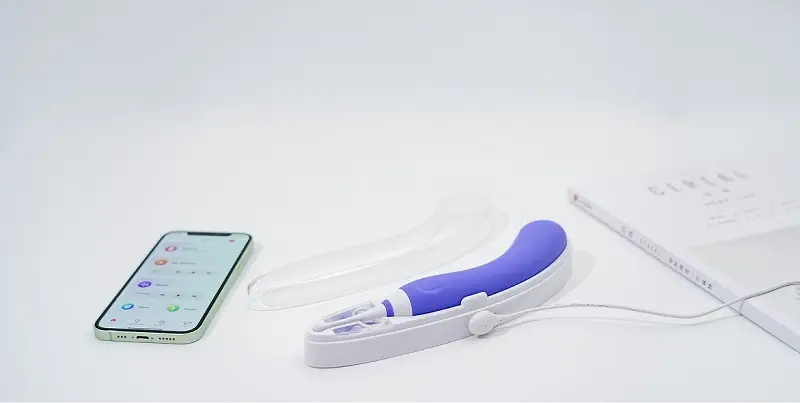 Our verdict
In essence, the Hyphy gets a huge round of applause from us 👋 👋 👋 👋!
The Lovense Hyphy is an exceptional toy with a few tricks up its sleeve. The ability to control it from anywhere in the world using the app is especially important for couples in long-distance relationships who want to keep their sex life alive.
The two motors and three nubs give it versatility and ensure that it offers something for everyone. With a one-year warranty to back it up, one can't go wrong with this dual-ended app-connected vibrator.
Be sure to check out the Lovense website to order your Hyphy and other innovative app-enabled sex toys to enjoy with your lover both in person and when far away.
➡️ Check the current price of the Lovense Hyphy