This is gonna be tough. Not because I have to struggle to diplomatically weigh an obvious victor against an equally obvious … well, less-than-victorious rival, but for the first, in a very long time, I'll be looking at two superbly designed, extremely well made, wonderfully interactive sextoys–each from a company I respect, admire, and whose products I never fail to enjoy.
(sigh) So I guess there's nothing to be done except face this challenge head-on by looking at what makes Lovense's Gush so special, and then why Hot Octopuss' Pulse Solo Interactive gives it a run for its money–ending with my final judgment on which of these top-notch glans massagers should take home the gold ribbon.
Say hello to Lovense's Gush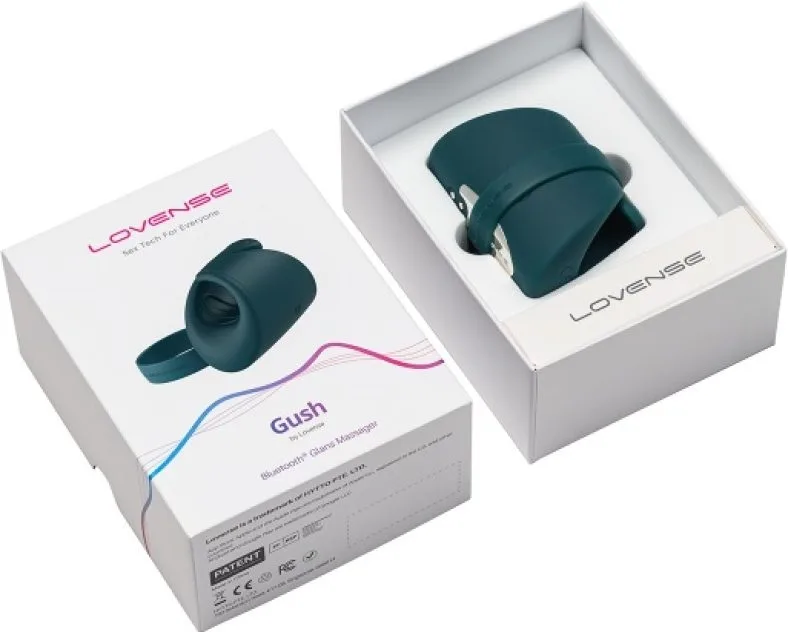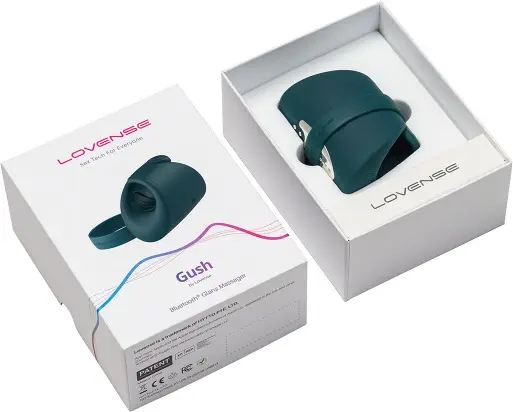 Before I begin, let's go over what precisely is a glans massager and from there how each of these sextoys approaches stimulating that part of the body.
Or it'd be better to say, "stimulates that part of a penis-owner's" body as glans massagers are all about exciting the head of that particular sexual organ.
The fun doesn't stop there, as both of these devices can be slid up and down the shaft or twisted around to put their finely engineered vibrations to where they feel the most good—and is a major reason for the ongoing popularity of this kind of sextoy.
For the Gush, it's about achieving a tight fit. First via its unique, asymmetrical design: a set of interlocking what I guess you could call lips that wrap around the head or shaft of the penis that keep it firmly in place.
Second, the Gush comes with what Lovense calls an "optional band," which users can slip over the Gush if they want an even tighter grip.
Which I think is a brilliant thing to offer, as no one person (or their genitals) are the same length, thickness, or overall shape—meaning supposedly "one-size-fits-all" more times than not simply aren't.
Now, though, whatever the various dimensions of their penis, users can use the Gush's Optimal Band to tighten it. Or mostly can, as there'll probably be some people out there who might continue to struggle with it being either too tight or too loose.
Since this is a Lovense product, the Gush is fully equipped with their highly regarded brainy electronics, which, in conjunction with their brilliant Lovense Remote Android or iPhones smartphone App, can connect it to other Lovense sextoys anywhere in the world, synch up with the growing number of interactive adult videos and games, create and share customized vibration playlists, respond to music or ambient sounds, and other entertaining (and arousing) sextech options.
It also comes with three built-in intensity levels and four different vibration patterns, but both are practically limitless when used in conjunction with the Lovense Remote app.
Mostly made of body-safe silicone with a small amount of ABS plastic, the Gush is perfectly safe for use in the bath or shower. With only a small amount of antibacterial soap, warm water, and then drying with a lint-free cloth, making cleaning up afterward a snap.
The Gush is 3.39 inches long, 20.5 wide, with a 1.26 interior.
As well as its Optional Band, it ships with a storage bag, user manual, quick start guide, and a magnetic charging cable. On a full charge, which takes around 65 minutes, the Gush is good for one and a half to two hours.
➡️ Check the current price of the Lovense Gush
Meeting and greeting Hot Octopuss' Pulse Solo Interactive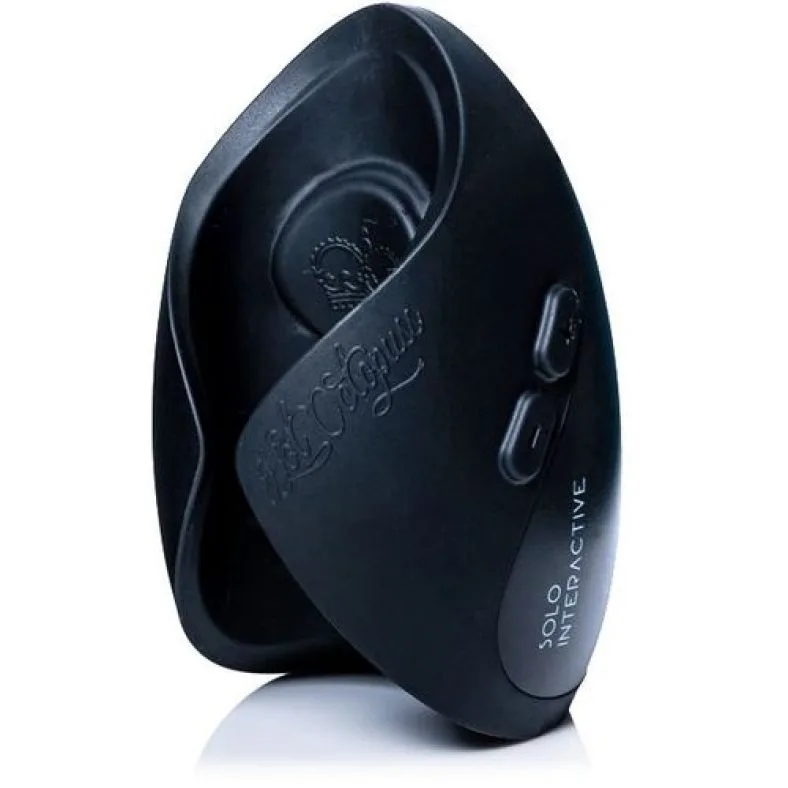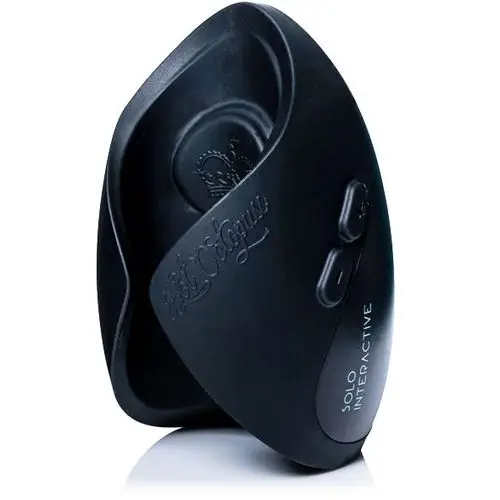 Then there's the new interactive glans massager from my other favorite sextoy manufacturer.
Part of their popular line of Pulse vibrators, of which they currently have six different combinations, their newest incarnation combines Hot Octopuss' proven design skills with smart electronics provided by Kiiroo.
The Pulse takes a somewhat different approach to glans massaging by steering clear of the direct motor-to-skin route to utilize their proprietary Pulseplate Technology, which uses its motor to generate sound waves for a far-more-organic feel.
Its other somewhat different approach is how it grips the shaft or glans of a penis, opting to use a pair of pyramid-shaped lips to do it.
With its Kiiroo smarts, the Pulse Solo Interactive is ideal for adult entertainment interactivity plus long-distance activities, making and sharing vibe playlists, playing along with favorite tunes or responding to nearby sounds, and other sextech fun stuff.
The Pulse Solo Interactive is 4.17 inches in length, 2.63 wide, 2.87 tall, and weighs a measly 3.06 grams.
It has nine speeds and five vibration modes, but users can do far more with the FeelConnect smartphone app.
It comes with the toy itself, a bag to store it in, an instruction booklet, and a magnetic charging cable. Following a full, three-hour plug in the Pulse Solo Interactive is good for forty-five minutes of active use.
Likewise built of silicone and ABS, the Pulse Solo Interactive is waterproof. However, it's not advised to use it anywhere except a bath or shower as immersing it in the ocean or splashing around with it in a hot tub will damage it.
Cleaning is not difficult, requiring the same dash of mild soap, warm water, and complete drying to keep it safe for well-maintained.
➡️ Check the current price of the Hot Octopuss Pulse Solo Interactive
How are Lovense's Gush Versus and Hot Octopuss' Pulse Solo Interactive the same?
Obviously, both were built to stimulate the glans and shaft of the penis, specially designed to grip on via their, again for lack of a better word, lips.
The Gush and Pulse Solo Interactive also use powerful motors to provide their simulations, but more than that, they have brains in common: each fully compatible with a Lovense Remote and FeelConnect, respectively, and so can be set up to respond to certain adult videos, games, interact with other smart sextoys, and further what are becoming standard features like the option to produce and share your own vibration patterns, increase or decrease their power levels, respond to music or nearby sounds, etc.
They also come with pretty much the same extras, like a magnetic charging cable, a little black bag to keep the toy in, and handy guides or manuals.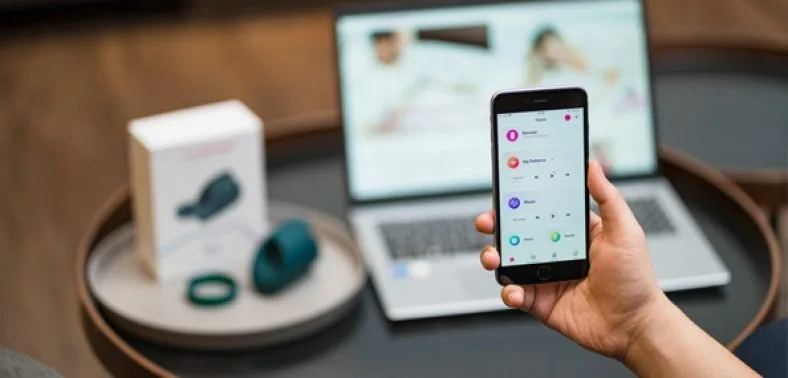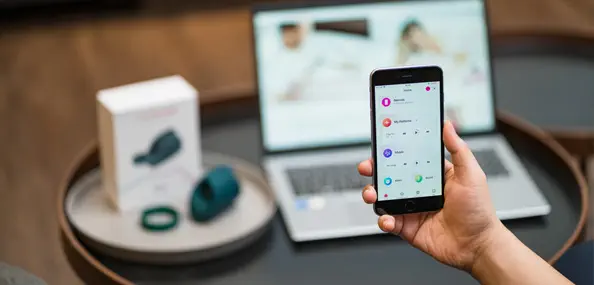 What are the differences between Lovense's Gush Versus and Hot Octopuss' Pulse Solo Interactive?
Mechanically, the Gush takes a more traditional approach. At the same time, the Pulse Solo Interactive's motor does its pleasurable-vibrating less directly to help give a lifelike sensation.
I felt the Gush is a bit more comfortable and secure, extra when using its Optional Band. This also made it easier to use it hands-free, if that's something you might be interested in doing.
Between the two, there's also a big difference in their charge-to-playtimes, with the Gush needing a mere hour to go two hours instead of the Pulse Solo Interactive barely managing to last four hours after charging for three hours.
But their most noticeable difference is their software. But even here, it's a huge challenge to say which is the most effective, enjoyable, and interactive.
For instance, the Gush uses Lovense Remote: a smartphone (and desktop) app I feel is the goldest-of-the-golden standard for ease of use, well-executed features, and butter-smooth connectivity.
That said, if having your sextoy work with the growing number of interactive videos and the like, FeelConect is more supported by a factor of … well, a lot.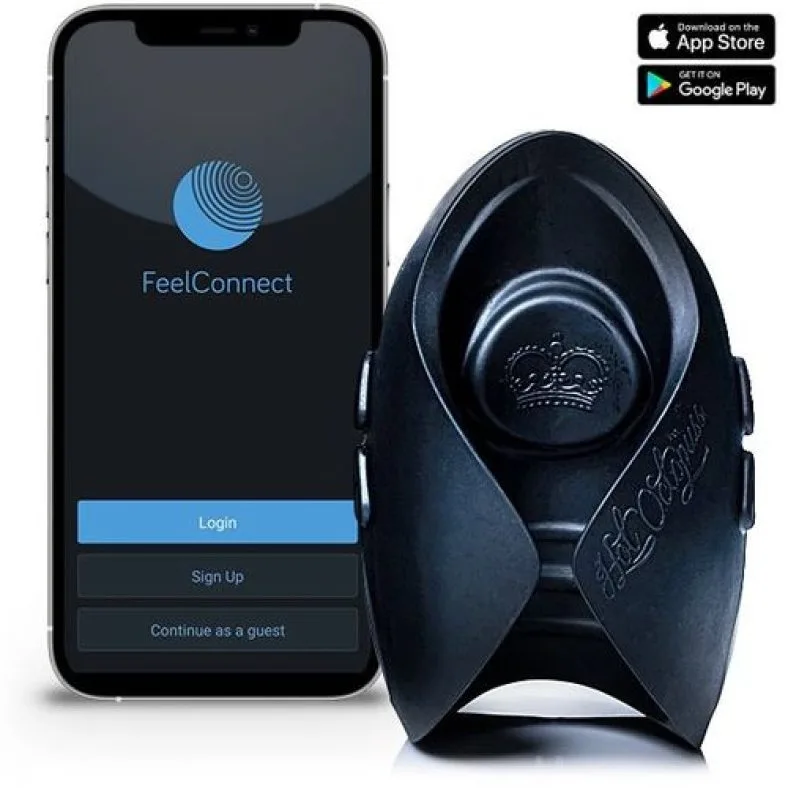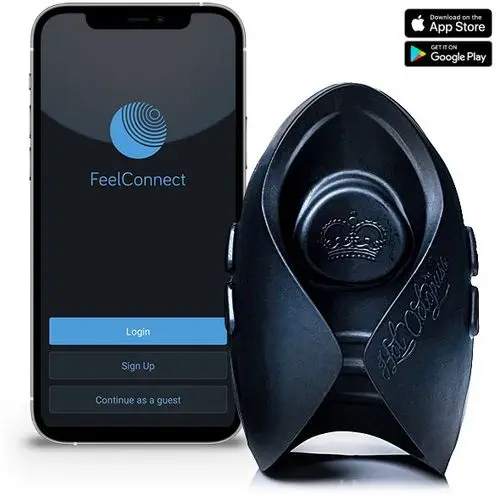 Pros of Lovense's Gush over Hot Octopuss' Pulse Solo Interactive
Putting software aside for a moment, as I mentioned, the Gush and its Optional Band kept it from unexpectedly slipping or sliding.
Because of its firm wrapping, I could focus on other, more arousing things than worrying whether or not it was going to unexpectedly come loose.
That and there's something about how the Gush was made. I mean, both toys are almost identically silicone with a tiny amount of ABS plastic, but it seems like somewhere along the line Lovense did something special as their toy felt warmer and more lifelike.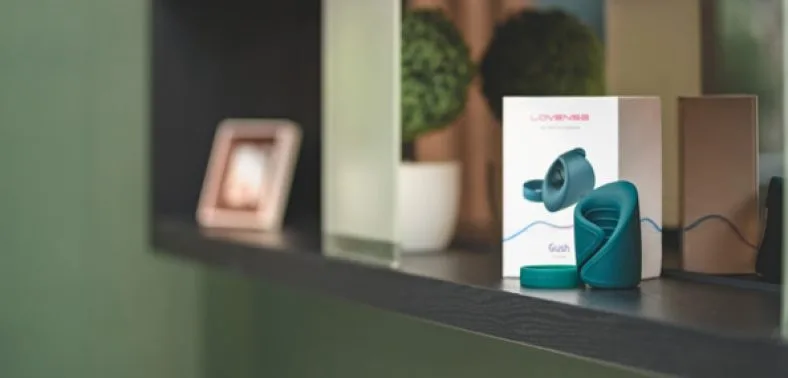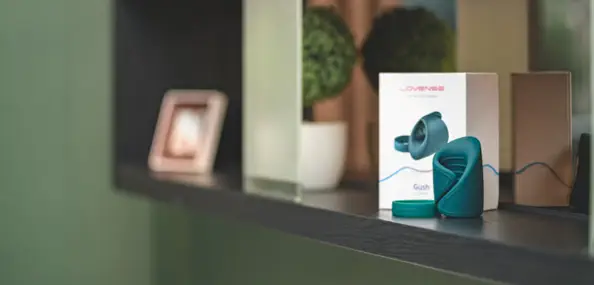 Pros of Hot Octopuss' Pulse Solo Interactive over Lovense's Gush
In retrospect, the preceding was rather odd of me to say because when it comes to vibrating, the Pulse Solo Interactive's Pulseplate Technology did its magic, and while its materials didn't feel as naturalistic as the Gush, its functioning absolutely did.
It may sound trivial, but comparing the two, there's something about the Gush's lack of symmetry that kept itching my brain—like how I kept wanting to be able to say for certain if it was on backward or forwards.
Not something I think is a flaw in its design, just that if you, like me, occasionally find misassigned objects distracting, you may want to go with the Pulse Solo Interactive and its uniform proportions.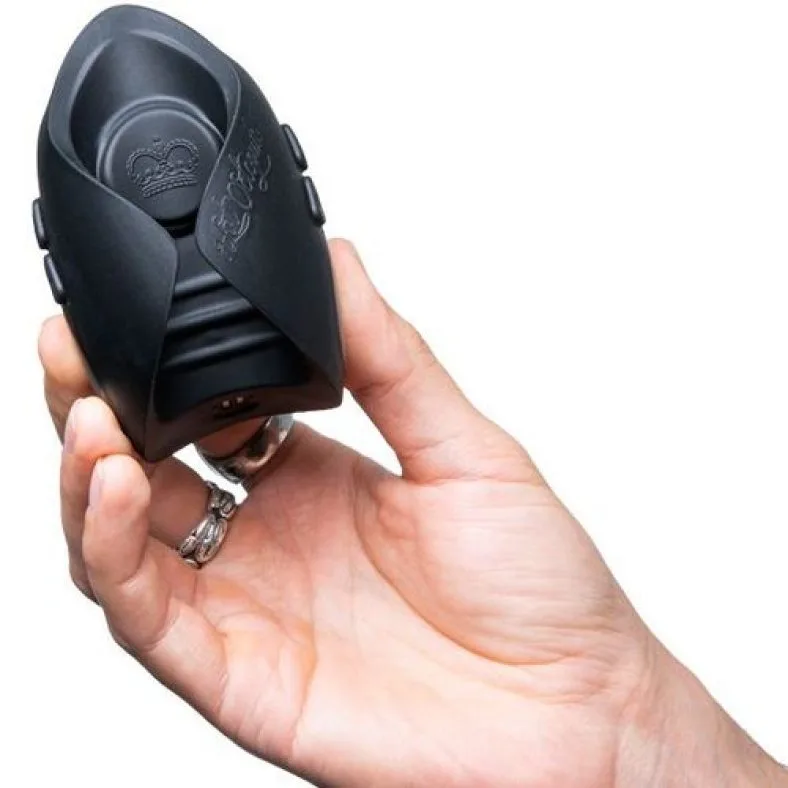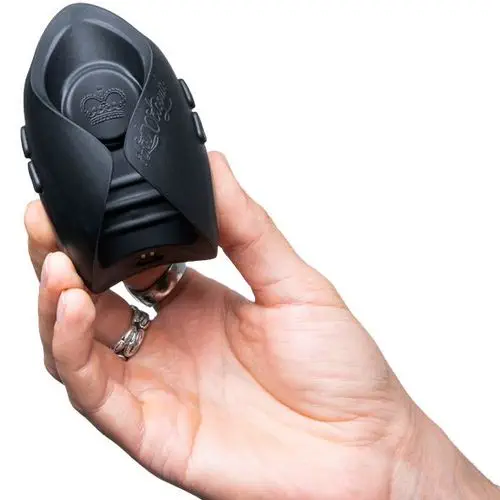 The verdict
I knew this wasn't going to be easy and, guess what, sure-as-shootin' I was right. Come on, do I really have to choose between this pair of state-of-the-sexual-art devices, each from a company I've enthusiastically raved about in review after review?
Can't I take the coward's way out and say they're fantastic in their own way, and if you have the spare bucks lying around, you should pick up a Lovense Gush and a Hot Octopuss Pulse Solo Interactive to judge for yourself?
Okay, I can hear my cherished editor earnestly tapping his foot while dramatically pointing to "The verdict" to remind me that it's my job to at least kind of offer a final say in the matter.
Well, here goes: comparing a Lovense Gush against a Hot Octopuss Pulse Solo Interactive, I have to, very grudgingly, say the Gush slightly edges out its competition.
Now I guess you'll probably want to know why. It's when all's said and done, the Gush's grip tipped the scales for me: that with or without its Optional Band, it always felt pleasantly firm.
Plus, my feelings regarding the Lovense Connect app, like how it's become the benchmark for sextech software design.
But I don't want you to come away from this comparison believing Hot Octopuss' Pulse Solo Interactive is in any way inferior. Be it movies, books, food, or anything else, sextoys are subjective, and despite me pinning a medal on Lovense for their Gush, it doesn't necessarily follow you'll like it–or go madly head-over-heels for Hot Octopuss' Pulse Solo Interactive.
So take what I've said with a few crystals of sodium chloride, do your own research and, if you can, purchase each of these fine sextoys to discover which you'll be the most turned on by.
And maybe you'll also find yourself caught between a pair of arousing delights–while having a tremendously arousing time with both.
➡️ Check the current price of the Lovense Gush
➡️ Check the current price of the Hot Octopuss Pulse Solo Interactive