Getting mind-blowing orgasms on demand is the ultimate dream. Orgasms are great because they leave you feeling relaxed, happy, and refreshed. They can also make you forget all your troubles for a few hours.
Which explains why there is such a high demand for them.
The good news is that there is no shortage of unique and innovative toys in the sex toy market today aiming to help you achieve exactly this. Here is a look at one of these toys, the Lovense Domi 2.
Lovense is an award-winning company that has been producing sex toys for single people and people in relationships across diverse genders and sexualities.
Domi 2 is one of their latest products. This review will dive deeper into what it is, how it works, and whether it will be the right fit for you.
👉 Click here to learn more or to order your Lovense Domi 2
What is the Lovense Domi 2?
Domi 2 by Lovense is an exceptional revolving head wand. It can be used by any woman who wants to take her pleasure into her own hands, whether she's single or in a relationship.
At only 9.2 inches, it has some really powerful vibrations that will give you some truly powerful orgasms.
The Domi 2 has a full metal body for hardiness and quietness, which is in soft silicone. The silicone material is 100% body-safe, hypoallergenic, and non-toxic.
The best part is that Domi 2's neck is toughened so you can apply as much pressure as you want wherever you want to. It has a lithium-ion battery that charges fully in 90 minutes to give you about an hour of playtime.
Key Features of the Lovense Domi 2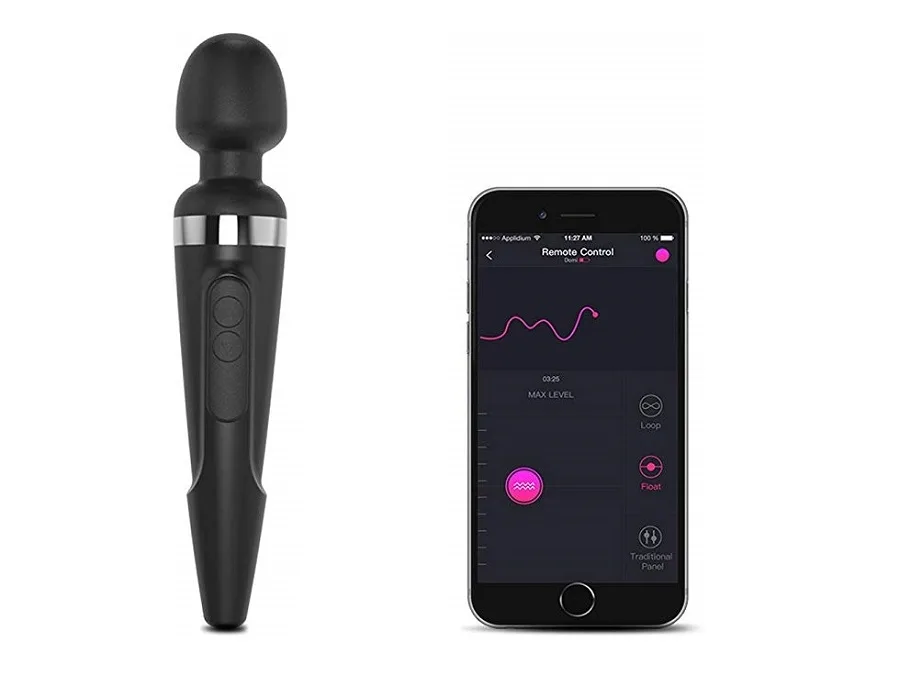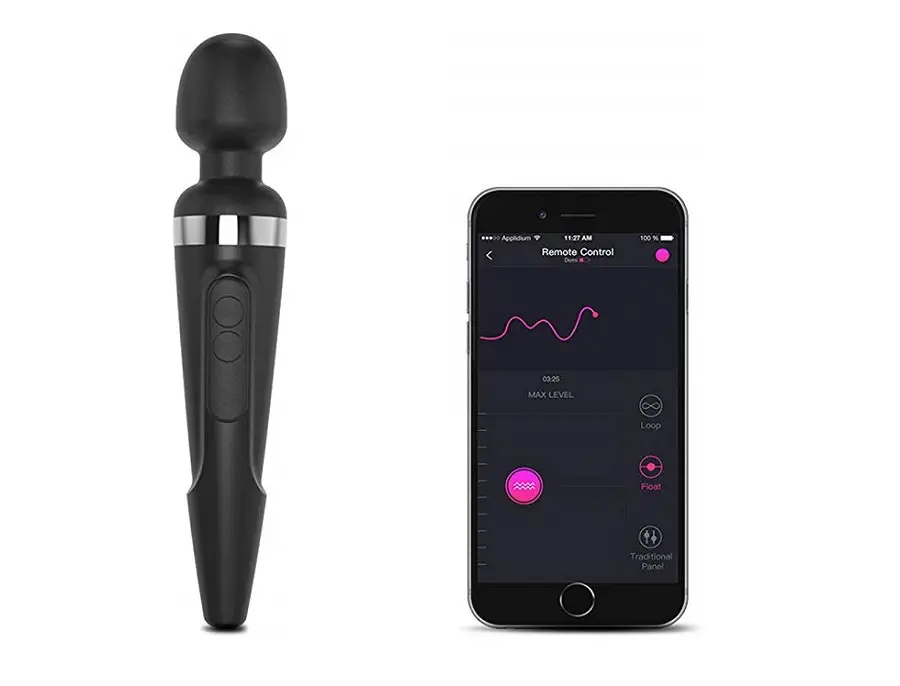 Well-built and powerful
Beneath the Lovense Domi 2's soft silicone surface, it has a tough metal body that has been built to last. It also has a powerful mortar in the dual revolving head that offers lots of power for your pleasure.
Flexible and powerful head
The Domi 2 vibrator has an oval-shaped head that can move in all directions. The surface of the head is made of silicone, making it very tender on your skin. The toughened neck is additionally firm on the vulva while being soothing at the same time, resulting in an unbeatable feeling of pleasure.
Connectivity
You can choose to pair your Domi 2 with a partner, no matter how far away they may be from you.
This will give them the power to control the toy for you, deciding what vibration patterns and intensity you end up experiencing. Overall, it is a remarkable way to enjoy intimacy with your partner even if you are not in the same room.
Music and sound-activated vibrations
You can also set up your Domi 2 to sync to any music or sound that you like. When you do this, it will be activated and vibrate in time with the sound, leading to a unique and exhilarating feeling.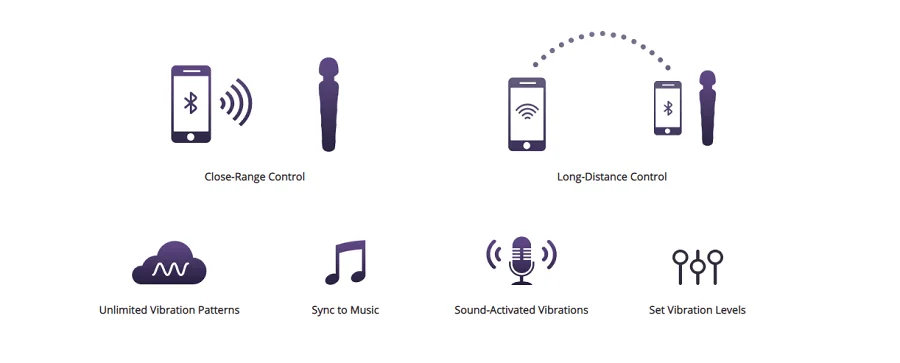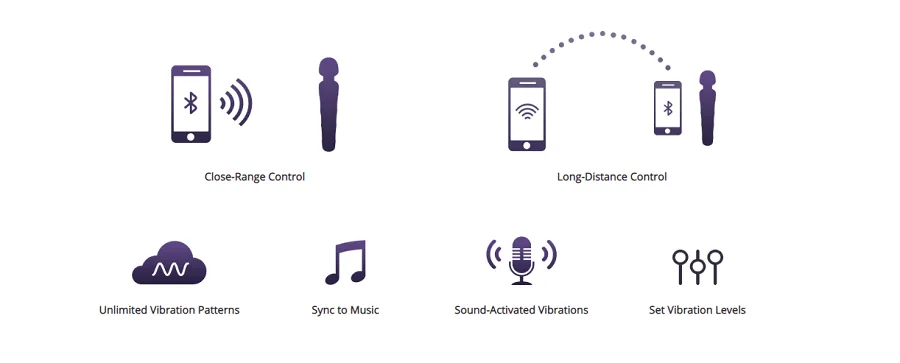 Packs quite a punch
The Domi 2 is a lot smaller than most other similar wand vibrators. However, it packs quite a punch when it comes to power levels. This makes it the perfect toy for discreet use both indoors and outside. It will never disappoint you, and that's what makes me love it so much.
Cutting edge dual rotation functionality
Domi 2 comes with a unique mortar within the head, which allows it to rotate in two ways, doubling the strength of the vibrations in the process.
The rotations in the inner part get transported to the outside, resulting in twice as powerful vibrations that you will absolutely love.
Unlimited patterns
The Lovense app has several default patterns that you can try out. However, the library itself has over 5000 patterns, and you can also create your own from scratch. This means that when it comes to vibration patterns on this toy, the sky is literally the limit.
What's in the box?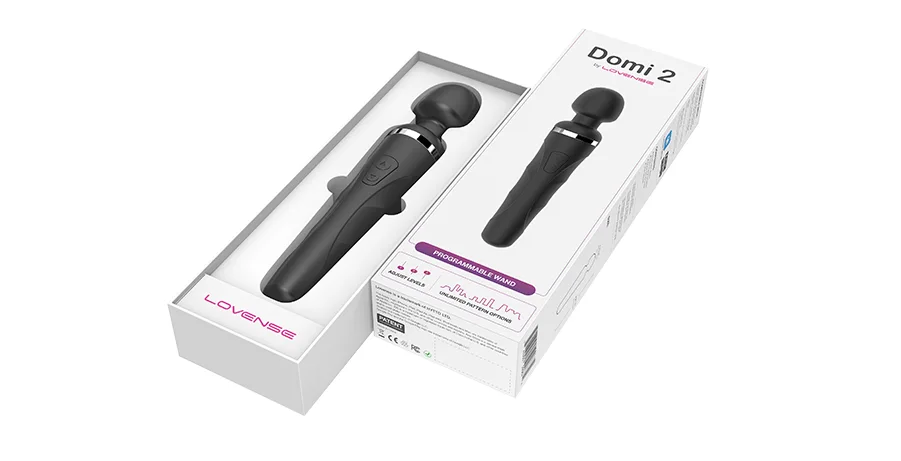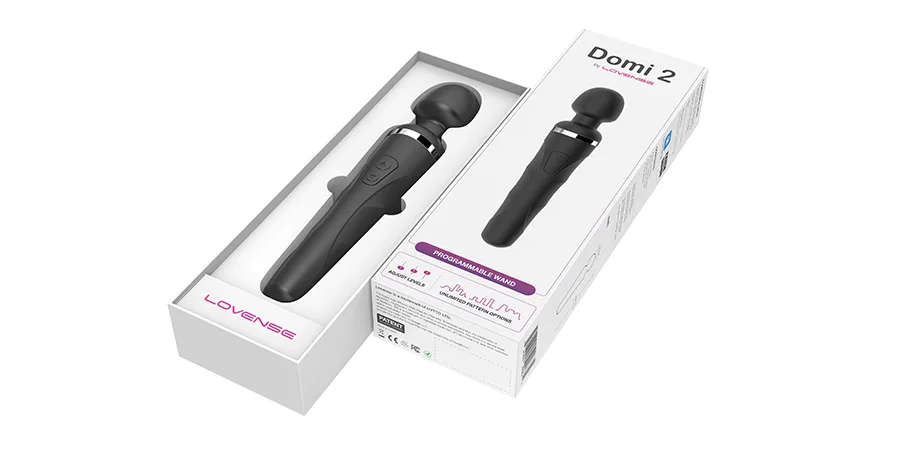 In the box, you will find the Domi 2 remote control wand, a charging cable, and a user guide, which contains information on how to charge it, switch it on and off, use it, clean it, and store it.
How does the Lovense Domi 2 Work?
Charging it
The Domi 2 should be switched off before being charged. It can be charged with any regular USB charger, although you should try to always use the original cable and adapter to charge it. It takes about one and a half hours for a full charge.
You can tell that it is charging by the flashing indicator light. A solid glow means that it is fully charged. If you are not sure how much battery life you still have left, check the battery indicator in the app for comparison.
Never use the Domi 2 while charging it. Also, ensure that the toy is recharged fully at least once every six months.
Cleaning and care
You should clean your device before and after use. Use warm water with a toy cleaner or a mild soap to clean. Rinse your Domi carefully and avoid dripping any water into the charging port. Dry it completely by tapping it with a clean cloth.
Store it in a clean environment free of dust. Domi should be kept away from severe heat or cold.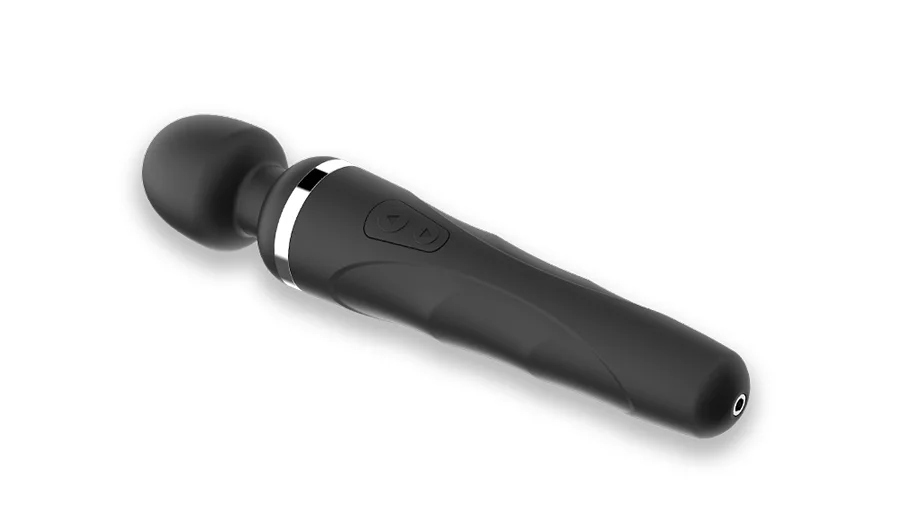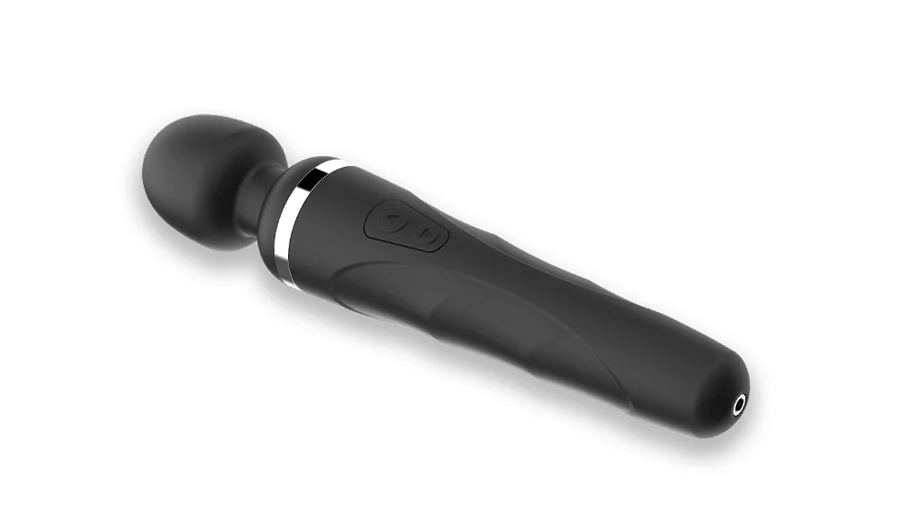 Using it
Before you use it, make sure you apply a generous amount of water-based lube on it. You can use any water-based lubricant of your choice.
Avoid silicone and oil-based lubricants as they can have a negative effect on the silicone casing.
The Domi 2 is compatible with a number of devices, including Macs with Bluetooth 4.0 enabled, Touch Ios 9.0, iPhones, iPads, Android 4.3 and up, and Windows PCs (as long as you have a Lovense USB Bluetooth adapter).
To pair it with these devices, click and hold the Domi 2's button to turn on the device. A light will flash to show that it is on and ready to pair.
On the Lovense app on your phone, press the button at the center then click on the + icon to start searching. After it finds the toy, tap "Done" to connect. The light will stay on to show that it's has connected. You can now control your toy with your smartphone.
The good news is that you only have to pair your Domi 2 once. The next time you want to use it, it will connect automatically to your smartphone. You will see a round icon that displays the connection signal, which turns off once the pairing is disconnected.
To pair it with your PC, the process is also similar. Simply turn the toy on, plug the Lovense USB Bluetooth Adapter into the USB port on your computer, then click the connection icon.
Click the + button to begin searching. Tap "Done" when the toy is found. The light will remain on indicating that it is connected, and you will be able to control the toy with your PC.
After pairing Domi 2 to your smartphone, you want to program it to vibrate exactly as you like. Click on the Domi panel in the "My Toys section". Tap the "Program" button to see the programming options. Click "Adjust Levels" to adjust the first three levels. To add a preset pattern onto your toy, click on "Create New Pattern".
If you want to use your Domi 2 with a partner who is not right there with you, you will first have to connect the toy to their smartphone. Click on the Long-distance tab and choose your partner's account.
You both must have a valid account for this to work. If you are using the toy for the first time, no account will be in your long-distance tab, so press the "+" button to add your partner. You can then choose a play option at the + icon on the bottom right. Your partner will then select the live control option and you'll be good to go!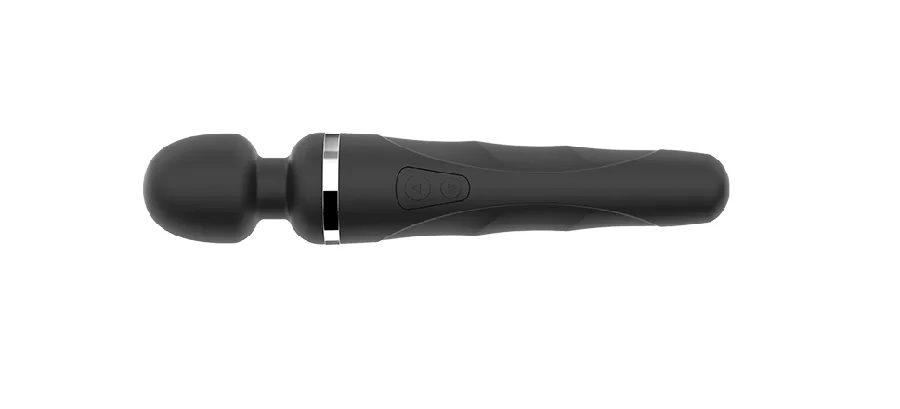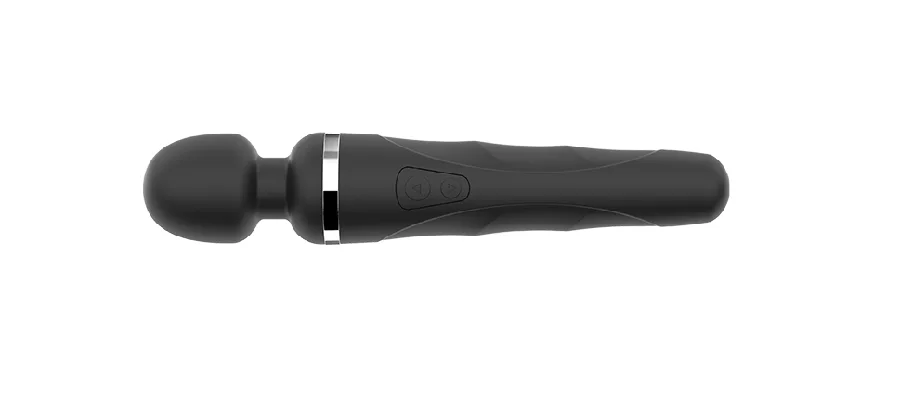 My Experience with the Lovense Domi 2
The first time I opened the Domi 2 box, I was amused by its size. The mini wand seemed to be rather tiny compared to what I was used to.
It was until I inserted the vibrator in my vagina that my perception changed. The toy was absolutely mind-blowing, and that's putting it mildly.
I remember every feeling like it was yesterday. I played around with different speed and strength settings for a while, before finally settling at a moderate speed.
The highest speed setting was too intense for me to handle while the lower settings didn't do it for me.
I have used the Domi 2 a bunch of times since that first time. I recently introduced it to my partner who often works out of town, and it really has spiced things up for us. I let him take control and watch me sometimes, and he loves just how much it turns him on. Distance is not an issue for us any more thanks to Domi 2.
It is also easy to hold and place in the right spot. Since I got it, it has become my number one go-to toy in my collection. It never disappoints me. Plus, my partner loves it when we use it as an extra stimulator during sex, so that's another plus for it.
Pros of the Lovense Domi 2
Small to hold and easy to operate
It is compatible with several Bluetooth devices
It can be used for a long-distance relationship where your partner controls the vibration modes.
It has a wide variety of trembling patterns that offer excellent stimulations.
Several connectivity and control options
Cons of the Lovense Domi 2
Not waterproof- The charging port is open hence you need to take extra care while cleaning.
Not so quiet- It can be a little loud especially at higher vibration settings.
Final Thoughts
The Lovense Domi 2 is a wonderful little toy that comes with everything you will need to get those mind-blowing orgasms. Whether you want to use it alone or with a partner, it is worth every penny and will not disappoint you.
I absolutely love my Domi 2, especially its versatility and amazing functionality.
This is why I highly recommend it for anyone who is looking for some adventurous fun or if you simply just want to make things interesting again in the bedroom with a partner.
👉 Click here to learn more or to order your Lovense Domi 2