LELO Soraya 2 Review: Time to Upgrade Your Vibe?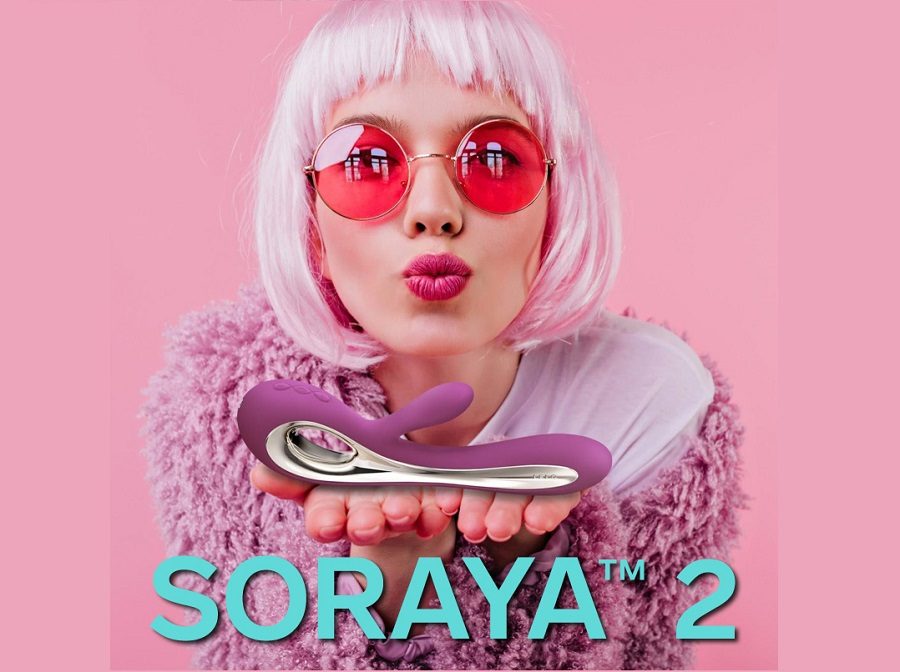 Rabbit vibrators have been in existence for quite some time, managing to persevere even with the introduction of other sex toy designs. This perseverance could be attributed to the fact that they combine the internal stimulation that a standard vibrator provides with extra stimulation to the clitoris as well.
When a rabbit vibrator is well-made, the result is a toy that provides immense pleasure on both ends. This review takes a look at the Soraya 2, a rabbit vibrator by Lelo, to help you determine if it is worth a try.
>> Click here to learn more or order your Lelo Soraya 2
What is it?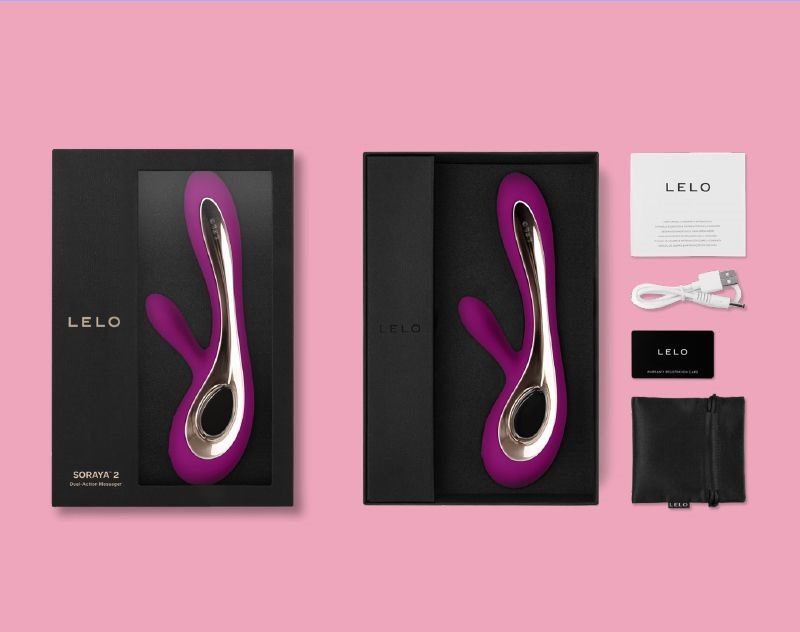 The Soraya 2 is a rabbit vibrator that is meant to serve as the enhanced, follow-up to the Soraya by Lelo. Lelo is a sex toy brand that is known for designing, developing, and manufacturing high-end sex toys, BDSM accessories, and massage products.
Although the price point for Lelo toys is higher than what you will find on Amazon or other online retailers, they come with the promise of body-safe materials and more reliable functionality.
According to Lelo's website, the Soraya 2 delivers dual stimulation to allow for both G-spot and clitoral orgasm. It is also hailed as more powerful and precise than its predecessor, with a softer and smoother surface as well as added flexibility.
Key features
Sonographic design
The engineering process of the Soraya 2 involved the use of ultra-sounding to achieve an accurate representation of the female anatomy, having been re-designed to ensure that the G-spot is well-targeted in as many women as possible.
Extended tip
The tip of the Soraya 2 is broader and thicker than that of its predecessor to ensure that the sensations being delivered to the G-spot are enhanced.
Ergonomic external simulator
The external stimulator is fully flexible and has been adjusted from a 37-degree angle to a 27-degree angle so that it can easily adapt for use on various body types.
Silicone and ABS plastic material
The Soraya 2 is constructed using 100% medical-grade silicone that is soft and ABS plastic. Both the silicone and ABS plastic are body safe as they do not contain any phthalates or other harmful chemicals that are known to cause allergic reactions in users.
Expanded range of vibration settings
Soraya 2 has an upgraded interface that offers users with 12 vibration settings with enhanced functionality, ranging from a gentle murmur to a more intense and satisfying pulse.
You have three combinations of the vibration settings that you can try out: the shaft or clitoral simulator, or both.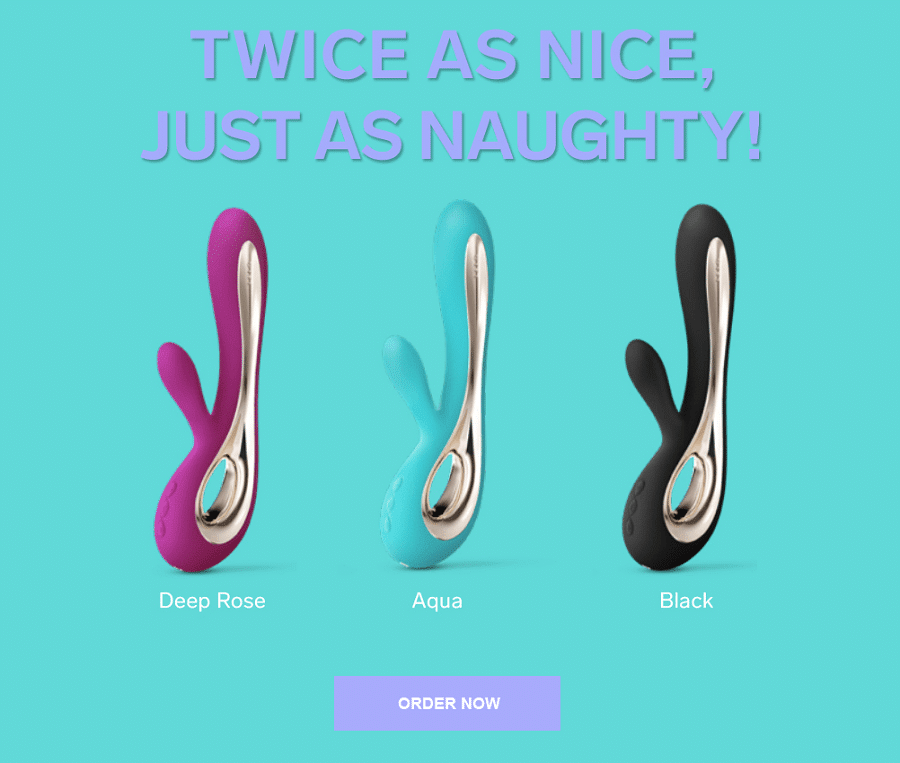 USB quick charge
You can fully recharge the Soraya 2 using the USB charging cable that is included in the package. The device takes a total of 2 hours to fully charge.
Waterproof
Lelo Soraya 2 is fully waterproof, which means that you can use it while you are in the shower or bath. The fact that it is waterproof also makes it easier to clean.
Quiet and discreet
Despite the powerful vibrations that the Soraya 2 possesses, you don't have to worry about the device being too loud especially when you are using it at its lower settings. Of course, it gets louder as the settings get higher, but it is still very quiet.
Three control buttons
The Soraya 2 has three buttons on its surface used to turn it on and off as well as control the vibration intensities.
Easy-grip cutout handle
The cutout handle found on the Soraya 2 allows you to easily hold on to and manipulate the toy as you use it.
What's in the box?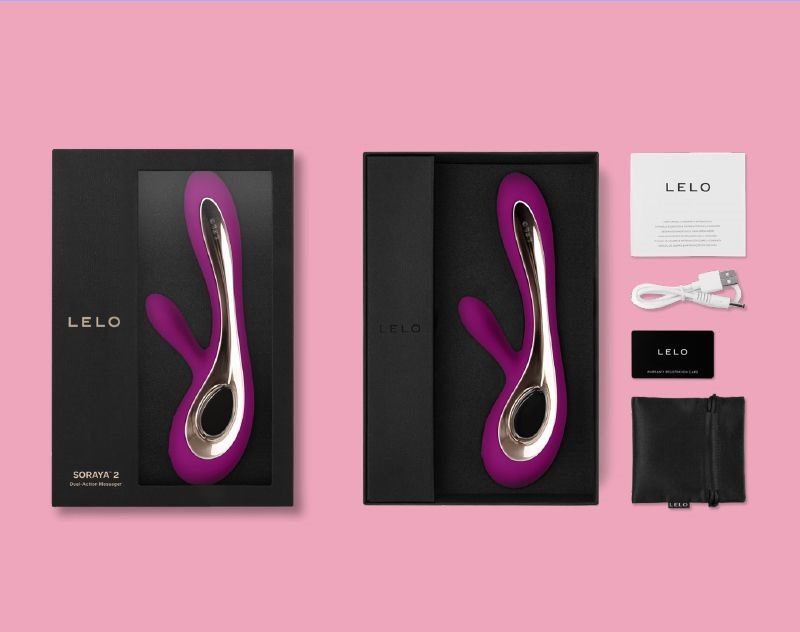 Here is what you can expect to find in your Soraya 2 package:
A USB charging cord – plug it to a wall charger or your computer to charge your device.
A satin storage pouch – a discreet yet stylish pouch where you can keep your Soraya 2 safe.
A detailed instruction manual – detailed instructions that show you how to charge your device, turn it on, store it, and clean it.
A warranty registration card – use the numbers that you find on your warranty card to register for the 1-year warranty on the Lelo website.
How it works
Charging the Lelo Soraya 2
Before you use your toy for the first time, you must charge it until it is full. The Soraya 2 takes 2 hours to charge at 5.0 V 500 mA. When it is fully charged, you can use it for up to 4 hours before you need to charge it again.
It is advertised as having a standby time of up to 90 days, but I would not advise letting your device sit for that long in between usage if you want to prolong its lifespan.
To charge your device, use the charging plug to push through the surface material that covers the indentation at the base of the toy. When the device starts charging, the LED light will pulse to show that it is charging.
In case the LED fails to pulse even when the charger is connected, it could mean that the battery is fully charged or completely drained to the point that the device will need several minutes to acknowledge the charger. It could also mean that you have not connected the charger properly, so check your Dc and wall sockets.
Once it is full, you will notice that the LED will give off a steady white glow. If the battery of the device is low, the LED indicator light will flash rapidly when you push the "+" button.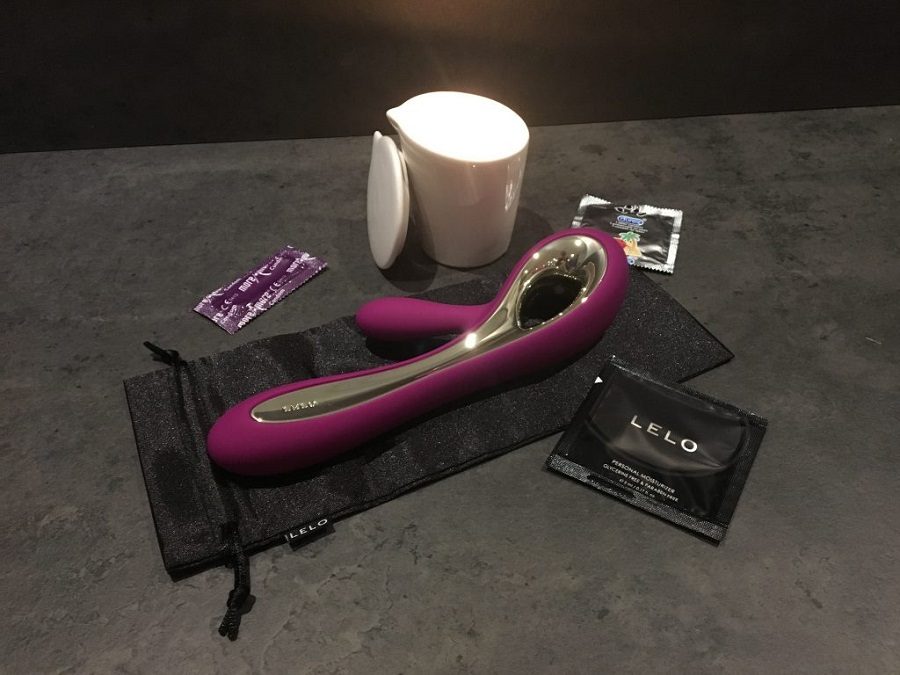 Using your device
To turn the device on/off and control the stimulation modes and vibration intensity, use the three buttons found on the toy surface. To turn on your device, press the "+" button once.
Hold this button down to increase the intensity of the vibration and let go once you reach the level that you are most comfortable with. Press and hold the "-" button to reduce the vibration intensity. To turn off the device, continue holding down the "-" button.
To lock your device, hold down the "-" and "+" buttons for approximately five seconds and wait for the LED light to flash one to indicate that it is locked. Locking your Soraya 2 is important to prevent accidental activation when you are traveling with your device or when it is in storage.
Repeat the locking process to unlock the device. It is worth noting that charging your device will automatically unlock it.
The stimulation modes
As previously mentioned, the Soraya 2 features 12 vibration modes that range from pulsing to continuous vibes and alternate waves through the independent motors within the device. The modes are intended to simulate varying massaging strokes.
When you first turn on your Soraya 2, it will be on continuous vibration mode. To move through the twelve modes, press the button between the "+" and "-" buttons.
Cleaning and storage
By properly cleaning and caring for your Soraya 2, you can significantly increase its lifespan. Always use water-based lubricant with the device as silicone-based lubricant tends to degrade the silicone. You will also want to avoid using hand cream or massage oil as lubricants with the device to maintain the quality of the material.
Always clean your Soraya 2 thoroughly before and after you use it. Wash the material using warm water and mild antibacterial soap, then use clean warm water to rinse it. Pat it until it dries using a lint-free towel or cloth. Avoid using cleansers that contain acetone, petrol, or alcohol.
Never leave your Soraya 2 in direct sunlight, and avoid exposing it to extreme heat. Store the device in a dust-free environment and away from toys that are made of other materials.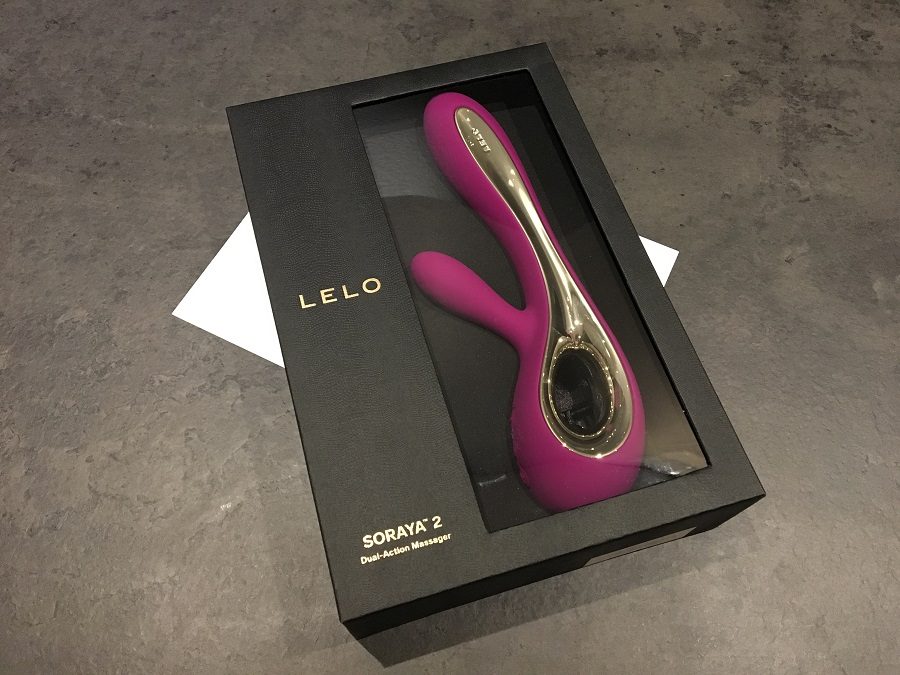 My experience with the Soraya 2
When I first unboxed the Soraya 2, I was a bit concerned about how comfortable the areas where the ABS plastic and silicone parts meet would be.
As a result, I always opt to apply a generous amount of water-based lubricant so that I don't have to worry about my skin getting snagged in the grooves of the toy. I am yet to experience any sort of discomfort from the toy using lube.
Once I had fully charged my Soraya 2, the first thing I tried out was cycling through the 12 different vibration settings at their lowest and highest power settings to test out just how loud the toy is before insertion. I was impressed to find that it was hardly audible and I could effortlessly turn it on without my boyfriend having any clue that I was using it.
It was even quieter once I started using it.
When it came to the twelve different vibration patterns, I wasn't particularly looking forward to the pulsating vibration settings, but I thoroughly enjoyed experiencing the clitoral vibrator and the angled head moving at a constant pace.
Although the head is positioned at a very slight angle, it is just enough to straddle the edges of my G-spot and slowly build up the tension until I reach toe-curling orgasms. I found that I could achieve orgasms easily using the medium-high settings, but the highest settings proved to be too intense while the lowest settings did not do much for me.
As previously mentioned, the toy has a cutout design for the handle. I found it very comfortable to hold and could easily hold it in a variety of interesting positions that I had not been able to try with other rabbit vibrators.
I also enjoy trying different grip strengths just to see how long it takes to reach an orgasm, although sometimes I simply lay down and allow the toy to do its thing with minimal hand-holding.
Another thing I love about the toy is the flexibility of the clitoral stimulator. I have had experience with rabbit vibrators that had stiffer clitoral arms which made it hard to apply pressure both externally and internally. Fortunately, this wasn't an issue with the Soraya 2
Pros
It is discreet
From my experience, the toy is very quiet, allowing you to enjoy your "me" time without having to worry about the vibrating motors being too loud.
Powerful rumbling vibrations
The vibrations that emanate from the vibrator are powerful and undeniably pleasurable. You can experiment with the different vibration patterns to find what suits you best, but, likely, you won't even have to reach the highest setting to achieve a mind-blowing orgasm.
The material is body-safe
Because the Soraya 2 is made of body-safe silicone and ABS plastic, you don't have to worry about the device somehow causing an allergic reaction.
You can use it in the shower or bathtub
The Soraya 2 is waterproof, which means that you can enjoy your playtime in the shower or even in the bathtub. Because of its waterproof properties, the toy is also easy to clean as you don't have to worry about water damage.
Control the motors individually or together
The Soraya 2 has two distinct motors in the shaft and stem. You can opt to control the powerful motors separately to stimulate the G-spot or the clitoris individually or control them together for an even more pleasurable experience.
It features a rechargeable battery
This device comes with a rechargeable battery that allows you to enjoy it for four hours straight without having to charge it.
It comes with a one year warranty
The Soraya 2 comes with a warranty that lasts for a year, covering your product in case it chips, breaks, or fails to function like it is supposed to.
Cons
The shaft may be too long for some
Some customers who are more on the petite side have raised complaints with the length of the shaft claiming that it hinders the effectiveness of the clitoral stimulator, reducing the pleasurable sensations.
It is pricey
The price tag of the Soraya 2 is less than ideal, so be prepared to spend quite a bit of money on it.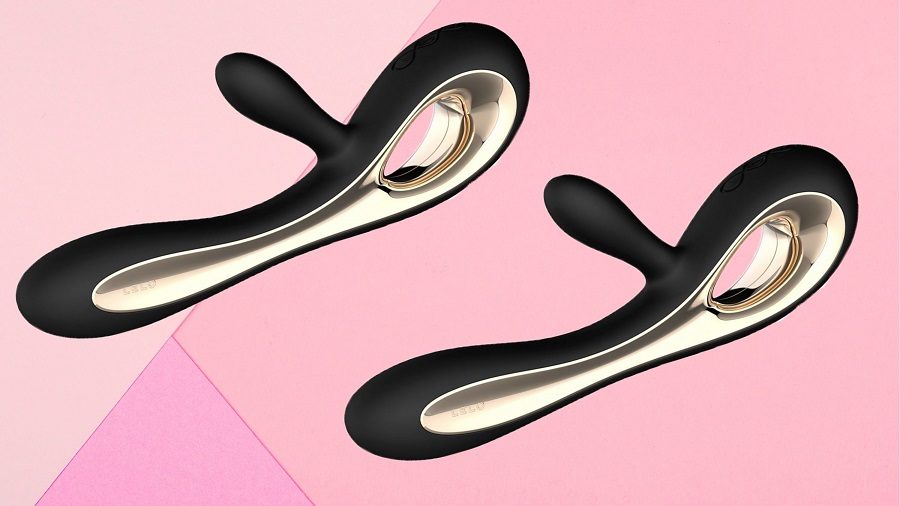 Verdict
If you want to enjoy a quality vibrator that is both functional and stylish, I would recommend trying the Soraya 2. This rabbit vibrator is uniquely shaped and easy to hold, plus it allows you to customize your climax so that it fits your liking.
Whichever the combination of G-spot or clitoral stimulation and intensity level you opt to use, you will most likely have a pleasurable experience.
>> Click here to learn more or order your Lelo Soraya 2