Most sex toy owners understand the importance of keeping them clean.
Particularly when it comes to toys as intimate as vibrators, their proper hygiene can often mean the difference between a nasty bout of infection or staying healthy.
Sure, you probably keep the places on you that the vibrator will go (into? onto? through? we don't judge) pretty clean.
However, that is not enough. Vibrators need to be cleaned after every use. And it goes without saying that they should never be shared.
There is a tonne of information out there about how and when to clean your vibrator collection.
This coupled with the fact that a really good vibrator can be quite a costly investment, and you obviously want to take good care of something you paid good money for, things can quickly get a little overwhelming.
However, here is a summarized version containing all you need to know about keeping your best friends clean.
Plus, since vibrators come in a wide variety of materials, and one cleaning style does not fit all, we have broken down the tips in here according to the type of material your vibrator may have.
First off, for all you out there not in the know, let's start with the basics. Why do we need to clean our vibrators? Two reasons.
First, bacteria. There are a lot of nasty and freaky bacteria out there that lurk in unproperly cleaned toys, waiting to pounce on you as you play.
The fact that vibrators provide them with easy access to areas of the body that are soft, moist, and loaded with blood vessels does not help.
These bacteria cause a lot of vaginal and anal health issues, and itchiness and chaffiness are just the tip of the iceberg.
You're in for a world of suffering if you do not protect yourself from them.
The second reason is STDs. Yes, improperly cleaned vibrators can spread STDs.
How you ask? If you are in the habit of sharing your toys with your partner (or partners, we don't judge), then you run the risk of contracting STDs from them even if you use protection.
Your vibrator can transmit all manners of STIs if they are improperly cleaned after every use, especially with multiple partners.
So, now that we're all caught up, here is how to clean your vibrator.
1. Hand Washing
This is probably the easiest way to clean your vibrator, and it is accessible to most people. Most vibrators are simple enough only to need handwashing to clean them.
If you want to hand wash your vibrator, the key is to be gentle and careful. Use warm water and a gentle soap that will not haunt you when the time comes to use your vibrator.
The best solution is non-irritating baby soap or simply get some special sex toy cleaner online or from your favorite sex shop.
Obviously, remember to read the fine print that comes with your vibrator.
There are some vibrators that are clearly not waterproof, so you probably don't want to hold these under running water.
With these types of non-waterproof vibrators, it is better to use a soft damp cloth soaked in warm water. Gently rub the surface of the vibrator with the cloth and a bit of soap to clean.
This method, however, has its drawbacks. It is not as thorough as most other methods.
It is easy to miss a few nooks and crannies. On the plus side, it is the fastest and easiest method to use.
Material Breakdown:
This method works well with:
Porous materials: plastics, jelly rubber, rubber etc. For porous materials, use warm water as opposed to extremely hot water.
Non-porous materials: silicone, glass, steel, etc.
This method does not work well with:
Non-waterproof vibrators
Vibrators with many crevices and nooks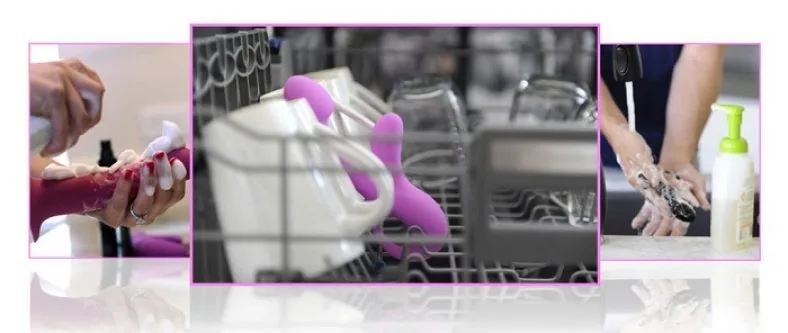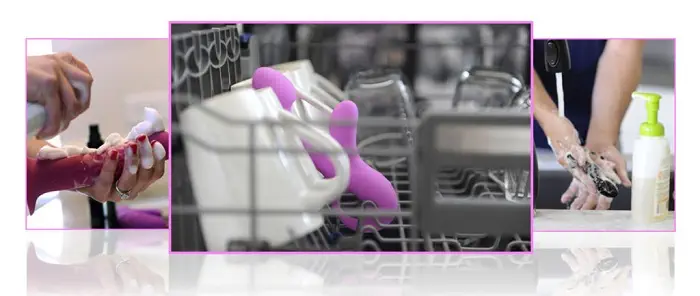 2. Using Toy-friendly Disinfectants
Disinfectants with a high alcohol content will disfigure, discolor or otherwise ruin your vibrators, especially if it is made of a porous material.
However, some vibrators come with a bottle of their cleaners or disinfectants, with directions on how to use them and how to get a refill.
If yours does not, consider watering down a mild disinfectant and using it instead.
Material Breakdown:
This method works well with:
Non-porous materials: silicone, glass, steel, etc.

Leather
This method does not work well with:
Porous materials: plastics, jelly rubber, rubber, etc.
3. Spraying
There are special sprays for vibrators that are available online and in sex shops.
The way the sprays work is simple: you simply spray your vibrator and rinse it off to clean it. It both disinfects and cleans the surface of your vibrator, and works exceptionally well with non-porous materials.
The spray makes it convenient if you do not want to make the trip to the bathroom to wash your vibrator immediately after using it.
Material Breakdown:
This method works well with:
Non-porous materials: silicone, glass, steel, etc.
Leather
This method does not work well with:
Porous materials: plastics, jelly rubber, rubber, etc.
4. Specialty Wipes
Today, there are wet wipes available tailor-made to specifically clean sex toys.
These are perfect for your vibrators, since they not only kill germs, they also condition the material surface and maintain their integrity, especially for porous materials.
They are usually alcohol-free and glycerin free. Specialty wipes provide a quick and effective cleanup method for your vibrators, especially if you are on the go.
However, do not exclusively wipe down your vibrators as a cleanup method. Mix this method with other cleaning methods for best results.
Material Breakdown:
This method works well with:
Porous materials: plastics, jelly rubber, rubber, etc
Non-porous materials: silicone, glass, steel, etc
This method does not work well with:
Depending on the type of specialty wipes, it might yield different results for different materials, so it's best to read the fine print before making any purchase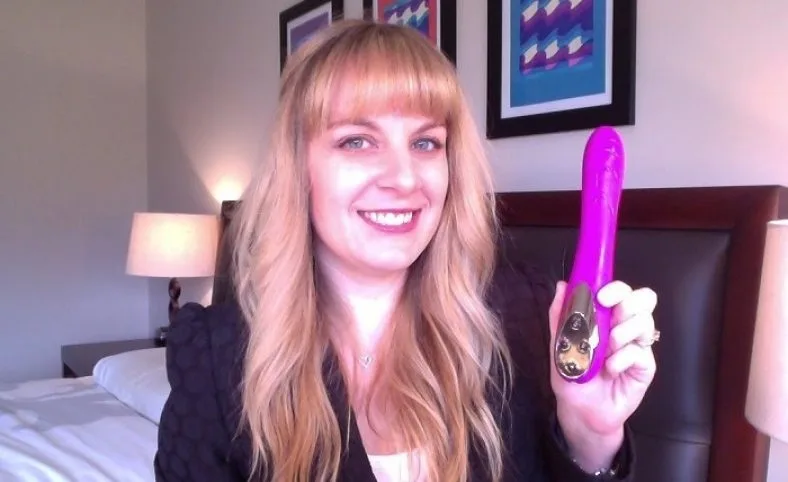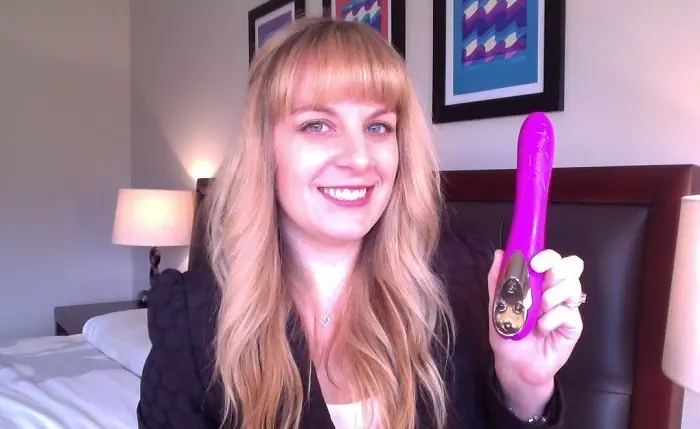 Pro Tips
1. Clean it as soon as possible
We all want to simply lie down and go to sleep after a happy encounter with our vibrators.
However, it is important to note that if you leave out your vibrator after using it, a thin, often sticky, film of your body fluids will form on its surface. This is a prime breeding ground for bacteria.
It can get particularly difficult to clean off, especially if it gets to those hard to reach crevices on your vibrator's surface.
So the pro tip here is always to try to clean up your vibrators after every use, or at least give it a thorough cleaning before putting it anywhere inside you.
2. Store it properly
Cleaning your vibrator is one thing, and storing it properly is another. The cleanup process is pointless if you do not store your baby with love and care.
If you simply throw your vibrator in the drawer, it will pick up dust and dirt and hairs, and yes, bacteria, and you will shove all this up your hoo-ha.
Try to store your vibrators separately from each other, and in clean containers, preferably the boxes they came in.
Do not use plastic containers, they degrade over time, and their chemicals may leach into your vibrators, especially if their material is porous. Also, remember to take the batteries out of your vibrator if you are not using it.
3. Disinfect
It is a smart move to disinfect your vibrator after hand washing it. Handwashing does not completely clean the surface of your vibrator.
Wiping it down with a cloth dabbed in disinfectant should get rid of any germs lurking in any nooks and crannies.
If you are scared of the potential itch that comes with using some disinfectants, a further wash or rinse in plain warm water should do away with any residual disinfectant and make your vibrator ready for use!
Remember, clean your vibrators before and after every use, and clean them often!
Conlusion
Our vibrators can be one of our purest sources of joy if we let them.
They make us happy, and the least we can do is take good care of them.
When we love them, they love us back, and not just by giving us endless pleasure, but also by making sure we stay healthy as we enjoy playing with them.
Learning how to clean a vibrator is a life skill every adventurous person should have!