If you have been lusting after a realistic sex toy for pleasuring your G-spot beyond your wildest imagination, then the sex goddess might have just answered your prayer.
It comes in the form of the well-hung Fun Factory G5 Big Boss.
>> Click here to learn more about the Fun Factory G5 Big Boss or order it now <<
What is the G5 Big Boss?
The Big Boss is an impressively large, powerful, flexible and robust rechargeable vibrator in the shape of a monster cock, designed for female pleasure.
Fun Factory, the makers of the Big Boss 5, must have pulled all the strings to come up with this sexually satisfying vibrator.
The sex toy looks impressively realistic and even has lifelike features.
These include a slight ridge on its end to resemble a penis head and some minor vein details along its side.
Even though the vibrator goes by the name Big Boss, seeing its size for the first time is mesmerizing. It is pretty huge both in length and girth.
You will find yourself battling fear and lust concurrently, as you wonder if the device can fit in you. When that happens, just let curiosity and nature run their course.
I bet that the mere possibilities of the unbearable pleasure that the toy will give you, will get you moist.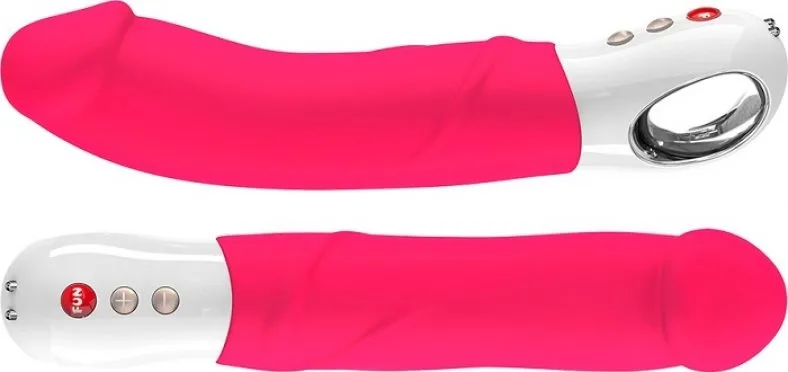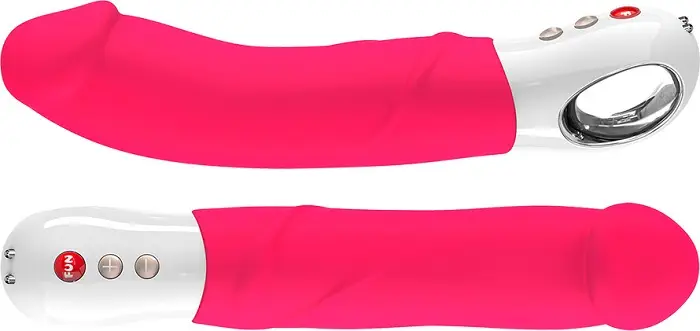 How does the G5 Big Boss work?
The vibrator has a penis like silicone covered shaft. On the rear end, the ergonomically shaped-Big Boss has a powerful motor as well as the helpful on/off, and +/- buttons.
These buttons offer up to five vibration intensities and four pulsating patterns.
Since this toy cock is monstrous, it is prudent for you to use lubricants, to make it easy for your new lover to penetrate your vagina or anus.
The penis head-like design also helps to keep the body full and give it maximum pleasure, while the buttons help to escalate the pleasure heights.
What is in the box?
It comes in an alluring package that entices you as soon as you open it. It has a gorgeous golden box with the seductive words "Your Perfect Moment" adorned on it.
Upon opening the box, you will find:
The intimidating yet tempting Big Boss monster cock
A Magnetic USB charging cable
And a small instructional manual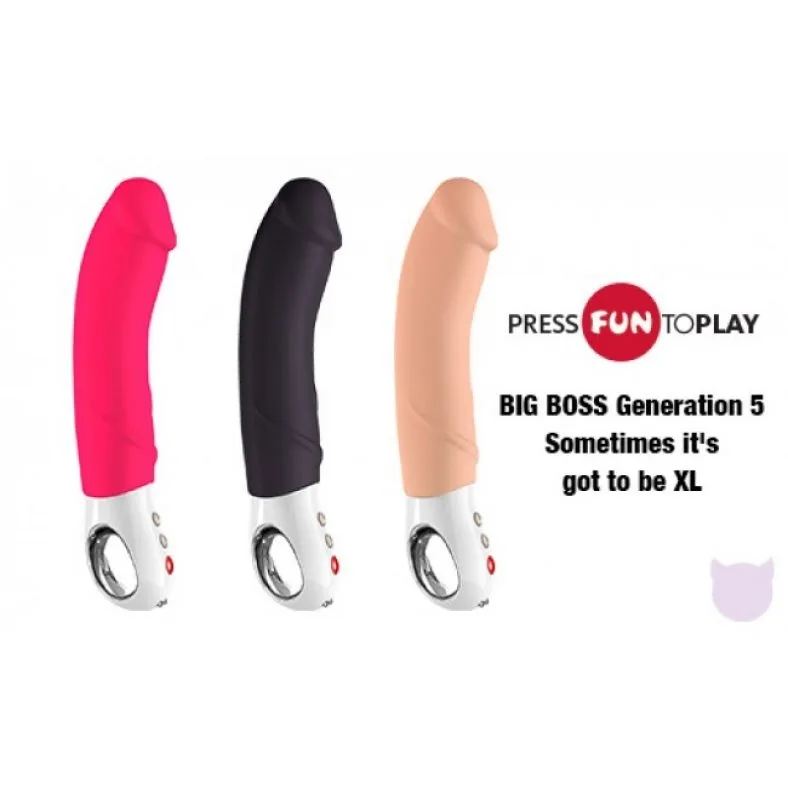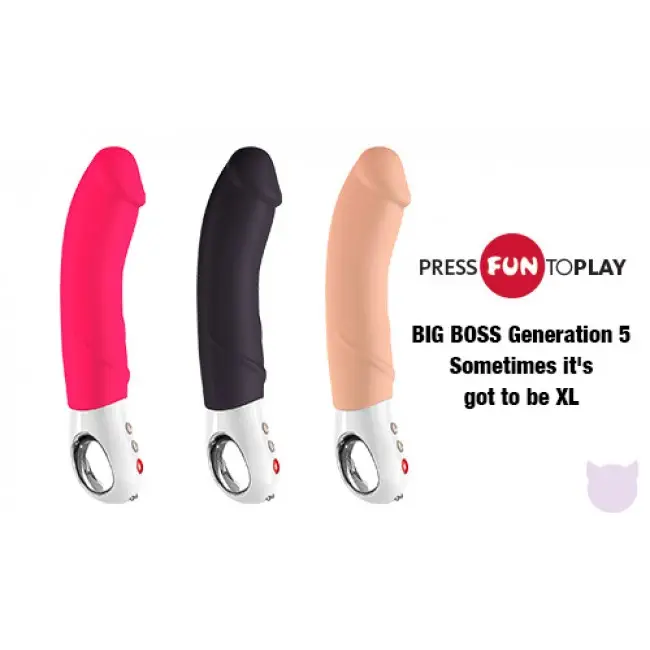 Features of the G5 Big Boss
The vibe is full of several remarkable features to help stimulate high-end sexual pleasure.
Lifelike design
Big Boss has a naturalistic penile design. It is a flexible life like slightly curved silicon shaft, which has suggestive minor veins textures and a penis head.
Such a graphic design and the FlexiFUN Technology ensures that the vibrator matchlessly conforms to your body to fill you up and give your G-spot intense stimulation.
On its part, the slight ridge that resembles the penis head helps to create an enjoyable sense of fullness when you insert the toy in the vagina.
Medical grade silicone covers
The Big boss vibrator's shaft is wrapped in 100% medical grade silicone.
As a result, the vibrator is safe, waterproof, odorless, body friendly and free of infectious or harmful substances.
The silicone cover also helps to make the vibrator's shaft soft and malleable and even creates the sleek sensational feeling you experience when you insert it into your body.
Waterproof
Many Fun Factory G5 Big Boss reviews affirm that this sex pleasure toy is 100% waterproof.
It is therefore easy to clean since you use water and mild soap to rinse it and keep your motorized sex partner clean and healthy.
The water resistance ability also guarantees you unlimited fun in different water areas.
For instance, in the shower, bathtub, swimming pool, or if you fancy aquatic adventures, you can take the Big Boss with you to a beach or pool party for some thrilling fun.
It is monstrous
Whoever says that size doesn't matter, most likely is yet to experience a monster cock like the G5 Big Boss.
It offers seven inches long of insertable length and has a base diameter of 5 inches. Such a size will fill up any woman, to give her the ultimate orgasmic pleasure.
Wide selection of delectable speeds and patterns
The Big boss has four thrilling vibration patterns and five pulsating speed intensities. Additionally, it features an easy to use On and Off buttons as well as the + /- buttons.
These switches are ideal for adjusting the vibration speed and pulsating patterns.
Once you turn on the powerful motor on this vibrator, it will tease, thrill and caress your G-spot, in such a gratifying manner that you will never think of using any other vibrator apart from the Big Ben.
It is Rechargeable
The Big Boss vibrator is one of the biggest rechargeable vibrators made by Fun Factory. It is rechargeable using a magnetic USB charging cable, and it includes a locking mechanism and battery level display.
The display keeps you informed of how much charge you have, while the locking system helps to prevent power loss when you are not using the device.
When fully charged, the vibrator can give you two to four hours of sexual playtime.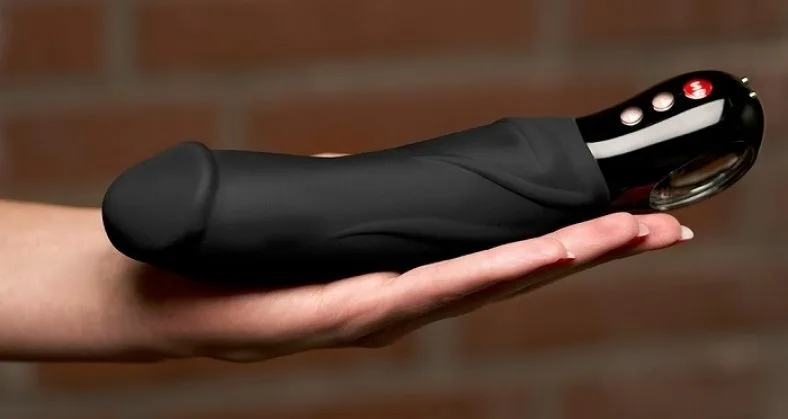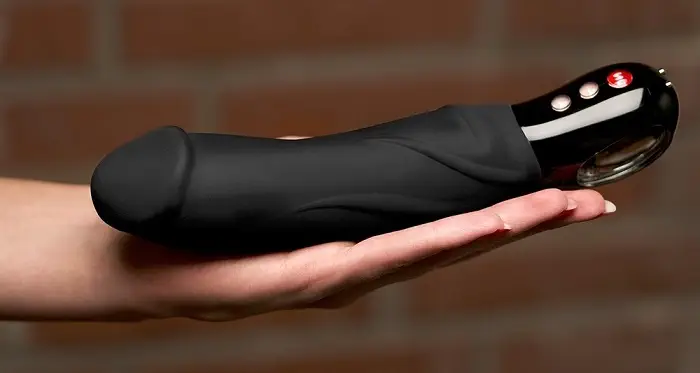 What does using the G5 Big Boss feel like?
When you first see the toy, it is understandable if you get scared. After all, it is much larger than the typical vibrators.
That, however, should not keep you from experiencing the most beautiful orgasms that your body deserves. You only need to lube up using either a water-based or oil-based lubricants.
When you press play on the device, and it purrs to life, place it on your clitoris. The low vibrations will start heightening your sexual tension.
Once you are well lubricated, gently insert this bad boy into your vagina.
Since its girth is enormous, it might take a while for you to get accustomed to it. Nevertheless, you will succeed.
As the vibrator slides into your body, you will feel a ticklish but pleasurable experience, thanks to the soft, yielding silicone shaft.
Once the entire shaft gets in, you will undergo an out of this world sexual stimulation as the device fills you up.
Adjusting the pattern and intensity level will eventually give you orgasms that will send you off the roof.
Pros of the Fun Factory G5 Big Boss
It is a big robust, flexible and powerful vibrator that sends sensual stimulation to your G-spot
It is very easy to use and handle thanks to the loop in its control unit
It has a key lock feature for discrete travel
It is waterproof, and you can use it for various aquatic adventures
It is rechargeable and has a battery level display
Has the 100% medical grade silicone making it body-friendly
Cons of the G5 Big Boss
You cannot use it in a rush, but rather at a leisurely pace for you to enjoy its pleasures.
Even though silicone has its strong points, it can be draggy and tends to attract dust and hair.
Final Verdict
From this Fun Factory G5 Big Boss review, it is apparent that this sex toy is a must-have for any woman who enjoys clit stimulation, and wants to relish the joys of being sexually satisfied.
With the Big Boss in your hand, your orgasms will undoubtedly be bigger and better.
>> Click here to learn more about the Fun Factory G5 Big Boss or order it now <<