The adult sex toy industry is a big one, with new devices being released every day.
For some reason, however, penis vibrators were a rather late entry into the arena, with Fun Factory's Cobra Libre being the very first substantial product in the field.
This was all the way back in 2013, and it was a big hit on the market, although there were some minor gripes here and there.
Well, it seems that Fun Factory has decided to come back with a new and improved version of the Cobra Libre – the Cobra Libre II.
Today we're going to take a closer look at it, what it's about, how it works, what it feels like, plus all the information you'll need to know before deciding whether it is for you or not.
Let's get right into this Fun Factory Cobra Libre II review.
>> Click here to learn more or order your Cobra Libre II by Fun Factory
What Exactly is the Cobra Libre II?
The Cobra Libre II is the second edition of the world's very first male masturbator.
While there have been Fleshlights and similar products on the market for years, all these required a thrusting motion to get the full effect.
Stimulation with the Cobra Libre II is brought about by the powerful motors mounted within its casing. For the first time (well, second time now), you can sit back, switch it on, and let the toy do its thing.
Design-wise, it's a very sleek piece of equipment, reminiscent of a shiny new gadget you wouldn't be surprised to see on an office table in a tech-forward office, which is a far cry from the relatively crude, orifice-like devices we've had to put up with in the past.
While its main body is made from reassuringly solid ABS plastic, the front insertion is created out of soft silicone, which has always been the best material for comfort and hygiene.
It comes in two color combinations; all-black or red-and-black with gold detailing.
In the first version of the Cobra Libre, the charging port had the Fun logo on it, but in the Cobra Libre II, this has been replaced by two simplistic metal dots.
Another change in this new version is in the toy's control panel – it used to be a touch panel that was widely criticized by users for its clumsiness, and this has been replaced by three real buttons that not only provide some tactical feedback when pressed but light up when the device is in use which is nice, we suppose.
Some other handy features are the one-button off switch, suitable for when interruptions are a possibility, as well as the travel lock, which can be a real lifesaver – we wouldn't want it coming alive in the depths of our bag as we're handing it over to the Uber driver now, would we?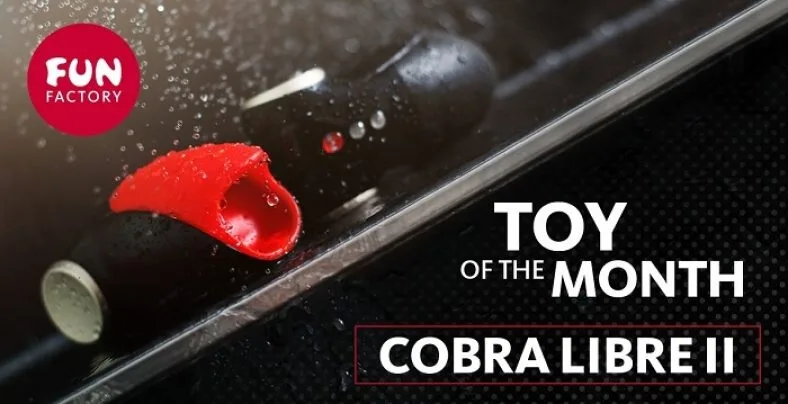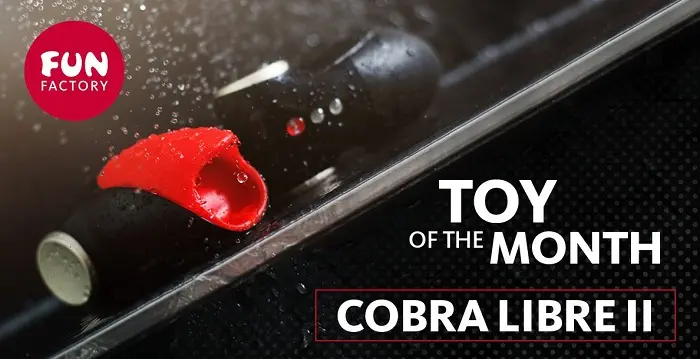 How it Works
The Fun Factory Cobra Libre II comes equipped with a shallow opening, about 3 inches in diameter and 3 inches deep, where you insert your penis.
This is designed to accommodate a little more than the head of your penis. A water-based lubricant is recommended for a smoother experience.
Once inserted, it makes for a pretty snug fit, though a comfortable one on account of the silicone.
You can either do this while seated with your penis directed forward or while lying on your back with the Cobra Libre II lying on your stomach.
The second position seems to be what the designers had in mind, as your frenulum will be in a better, slightly raised position for maximum stimulation inside the toy.
Now, once inserted, you will start up and operate the device using the three buttons located on its upper side.
Pressing the 'Fun' button will start it off at a medium rumble, which can be a bit of a rush. The company calls it the 'Perfect start'.
There are a total of five steady vibration settings, as well as four different wave pattern and intensity settings, all of which can be easily adjusted with the controls. It feels great.
The constant vibrations are designed for a steady buildup of intensity, perfect for bringing you closer and closer to climax without actually pushing you over the edge.
The deep, penetrating vibrations will bring about a gradual increase in pleasure, and the eventual orgasm will usually be a long-lasting, powerful one.
Hands-free, vibration-only ejaculation might feel a little strange at first, but it's a magical feeling nevertheless.
Note that this isn't to say that the Cobra Libre II lacks power – quite the contrary – the motors of the Cobra Libre II are surprisingly powerful for their size, it's just that it's designed to draw out the experience.
What's in the Box?
The Fun Factory Cobra Libre II package comes with a magnetic charger that will work without the need for a charging cable, although a USB charging cable is included for convenience.
The whole device is waterproof, meaning you can explore some new territories with it as well as making it extremely easy to clean with just soap and water.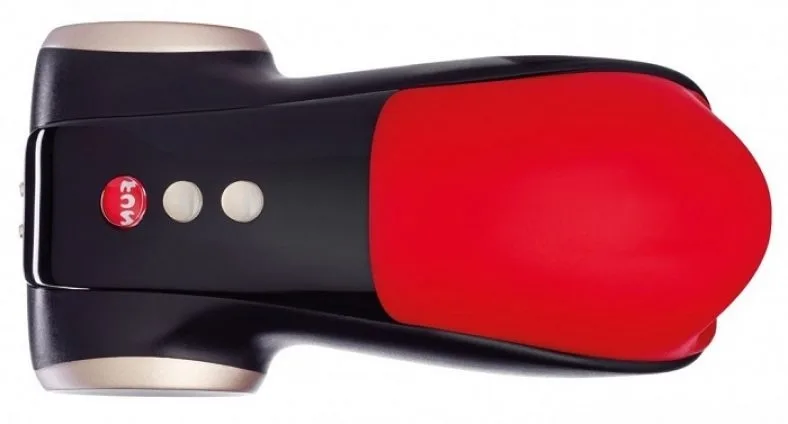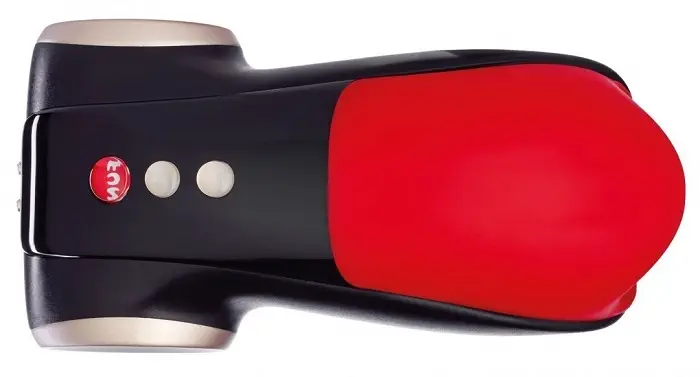 The Pros and the Cons
The biggest Pros of the Cobra Libre II are its multiple vibration settings, pleasant aesthetics, long battery life (4 continuous hours), and overall ease of use.
The most obvious Cons were improved upon in this new model, but many still feel that a male vibrating masturbator should have a deeper insertion allowance.
Additionally, due to the shallow insertion opening, it would be a good idea to keep some cleanup materials handy, as there's probably going to be a fair amount of spillage.
The Verdict
Overall, the Cobra Libre II has pushed the boundaries of what is available to men all over the world who would like an effective vibrating toy.
Its discrete design conceals a powerful performance that would be the perfect adult toy for anyone looking for a satisfying addition to their personal comfort toolkit.
The powerful, penetrating vibrations of the Fun Factory Cobra Libre II create consistently satisfying orgasms, and we owe the Fun Factory our gratitude for making this available to us.
Recommendation: Definitely try it out for yourself.
>> Click here to learn more or order your Cobra Libre II by Fun Factory