Cam modeling can sometimes be a tough job, and hard working models need all the help and advantages they can get to earn a little extra.
The good thing is that interactive cam shows are growing in popularity!
The customer base is constantly growing because once you try an interactive cam show, you are hooked for life!
So how can you earn more an take your fair share of the pie? If you want to start hosting cam shows or if you want to purchase the right tool to make more money, listen carefully.
Lovense has you covered with its aesthetically alluring, user-friendly and highly interactive lineup of sex toys that are sure to get you drooling.
>> Click here to learn more or to order your Lovense toy(s) now <<
All the products are wireless with reasonably long battery lives so you can set up cam shows and remain undisturbed for the sessions.
Here are some reasons why Lovense is the product of choice for your cam shows.
Very few products in the market come even close to the features packed within Lovense products. Comparing the Lovense lineup with Ohmibod makes this difference crystal clear.
The Lovense product line have their characteristic tip-based vibrations, which is something you won't find easily on other lineups.
You get to create your personalized levels, and patterns to get that rhythm going.
The patented software packs a ton of features which we will dwell into later on, but there is one thing above all that makes the Lovense products best in class: the interface allows you to give temporary control to your client during a chat session!
Use this feature, and you can instantly boost the number of tips you receive in chat sessions!
This interface works with Lovense products including Nora, Lush, Hush, Ambi, Domi, Osci, Edge. You can even integrate the Nora with the Max, which is a masturbator for men, for long distance (paid) sex.
Tip-Based Vibrations
Tip based vibrations were introduced to the live chat by Lovense.
Essentially you set up a tip system, which allows your clients in a live video chat to tip in order to select level and type of vibrations from a level system you created. Models can create their own levels pretty easily.
What's more? A new software update allows you to integrate all your toys to the same tips base, so that when a client tips, all the toys react!
Now you can use multiple toys at the same time to make more money. It keeps the model in control of broadcasting while it allows the clients to pay for a setting of their choosing.
You can generate your personalized chart by setting up levels according to the number of tips. Each level can represent a certain toy, time of use, vibration power and/or pump rotation.
Due to the best-in-class software, Lovense products are compatible across all interfaces, so you can get each site you're on to have its own settings.
You can diversify and still keep it manageable and easy to organize!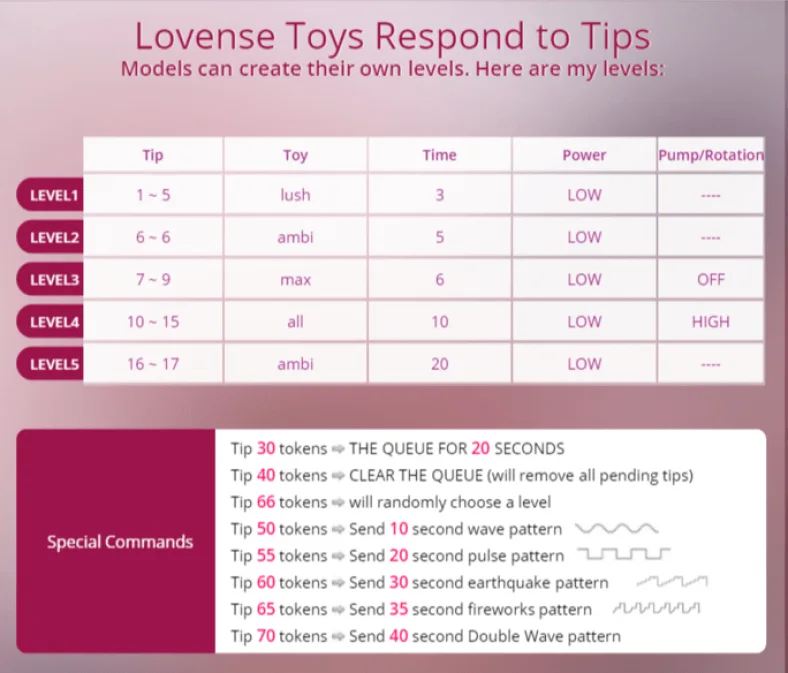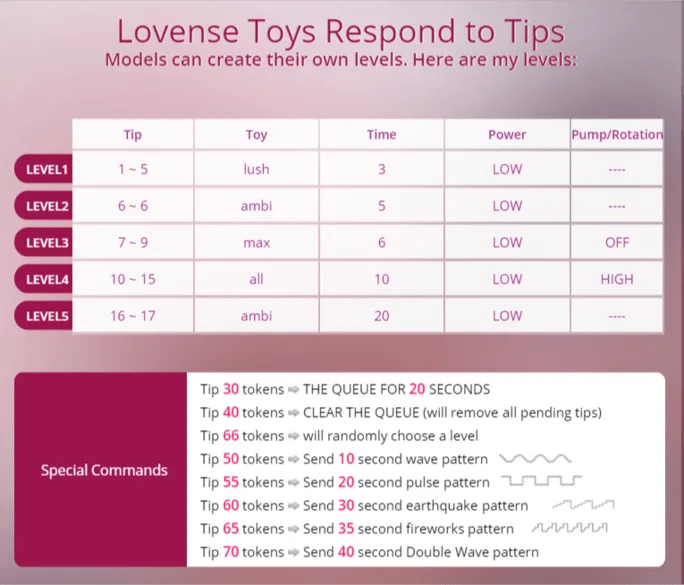 Live Control to Big Tippers
So, here is another feature that allows you to step up your game.
If you reward big tippers or regular clients, you can certainly earn more by keeping them hooked. Your ratings will also earn a boost.
Essentially, you can reward generous tippers with temporary control of your toy.
For a said time, the client can control everything from vibrations to the rhythm and he can set the mood as he pleases. It is easy to use as well.
By setting a time limit, you can generate and send a link to your client; who can then use that link to alter your toy's settings!
Live cam shows are all about interaction. So why not make that interaction a serious part of your business?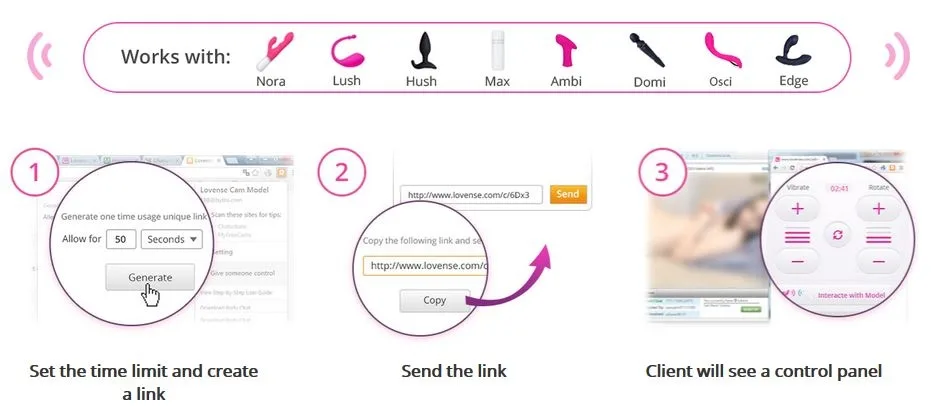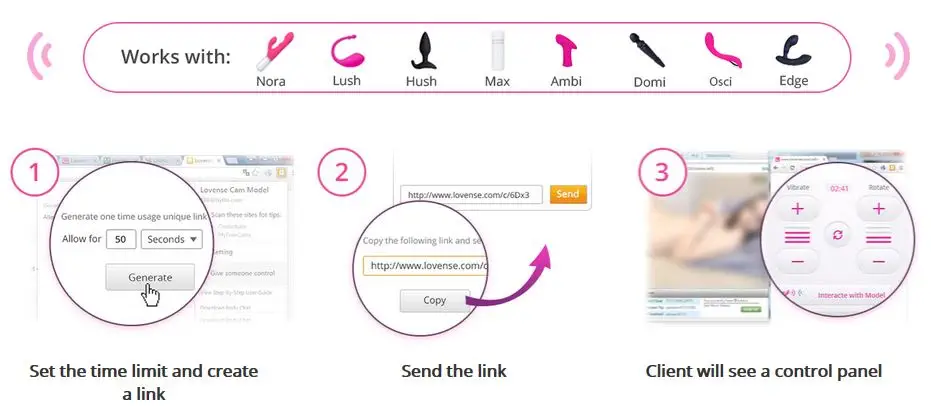 Virtual Sex in Private: Nora + Max
The Lovense masturbator 'Max' can be paired with the vibrator 'Nora' for real-time virtual sex, as they're both teledildonics.
It allows you to share your moments of intense pleasure with your customer.
The Lovense app allows you to connect your toy with his, and this system works over a broad array of video chat websites.
Activation of pressure sensors on his device will translate into stronger vibrations on your vibrator and vice versa.
You can synchronize your body movements, your breathing and even your orgasm for a magical session.
This feature is one of many that make Lovense incomparably the best brand for live video chats. The perks of a private virtual sex show are truly amazing.
So much so, that you can expect customers and clients to make this investment and buy the Max.
And if they do, you get to make a 15 percent commission, not to mention that the features that come with this pairing will compel your clients to tip more and to chat more often.
Make more money with Lovense by employing all the features packed in every toy.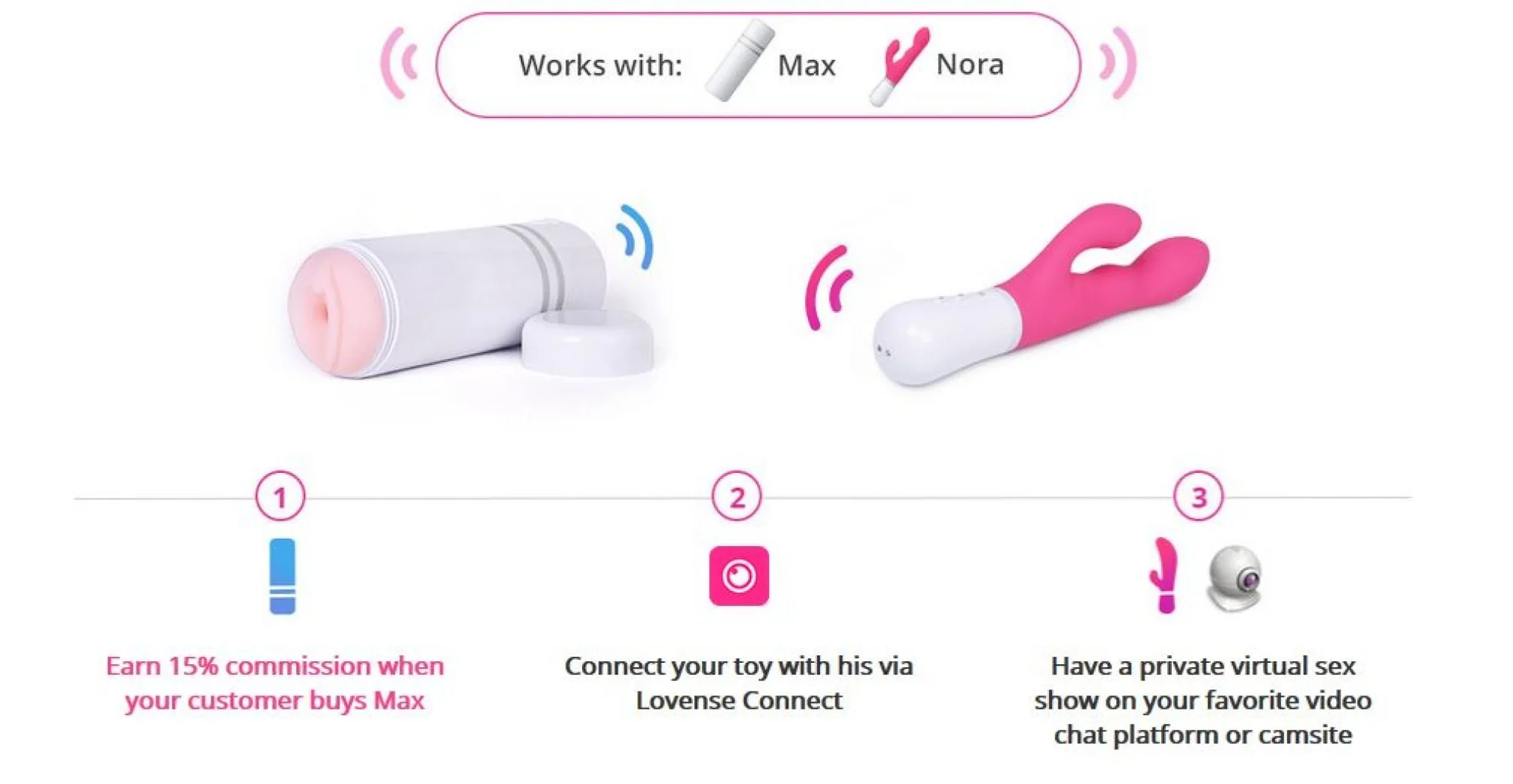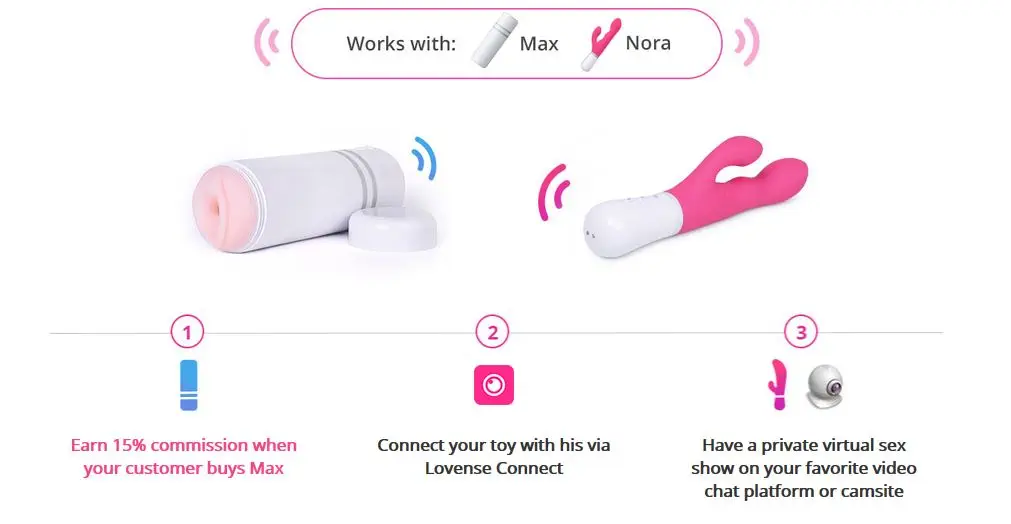 Split Camming
Split camming is sure to be a great help for models. Essentially, split camming allows you to broadcast your sex video on more than one website at the same time.
So, you can earn double the money without working more, and the best part is that your clients won't be privy to this information.
Modeling can sometimes be difficult. If you are in it for the long haul, you certainly must consider split camming as a must-have feature for your sex toy; ergo Lovense!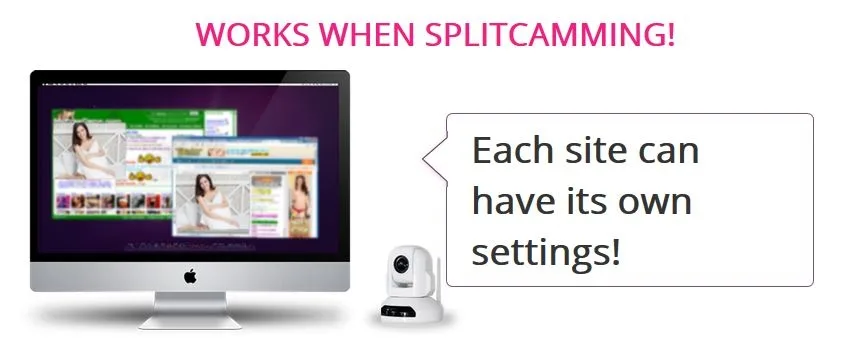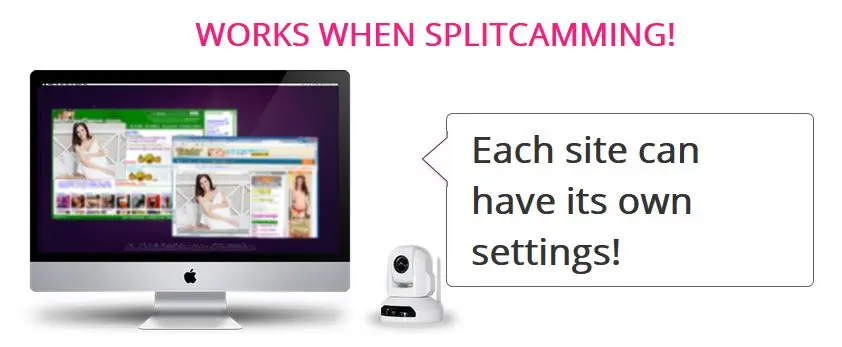 Integration
Many models work on more than one interface to make sure that they interact with a wider range of audience and keep the tips coming.
Interactive features are only as useful as the integration allows them to be.
Whether a cam site allows you to share control of a sex toy, or whether it allows you to pair sex toys for a virtual sex show is important in determining how well you will be able to employ the features you have invested in.
This is a concern especially for models who have established themselves in particular websites and are now considering the upgrade to Lovense sex toys.
Not a problem, because Lovense seems to have this covered.
By collaborating with these websites, Lovense has provided models with their choice of the site to work with!
If you are already a model and wondering if the sex toy upgrade is worth the money: if you work in one of these sites, it most certainly is:
Chaturbate
MyFreeCams
Naked
Flirt4Free
CamSoda
BongaCams
EuroLive
MyfetishLive
Cam4
StripChat
Ifriends
UFancyMe
CamPlace


Set Up and Interface
Though the user manual will guide you thoroughly through the setting up process, it is important to know that you no longer need a smartphone to utilize the Lovense products to their fullest.
All Lovense toys come with USB connectivity.
You could connect them to your smartphone or tablet, or now, with the help of the Bluetooth adapter provided by Lovense, you can connect them to your PC directly.
The downloadable program has you covered in the PC department, and the "Lovense Connect" website will perform the same tasks from your smartphone. The remaining setup can be made in no time.
Simply go to the Lovense browser to set up your levels, and you can essentially start modeling!
If you doubt the interface, you can password-protect your settings and your levels and keep your setup private.
Lovense can be used on any user interface or user experience including Windows, Android, Apple and Chrome OS (via an extension to the chrome browser) so that you can start from anywhere you want.
Lovense also keeps fixing bugs and adding new features and levels of integration with a frequent update to the toys.
You won't even have to pay any extra for these updates! Download and install them for free, and you are good to go!
Conclusion
In a nutshell, Lovense adds a whole new dimension to video chat and cam shows with its selection of state-of-the-art sex toys and the magical interface that connects everything together.
This is exactly what the future of sex chat looks like! Get started now and you can be a part of this movement for tech-friendly sex chats.
The features are all designed to be model-friendly. You can earn extra money by giving tippers control of the toys, and you can also regain that control whenever you want.
So, keep the tips coming and keep the pleasure going.
So, if you are an already working model, and work on any one of the above-mentioned platforms, great! And if you are aspiring to be a cam model, easy peasy!
Simply purchase your choice of Lovense sex toy, make an account in any of these websites, integrate your toy with the said websites and you are good to go.
Spending about 100 $ on any of the toys from the Lovense lineup gives you such a massive advantage in the competitive and ultimately rewarding world of interactive cam shows!