Great news for those of you out there with a certain, shall we say, appendage below the belt: the sextech revolution, which has brought a bucketload of innovative and arousing pleasure devices, hasn't forgotten about you!
Case in point, the dozens and dozens and still more dozens of sleeve-type masturbators to choose. Making things easier for your potential selection, we suggest that if you're looking for exceptionally enjoyable penis-focused fun, stick with those made by Kiiroo: one of the hands-down winners in our ongoing sextech technology race.
Not only are their toys excellently designed and built, but they are as smart-as-smart can be, so they'll interact with other Kiiroo products and a wide selection of adult entertainment sites, including those with VR support.
We'll get into more into virtual reality in a sec, but now we've narrowed your search to Kiiroo, we next have to ponder which of their two sleeve-type toys to purchase: the new model, the Onyx+, or their previously-released Onyx 2?
>> Click here to learn more or order your Kiiroo Onyx + with -10% OFF (promo code: "Fun10") <<
The Onyx+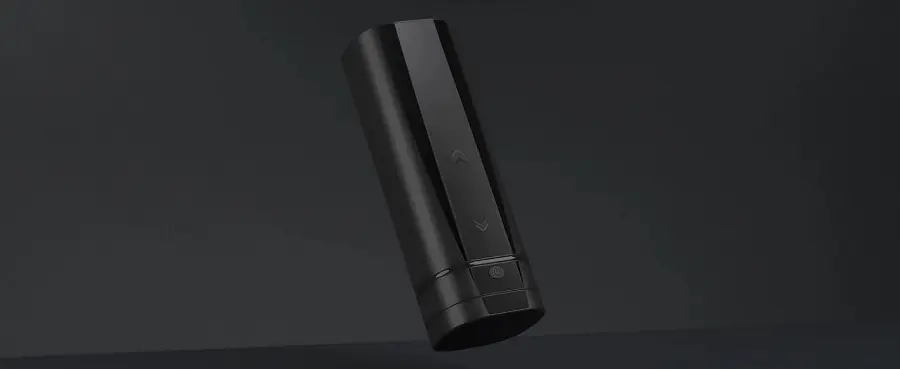 Onyx+ improves on the very concept of a penis-centric sextoy. For instance, it boasts ten gently constrictive rings that slide up and down, providing an ultra-lifelike feel.
If specs are your thing, prepared to be impressed as the Onyx+ can get those motorized rings going at a whopping 140 strokes per minute. All while nicely quiet. Trust us; unless it's you making noise, no one will ever know you're having a good time with the Onyx+.
It comes with three distinct modes of operation: Manual, if you want to take control via the device's touch-sensitive surface; Automatic, where does its sexy-time thing on its own by playing pre-selected actions via a Bluetooth connection to Kiiroo's FeelConnect app (Android and iOS); and then there's Interactive—which links what the toy does to whatever is happening with another Kiiroo toy or the actions taking place in special adult videos.
On the outside, the Onyx+ is strikingly handsome: an elegant black exterior is broken up only by that touch-sensitive control we mentioned. To keep things nice and clean, there's also a cap covering the toy's business end.
The Onyx 2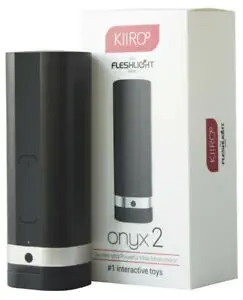 On the surface, the older model looks very much like its newer incarnation. At the same time, it's noticeable that the Onyx 2's surface control was tweaked: the up and down chevrons replacing the more traditional plus and minus for increase and decrease.  This control surface also appears to be a little smaller, meaning that for some it won't be as easy to use.
Cosmetically, it's a bit less minimalistic. The on/off button now residing in a silver-ish band around the unit's bottom, where on the Onyx+, this area's completely black.
Inside, it has those same ten up-and-down sliding rings delivering similarly exciting sensations to the user depending on its running on Manual, Automatic, or Interactive.
While it has the same wireless compatibility, it's also been reported by some to be not as responsive or its actions as fluid or lifelike as the Onyx+.  Hardly unexpected as it was the first interaction of the tech, but could be a bold negative mark against it—especially when compared to the upgraded model
What the Onyx+ And Onyx 2 Have In Common
Lying next to each other, that the Onyx+ and Onyx 2 came from the same manufacturer is apparent.
So, too, is what's happening on the inside of each: both bringing those sliding rings; the high rate of strokes; touch-sensitive external controls; connect-able to other Kiiroo toys and specific porn videos through the FeelConnect app, or run pre-created play patterns.
If that adult video connectivity sounds interesting, getting it going for both toys is a snap. Begin by turning your Onyx+ or Onyx 2, or similar smart Kiiroo units, on. Then, open the smartphone app, find and select your product of choice—making sure your smartphone's Bluetooth is activated, of course.
Next, till in the app, go to a site like Feelme.com that offers connectivity to sextech devices, sign in (or up if you haven't done so already), pick out a tantalizing video, and you're set to feel as much as you see what's going on.
You can do the same with other porn sides that also support sextech integration, though it may take some research.  In Kiiroo defense, or more like continuing our praise for them, this is in no way a daunting prospect and in just about no time flat your toy of choice will be vibrating and constructing to your heart's, and genital's, content.
Also, in common with each other is easy clean-up: start by removing the interior sleeve, wash it gently with a small dab of dish soap, then dry it thoroughly and you're all set for round 2.  And, heaven forbid, your sleeve should get torn, damaged, or simply just worn out don't fret, as offers all kinds of replacement parts for practically all of their toys: including packs of three replacement sleeves that work just as well for the Onyx 2, the Onyx 2, and the original Onyx.
The Onyx+ and the Onyx 2 are equally shipped with a well-written and designed a quick set-up guide, a warranty card if something unfortunate happens, and a USB charging cable. Sorry, but neither comes with an actual charger, but you probably have more than a few of them lying around anyway.
What's Different Between The Onyx+ And The Onyx 2
Beyond their slight variances in appearance, what sets the newer Onyx+ from the Onyx 2 is taking what, the older model did and made it better. Way, way, way better.
It's like taking a classic car, one known for its innovative styling and under-the-hood-performance but swapping out the clunky old engine and problematic wiring for a 2020 upgrade: one that'll get you there faster, and without worrying about a breakdown.
We're not saying the Onyx 2 is a clunker, as it has its selling points, but with the Onyx+ Kiiroo upped the sleeve-masturbation game by leaps and bounds.
This is most evident when comparing the two, with the Onyx+ coming off quieter, smoother, and more responsive to the FeelConnect app. It also charges much faster and runs longer, with the Onyx 2 taking four to six hours yet only playable for one, compared with the Onyx+'s scant four hours for the same amount of use.  This may not sound like a lot but if you like your sexual pleasures to be spontaneous—or repeated many times throughout the day—then one thing you don't want it to have to wait around for your plaything to charge.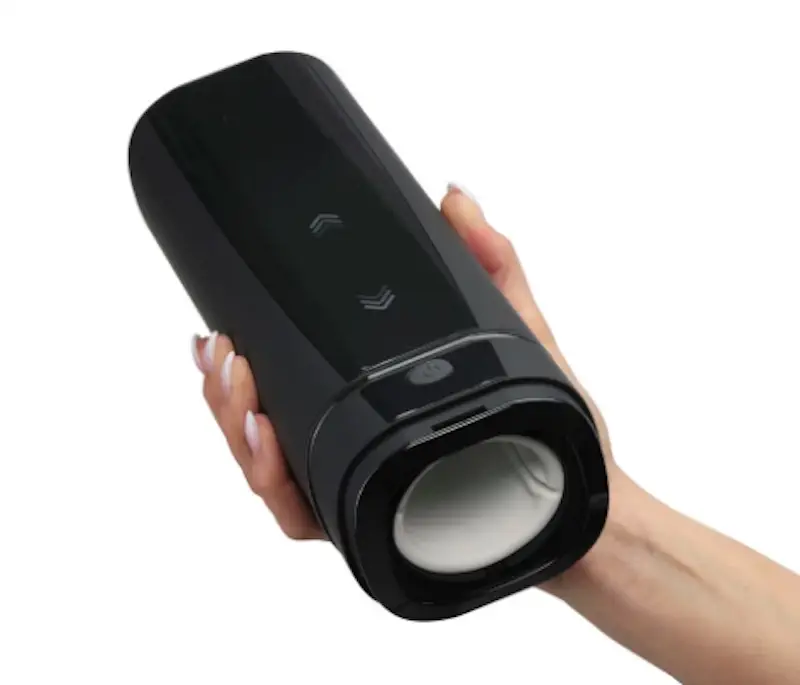 Pros of The Kiiroo Onyx+ Over The Kiiroo Onyx 2
Without a doubt, the Onyx+ is a superior device in practically every way. How it feels, how it responds, how it looks, how quickly it charges it gets high marks across the board.
It truly feels like a massive step up, not only from its predecessor but against similar sextoys. If you want to feel like having sex in the future might be like, then pick one up, strap yourself in, and be prepared for a wild—and wonderfully pleasurable—ride.
If adult entertainers are your thing, hang onto your appendage as Kiiroo partnered-up with big-name stars like Asa Akira, Jessica Drake, Romi Rain, and other performers for a line of special edition Onyx 2's with a signed picture on the outside plus 1,500 coins for FeelPornStars.com.
Pros of The Kiiroo Onyx 2 Over The Kiiroo Onyx+
Though we might have been pretty zealous in our praise for the Onyx+, the previous model still has some things going for it.
It depends on if you prefer a simple toy over a sophisticated one. Both the Onyx+ and the Onyx 2 do the same smart tech tricks, but if that feature doesn't rock your world, then why pay for what you won't be using? It's also better for people who find setting up and using things like a Bluetooth connection frustrating—while if you do want to give it a shot sometime in the future, then that possibilities still there.
The verdict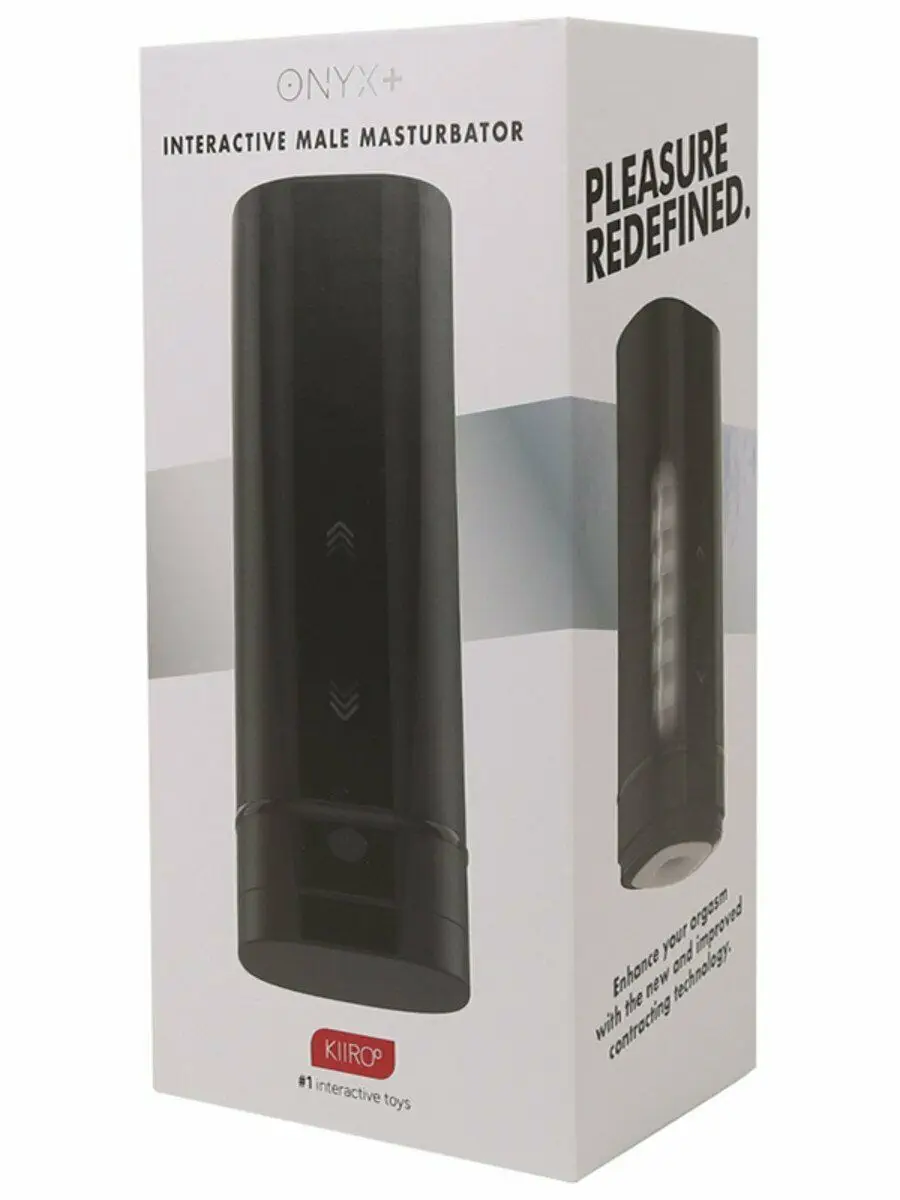 We're pretty gosh-darned certain you know what our ultimate decision will be, in this sleeve-masturbator battle between the classic Onyx 2 and its contemporary brethren, the Onyx+.
But there's more to it than that. Most definitely, they're equally well-designed, exceptionally built, and pleasurable to use—with good points awarded to both—but the reality is that Kiiroo is so dedicated to moving forward that they discontinued the Onyx 2.
With a little bit of Google-digging, you can still find them. Sometimes deeply discounted, making it tempting if you're new to sextech or this type of pleasure device. But as time marches on, the Onyx 2 will fade further and further away.
However, don't shed a tear for it as its legacy lives on in the Onyx+: better, stronger, faster, quieter, yet holding onto what made this older made so great.
So let's give the Onyx 2 a respectable salute for though it's been replaced by a newer, younger, more energetic replacement. It helped make Kiiroo a leader in the industry and gave us a gold standard that other companies can only hope to match.
>> Click here to learn more or order your Kiiroo Onyx + with -10% OFF (promo code: "Fun10") <<