Many of us enjoy having some sensual fun once in a while. There are various ways of achieving this type of fun.
Some people enjoy anal sex and insertion.
This type of sensual activity is deep and satisfying.
To turn the heat up a notch higher, you can make use of anal toys. Thanks to technology and advancement in materials engineering, there are some highly enticing and exciting types of anal toys available today.
An example is the B-vibe Cinco anal beads. These are soft, sensual and high-tech toys that can vibrate on demand.
In addition to that, they can be controlled remotely. This allows your partner to join you for some sexy fun together.
Read this B-vibe Cinco anal beads review to discover more about them.
>> Click here to learn more about the b-vibe Cinco Anal Beads or order it now <<
https://www.youtube.com/watch?v=xjLJ_r6angs
Characteristics of these anal beads
The B-vibe Cinco anal beads are made of 5 tapered beads. They also have a trio of motors and a remote controller.
This combination of features makes them perfect for those who enjoy anal fun.
The beads measure 8.2" x 1.3" and are soft as well as seamless. In addition to that, they are made of silicone material.
The motors are able to deliver 6 different levels of vibration.
In addition to that, the beads make use of a wireless remote control system. This one has a radius of up to 30 feet.
There are 15 different patterns of vibration. In addition to that, these beads are entirely splash proof. They can also be recharged using a USB cable.
One of the main benefits of these beads is that they deliver fun for a long period of time. They can provide 1 whole hour of fun on a full charge.
In addition to that, they have a travel lock.
Moreover, they come with a handy, discreet travel case. As such, you can take them along with you everywhere you go.
Upon purchase, you get a 1-year warranty on the beads. As a result, you can rest assured that they will work perfectly.
These highly salacious anal beads are tapered at the end. This makes it easy to insert them whether you are new to this form of pleasure or you are a professional. Every successive ball ensures that you are fully satisfied.
Also, the 5 balls are mounted on a shaft that is highly flexible. This allows the toy to bend and move according to the contours of your body.
As a result, you can enjoy complete pleasure with them.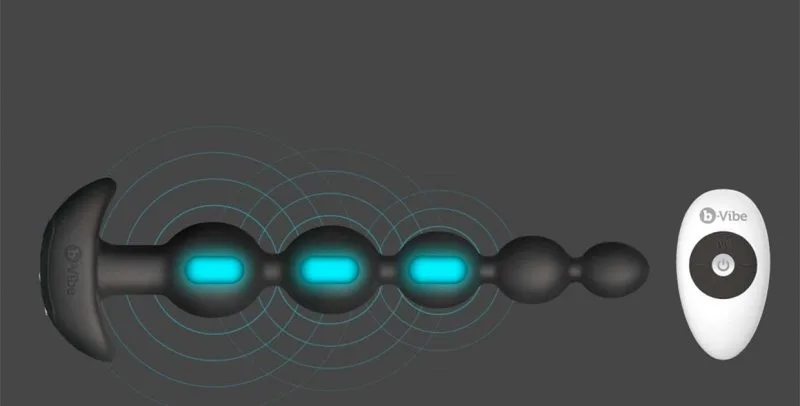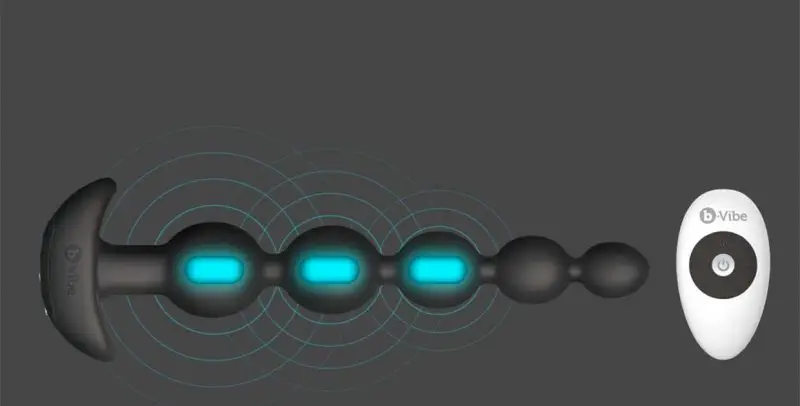 It is quite easy to control the speed of vibrations in these beads. This is achieved by simply manipulating the remote controller.
Furthermore, you can perform manual control over the motions of the beads by using your hand.
The base is curved to ensure a firm grip and allows you to have more control over the enjoyment. Every surface of these beads is ergonomic in nature.
As such, they are fun to use for beginners, singles, and couples as well.
A most satisfying feature of these beads is that they are completely waterproof. As such, you can take them with you to the shower or the tub for some underwater, anal fun.
To experience the most out of these beads, remember to coat their length with some water-based lube generously. This ensures that you can enjoy maximized comfort and pleasure.
These B-vibe Cinco anal beads are made of soft PVC. They do not contain any latex material.
In addition to that, they are firm, fully submersible and completely waterproof.
The beads are 8.3 inches long. However, they have an insertable length of 5.2 inches. The remote controller is powered by a pair of AAA size batteries.
In addition to that, the controller is also ergonomic and can be controlled by your partner for wicked fun.
What is in the box?
Upon purchasing these beads, you get a collection of items and accessories. Firstly, the box contains the beads.
They are contained in a soft, pliable case. There is also the remote controller. It is also located in a special section of the box.
Within it, you can also find a user manual. It contains instructions on how to use and maintain the beads.
Furthermore, There is a charging cable within the box as well. It helps you to provide power to the beads and its remote controller.
Last but not least, the package contains a handy travel case. It is discreet and ensures that you can carry the beads inconspicuously with you during travel.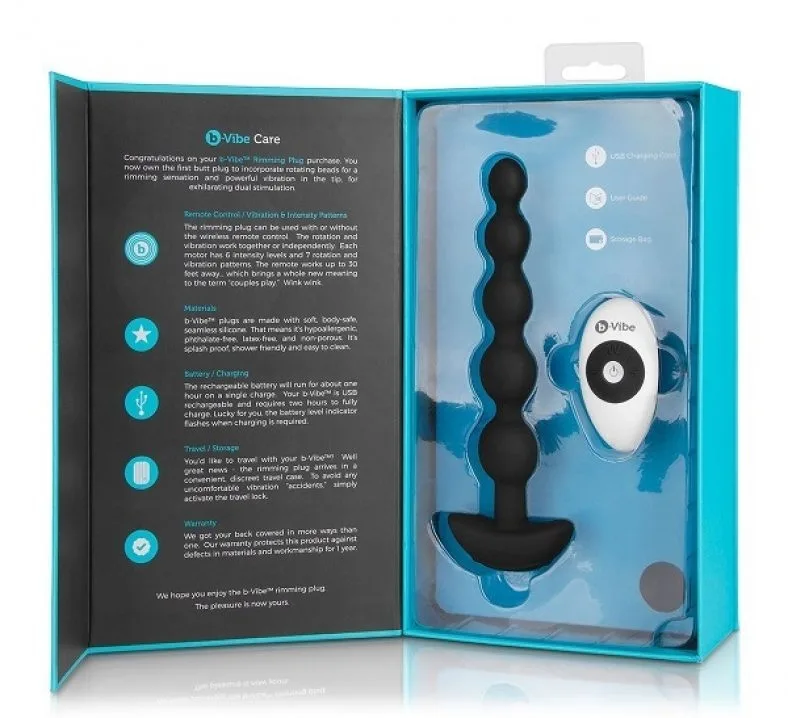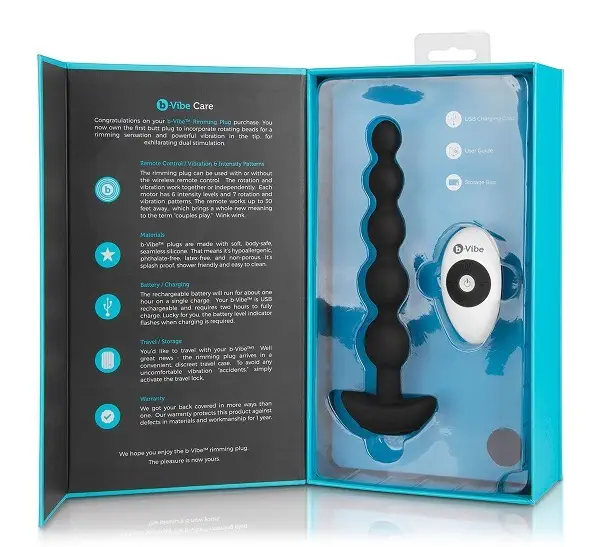 How do they feel?
These beads are guaranteed to add some buzz to your anal play.
In addition to providing extreme satisfaction to your pleasure spots, they can reach deep into you for an entirely satisfying experience.
The beads are tapered. Therefore, they are easy to insert.
Combined with the water-based lube, they can deliver a most satisfying experience of anal fun.
The remote controller adds loads of excitement to the affair. By having your partner buzz them as you make love or tease you from afar, this feature makes the beads even more sexually interactive.
As such, they are guaranteed to deliver a superb, sensual satisfaction experience.
Pros
They are manipulated using a handy remote controller
The beads are made of soft, pliable PVC material
They have a total of 5 tapered beads for maximized satisfaction
You get a box full of the accessories which you need for use at home or during travel
The beads are 8.3 inches long
Their remote controller is powered by a pair of AAA batteries
The beads can be controlled from up to 30 feet away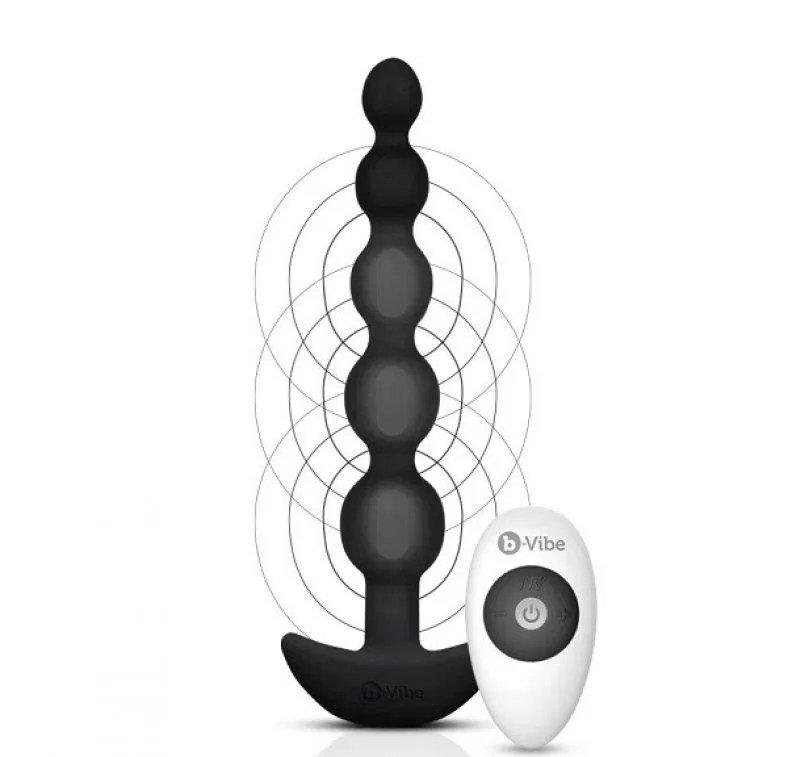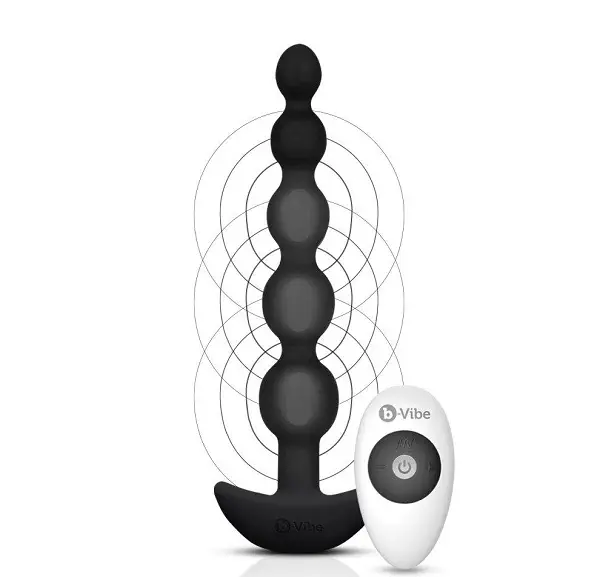 Cons
They are pretty expensive
The beads require some charging too frequently
Conclusion
The B-vibe Cinco anal beads are perfect for those who enjoy some fine anal fun.
They are ideally sized and capable of delivering rip-roaring orgasms. The most exciting part is that they are waterproof.
As a result, you can use them in the shower or the tub for maximum satisfaction.
Moreover, their soft PVC material makes the beads highly comfortable to use. To add some spice to your anal fun, these are the beads to choose.
>> Click here to learn more about the b-vibe Cinco Anal Beads or order it now <<