MysteryVibe is known for making one-of-a-kind sex toys that solve real-life problems in the bedroom.
With the brand's new releases, the Legato is one of the most talked about vibrators.
The Legato is said to be the world's first flexible labia and vulva vibrator.
The company claims this device can provide 360-degree stimulation, boasts an ergonomic design, and includes four anatomically placed motors.
We want to ensure that the vibrator lives up to the hype, so below, we'll provide a review of the Legato.
What is the Mysteryvibe Legato?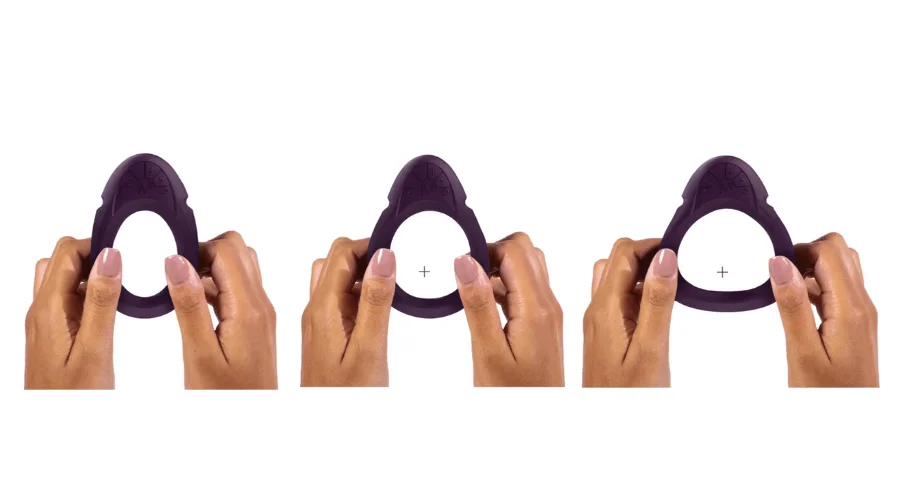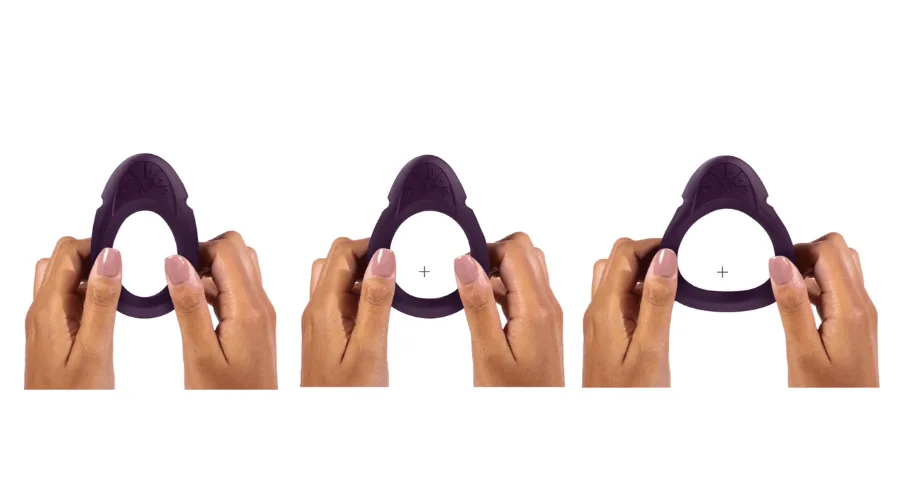 The Legato is one of the newest types of vibrators designed by MysteryVibe. Its main feature is to help aid in labia and vulva stimulation while also being hands-free.
However, it's a vibrator with four uniquely placed motors to provide extra stimulation.
The device can either be used for solo play or with a partner.
Anyone using it will experience explosive orgasms, no matter their vagina shape. That's thanks to the ergonomic design and soft material.
That being said, it's mainly designed to help give extra stimulation during penetration. You can use it to help get explosive orgasms and extra stimulation in unique places.
Main Features of the Mysteryvibe Legato
When it comes to any sex toy, what really makes or breaks it is the features.
We want to ensure that you know what you're purchasing. So, below, we've created an overview of the Legato's features.
360-Degree Labia Stimulation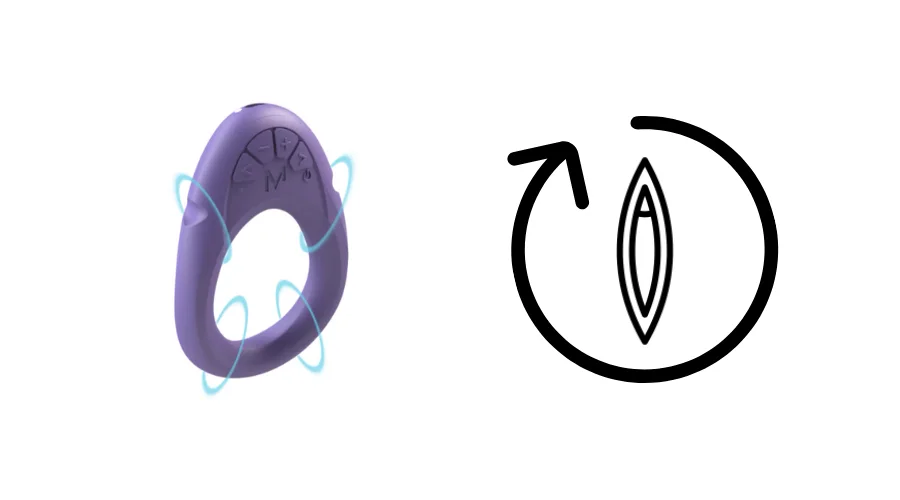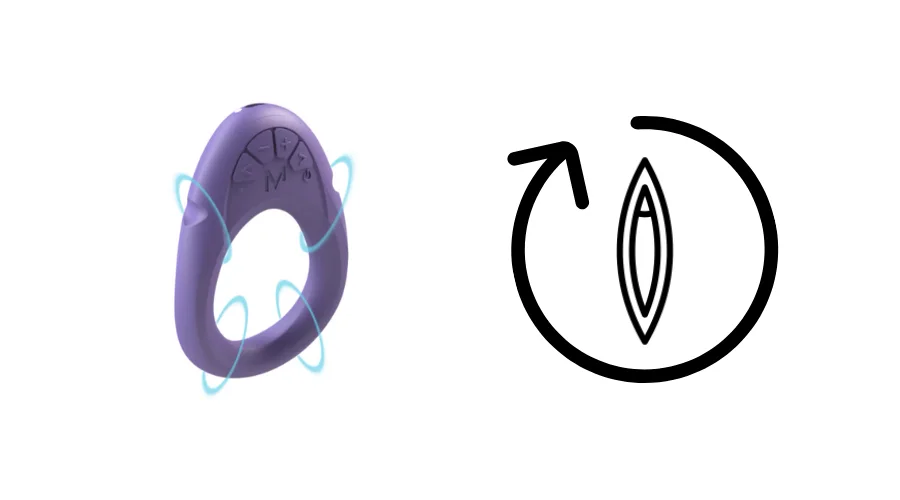 Sometimes vibration sex toys just aren't enough to get you there.
If you've been using sex toys for a while, especially vibes, you'll likely be desensitized to clitoris vibrations. The Legato features 360-degree stimulation that encompasses your vagina.
There are three main points that the Legato targets. That includes the labia, vulva, and clitoris.
Most sex toys only target the clitoris. However, the Legato goes further and sends vibrations and stimulation to the Labia and Vulva, increasing arousal.
Smart App Controls
The Legato includes multiple types of controls, including app and button control.
You will need to download the MysteryVibe App for app control, which can be found on the app store. On the other hand, a few buttons on the device can also be used to control it.
We highly recommend that anyone using MysteryVibe products use the MysteryVibe app.
The app enables you to have enhanced controls, and you can customize and save new intensities and patterns you create through the app.
While manual control can be more convenient, in this case, it isn't.
The Legato is placed on the vagina folds, making it difficult to switch up the modes using the buttons. So, smart app control is definitely encouraged.
Waterproof Design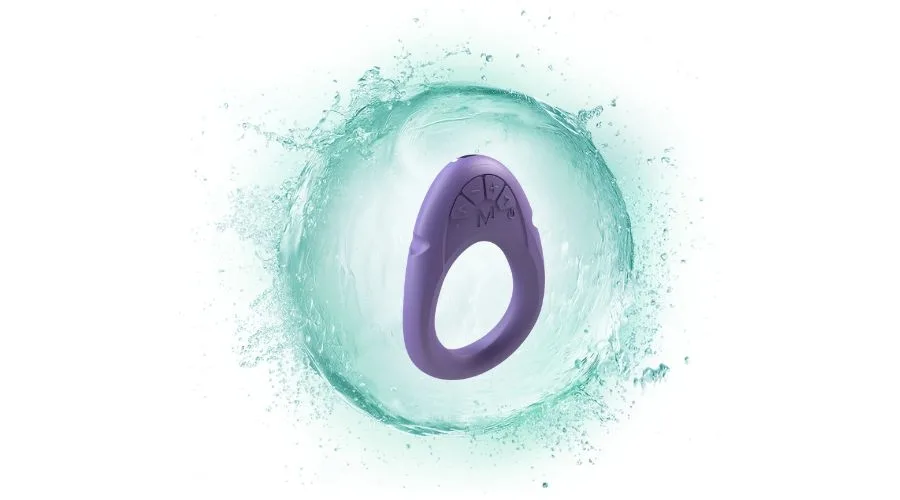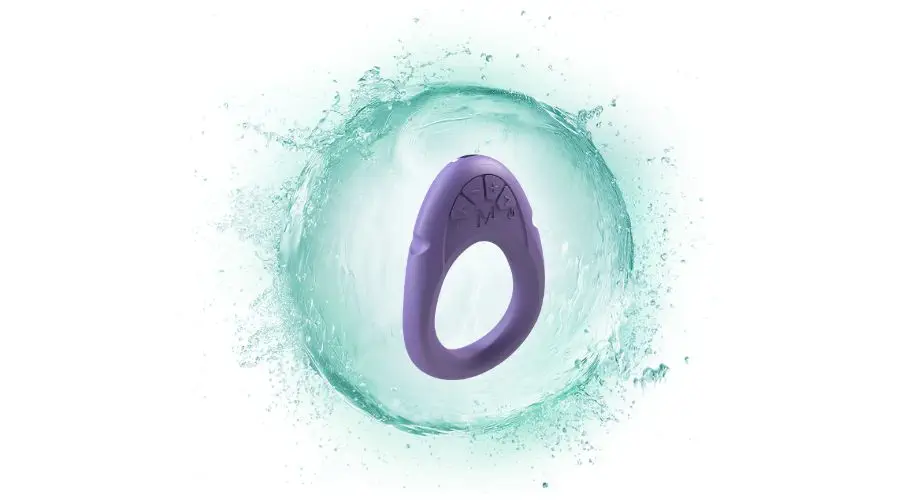 The Legato is also waterproof and can be used in the shower. Unlike other vibrators, it can be fully submerged, making it perfect for any type of play.
The device is coated in a waterproof powder, preventing any liquids from getting into it.
This is useful for shower play and helps prevent lube and other liquids from penetrating the device's material.
4 Powerful Motors
When it comes to stimulation, there are generally only one or two motors in a vibrator.
For a cock ring, there is generally a maximum of two. The Legato boasts four different motors that are located around the ring.
One of the motors is located where your clitoris will be placed. The other two are located around the labia.
The last one is next to the vulva. This provides maximum stimulation and can help give you explosive orgasms during penetration.
The clitoral and labia motors are also precisely placed so your partner can feel the vibrations.
That way, it can help enhance the overall sexual experience. However, you can always just use it for solo play.
Body Adaptability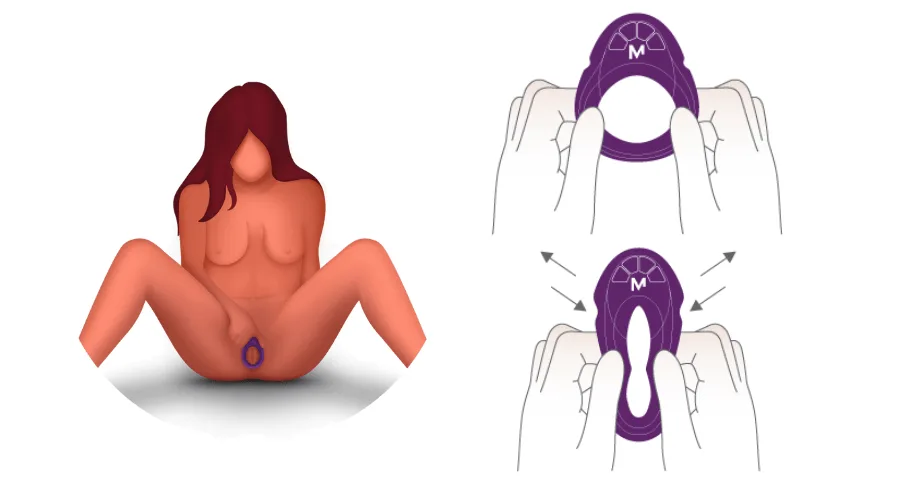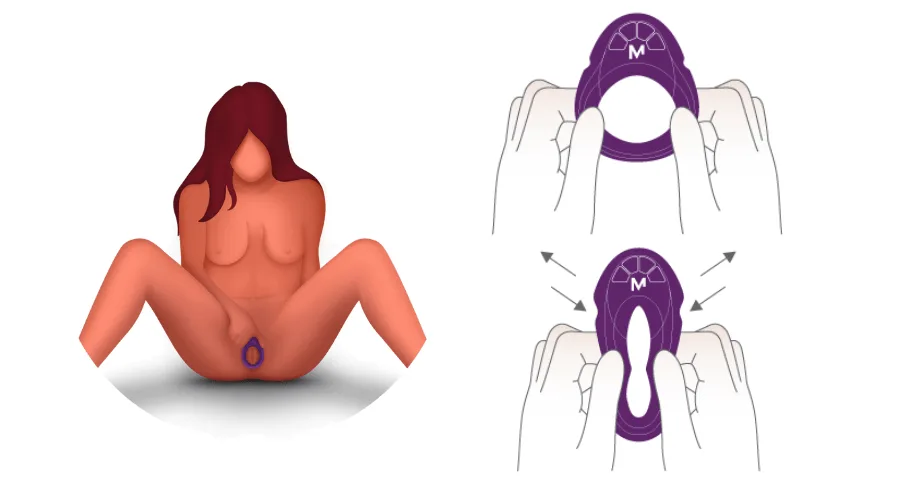 Body adaptability is generally a feature you don't think you'll need until you've experienced it.
Many sex toys are designed with only one type of vagina in mind. So, it's good to see that the Legato is body adaptable and can fit any vagina size or shape.
How the body adaptability works is by changing to the folds of your vagina. This is done using a flexible silicone material shaped in an oval design.
The top of the oval uses clitoris stimulation while the bottom ring-like shape hugs your vagina's folds.
Due to its unique design, it functions similarly to a cock ring.
The Legato will stay in place while you're penetrated, adding to the experience. Its shape will also prevent shifting and also provide stimulation to your partner.
USB Rechargeable
Luckily, the Legato isn't battery-operated and can instead be recharged. The device uses a USB connection to charge.
This is useful for those who want to get to it quickly, as the device can be plugged into any computer or wall outlet via a USB connection.
Additionally, the Legato is quick charging and only takes an hour to fill the power. Once fully charged, the device will let you know through the LED lights.
Create Your Own Vibes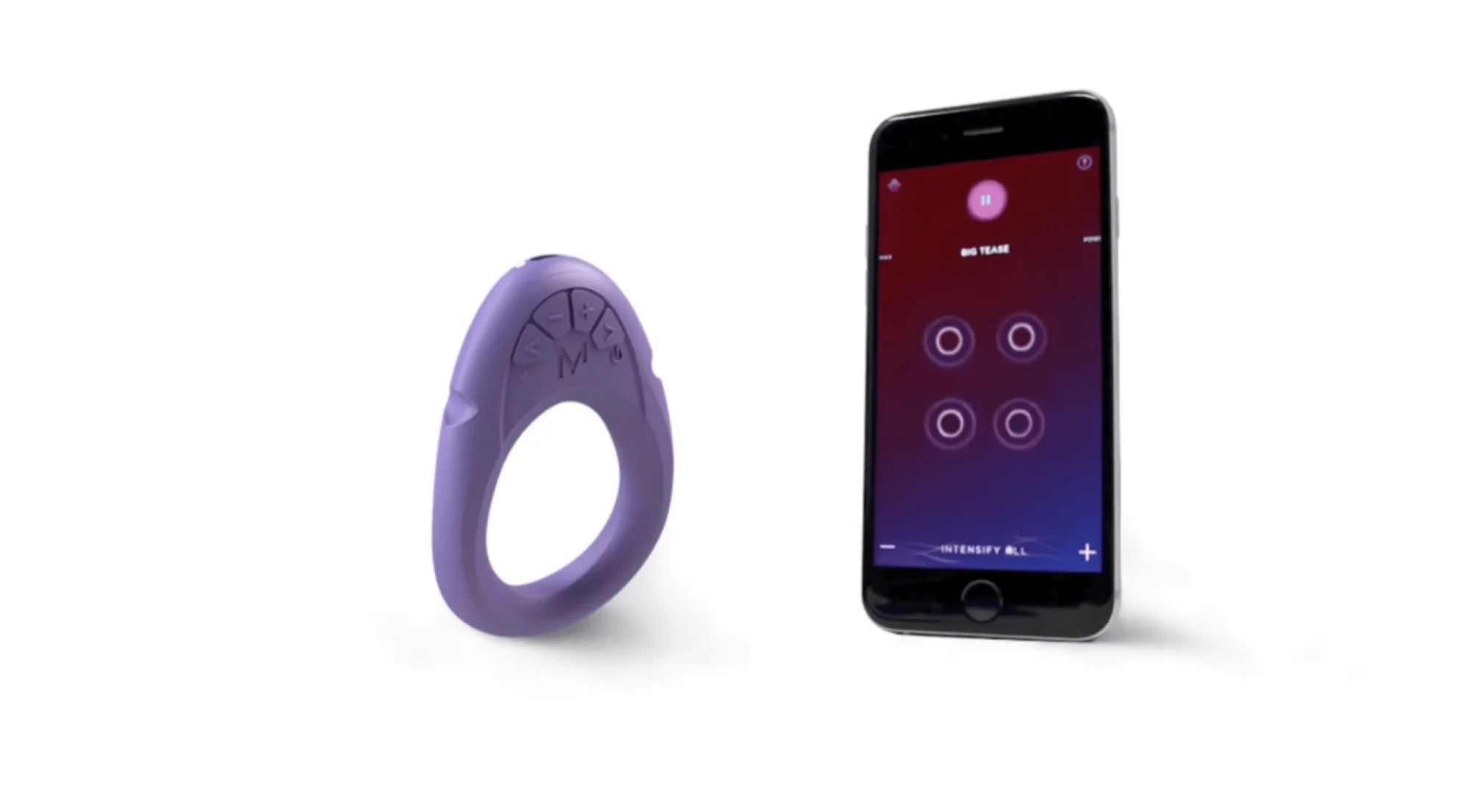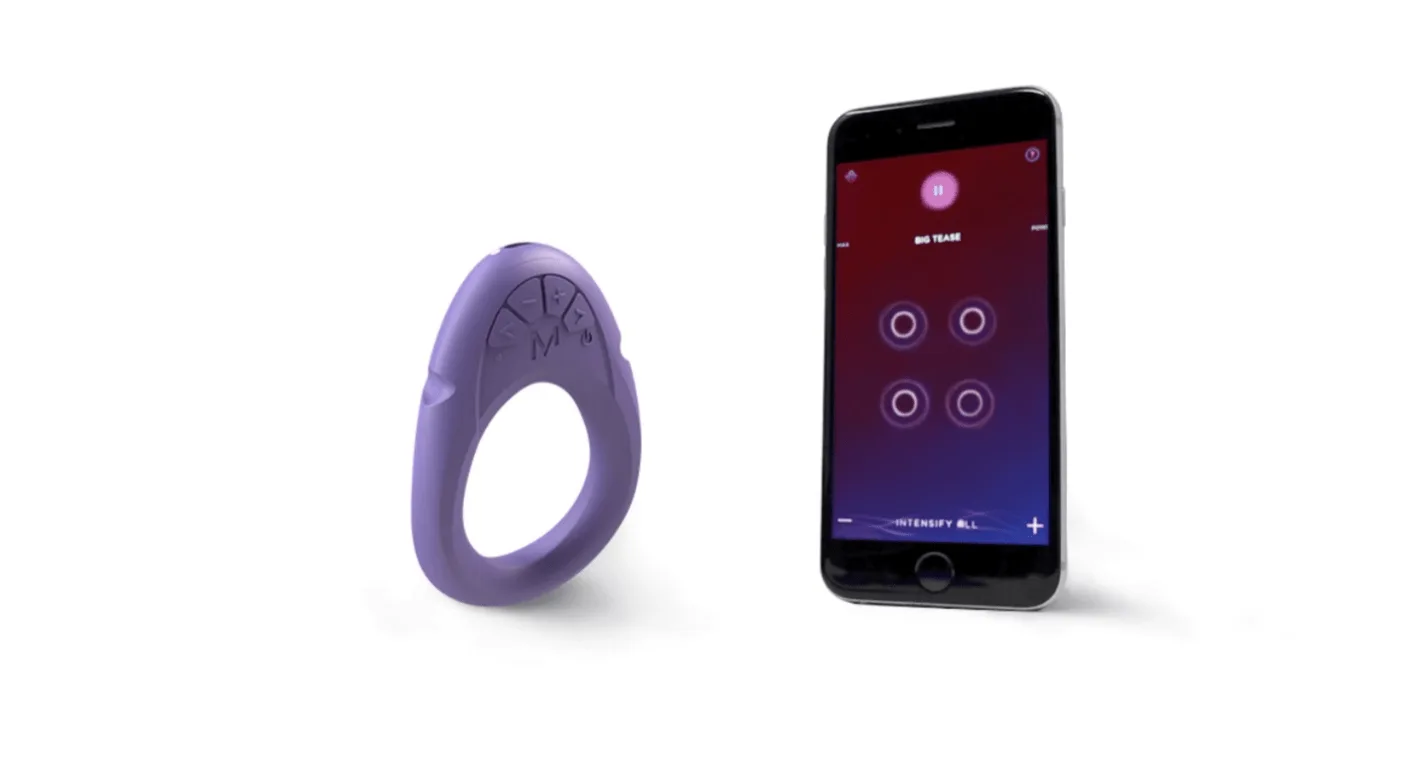 The app is always recommended because you can customize the settings to your Legato.
The MysteryVibe app is located on the app store and can be used to remote control your Legato. If you're looking to use the device manually, you won't have to download the device.
The app includes many useful features that enable you to play with your vibrator. This includes the ability to choose from preset vibration patterns and change intensities.
However, you can also browse the store for more preset selections. If you don't see any that you like, then you can use the library to browse through your past saved settings.
If you want to create a setting for later, you can save modes via the app. The settings include the speed and intensity of the vibrations.
You can also select from patterns. That way, you can customize your experience.
Sixteen Intensities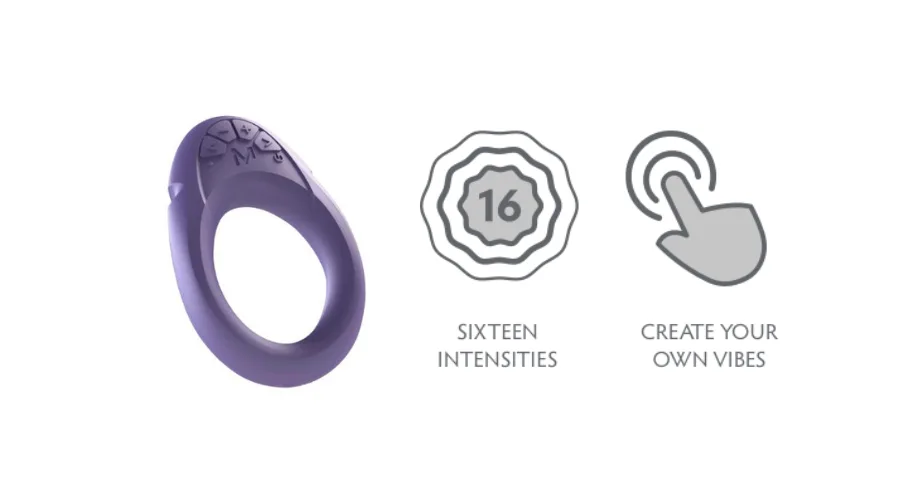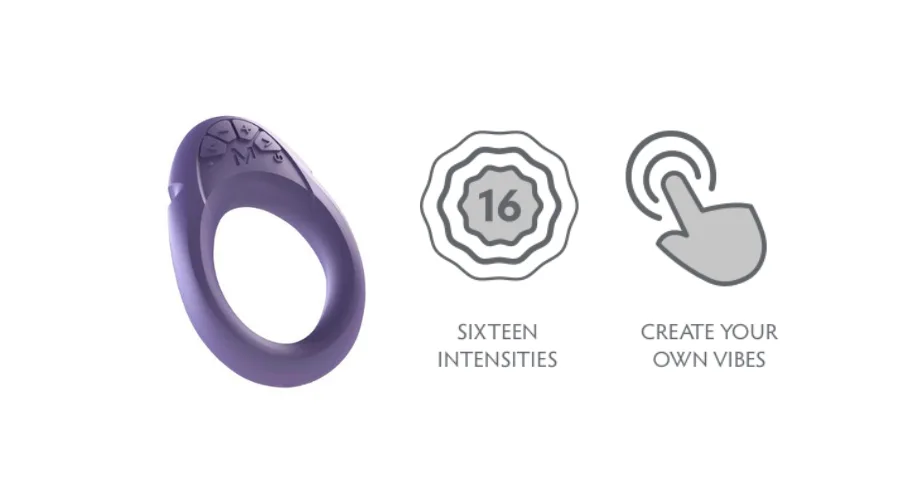 Regarding variety, it's good to know that MysteryVibe gives you plenty of options.
There are eight different preset vibrations but sixteen intensities. This is way more than your standard cock ring or vibrator.
Not only does this enable you to experiment with more, but you can also use these settings to create custom intensities.
So, your options are basically endless, and you won't get tired of the same old settings.
Plus, with the ability to control all of the vibes using app control, you can create exciting new experiences.
Premium Silicone Material
Silicone is the leading material for sex toys because it's soft on the skin and safe to use.
The Legato is made with premium silicone to prevent infections or germ build-up. In addition, it also makes the device extra velvety and feels great against the skin.
Unlike other materials, silicone is non-porous and is medical-grade. When paired with lube, the silicone will repel any of it from staying on the device.
This not only helps longevity but can also prevent a nasty UTI or yeast infection.
Lastly, silicone is easy to clean and will not get damaged by cleaning solutions. So, you'll be able to use soap or sex toy cleaner to eliminate any lingering germs.
Two Hours of Use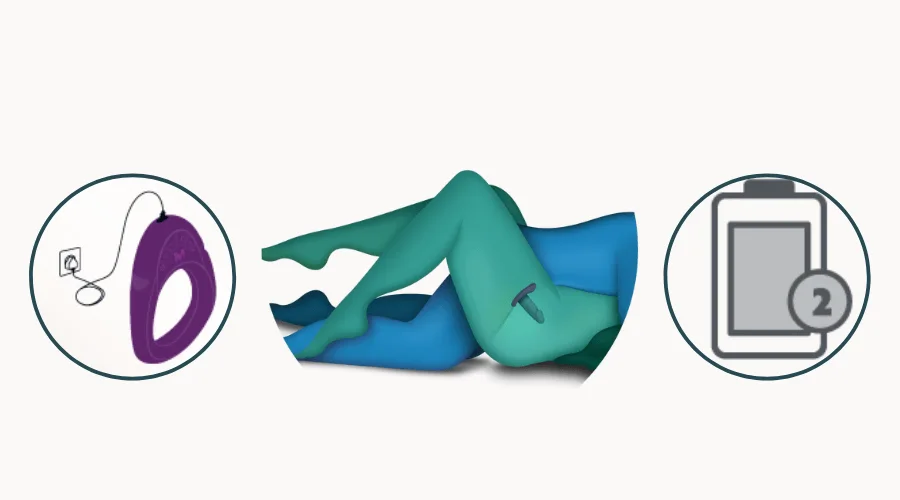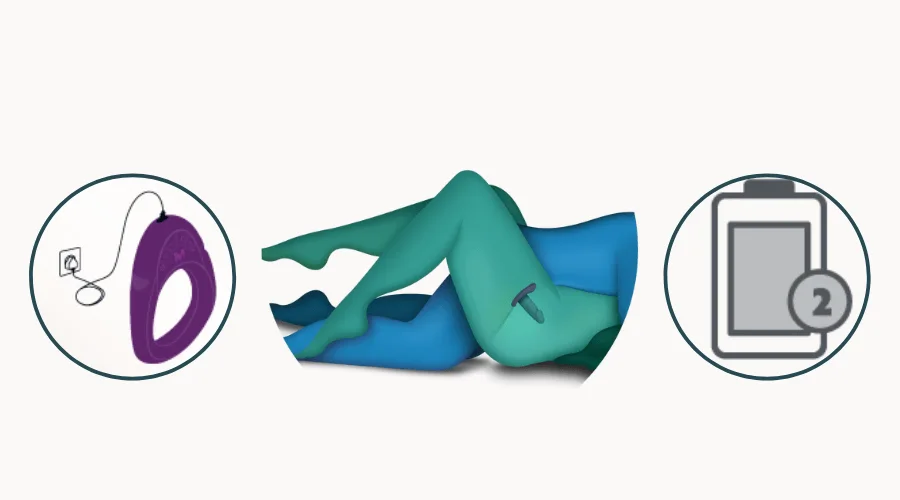 Most cock rings only last around one hour before needing to be charged. If you're using a one-use ring, it will likely not give you powerful vibes for a long time.
So, the two hours of use per one hour of charge is excellent.
Not only does this mean you can quickly charge it at a moment's notice, but you can also use it for long love-making sessions. For couples, this is a dream device.
How Does it Work?
Using the Legato is super simple, even if it seems more complex than other sex toys. We want to make sure that you know what you're getting into.
So, we've created a short guide on how you use the Legato. Below, I've crafted a step-by-step guide.
Unbox the Legato – First, you will need to unbox the device. The box will include some user guides, which we recommend reading. The Legato should be in the box and will need to be charged.
Charge the Device – Next, you should take the USB charger and plug it into your computer or a USB port. Plug the other end into the Legato's charging area and allow it to sit for at least one hour.
Stretch the Legato – Now, you'll want to pick up the Legato and stretch it using your hands. You want to stretch it so that it forms into the size and shape of your labia.
Insert the Device – You can now insert the Legato and attach it to the outside of your vagina. It should hug your labia walls without feeling uncomfortable.
Turn on the Device – You can use the buttons to navigate the device or download the Mysteryvibe App and control the device through there.
Experiment – Switch between the different settings and find which one works for you. If you don't like any of the preset settings, download the app and create custom settings.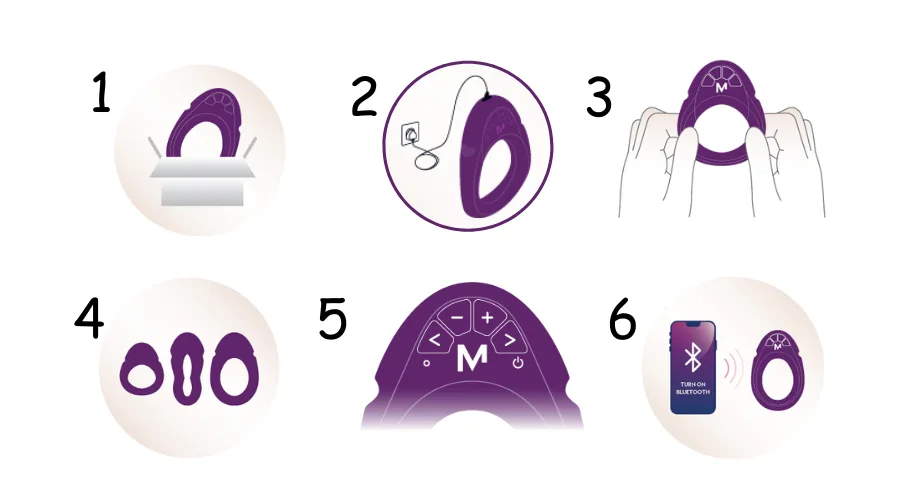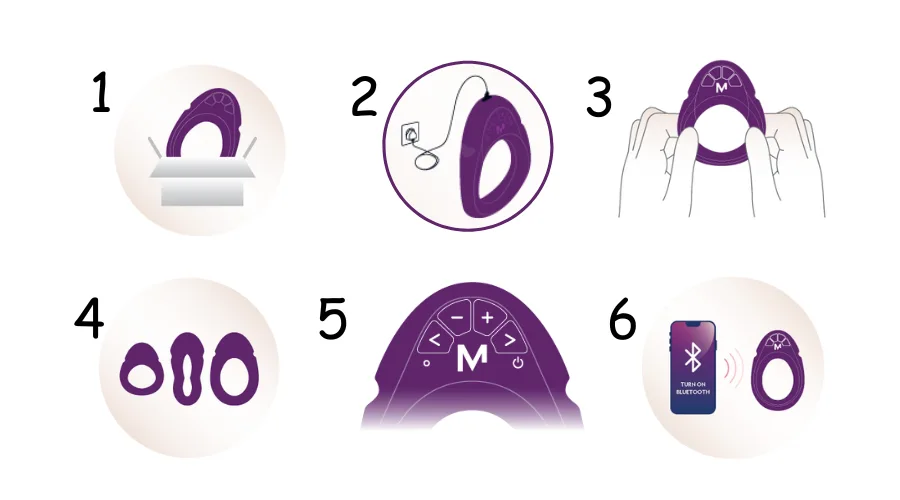 To download the MysteryVibe App, you can head to your app store and search for "MysteryVibe".
The app is available on Google PlayStore and through the Apple Store. Any device that can access these can use the application.
Mysteryvibe Legato FAQs
Should you use lubricant with the Legato?
Using lube with the Legato is unnecessary as it doesn't get inserted in the vagina.
Aside from that, the vibrator is designed to get you wet. So, you will likely not have any need for extra lube.
Is the Legato useful for men's stimulation during sex?
The Legato is explicitly designed for women's pleasure, but the vibrations are powerful enough to stimulate the man.
We wouldn't say it's necessarily the best for both couples' pleasure. However, it can help assist with extra stimulation for both parties.
Do you need the MysteryVibe app to use the Legato?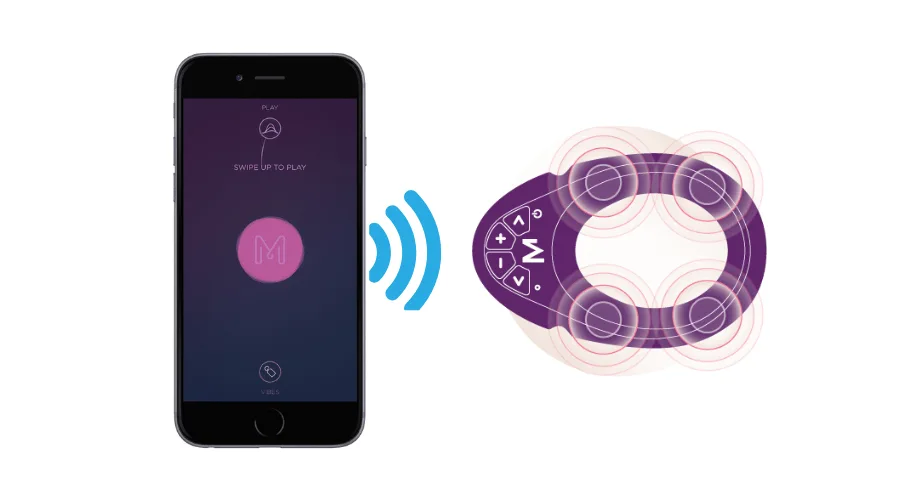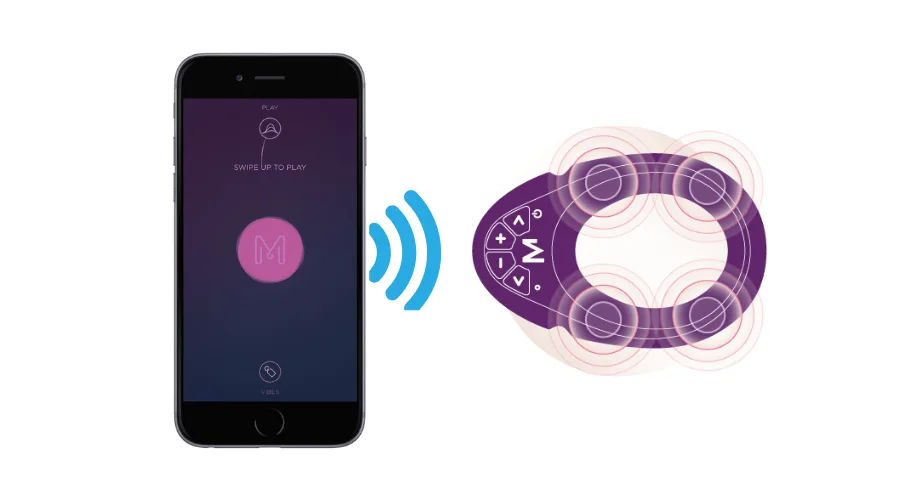 No, you don't need to download the MysteryVibe app to use the Legato.
MysteryVibe is well aware that not everyone has access to a smartphone. So, you can manually control the device using the buttons.
What's included in the Legato's package?
The Legato comes with a few extras, such as a quick start guide and a user guide. The box includes the lovely Legato along with a charging USB cable.
The box is beautifully designed, and the guides can help you learn how to use it during solo and couple-play.
What inspired the Legato's design?
MysteryVibe is very aware of men's and women's problems during sex. So their inspiration stemmed from wanting a sex toy that mimicked how our hands would stimulate us.
The device's shape is made to look like human hands that bend to different shapes of the vagina. This was to help stimulate the labia and vulva.
Is the Legato a good choice for a first-time vibe?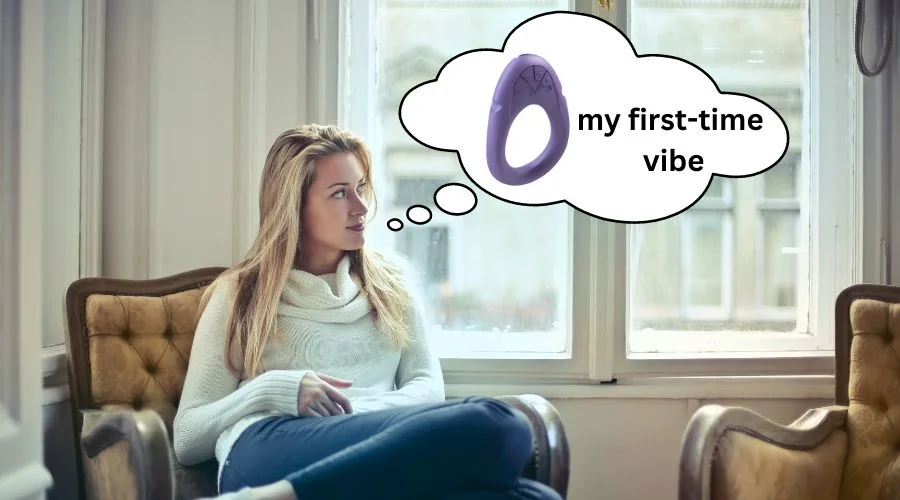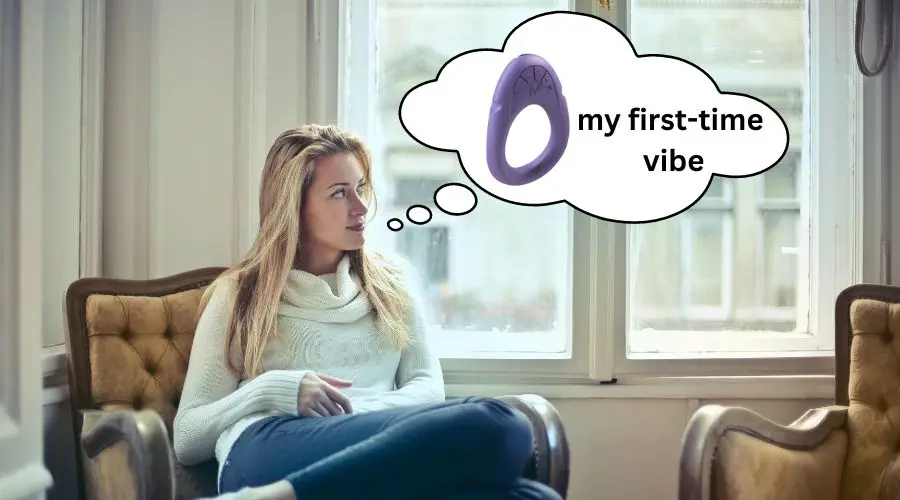 Yes, the Legato is an excellent choice for a first-time vibrator. Not only does it have a vast range of settings, but it also gives you plenty of stimulation to find what floats your boat.
The app controls are really where the Legato shines. So, definitely starting on the lower settings and working your way up is key to enjoying it as a first-time vibe.
Pros
Compact
Ergonomic design
Powerful vibrations
Anatomically placed motors
Mind-blowing orgasms
Solo or couple play compatibility
Cons
Expensive
Hard to manually control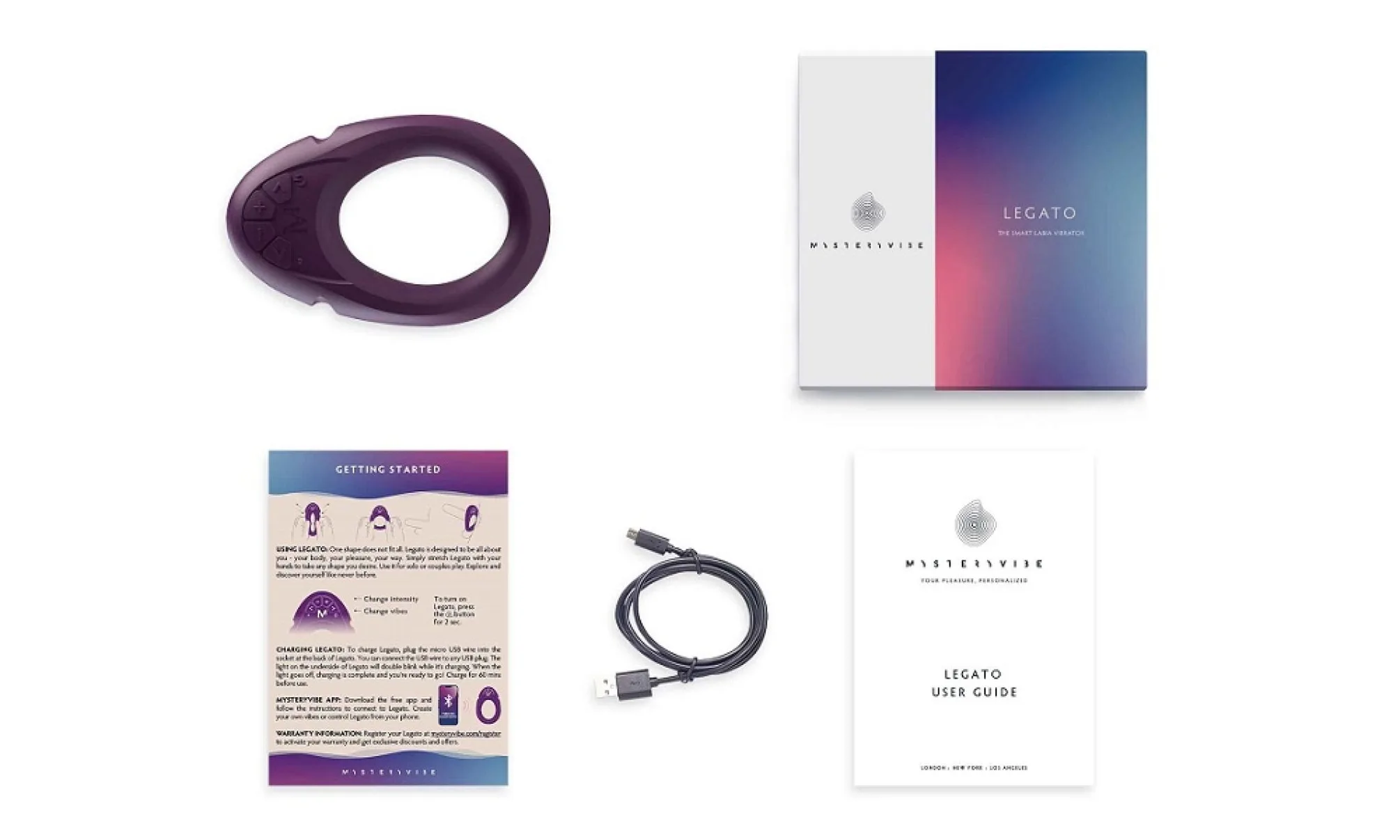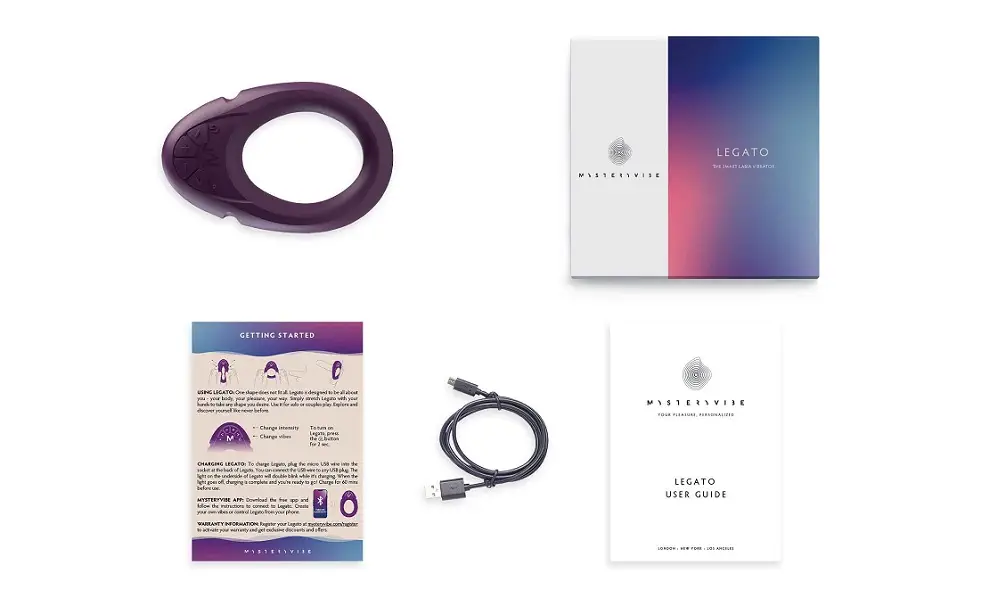 Verdict
Now that we've summarized the Legato and its features, we'll let you know if it's worth getting. The Legato is unique because it doesn't quite fit into any other vibrator category.
If you're looking for a wide range of stimulation and a useful device for couple or solo play, then you'll enjoy the Legato.
Aside from that, it's highly customizable if you have a smartphone device that can download the app.
So, we'd have to say this is perfect for amateurs or experts in the sex toy industry. Anyone who wants a powerful vibe will appreciate the device.