The innovations we have seen in the female sexual health space in recent years have been mind-blowing. Things have advanced so much that hands-free sex toys that simultaneously pleasure both your clitoris and your G-spot are now a thing.
One such product is the Lora Dicarlo Osé. Here is a closer look at it and what it can do for your sex life.
>> Click here to check the price of the Lora DiCarlo Osé <<
What is the Lora Dicarlo Ose?
Lora Dicarlo Osé is a hand free sex toy designed to mimic human touch and create blended orgasms. It was launched by Lora Dicarlo on November 26, 2019. It uses micro-robotics that aid in human-like movement to ensure the user achieves a full-body climax. It imitates human touches like the finger, mouth, and lips. 
You can either use it solo or with your partner for further sexual pleasure exploration. It can stimulate a G-spot and clitoris simultaneously for maximum pleasure, a feat that is only possible due to its flexibility. 
Designed for the adventurous couple, the Ose literally places the power in your hands. You get to decide just how much pleasure and intensity you want to experience at any one time, and that is what makes it such a wonderful toy.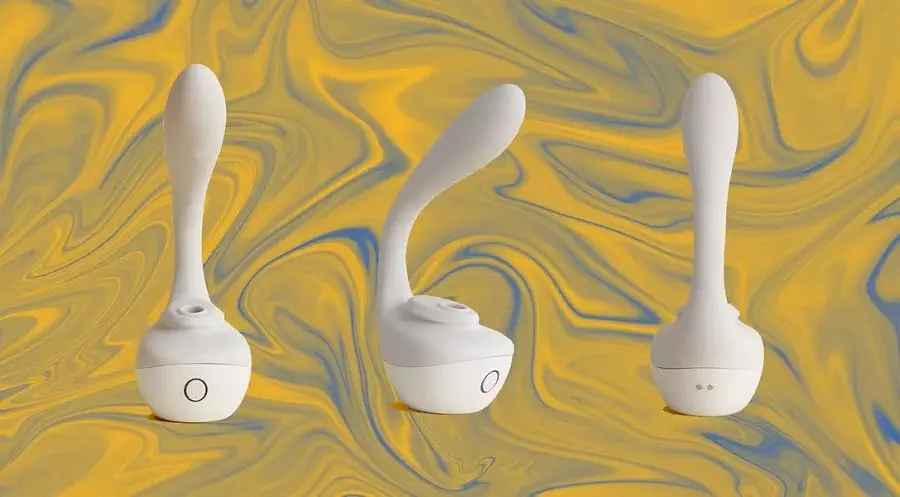 Key Features
Advanced micro-robotics 
These are used to give blended orgasms, relying on movements that make the Ose feel almost identical to being with a real human partner. This alone makes it way more advanced than other similar products in the market. 
Customized silicone shape
It easily bends at the neck above the base, allowing the insertable section of the toy to be used at any angle. This further adds to the realism of the experience. Plus, the design itself makes it look like an innocent little device that you won't feel ashamed to take out in public. 
The G-spot massager
It is designed to imitate a human finger in motion, intensifying the pleasure you'll get from it. You can adjust the speed and length of each stroke against your G-spot with the increase or decrease button. 
Clitoral stimulator 
It is designed to mimic a mouth and tongue placed over the clitoris. The smooth ridges rest within the outer labia, rhythmically stroking the clitoris. You can adjust this sensation from a range of intensity levels until you find the right amount of stimulation that works for you. 
The flexible body 
It will easily fit whatever body shape you may have and gently rest on both your pleasure points simultaneously. When you are familiar with it, you can even adapt it to any number of different positions for maximum pleasure.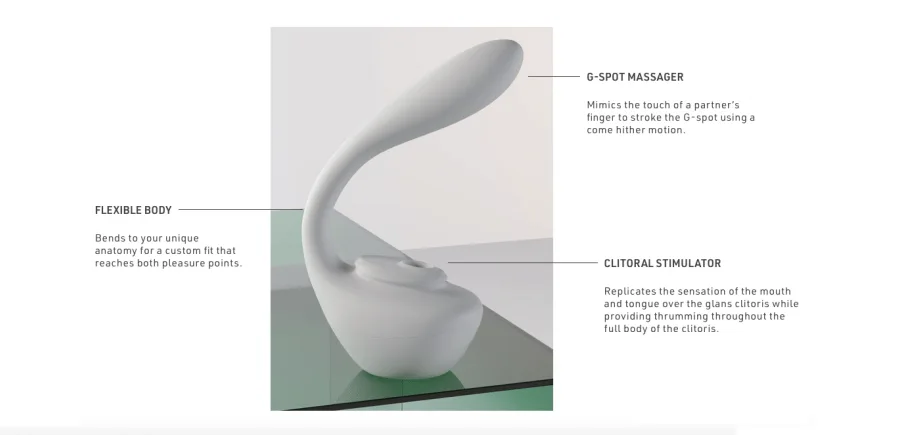 Other Features
Waterproof design
The fact that it is 100% waterproof means that you can play with it anywhere you want, including the bath or shower. You do not have to worry about ruining it or electrocuting your lady bits.   
Rechargeable battery 
It has a magnetic charging port. To charge it, all you have to do is place the magnetic charging cable over the two metal dots on the back of the device then connect it to a power source. It will give you about an hour of battery life on continuous use, and it takes 2 hours to charge fully.  
One year warranty
It comes with a one-year warranty against defects due to faulty workmanship or materials. If you discover a qualifying defect and notify Lora DiCarlo during the warranty period, Lora DiCarlo will, at its discretion, repair or replace the product free of charge. The warranty covers working parts that affect the function of the product. 
Portability
It weighs only 10.6 oz. This means it is comfortable to carry around, you will barely notice its presence. Plus, it does not take up much space in your bag.  
What's in the box?
It comes in a discreet package that does not draw attention. When you open it, you will see a layer of paper wrap protecting everything underneath, including the Ose, a magnetic charging cable, a Multilanguage user manual, a storage pouch, and a sample size lubricant.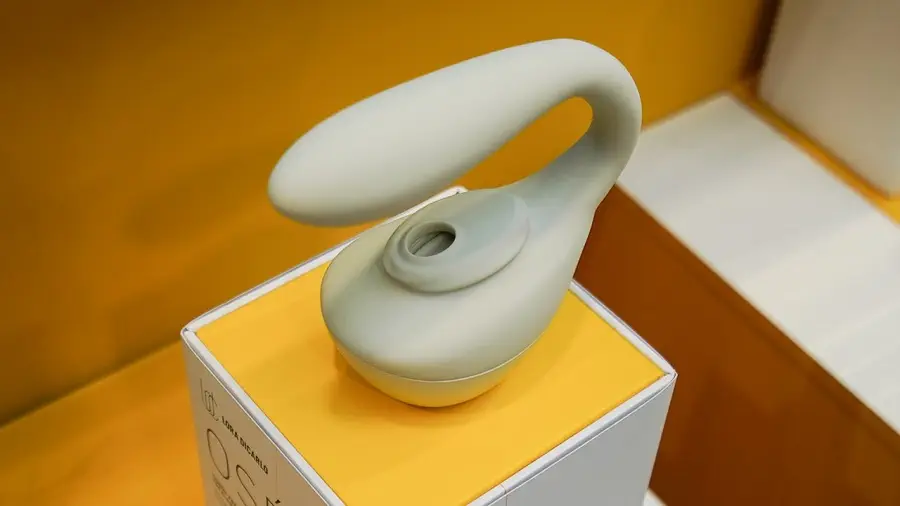 How it works
Charging
Before the first use, charge the device by placing the magnetic charging cable over the two dots on the back of the device and connect it to a safe power source with the provided USB charging cable.  
Once plugged in it will display the charging status by lighting the circle around the power button gradually. It will be fully charged when the circle is fully lit with a solid white light.  
Ensure the product is placed in a dry place while charging and it is completely dry before charging. When it needs charging, the circle light will start to pulse. This usually happens when you still have about five minutes of use.  
Check your charge each time you turn the product on. Check the circle around the power button since lights up to indicate the amount of charge remaining. 
Cleaning and storage
Use mild soap and water or a purpose-made, silicone safe cleanser before and after each use. Because it is waterproof, you can run it under the faucet or fully submerge it for thorough cleaning. Use a finger, soft cloth, or cotton swab to clean the inside of the clitoral mouth, wipe dry with a clean lint-free cloth and store it in a cool and dry place.  
Use water-based lubricants and personal moisturizers only since others can damage it and reduce its lifespan. 
Do not use silicone, alcohol, acetone, petroleum, acidic, or alkaline-based products on the device as it can damage the product materials. 
Turning on and off
To turn it on and off you will press and hold the power button for three seconds. 
Applying lubricant 
To make inserting it easier, apply a water-based lubricant generously before using it. Avoid using oil or silicone-based lubricants because they can reduce your toy's life span.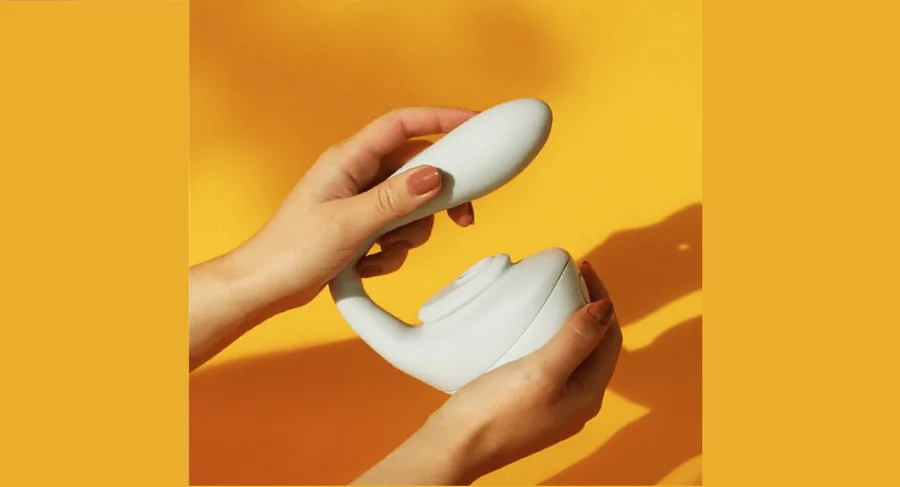 Using the G-spot massager
First, test all the functions before inserting it to familiarize yourself with all options and settings. Make sure you insert or remove it when the G-spot massager has completely retracted.  
Add a small amount of water-based lubricant or personal moisturizer for smooth insertion and use. Insert it gently into the vaginal opening with the clitoral stimulator facing up and towards the front of the body.  
Once it is inserted, turn it on and explore to find a position that presses against the g-spot.  You can adjust the angle of the massager to press securely and stroke over the inside front wall of the vaginal canal.
Once you have located your g-spot area, bend and adjust the flexible body to pinpoint the final position. You can try out different combinations to find your favorite settings.  
Using the Clitoral Stimulator
It has two unique parts that provide clitoris stimulation.  The clitoral mouth is designed to be placed over the clitoral part that you can see or against any part of the vulva. 
The clitoral stimulator is designed to rest against the vulva, pressed against the inner labia and in between the outer labia to allow unique ridges of the stimulator to thrum against the clitoris parts hidden below the surface.  Bend and adjust the flexible body to find the preferred position over the clitoris.  
Using the Flexible Body
It can be molded into a range of several positions to fit your unique anatomy. All you need to do is bend and shape it before use. Bending helps you to find your position and control level of contact against each pleasure point.  
You can, however, bend it to position the clitoral stimulator or g-spot massager away from the body to use each function independently. You can increase or decrease the intensity and pleasure of the g-spot stimulator by changing the angle of the device or molding the flexible body. 
This is achieved by bringing G-spot Massager and the Clitoral Stimulator closer together to increase the pressure and create a less intense sensation further apart. The tighter the feel, the more likely it will stay in place. 
Other important things to keep in mind
Remember to ensure that it is powered off before you remove or insert it. Since this may result in discomfort, pain or injury and the worst of all damage the device.  
While traveling, you can disable and lock all buttons to ensure it does not turn on at the wrong time. First, hold the G-spot stroke button down, then press and hold the power button, the LED will flutter rapidly to signify lock. To unlock, repeat the process and the LED will flutter again.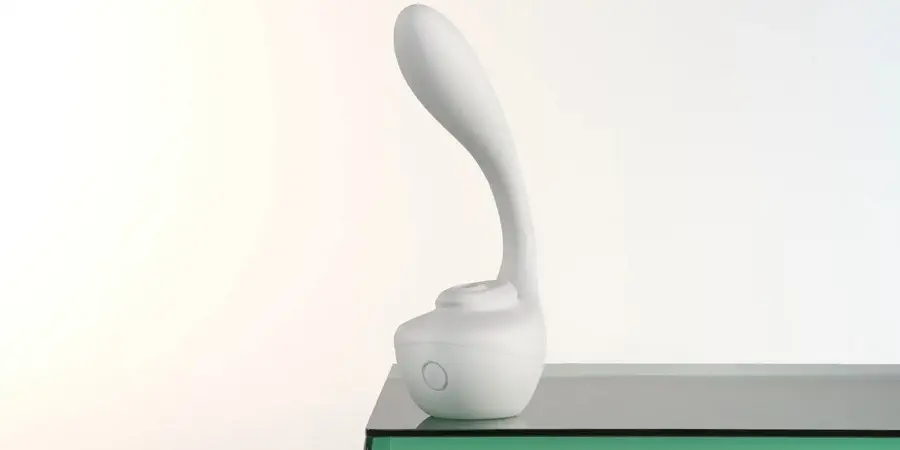 My experience
with the Ose
When my Lora Dicarlo Ose was delivered, my roommate was not around. So I had the whole apartment to myself. Opening the box I noticed how smooth and comfortable it felt in my hands. 
At first, I was curious to know how the G-spot massager is going to locate my G-spot and how the flexible body would adjust to my anatomy. I played with it in my hands for a while as I studied it. 
I realized that I didn't have to adjust the flexible body into different positions to fit me. I turned it on and the clitoral stimulator humming sound immediately had me smiling and eager to try it out. 
The clitoral mouth gave me the best pleasure I ever had, more than any human mouth or tongue could ever give me. It wasn't long before I had my first orgasm. 
My roommate came back and found me glowing and, of course, she was eager to know what was happening. I told her about my Ose and the things it could do, and even before I could finish speaking, she fired up her laptop and ordered her own.   
I kept exploring different positions with different intensity levels that day and the next. When I brought the G-spot Massager and the Clitoral Stimulator closer together, I found that it increased the pressure on these regions. Spreading them apart reduced the sensation, so all I had to do was find a sweet spot that worked for me.
This time, I achieved the blended orgasm I was looking for. 
These days, after a long day, I always bring my Ose with me to the shower. There is no better way to relax and forget about everything. And my Ose never disappoints me.  
Pros
It's a hand-free pleasure device. You only need to adjust the settings that give you maximum pleasure and leave the device to do the rest.

 

It's rechargeable thus if it powers off you can just connect it to a power source and charge it. It also gives you a low charge alert notification.  
One year warranty. In case of faulty workmanship or material defects, you can take it back to and get a replacement where they can repair or replace it with a new one. 
The waterproof design allows you to easily clean it with water and also allowing you to use it during baths and showers.

 

Stimulates multiple sensitive nerve endings G-spot and clitoris at the same time. This is achieved by its flexible body that can be adjusted to fit. 

 

It was developed from advanced technology. Whereby each setting can be controlled and enabled individually so you can truly customize each sensation.  
Cons
It produces some sound, so you need to be careful about your privacy.

 

It is quite expensive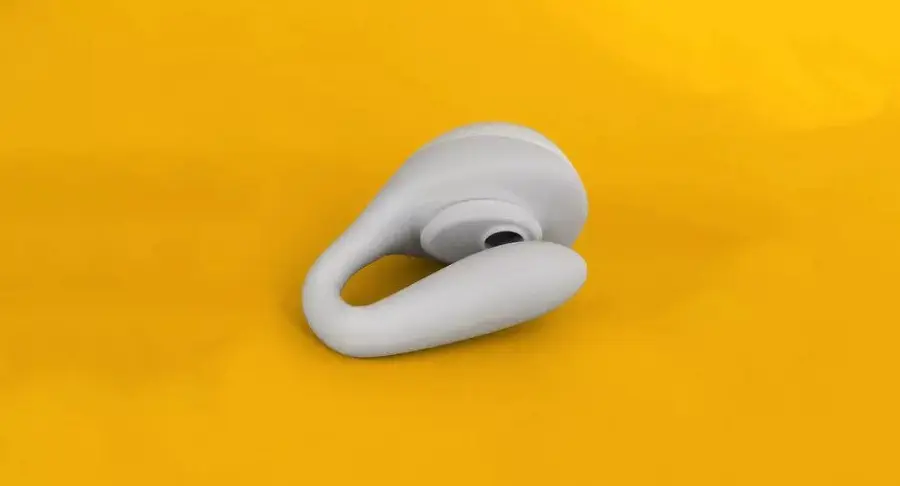 Verdict
What I really love about the Lora Dicarlo Ose is the fact that once it has adapted to the best position that gives you maximum pleasure, you will never have to keep on setting it up. Being hands-free means you can lie back and let it do the heavy lifting. You don't have to control its movements.  
Plus, the technology used to make it mimics a human really well, so you can escape in your mind and think of that special someone doing bad things to you. It is really impressive that no matter who you are or what body type you have it will always fit your unique anatomy and deliver that blended orgasm. 
This product really stands out because it comes with a G-spot massager and a clitoral stimulator simultaneously. Combined, these are enough to give you some of the most intense orgasms you will ever have in your life. Plus, it is 100% waterproof. What's not to love? 
>> Click here to check the price of the Lora DiCarlo Osé <<