There are many reasons to choose one sextoy over another: quality of manufacture, effectiveness, extra-added features, and options for teledildonics play, being just a few of them.
And, if I may be so bold, I'd like to suggest another thing to consider, something that as the world wakes up to the potential of sexual technology and the importance female-identified people continue to play in its development, is getting more and more essential to support.
But before getting into any specifics (I am such a tease), allow me to present Osé 2: an imaginatively designed and excellently created blended orgasm vibrator from the Lora DiCarlo.
>> Check the price of the Lora DiCarlo Osé 2 <<
What are blended orgasms?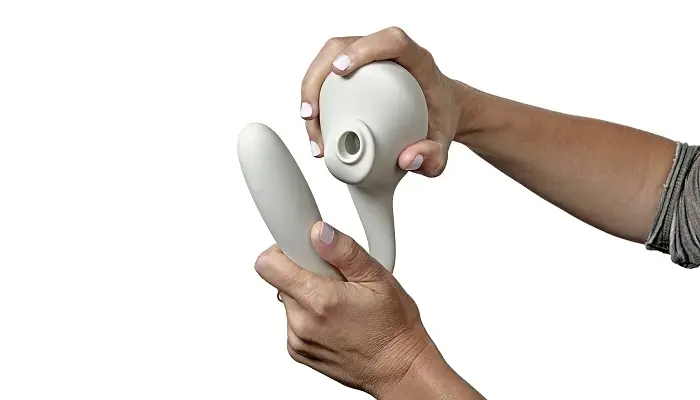 But first, a monetary detour to explain what, exactly, are blended orgasms. In a nutshell, it's about sexually stimulating different erogenous zones to provoke a single unified pleasurable release.
Thus the blended part in blended orgasm. Realizing the potential of giving their customers the ability to come from clitorial as well as G-spot arousal, Lora DiCarlo put their big ol' sextech nogging to work. The result of which is their are-inspiring Osé 2.
How Lora DiCarlo's Osé 2 is a pair of sextoys in one
Honestly, the Osé 2 does look somewhat … odd. So much so that if you didn't know anything about it, you might spend an excessive amount of time puzzling over what goes where.
So please allow me to illuminate you: the longer, narrower part is the G-spot stimulating component that, according to Lora DiCarlo, should be inserted into a vagina first to allow its user to play around with where it will do the most good for the most fun.
Before moving on, I want to go a bit more into this part of the Osé 2 as it's quite a remarkable piece of engineering.
While your run-of-the-mill G-spot vibrator is typically restricted to merely buzzing on that arousing bit of anatomy, the Osé 2 instead takes a massive step forward by vibrating while mechanically also moving up and down: elegantly mimicking the "come hither" finger action anyone familiar with G-spot stimulation is intimately aware of.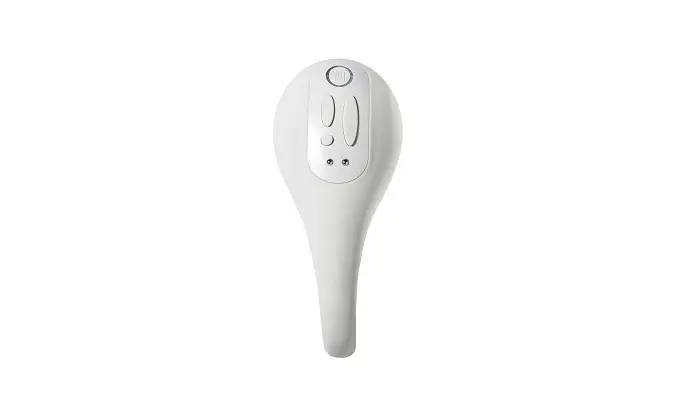 I could easily wind things up right here as this feature is awesome to behold, and according to my female-identified "test subject" fantastic to experience, but as the Osé 2 is, again, a two-in-one toy, the pleasure doesn't stop there.
Arcing around from the G-spot extension is the Osé 2's clitoral stimulator. And with it. Lora DiCarlo elevates the sextech bar yet again by bucking that other common vibrator trend in building the Osé 2 with technology to provide a gentle yet exciting sensation.
Put these together, and an Osé 2's user will be able to experience the jaw-dropping (or clenching, as the case may be) delights of coming in not one but two different ways.
Just how big is Lora DiCarlo's Osé 2?
Weighing in at a somewhat hefty 268 grams, the Osé 2's insertable length is 4.6, and then 1.35 inches wide.
The clitorial end of it is 1.6 by 1.3 inches with the mouth, the part built to fit over that body part, comes in at .6 by.8.
Charging Lora DiCarlo Osé 2's and its battery life
No, I'm not doing to yet again rag on magnetic chargers as (1) you're probably getting tired of me doing so and (2) I don't have to with the Osé 2 as Lora DiCarlo has provided the Osé 2 with one that does a far better job of staying put, and so keeping that juicy electricity flowing into the joy, than any of their competitors.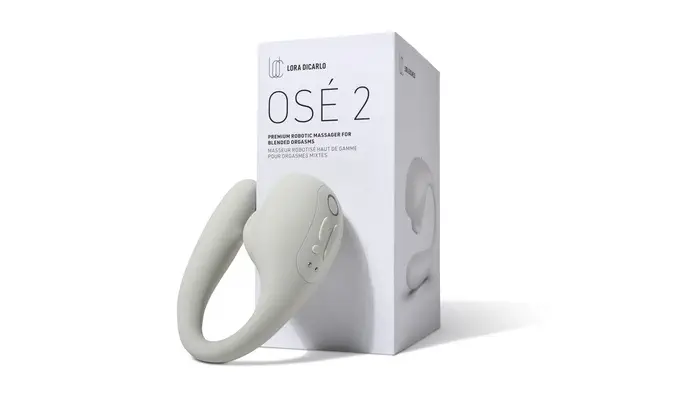 As far as charging time as opposed to playtime, the Osé 2 doesn't fare all that well as it takes two hours to fill it up for half that time of use.
To be fair, you have to keep in mind what the Osé 2 does, as it's a pair of powerful, mechanically sophisticated devices crammed into a single body, so an hour may not seem like much I still think this what Lora DiCarlo was able to give us, versus they intentionally short-changing their users.
What you get with an Osé 2
Getting back to what plays into a person selecting a sextoy, there's the additional issue of packaging. And when you talk packaging, Lora DiCarlo is in a whole different league by boxing their Osé 2 in a way that reminded me, in a good way, of certain Apple-ish computer products.
If anything, you might say that they kind-of, sort-of overdid it in this department. Though considering that this is a state-of-the-art sextech device, it seems entirely appropriate.
In addition to the Osé 2, you get a well-made travel bag, USB charging cable, one-year warranty card, and one of the best manuals I have ever seen. Why? Well, because it's finally large enough to comfortably read. However, I do have to wag my finger at Lora DiCarlo for not making the font larger.
Cleaning Lora DiCarlo's Osé 2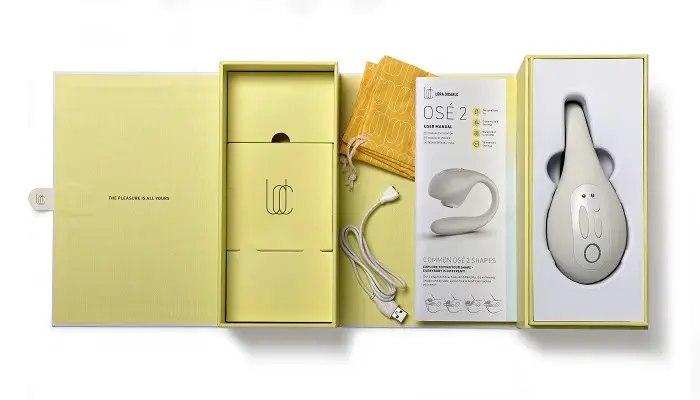 Since the Osé 2 is waterproof, cleaning it is far from challenging: use warm (and never, ever boiling) water with the smallest-dash of mild soap or use a manufacturer-approved silicone toy cleaning solution, and that's all.
You do have to be pretty thorough with this all, more so than many other toys, as the clitoral part of the Osé 2 has a few nooks and crannies where icky stuff might accumulate.
Pros:
One of the most high-quality sextoys on the market
Perfectly designed for blended orgasms
The G-spot component features a moving element in addition to providing vibrators
The clitorial part utilizes an effective sucking-type mechanism for a highly lifelike feel
Excellently packaged
Free 25 minute Wellness Coaching session
Cons:
Not great for anyone who doesn't enjoy blended orgasms
Large size makes it less than discrete
Only one hour of use on a full two-hour charge
The verdict
Quality of manufacture, excellence of design, affordability, flexibility—there definitely are all sorts of things to weigh when picking up a sextoy.
And to this, as I promised at the very start of this review, I want to bring up another: the company itself.
Because Lora DiCarlo, and especially its founder and leading light, Lora Haddock, has personally helped usher in a new era in female-oriented and pleasure-focused technology.
It all began at the 2018 Consumer Electronics Show, where Lora DiCarlo was told they were set to receive the event's prestigious Robotics Innovation Award for the original Osé vibrator.
Only to have the mucky-mucks behind the CES suddenly change their mind, citing that the product was, among many things, obscene and immoral.
Other companies would have walked away, but not Lora DiCarlo. Instead, Lora Haddock publicity challenged CES's hypocrisy regarding sex-related technology, generating so much outcry that the organizers relented: not only presenting Lora DiCarlo's with their award going so far as to ask their advice in helping make sure CES is as respectful and inclusive as possible in the future.
Aside from this, Lora DiCarlo's Osé 2 is a fantastic piece of ground-breaking sextech that manages to deliver two very different sexual sensations utilizing wholly unique mechanisms to allow its users to experience the incredible power and delight of clitoral and G-spot orgasms coming together.
So whether you're looking for a highly well-made toy made by experts in everything to do with vaginal pleasure, something that takes an extra-special step in stimulating your fun parts, or to support a company that's leading the charge in the battle to once and for all establish the legitimacy of sexual devices and female-oriented technology, then, by all means, get yourself an Osé 2.
Because by however you want to measure it, Lora DiCarlo has given us an awe-inspiring glimpse into the future of sexual pleasure.
>> Check the price of the Lora DiCarlo Osé 2 <<