High-tech male masturbators are a staple in the self-pleasure realm, from long-distance connectivity to VR capabilities, there are plenty of features to take advantage of.
Whatever the need, whether looking to engage in the technology-aided pleasure realm or wanting to add something special to a collection, this article will go over some of the best in male sleeve innovations on the market and alternatives to the Lovense Max 2.
I myself have tried some of the high-end stuff and it is definitely a meticulously crafted experience to give the best orgasm yet.
I will give a condensed analysis of each toy and explain exactly why they are worth anyone's "hard" effort.
But first, what is good and what is bad about the Lovense Max 2?
Lovense Max 2: The Prey or The Predator?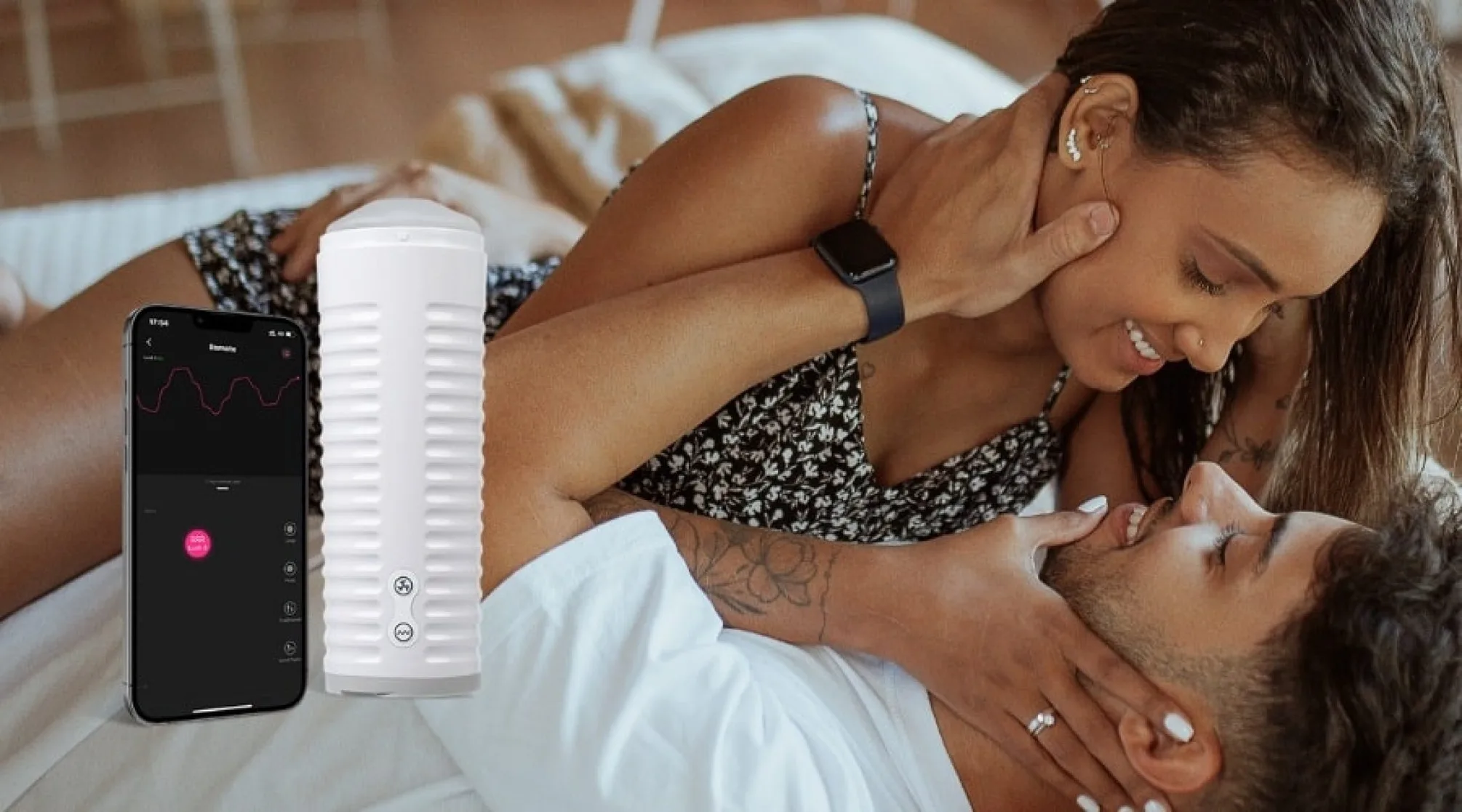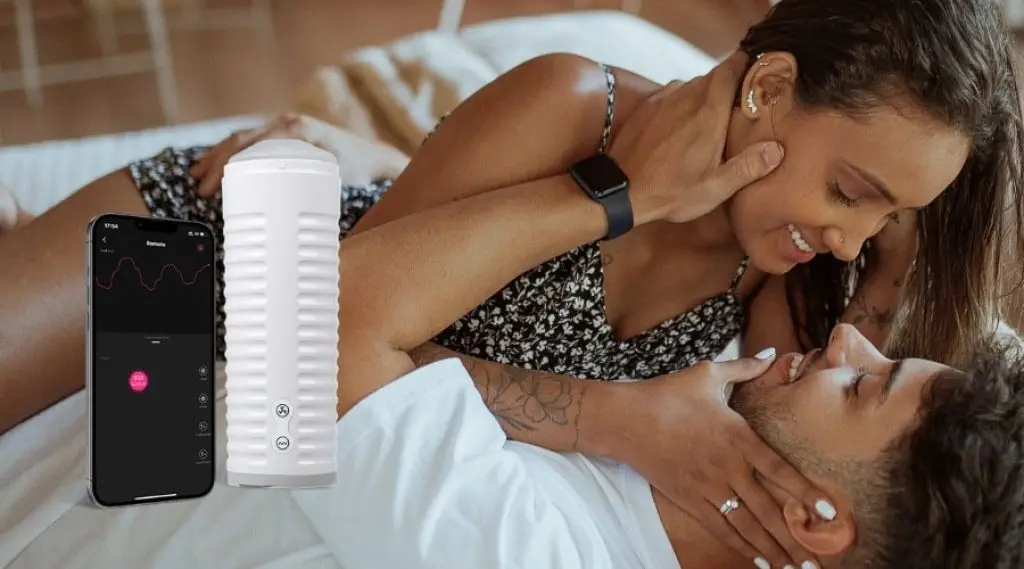 Among the quintessential automatic male masturbators, the Lovense Max 2 looks like a ribbed water bottle at first glance.
However, I would argue that what is inside is much better. The Max 2 is a reiteration of its predecessor, the Max.
The Max 2 contains a modified outer housing, a better-designed internal sleeve, a reupholstered vibrator, USB magnetic charging, two to three-hour battery life, 360-degree pressure contractions, bigger dimensions, and better sensors.
Pros
Hands-free orgasms with vibration and pressure fluctuation.
The special texture is etched into the sleeve for extra sensory stimulation.
It is not too obvious. At a glance, the Lovense Max 2 could pass for a water bottle or an Alexa.
It is fully hypoallergenic. TPE (Thermoplastic elastomers) makes up the inside of the sleeve with the outside being a plastic polymer.
Cons
The Lovense Max 2 tends to be loud.
The inside bore exerts undue pressure on bigger members.
Vibration patterns computed on the machine have been reported by users as underwhelming.
Lovense Max 2 vs. The World: Meet The Contenders
Kiiroo Keon, Hands-Free Stroking at Its Best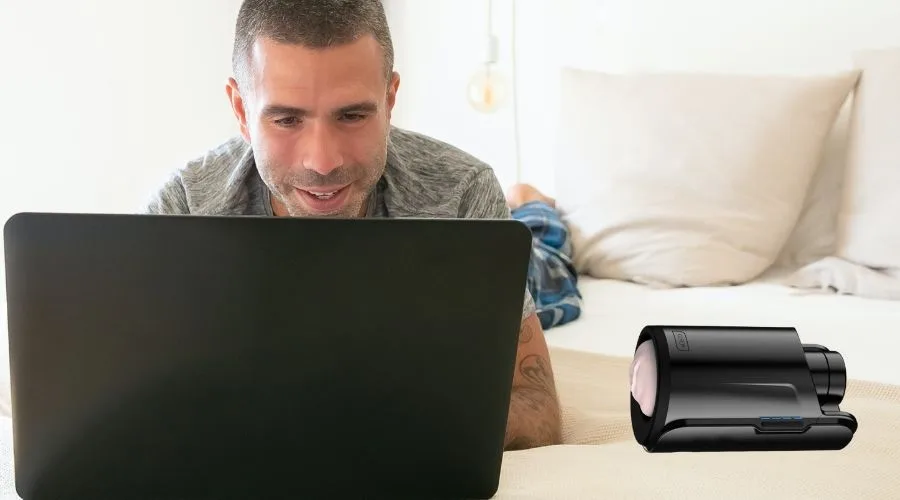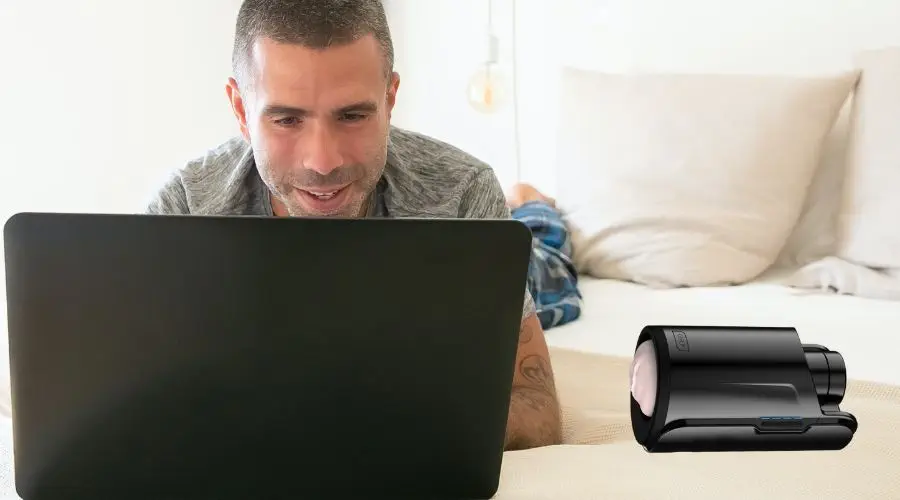 The Keon comes (pun intended) as an upgrade to the Fleshlight Launch Powered by Kiiroo. Kiiroo took care of the mechanics and Fleshlight provided the body.
As a male masturbator, this will be their first fully in-house unit.
Unlike other male masturbators that use the super-skin material, this model is made from a material Kiiroo calls real feel speculated to be a mixture of TPE and silicone.
The inside ribbing is optimized to increase surface area and relay all the sensations better. Made to pair with the Kiiroo automatic unit, the fleshlight locks perfectly with the external body.
Just place it inside the house, make a turn to lock it in and snap it into place with no movement to speak of.
While using other male masturbators, I would notice the inertia on the backstroke would make the unit lag a bit under the weight, but the Keon is so powerful the fleshlight just springs back effortlessly off each stroke.
The casing is also vastly superior with an ergonomic design that makes it easier and even more comfortable to hold the unit in place for uninterrupted pleasure.
The speed setting buttons have corresponding lights to let users know which tempo is active.
Not only that, the Keon has a total of seven speed options, giving it a wide range of pleasure points, with the fastest at 230 strokes per minute.
I am also happy to report that it also has four stroke length settings, with the longest at approximately six inches.
Once powered up, the units' Bluetooth automatically comes on and looks for a device to pair with for interactive content.
Pros
The Kiiroo Keon electric male masturbator is lighter than previous models.
It has a fast stroke speed of up to 230 strokes per minute.
Setting buttons conveniently placed where thumbs naturally rest on the machine.
Good battery life at two hours run time.
Keon is made from robust hardware.
Cons
The Keon cannot bypass porn scripts. I noticed that most videos on FeelMe make the masturbator shoot at the top of the machine at the beginning. The scripts are poorly thought-out for a masturbator as I ended up waiting up to 10 minutes for the action to start. Unfortunately, in this situation, the buttons do nothing, the script controls everything.
Not ideal for shorter penises in porn sync mode. Here, stroke length is uncontrolable and for users with a shorter penis, the sleeve will leave it behind at the top of the stroke.
A unit cannot be used while it is charging.
Lovense Calor, the Lightest High-Tech Masturbator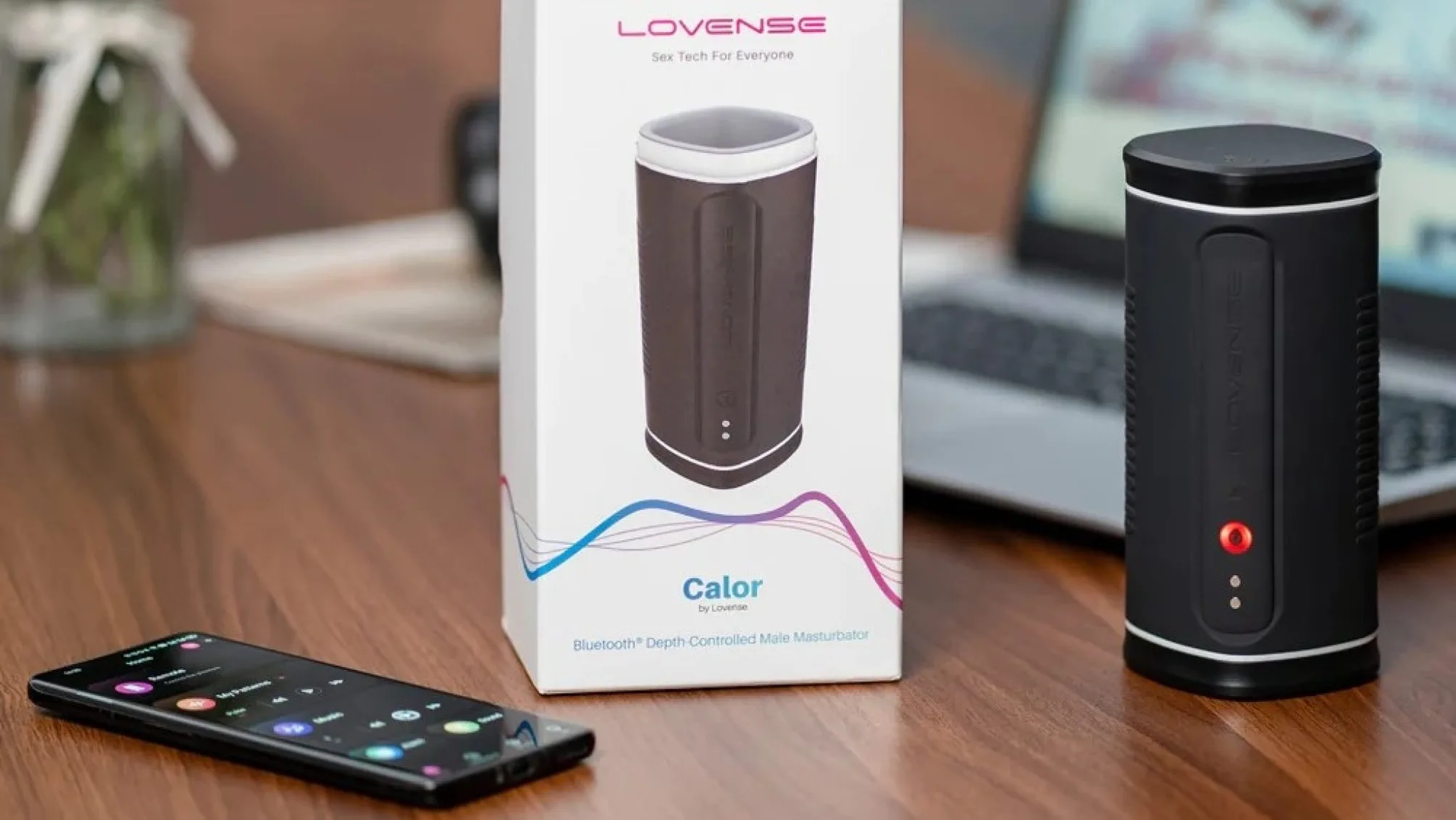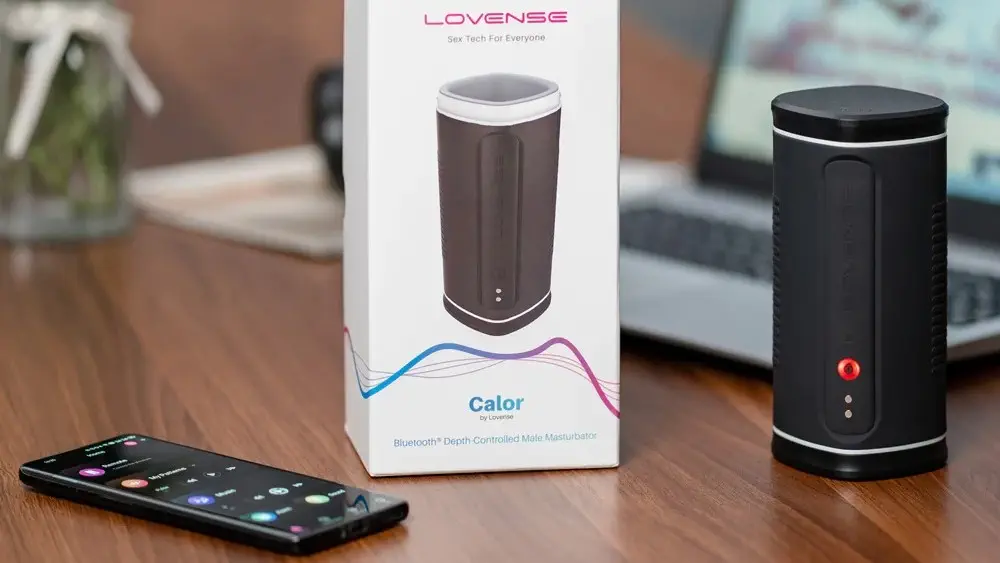 A petite waterproof lightweight pleasure machine is what Lovense promises with the Calor.
Advanced features like the depth sensor that makes the unit vibrate harder the deeper a penis is thrust into the machine have more than earned the Calor its place on this list.
Not only that, but the vibrations are so strong I felt them all the way up my arm. It also includes an optional heating feature.
What further separates this toy from the pack is its squeezable housing that allows for real-time pressure adjustment from the user.
Despite the smaller size and collapsible housing, the Calor still maintains remote connectivity and toy pairing.
The device has good reviews online with customers confirming the vibrations are among the strongest in the market. The only quirk it seems to have is that it takes a little while to heat up.
Pros
Compatible with Windows PC, Mac, iPhone/iPad, and Android 5.0
Waterproof.
Very portable.
One of the best vibration mechanisms.
Programmable up to 10 vibration patterns.
The ability to backtrack to a setting after skipping forward instead of having to cycle through all the other options is a major convenience.
Cons
It does not offer hands-off options.
Does not have porn support.
Kiiroo Onyx +, the Sleekest Electric Male Masturbator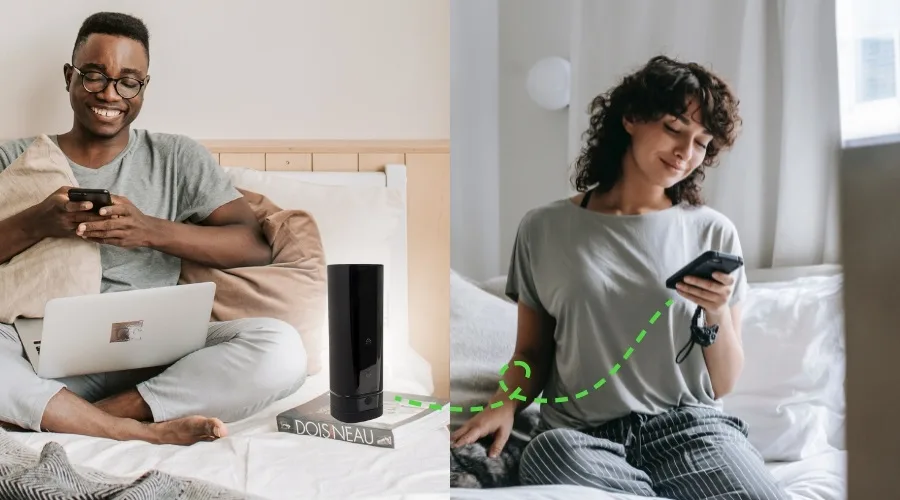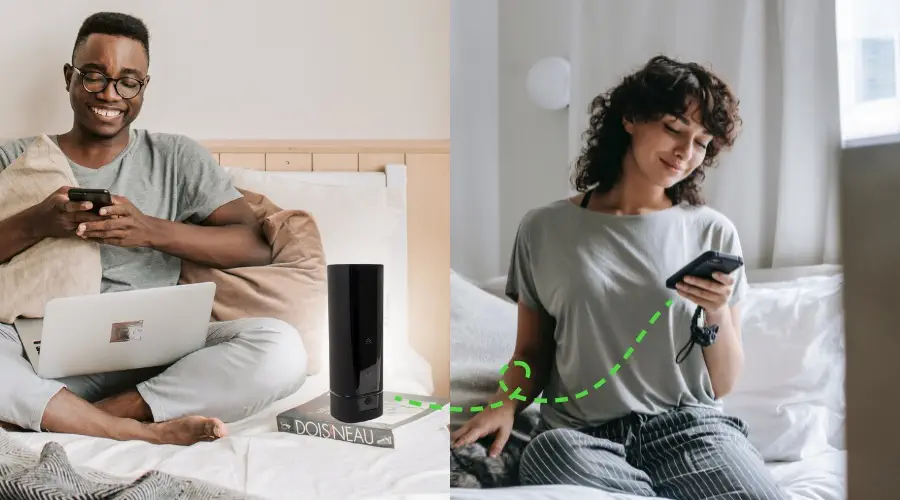 Touted as one of the quietest male toys from Kiiroo, the Onyx looks more like a power bank than a male pleasure aid.
Like most toys in its class, the Onyx + comes equipped with support for erotic video sync, virtual reality, webcam connectivity, Bluetooth, and compatibility with all Kiiroo devices.
What makes this item worthy of this list is the sleek and compact design, topped off by being one of the quietest masturbators out there.
The case boasts built-in LED touch-sensitive buttons to keep the housing flat and as sleek as possible.
The battery on this unit is a Lithium-ion Polymer, giving it the ability to support several functions simultaneously to completion.
Kiiroo took the sensations up a notch with their revolutionary contracting 10-ring technology meant to mimic different variations of sex.
Though sentiments vary on this feature among users, some of the experimental differences stem from differences in length and girth.
Pros
This version has a quieter motor than previous iterations.
10-ring stroker technology gives superior sensations, especially for video syncs.
It is visually appealing.
Light in weight.
Reusable sleeves are cleanable.
Cons
It has a lengthy recharge time of four to six hours.
Storage or travel vessel not included.
The sleeve texture may not appeal to all penises.
The constricted bore is not compatible with all sizes of penis.
Lovense Gush, the Most Practical Gland Massager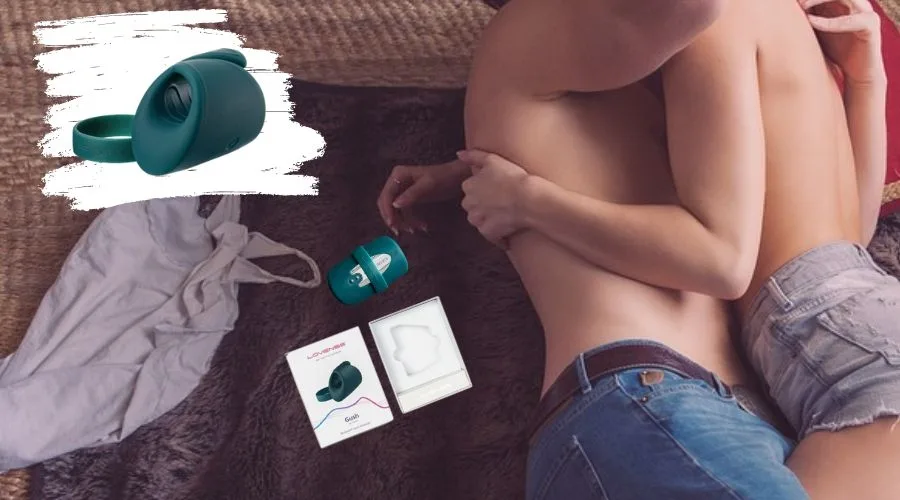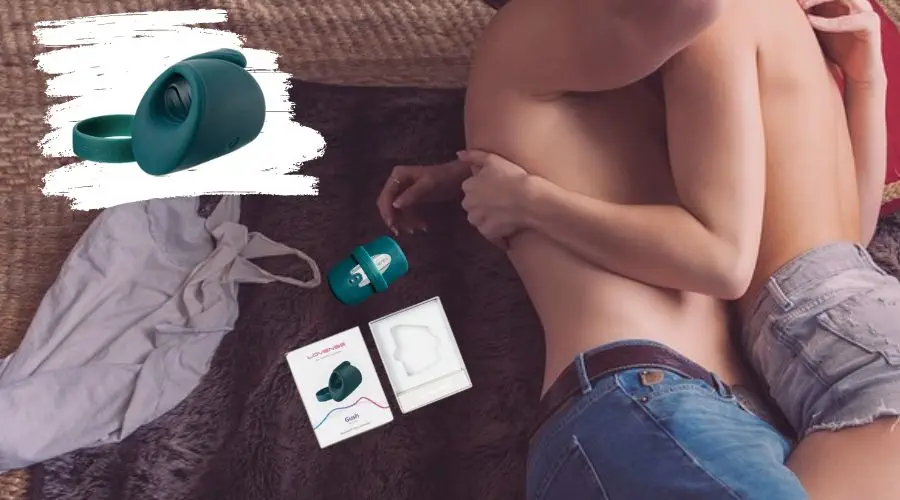 When it comes to portability, adjustability, and discretion, the Lovense Gush is one of the best thought-out remote control vibrating penis massagers.
It attaches via a clasping mechanism, which makes it compatible with most gland sizes. Most of the Gush is made of body-safe silicone to provide that silky smooth experience.
The textured inside makes for superfluous delight with the option to add a ring around the device to localize sensations.
Lovense Gush provides both hands-on and hands-off approaches to cater to all preferences and scenarios.
Customers have also reported that the waterproof feature is quite robust, having held up in Jacuzzis and swimming pools. Enjoy three vibration levels and up to 10 patterns.
I have spoken to many people who have used this model and there is a sentiment that cuts across the board.
Without the ring, it is not likely to be a good time, which many have attributed to the vibrations not being powerful enough.
Pros
Compact build
Water-proof
Both hands-on and hands-off approach
RPG sex game support
Cons
There have been reports of low power.
It does not stay in place as well as other models.
The unit experiences occasional signal issues in long-distance applications.
The Handy, the Most Technologically Sound Masturbator for Those With a Taste for Opulence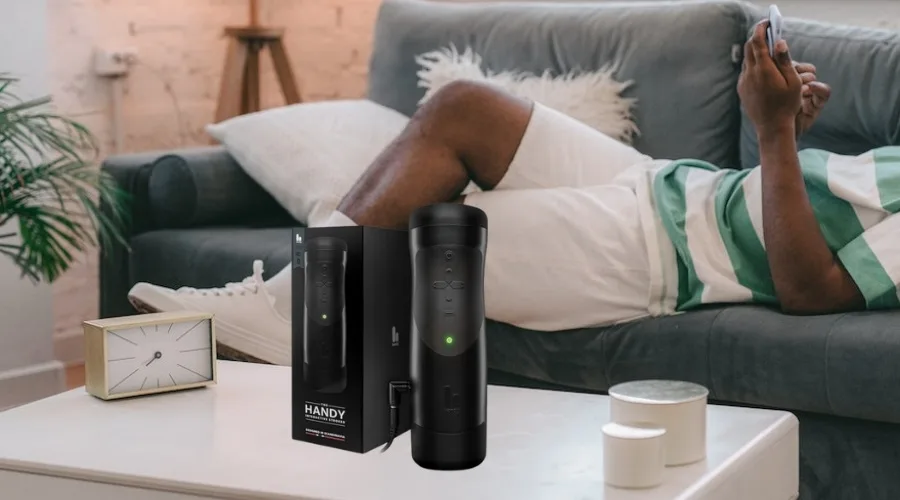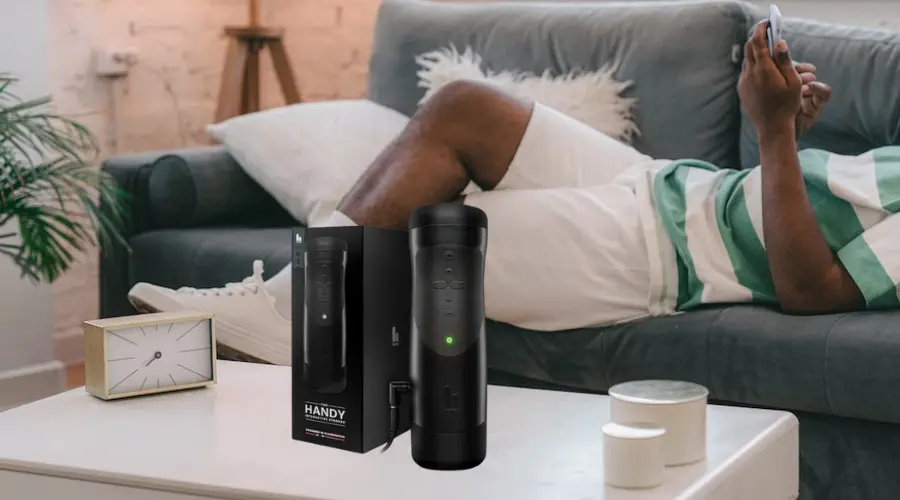 Wrapping members in a soft adjustable grip thermoplastic elastomer interior, the hand also features a sliding apparatus that mimics and improves on the sensation of a hand going up and down a penis.
The hand has been called the Tesla of gland masturbators due to the efficiency and amount of technology used in the unit.
Some of those include Bluetooth and WiFi, 10 sensors, a dual-core processor, and a brushless motor, among others. I found it very hard to find a negative review of Handy online.
It seems this is one where most people seem to agree it is hands down (pun intended) a good product through and through.
Pros
The device is overwhelmingly quiet.
Adjustable stroke length, speed, and pressure.
The velcro attachment allows for adjustment.
It is made of high-quality and state-of-the-art parts.
The firmware constantly improves with additional features to enhance experiences.
Cons
It has to be used with an accompanying power supply as it lacks an internal battery.
Sync issues when using WiFi and Bluetooth.
Storage apparatus not included.
Some pieces are reported to be louder than others.
It is not hand-free all the way.
Hot Octopuss Pulse Interactive, the Soundest Electric Self-Pleasure Solution for Men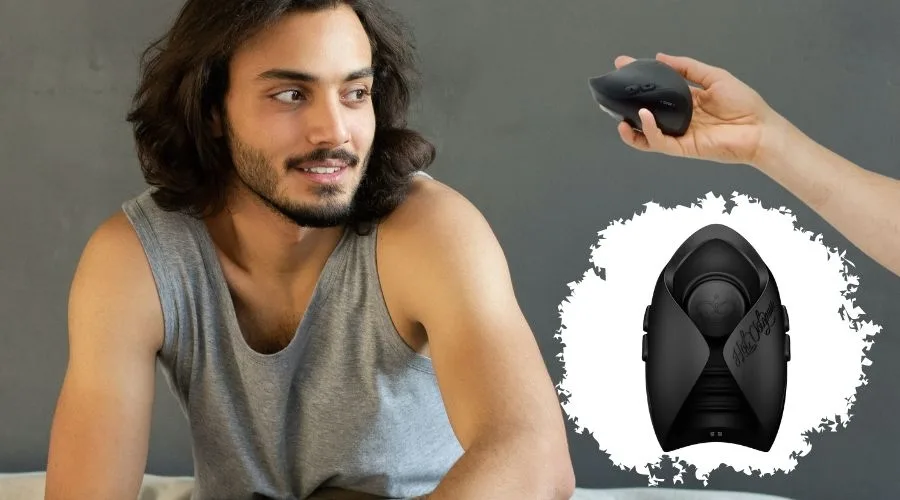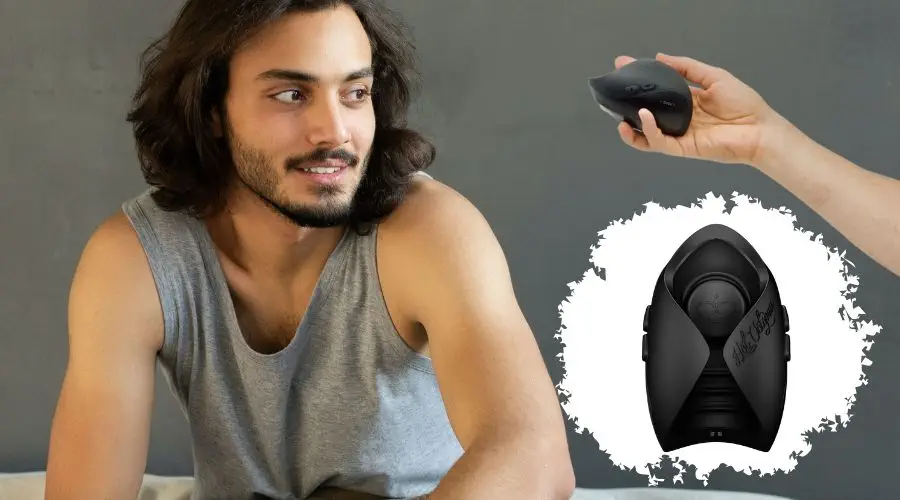 This model features a patented oscillating technology that puts it above anything I have ever experienced.
The penis lies on the pulse plate between the flaps of the machine and is subject to a deep unique vibration stimulus, like never experienced before.
It also has a wide array of combinations with eight plus speed settings, and five vibration modes.
It is famed for making people cum hands-free, and for its elegant but minimalist design with buttons on the side.
Pros
Unique oscillating vibration capability.
Turbo speed setting mechanism.
A full hands-free experience.
Powerful.
Portable.
It comes with a travel pouch.
Accommodating people with erectile dysfunction.
Cons
Battery life is not long (less than one hour).
The app sometimes experiences connectivity issues.
Some users have found it too loud, but that evidence is anecdotal.
Kiiroo Titan, the Smartest and State-of-the-Art Feel for the Classy Man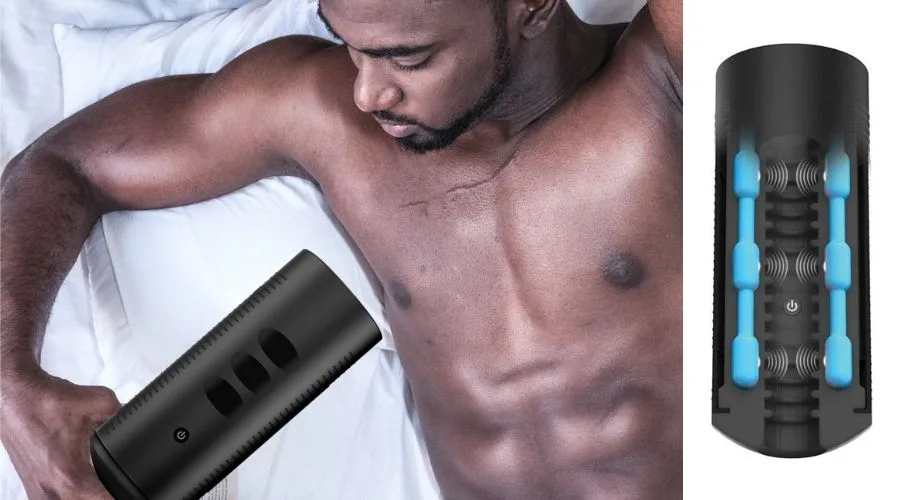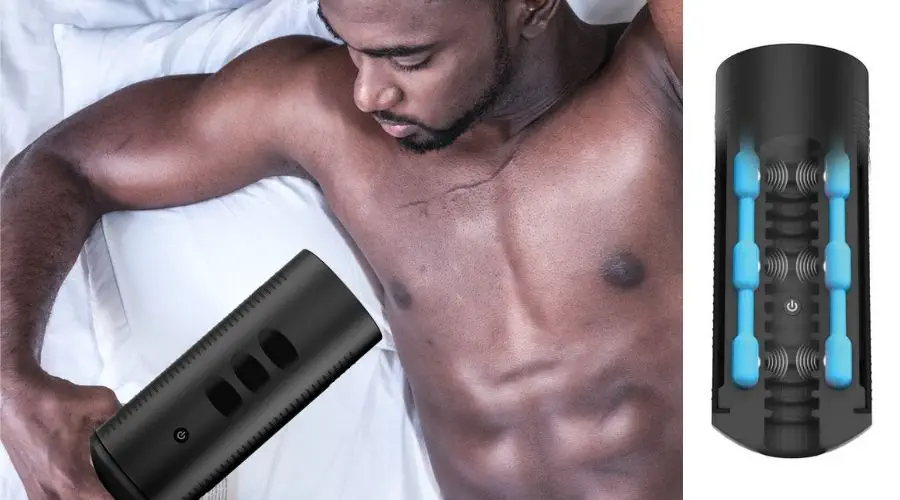 The Titan by Kiiroo is a first-class male masturbation tool. With nine vibrators and a real feeling sleeve, the masturbatory experience is about to be revamped.
Like most products in its class, it comes with connectivity to certain adult entertainment platforms and 2D or VR support.
It also has full teledildonic capabilities for long-distance couples featuring touch-sensitive pads to manipulate intensity and momentum on connected devices.
Pros
Localized vibrations. Choose where vibrations should concentrate, the top, middle, or bottom.
Realistic fellatio mimicking via independent motor vibration adjustment.
It has nine potent vibrating motors.
Cons
Lubricant and any other accessories are not included.
It has an excess of three hours of charge time.
Unfortunately, it is not water resistant and is actually fragile to water damage.
Virtual Mate, the Most Comprehensive Fleshlight Solution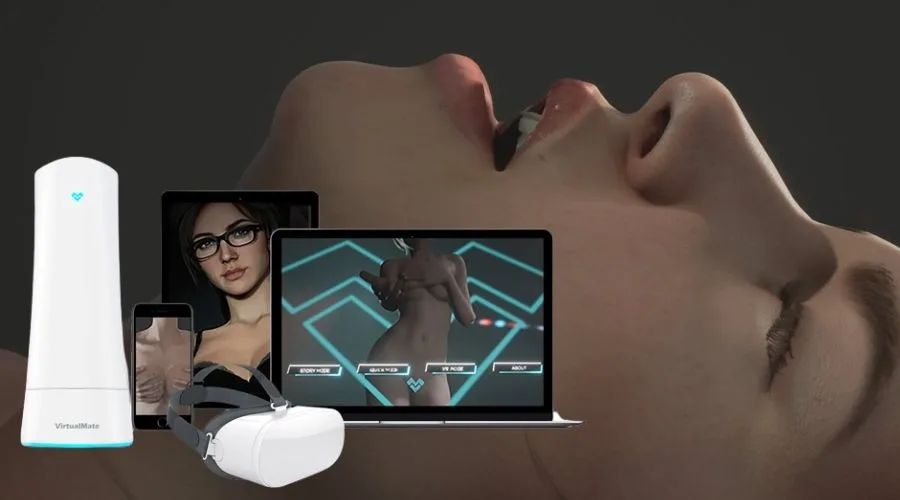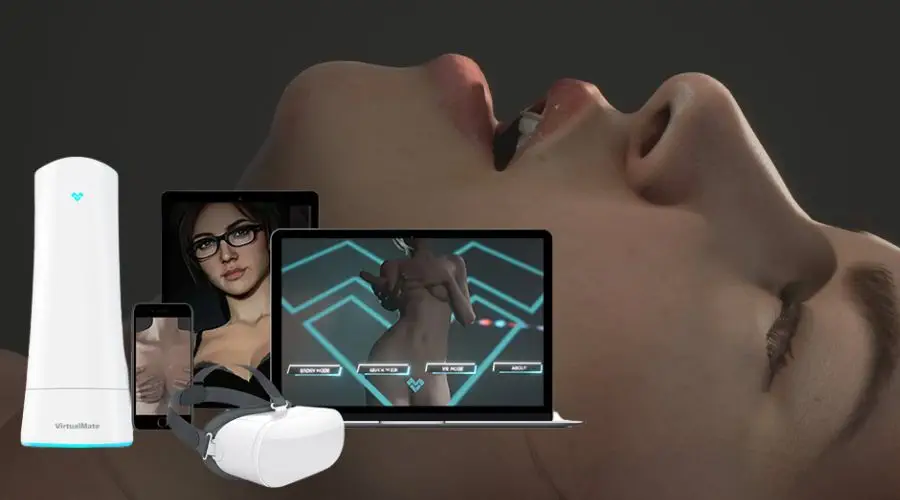 Virtual Mate prides itself on being the first virtual intimacy system. I do not care much for the geeky lingo, I'm just trying to get my rocks off here.
What that means is that Virtual Mate provides a full-circle solution for the digital masturbation experience.
They can build a life-like digital mate of anyone's likeness or a 2D rendering depending on the equipment the customer is using.
Their bionic interface technology, 'core', is what puts them on this list.
It is an aggregation of sensors and smart technology that conveys motion data from connected devices in real-time with scary accuracy.
Reviews cite it as living up to expectations with room for improvement on the basis of core connectivity.
Pros
Their virtual model feels surprisingly realistic.
They offer a lifetime of updates and upgrades at no extra cost.
It has four very immersive and well-crafted game modes.
An all-rounded solution that provides both software and hardware.
Cons
No ability to move around in the virtual world.
Their model, Sheila, does not make eye contact in VR gameplay, which comes off as odd.
The inability to dexterously interact with Sheila dilutes the experience.
Lelo F1S V2, the Fanciest Fleshlight Available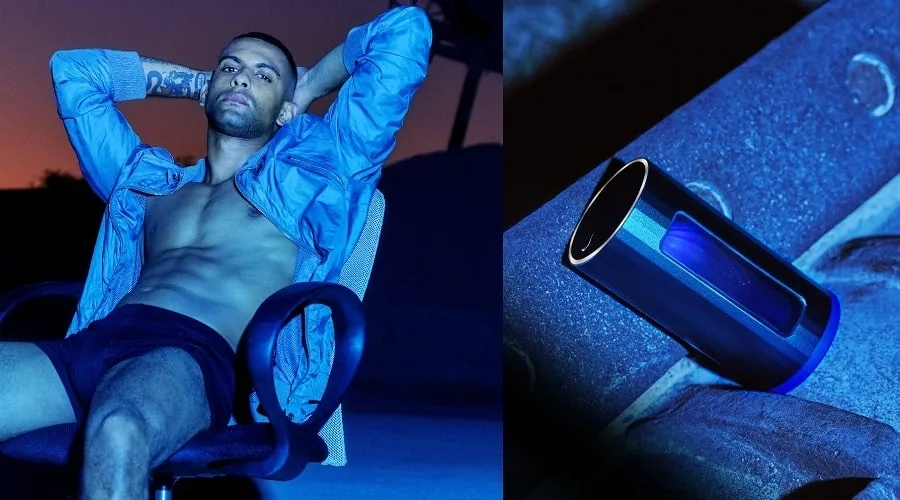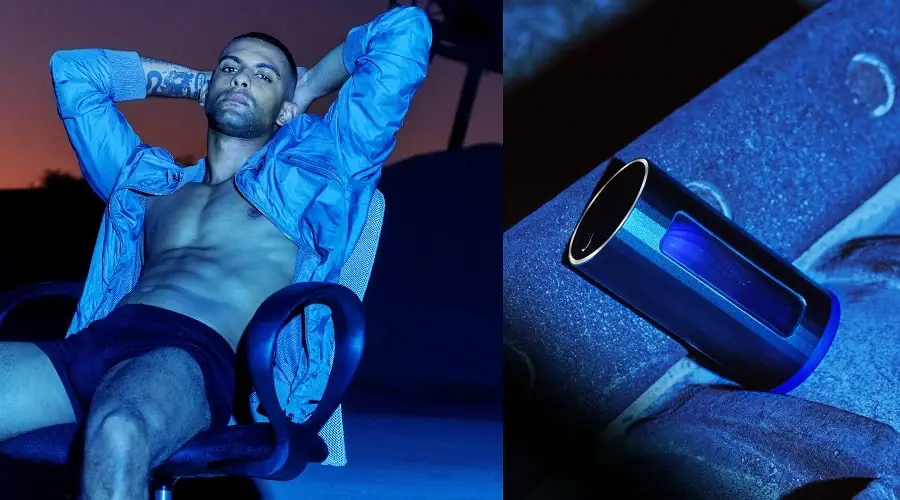 Developed by the Swedes, Lelo delivers orgasm-provoking pleasure in intimidatingly elegant designs.
I personally enjoy a well-engineered sophisticated device and this is exactly what I got. Being waterproof, it is easy to clean post-session and allows for in-shower use.
The sleeve has curvatures and indentations to hug the penis better and provide maximum stimulation.
Lelo's app is simple but delivers unrivaled utility like independent motor control, and vibration and pattern adjustment.
Lelo also has a flagship feature they dubbed SenSonic technology. It uses sonic waves to create vibrations that travel deeper into the penis than conventional sex toys.
Users report the first time experiencing the technology as nothing like they had ever felt before.
Pros
Smooth housing design that makes it easy to use and discourages lint and general particle build-up.
Lightweight.
Well-made app.
Aesthetically attractive.
Two-hour long battery life.
One of the best sensual experiences on the market.
Cons
Complaints from more endowed people of constriction.
The sleeve cannot be removed.
It also makes a considerable amount of noise.
8 Things to Consider When Buying a Male Masturbator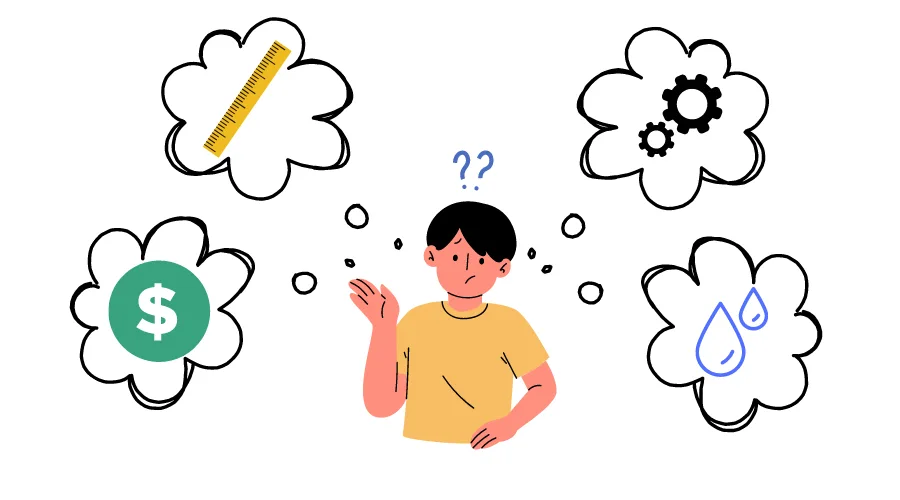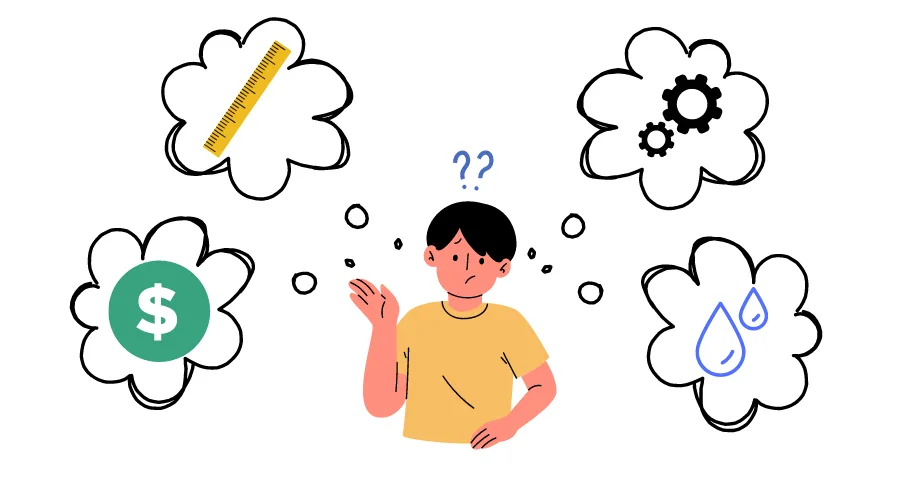 Mode of operation
Between automatic and manual machines, make sure to know how each operates and which better suits preferences.
Some devices however combine both options with the fleshlight locking into the automation dock.
For people with mobility issues, this is more important as it is not just a kink but also an issue of comfort and range of motion.
Size
This has to do with portability, convenience, and user own endowment.
Frequent travel warrants something lightweight and small with remote control for second parties if applicable.
I also noticed it is important to know how the dimensions of the device relate to my member to avoid length or girth issues.
Price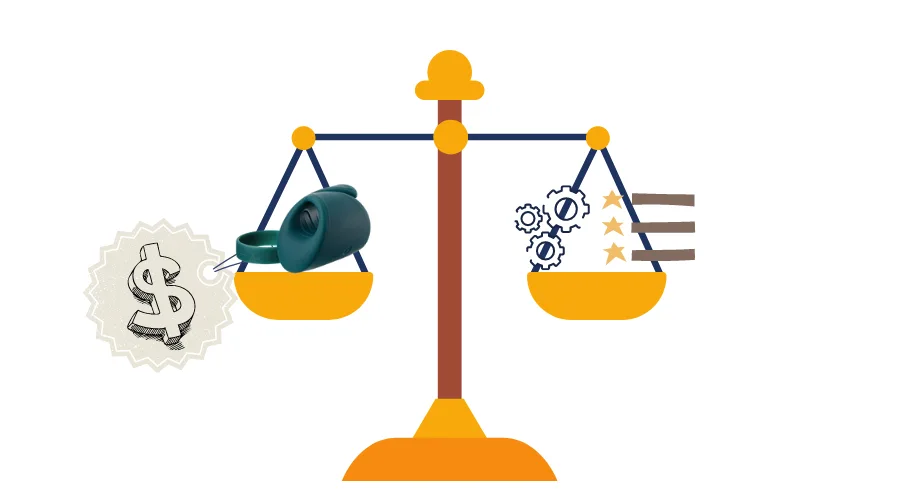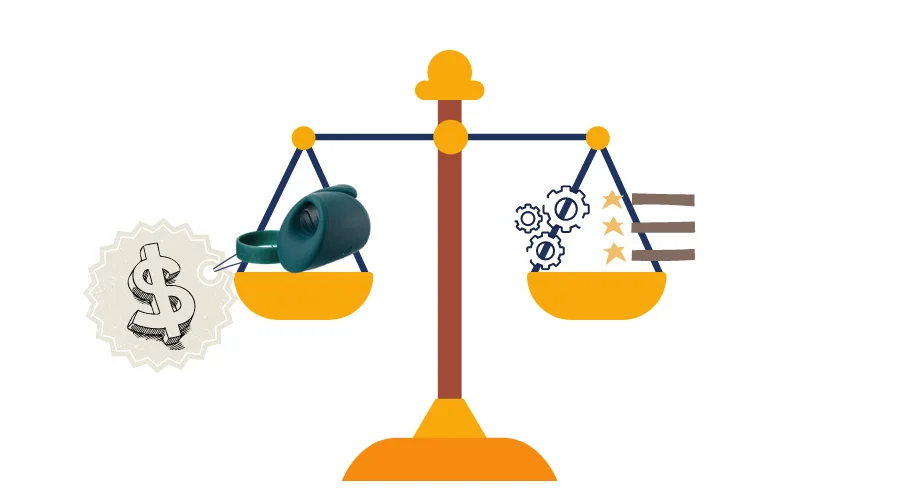 Self-explanatory as this is, it cannot go without mention.
It is not as easy as just buying what I can afford, it is more about finding the balance between features and affordability.
I may pay an extra couple of dollars for a serious upgrade in functionality.
Rigidity
I definitely would not want my favorite toy malfunctioning because it is too delicate or cannot handle water.
For a male tool, I think one should always go for the water-resistant variety as it is more likely to last longer.
Types of accessories needed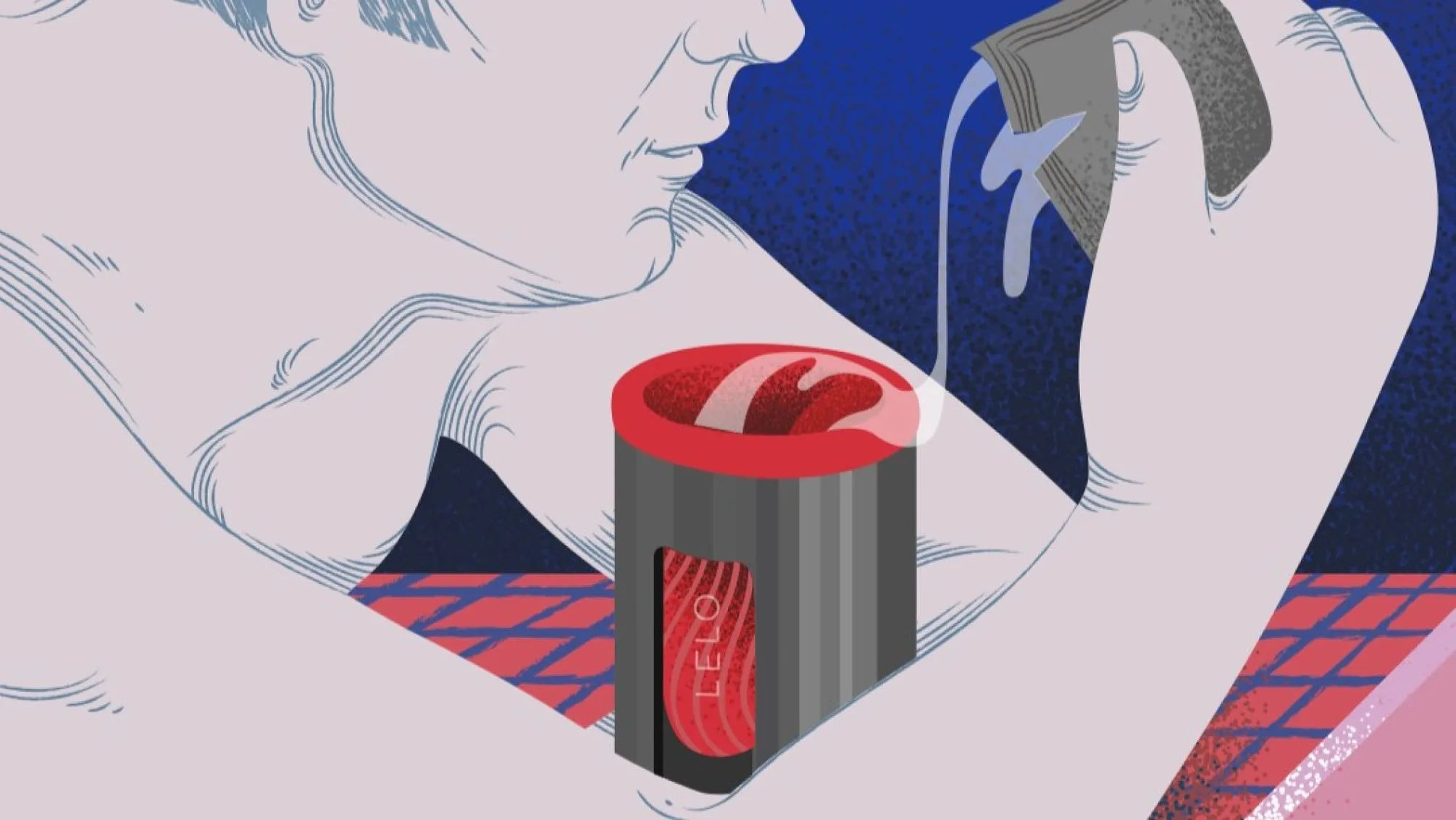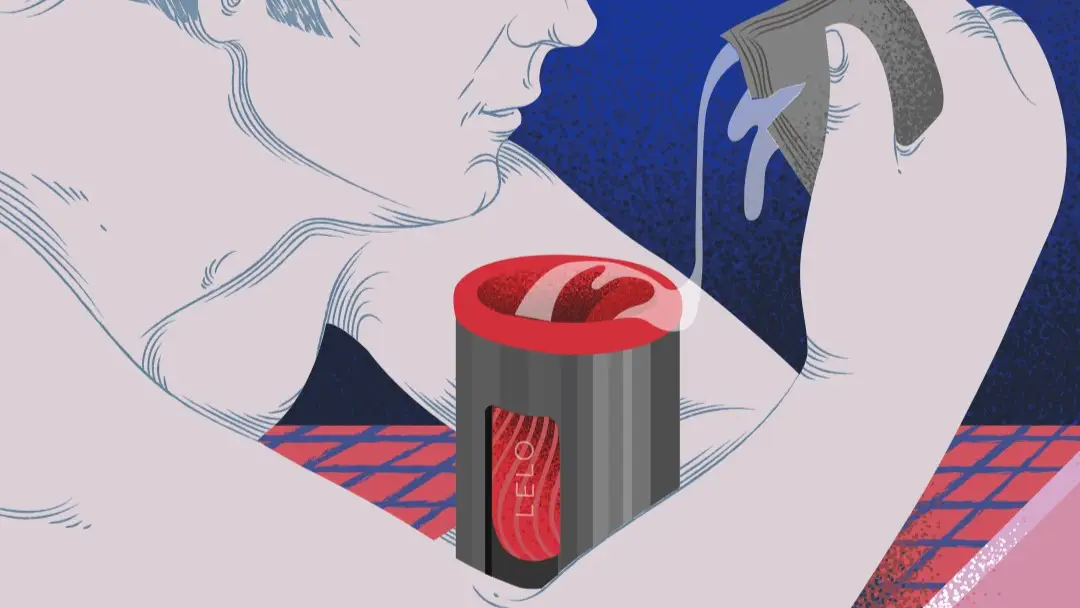 Most people, myself included, prefer using water-based lubrication due to the reduced chances of having allergic reactions.
It is also important to consider the sleeve's material in order not to corrode it with the wrong fluids.
What am I into?
Being a novice I cannot go for a device with all the bells and whistles money can buy, I may risk desensitizing my Johnson too quickly.
I do not go for the 360-degree rotation devices simply because it would be too overwhelming for me.
Skin sensitivity
Some of the common materials used in male masturbators are silicon (skin-safe), compounds of glass, metal, and TPE.
Glass and silicone are the best materials to avoid bacteria and infections.
Some people prefer to sacrifice some pleasure by using a condom to be safer, but it is not an ideal solution for most.
However, glass-based masturbators do not feel like real-life and I prefer to go for medical-grade silicone or other patented skin-mimicking materials.
Am I single or in a relationship?
Considering my relationship status will hugely influence my choice of toy. When single, I may not need remote connectivity as I have no one to connect with.
However, I may buy something with remote connectivity to, later on, introduce it to a future partner.
Alternatively, if I want that duo feeling without a partner it may force me to go for a product like Virtual Mate.