By M.Christian
Here's a question for you: how can you take the current wave of next-generation smart sex toys and make them even better?
The answer is what happens when they are combined with the already proven hotter-than-all-get-out power of listening to erotic books and stories.
But what is even better is there are more than a few companies right now doing this very thing.
So as you listen to an arousingly erotic tale, your Lovense device will vibrate along with whatever you are listening to.
So let's take a look at what these companies are, how they manage to merge audio erotica with Bluetooth-enabled sex toys, and which of them is the best at what they do.
What are sex toy-supporting erotic audiobooks, and what makes them interesting?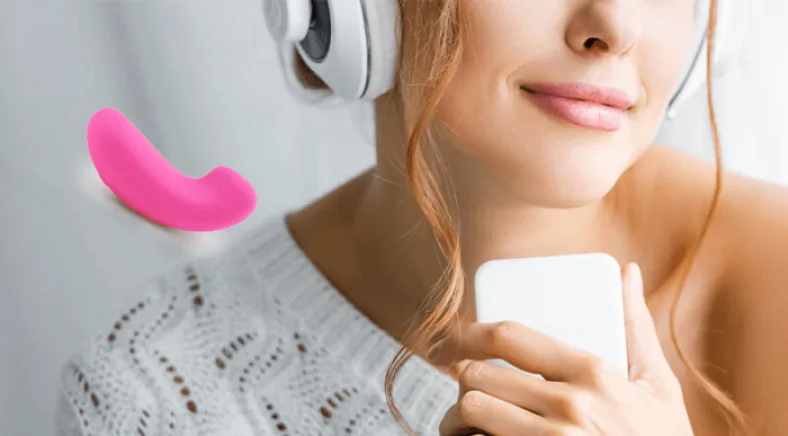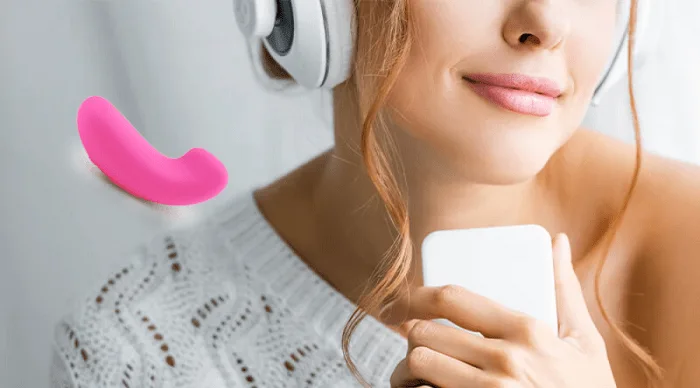 For as long as people have whispered hot somethings into each other's ears, we have known the erotic power of the spoken word.
Long before the Internet, you could listen to the sultry stylings of sexually explicit books on stories.
Who knows, maybe Edison himself recorded or had recorded a few of them onto his legendary cylinders?
When the Internet did finally appear, audio erotica exploded onto the scene.
Now you can listen to practically any kind of sexual activity, for every and all orientation and interest, on sites such as Audible and streaming services such as Spotify and others.
But while listening to explicit books and stories is one thing, the experience is made all the better with another technological innovation.
We are naturally talking about smart sex toys like those produced by companies like Lovense.
The technology is actually quite simple to understand.
Just as adult videos can be coded to periodically cause a Bluetooth-enabled device to do its sexy thing, so too can these forward-thinking companies do the same to their audio recordings.
It might even be argued that listening as opposed to watching interactive adult entertainment can be a more immersive and, therefore, considerably greater erotic experience.
Think of it this way, it is often challenging to concentrate on an explicit video, what with so much going on, but when you can close your eyes and shut out the rest of the word, the words you are hearing and the sensations you are feeling can be magnified tenfold.
So it is no wonder why this mixture of hearing and feeling erotic has gotten so very popular.
Though right now, there are not many companies forging this new erotic entertainment world, it is a safe bet that before too long, we will see many more appear on the scene.
1. Bloom (formerly known as AudioDesires)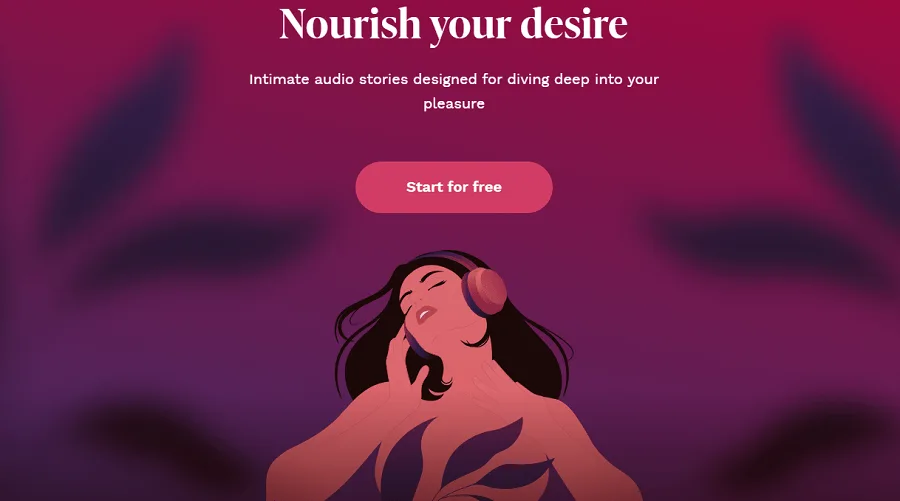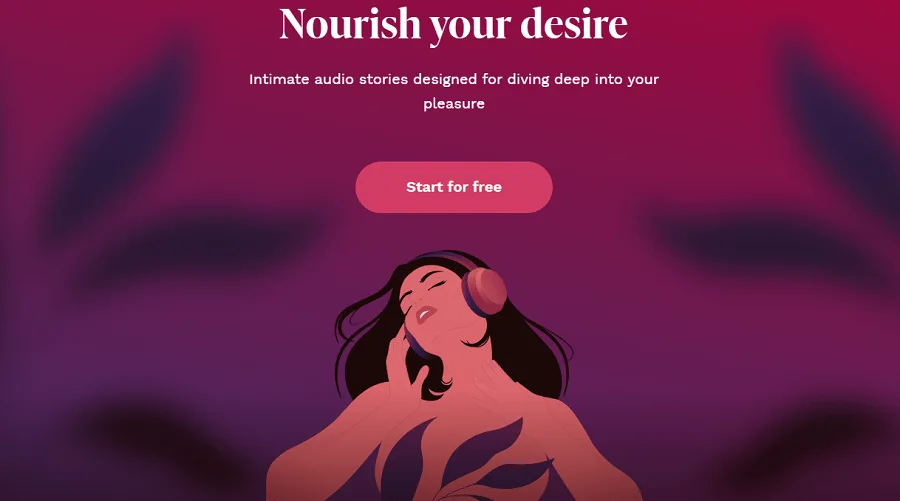 The first company on our list is Bloom, which was formerly AudioDesires: a site jam-packed with a huge variety of erotic stories and even several sexual tips and technique guides.
Though not all of Bloom's content is interactive with Lovense's Bluetooth-enabled products, they are continually adding more.
So before you know it, Bloom will have everything and anything you may ever want in a hear-and-feel audio presentation.
Bloom is a website-based, smartphone-based platform featuring spoken word erotic fiction and non-fiction recordings.
All are streamable, versus having to be downloaded, without the need for a separate app.
Visually, the Bloom site is clearly intended to be viewed and used on an Apple or Android smartphone or tablet.
Though its content can be easily played on any computer capable of surfing the web, the site's narrowness looks somewhat odd.
That is when compared against other sites that will fill your computer screen from edge to edge.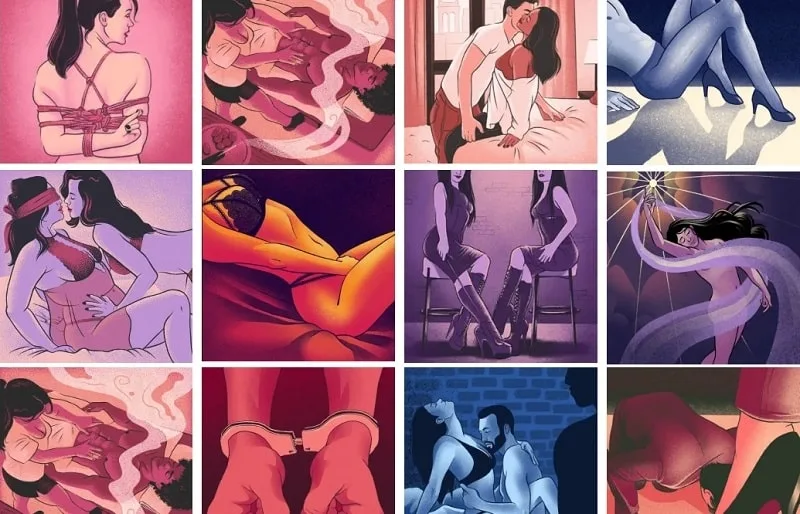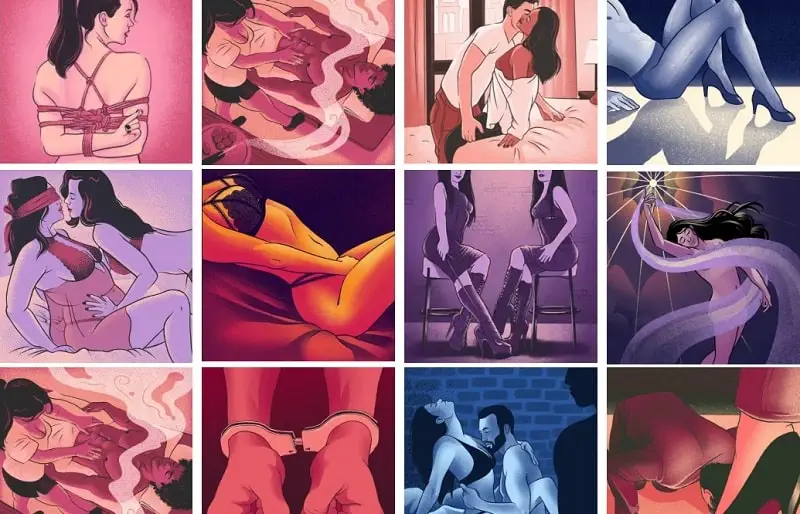 The site has pleasant, almost cartoonish graphics, which makes it feel less like a porn site and more like an erotic one.
A high percentage of its titles tend to be rather short, clocking in at around ten to twenty minutes.
The benefit of this is they are really easy to get into but may leave some longing for more.
Still, what Bloom may lack in length, it more than makes up for in delivering high-quality recordings and an amazingly diverse catalog of sexual subjects and styles.
For instance, some of its titles are grouped into catalogs, so there is no need to blindly search for what you or your partner are into.
Just one click and there are every BDSM, Fantasy, Sci-Fi, or Group Sex stories they have.
Their recordings are also extremely and pleasantly diverse, with fiction and non-fiction alike for LGBTQ+ people wanting to hear a good time.
Unlike other audio erotica sites, Bloom provides a good number of totally free titles to listen to.
We cannot rave about this enough as it is a great way to see what they have and, most of all, how their shows sound.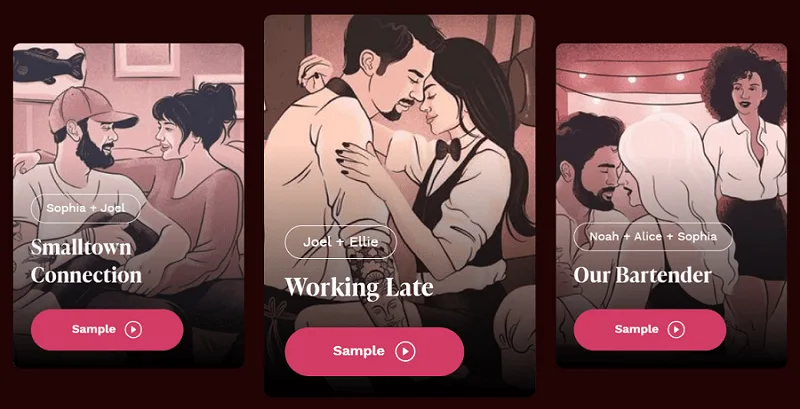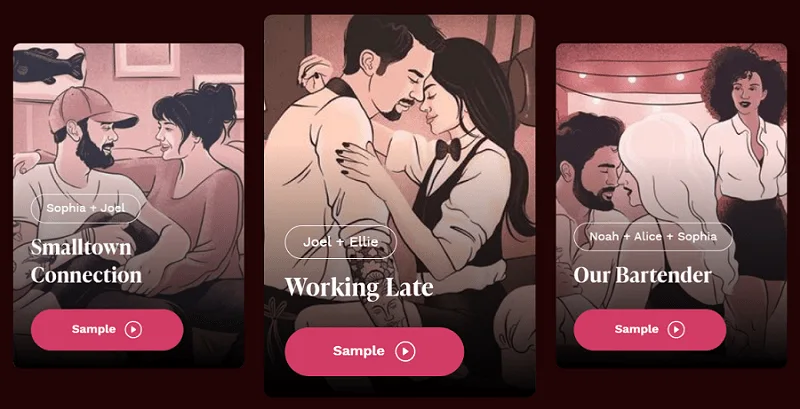 They even have a free sample of their interactive recordings.
Speaking of, Bloom and Lovense are a match made in sextech heaven as each has specifically partnered with the other so that connecting your Nora, Max 2, or any other Lovense Bluetooth-enabled toy to a Bloom interactive recording is as easy-as-easy can be.
To start, all that is necessary is to download the Lovense Apple or Android smartphone remote app.
As we are fond of saying, due to how much work Lovense has put into its development, using this app will be incredibly simple.
In fact, Lovense has its own step-by-step guide to make connecting your toy to Bloom that much easier.
Briefly, after selecting one of Bloom's interactive titles on your smartphone, look for the little sync button on the lower right-hand side and tap it. This will pop up a special QR Code.
Next, fire up the Lovense Remote app and use it to find and sync up with your Bluetooth-enabled toy. Then snap a picture of that QR Code with the app's camera feature.
And that's all there is to it. Now all you have to do is play that Bloom recording, and lo and behold, what you hear will be mirrored by your favorite Lovense smart toy.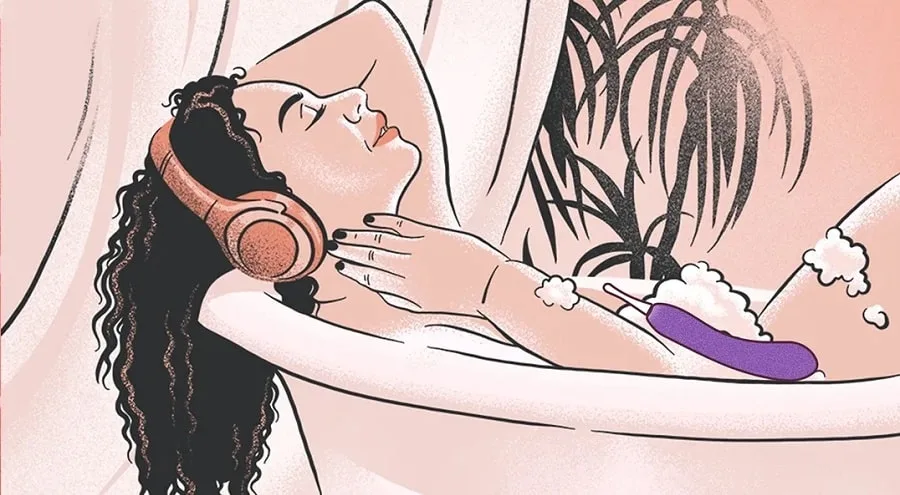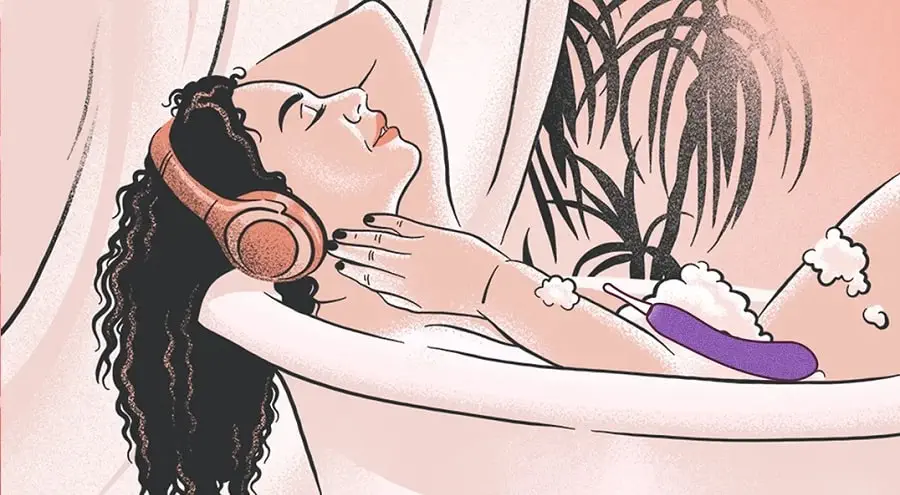 Is that all? Not at all! Because Bloom has other things to offer.
Like you can create your own favorite title playlist, and if you get off on reading as well as hearing erotic stories, you can record your own and submit it to the Bloom community for other people to listen to and enjoy.
But what if English is not your first language?
Good news if you "Sprechen sie Deutsch" or "Se habla español" because with the tap of your smartphone screen, you can toggle between English, Spanish, and German.
This could make learning these languages way more fun by listening to sexy, kinky, or wildly erotic stories instead of endlessly repeating, "I have a red pencil box."
Pros:
Great selection of erotic stories and sexual self-help guides
An impressively diverse range of sexual subjects and interests
Quite a few Lovense-interactive titles
Result of a special partnership between Bloom and Lovense
The catalog is easy to navigate and use
Available in English, German, and Spanish
Free recordings to try
Cons:
Needs more sex tech interactive recordings
Site challenging to use on anything but a smartphone or tablet
Not many free titles
Few sexual self-help guides are available
2. Vibease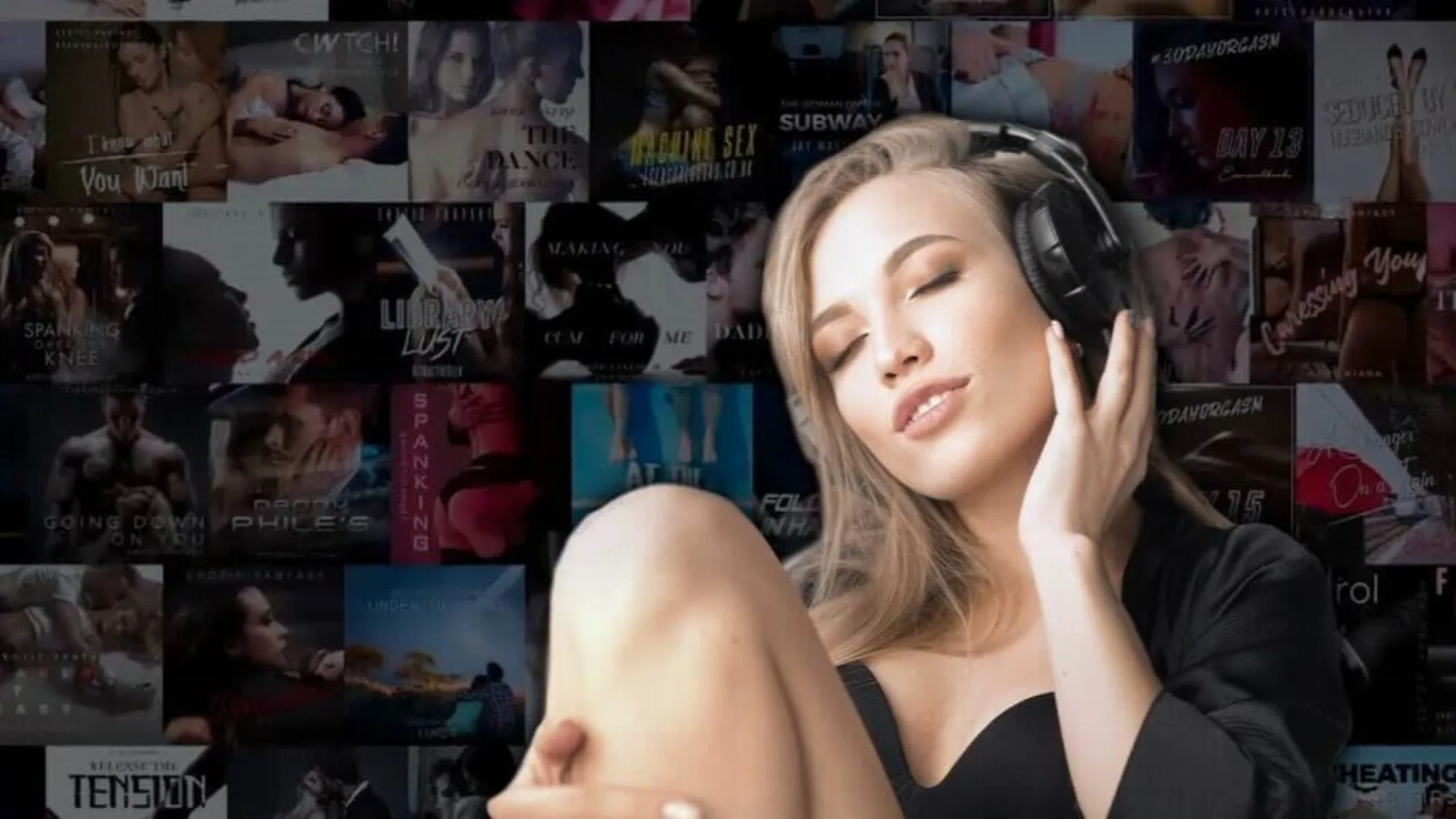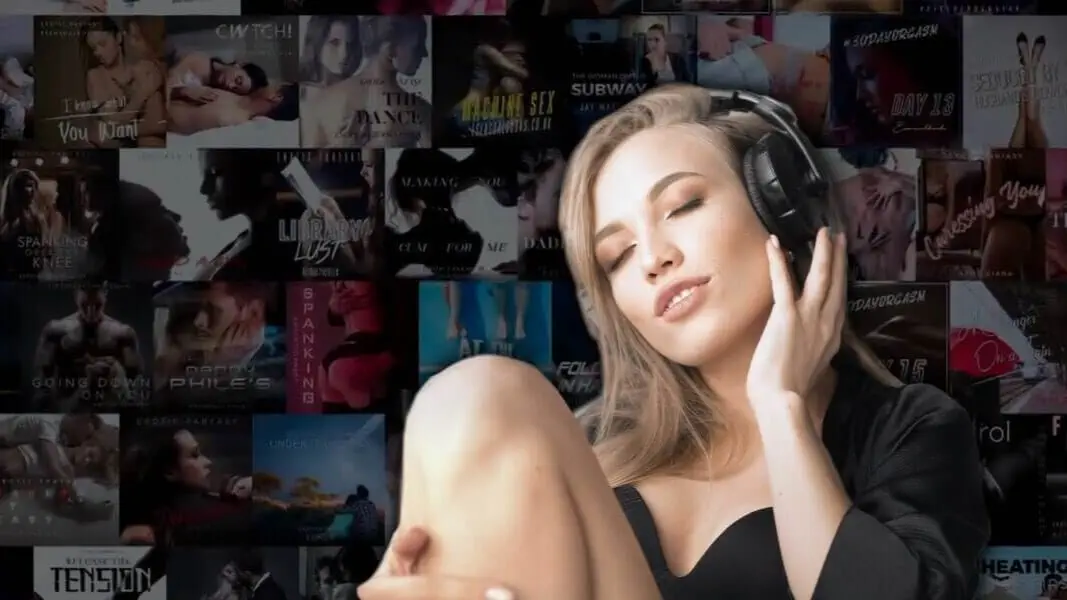 Taking a different approach to merging audio erotica with smart sextoys, Vibease doesn't either record steamy books and stories or make intelligent vibrators but instead does both.
So if you buy any of their three sex toys, you have the option to use them in conjunction with listening to any of their specially-created erotic recordings.
It's a unique way of doing so, particularly when other pleasure device manufacturers are making more and a larger variety of products and companies like Bloom that offer similarly expansive and diverse erotic audiobooks.
That said, Vibease has a lot going for it.
Like because they are involved in making their vibrators and recording their erotica, the two used together are a pretty much seamless and pleasurable experience.
Right now, Vibease has three sex toys that work with their audio erotica. The first is their titular miniature yet powerful vibrator.
Housed in a body-safe silicone, ergonomically-designed shape, the Vibease has more than enough sexual horsepower to satisfy anyone who uses it.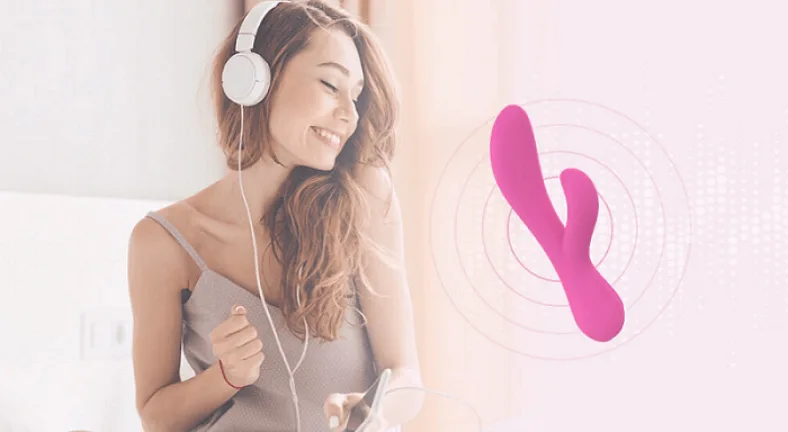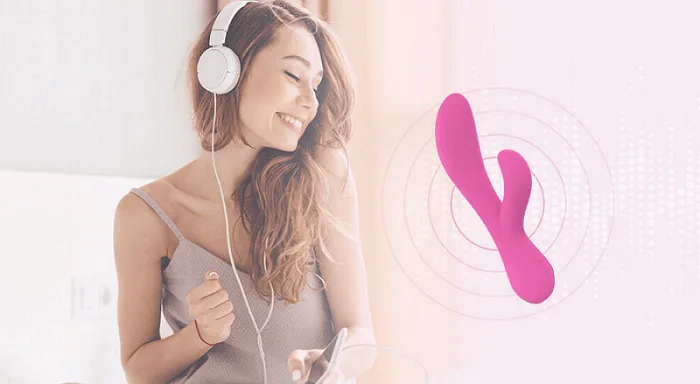 Their own take on the classic rabbit vibrator, the Esthesia's dual stimulation, is equally good at stimulating the user's clit and vagina, or each of them separately.
For surreptitious fun or just for people who want a discreet and potent micro-vibrator, their Smart Lipstick sex toy is that and more.
Such as, despite its four-inch length, it is more than capable of delivering some seriously potent vibes.
And all of these products can accompany their sexually stimulating actions along with any of the titles in Vibease's Erotic Library.
Such as the ones that are less arousing stories and more guided experiences.
The latter can be quite exciting, what with the narrator talking about what they are doing—or what they want their listener to do to themselves.
Though Vibease makes smart sex toys and produces audio erotica, having both is unnecessary to have a great time.
So if you just want to delve into the pleasures of their audio titles, you can sign up for their annual or monthly plan, which gives you access to their entire library.
Or, if you prefer, you can buy and have fun using any of their three vibrators without the option to hear Vibease's collection of audio erotica titles.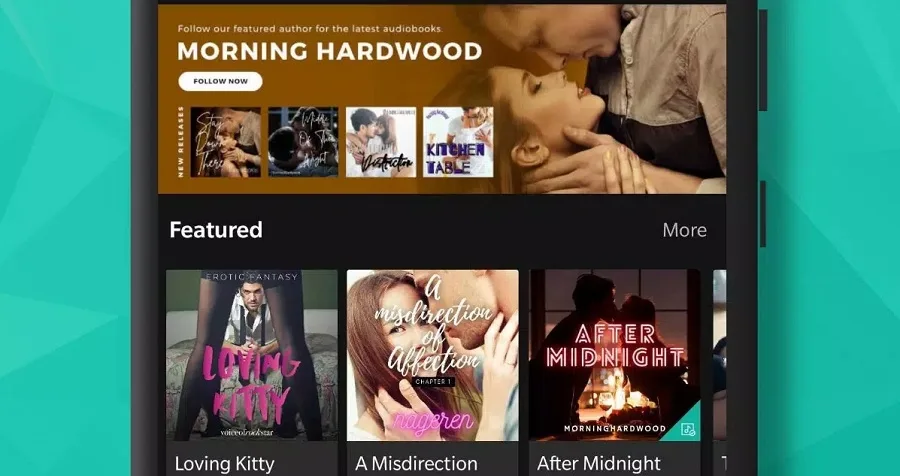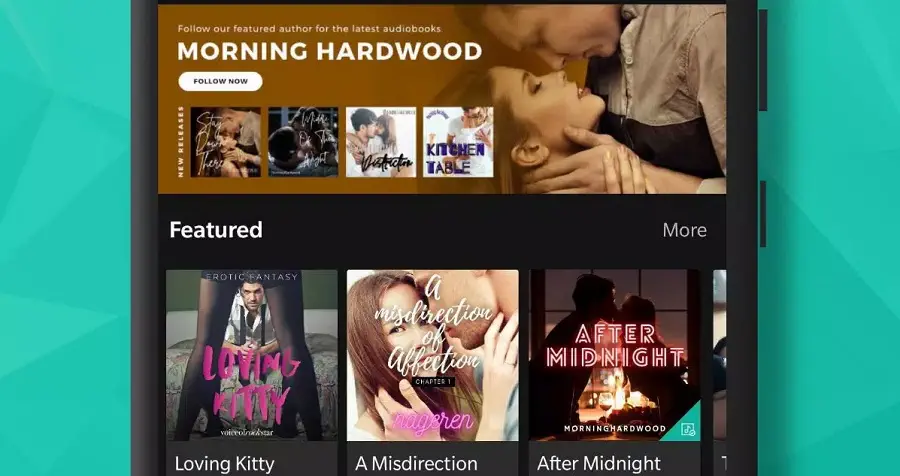 Something which sets Vibease aside from other erotic audiobook companies is its smartphone app.
Available for both Android and Apple smartphones, it makes using any of their recordings, with or without their line of vibrators, a far simpler experience than having to use a device's browser.
Another unique feature of Vibease versus sites like it is its unusual approach to social engagement.
We are referring to how it makes a point of telling you which of its members is doing this or that thing, like how the main site informs you when someone purchases their products or if someone has listened to any of their erotic audiobooks.
This may not be a big deal if you are comfortable with sharing your buying or listening habits, but for those who may not find being that exposed, especially when it is about something as emotionally charged as sexual products and explicit recordings, all that appealing.
In all fairness, you can opt out of Vibease's openness or create a username that is in no way, shape or form similar to your real identity.
But while you definitely keep yourself out of the public eye, sometimes, just seeing other people's names parading in front of your eyes can be more than a bit unsettling.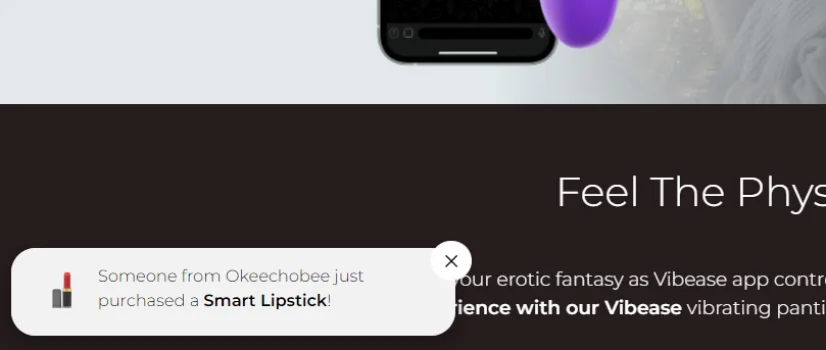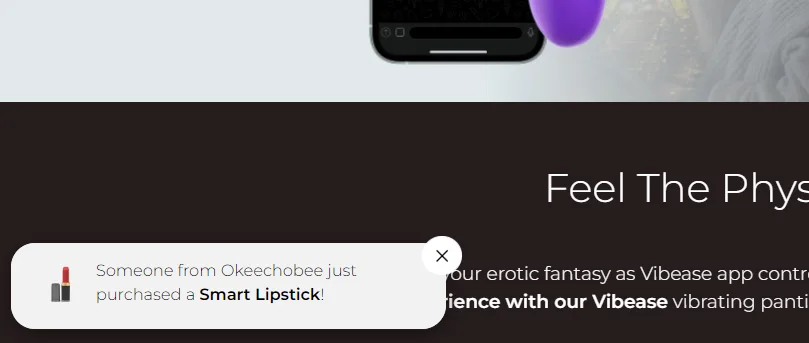 Pros:
Audio erotica specially made for Vibease's vibrators
Good variety of audio subjects and styles
Vibrators are well-made and arousing to use
Option to listen to erotica titles without sex toy interactivity
Has their own Android or Apple smartphone app
Cons:
Often feels like Vibease is trying to make two things when it should be focusing on just one
Sex toys are good, but not as when compared to other smart sex toy manufacturers
Audio erotica lacks gender and sexual diversity
The site seems to be overly open about its user's activities
How to pick the perfect erotic audiobooks that support sex toys
Choosing the right sexy audio site, specifically ones with smart sex toys mostly depends on which of each you are the most interested in.
For those looking for a steamy listening experience to go along with their Vibease toy, obviously going with their own erotica library is the better option.
Just as Lovense owners will likely want to sign up with Bloom.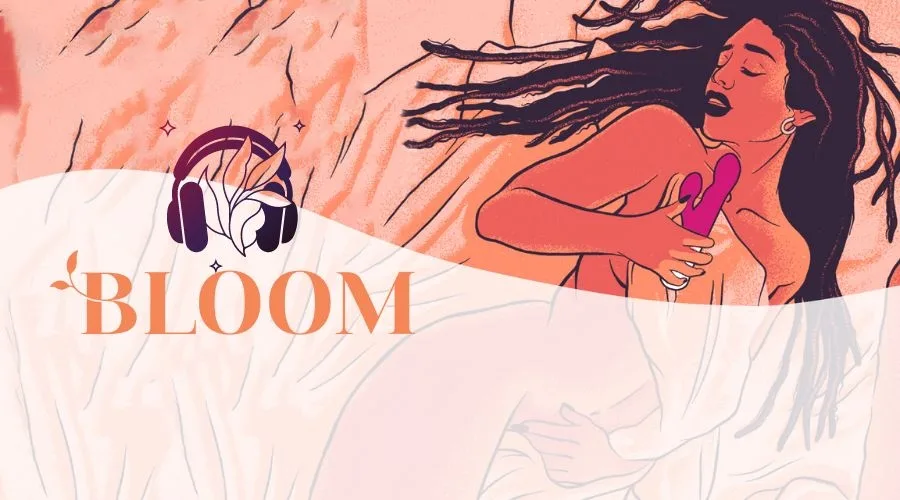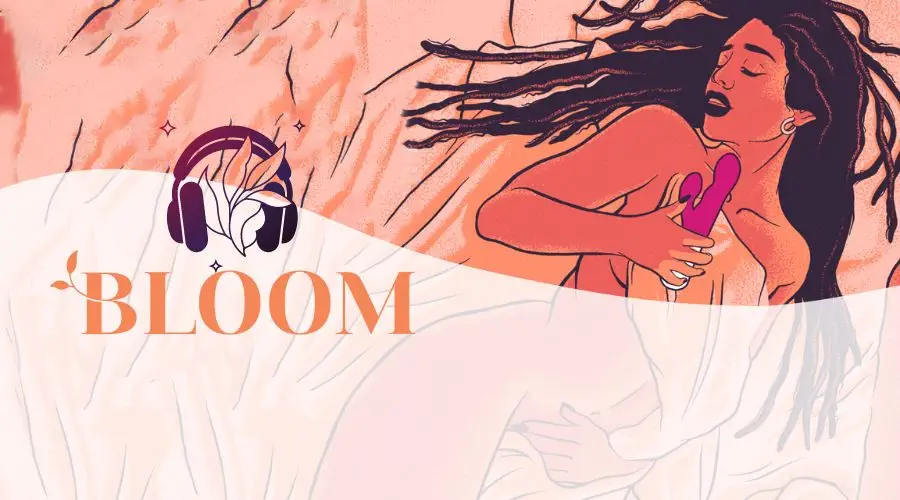 But there are other things to consider.
One of which is that Vibease has a smartphone app, making it extremely easy to use, versus how Bloom is exclusively web-based, meaning you do not only need to navigate a smartphone or tablet's browser but Bloom's often confusing site as well.
Then there's the question of what turns you on.
So rather than looking for a site that works well with smart sex toys, you might instead be on the lookout for ones that provide a greater number of erotic audiobooks or ones that have a far greater range of sexual activities.
In this regard, Bloom comes out on top.
From its gender and sexual diversity to how it categorizes its titles into BDSM, LGBTQ+, and so forth means what you are into is not just easy to find, but there is enough of it to listen to and enjoy.
We also are fond of Bloom having both fiction and non-fiction.
However, the site could do with more guides, specifically educational ones on subjects such as how to prolong orgasms, BDSM safety, boosting listeners' self-esteem, sexual safety, and stuff like that.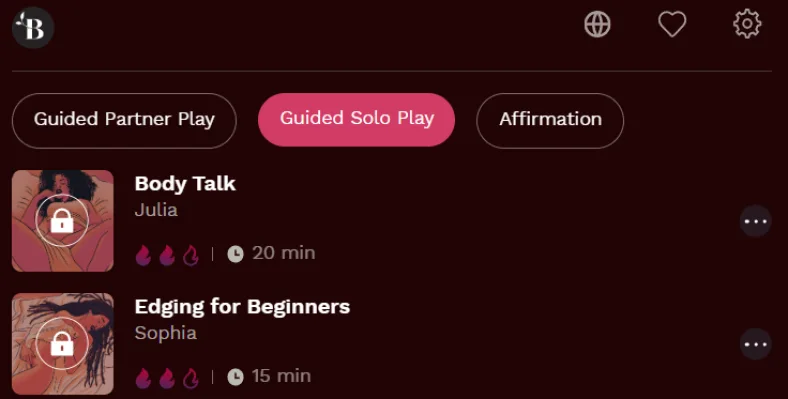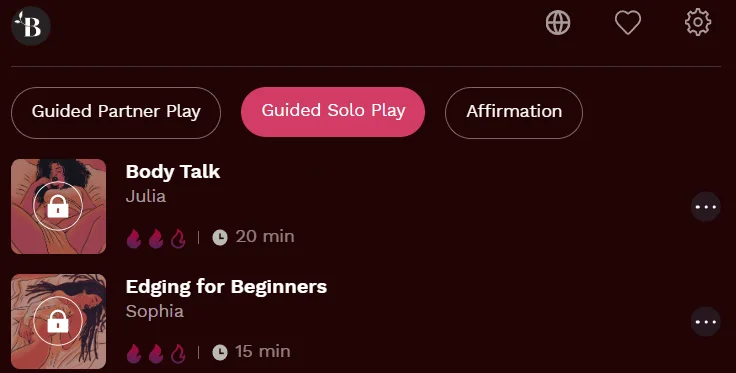 Then there's the issue of quality.
And we are talking not just about how well produced a site's audio erotica is but also the care that went into developing and manufacturing the sex toys capable of interacting with them.
For this, Bloom definitely takes the lead.
Because when it comes to making the highest quality Bluetooth-enabled smart vibrators, few companies come close to Lovense's dedication to creating the most effective, pleasurable sex toys in the world.
Plus, they make a lot of them.
Suppose you are penis-equipped and want to immerse yourself in interactive, steamy audio erotica. In that case, Lovense's Max 2 and Bloom are a fantastic combination.
The same if you are a vagina-owner, as their Nora is a more-than-great for listening and feeling Bloom's arousing titles.
But things to consider about what makes a perfect sex toy-supporting audio erotica site—and the various elements that sometimes can be their not-so-good points.
Of these, how easy or not a Bluetooth-enabled sex toy is to initially connect to your preferred smartphone and, from there, to the audio erotica site.
Here, too, Lovense gets bonus points.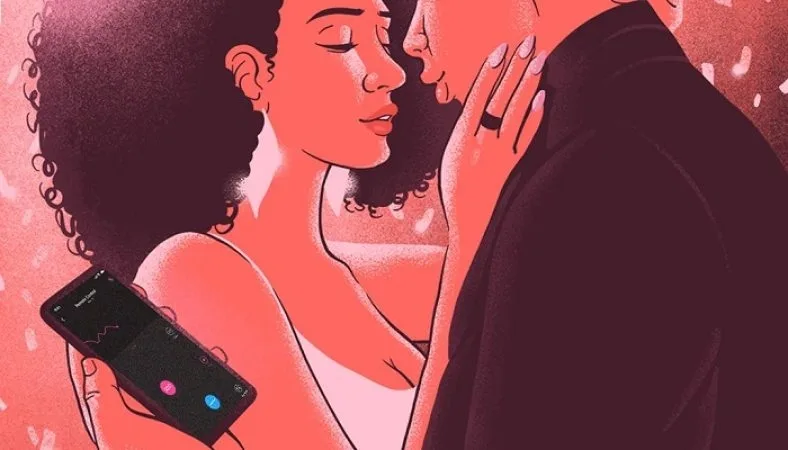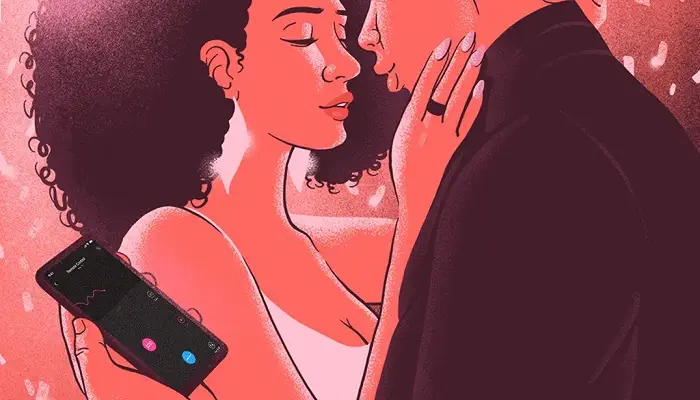 Sure, Bloom not having a dedicated smartphone app is a pretty big strike against it, but just as Lovense has given us a whole range of expertly made sexual products, we feel their Lovense Remote app is the gold medal standard for smart sextoy integration.
How good is it? Well, as we are fond of saying, it is one of those rare combinations of superb visual design coupled with flawless programming.
So much so, linking a Lovense toy to it is so fast, so effortless you will wonder why other companies are frequently slower and more problematic.
Though there is a lot to think about before picking one sex toy-integrated erotic audiobook site over another, sometimes it all comes down to the basics.
Like your sexual preferences, which can play a major role in which you prefer, the pleasure devices you already own, or how headache-free you want your listening and arousing times with a site to be.
The verdict
After all that back-and-forth between Bloom and Vibease, and with that comparison equally weighing Lovense versus Vibease, you would have every good reason to feel our final say would have been challenging to determine.
And you would be right to think so; as our previous segment discussed, there is much to unpack here.
But though we may have taken longer than usual to sift the superior audio erotica and smart sextoy site from the chaff, we have to give Bloom, and with them Lovense, our highest recommendation.
This is based on a lot of different considerations.
Like how Bloom stands up regarding the quality and quantity of their erotica audiobooks, how well it works with its recommended smart sex toys, if it measures up against sites like Vibease when talking cost against what it offers, and a whole lot more.
For the first, Bloom has a very impressive number of titles—made all the better by how regularly they add new ones to their catalog.
Saying this, we must bring up that Vibease appears to have more interactive audiobooks.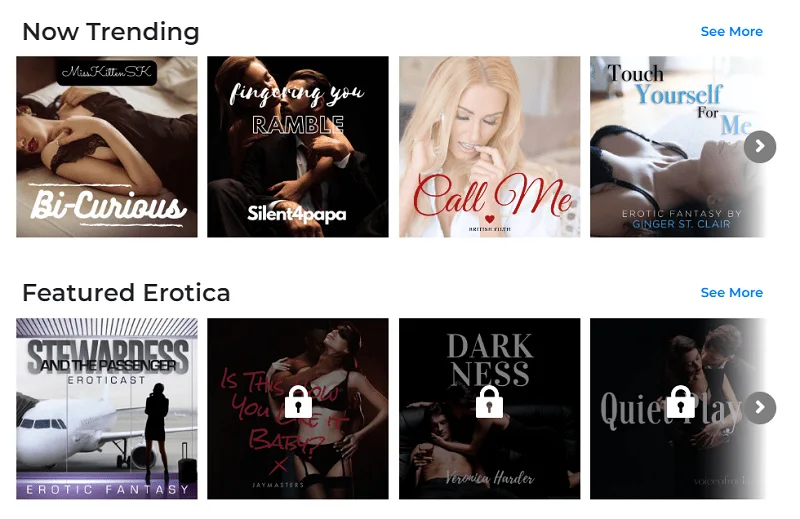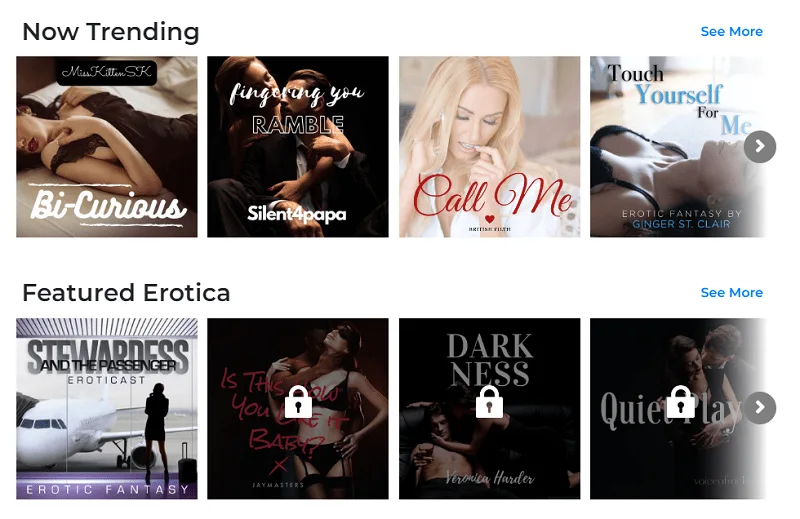 But we still feel Bloom ranks higher as though it may not be as many, its titles can work with far more, and a wider range of different sexually arousing possibilities, sex toys.
Like how Vibease seems to have only about four Bluetooth-enabled products, while Lovense has at least a dozen or more.
Secondly, as we continually and loudly exalt about Lovense beating all other smart sex toy manufacturers when it comes to how beautifully their Lovense Remote app meshes with each and every one of their vibrators, massagers, or strokes, you will probably never have any problem getting an interactive Bloom erotic audiobook to work with it.
Price-wise, these companies are pretty much equal in how much they cost, with Bloom's monthly plan being less than what Vibease asks for.
Conversely, Vibease's annual rate comes in at slightly under Bloom's.
We also weighed things such as each's overall audiobook quality. Here, too, they are close to being neck and neck.
But giving Bloom a clear advantage is its progressing and inclusive approach to producing its erotic audiobooks.
At the risk of repeating ourselves, we admire how Bloom apparently goes out of their way to provide its users with various sexual activities and gender expressions.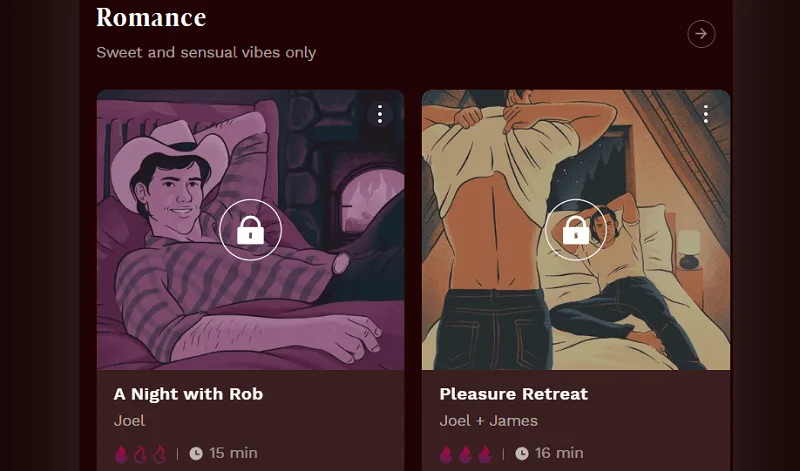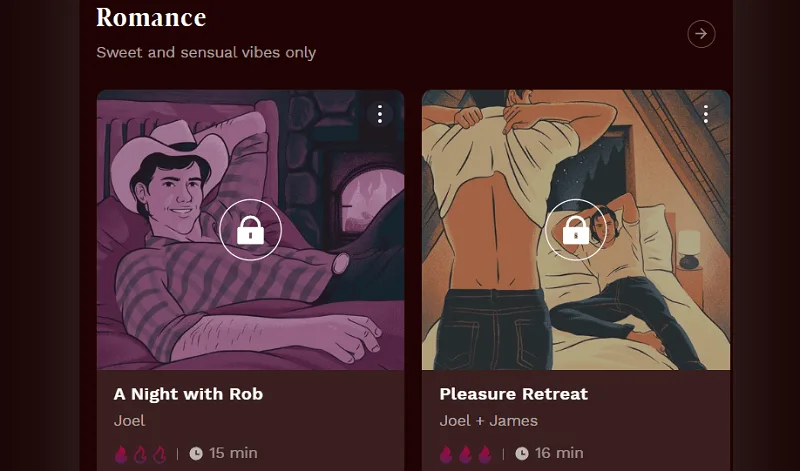 Same with respect they show for ones such as BDSM, which, when its erotica fails to reflect how risky it can be, could lead to uninformed people potentially injuring themselves or their partners.
Not that we have forgotten the issue of usability. Not regarding sex toy and site integration, which Bloom takes the ribbon for, but how either site looks.
Here we took a point or two away from Bloom for not having a dedicated app and having a site that looks more than a little odd on anything but a smartphone.
All in all, when all is said and done, our decision was more than anything based on Bloom's special partnership with Lovense.
This guarantees you and your Max 2, Nora, or all of Lovense's other fine products will have an effortless and, thus, extremely pleasurable experience listening to all of Bloom's interactive erotic audiobooks.
So have fun listening and feeling all the sexy stuff Bloom has to offer, and as you do, think about what other wildly arousing new technological combinations may be right around the corner.