I was always wondering what a 'blended orgasm' is until I found out not only what it is, but also the best dual vibrators I could use to get all stimulated in my g-spot and clit.
These are the ideal erogenous zones that work together to make me have that one powerful orgasm.
When we are having intercourse and trying to reach an orgasm, it is not rocket science that clit stimulation should be used.
In fact, it is highly recommended that this be a part of the 'warming up' phase or foreplay.
Most of us need clit stimulation to reach that climax. But, I also discovered that the inclusion of the g-spot makes it even better.
My g-spot has been fundamental to personal arousal and once I found that out, I put it on repeat, showing my partner where to find it and how to combine it with clit stimulation.
Of course, I had to find the right vibrators for this blended orgasm.
Now, I am going to recommend them to you, so, like me, you can enjoy better orgasms at full force, so much that it can make you squirt.
Let's look at the pros and cons of all 7 vibrators below.
Lovense Dolce, the Smart Vibrator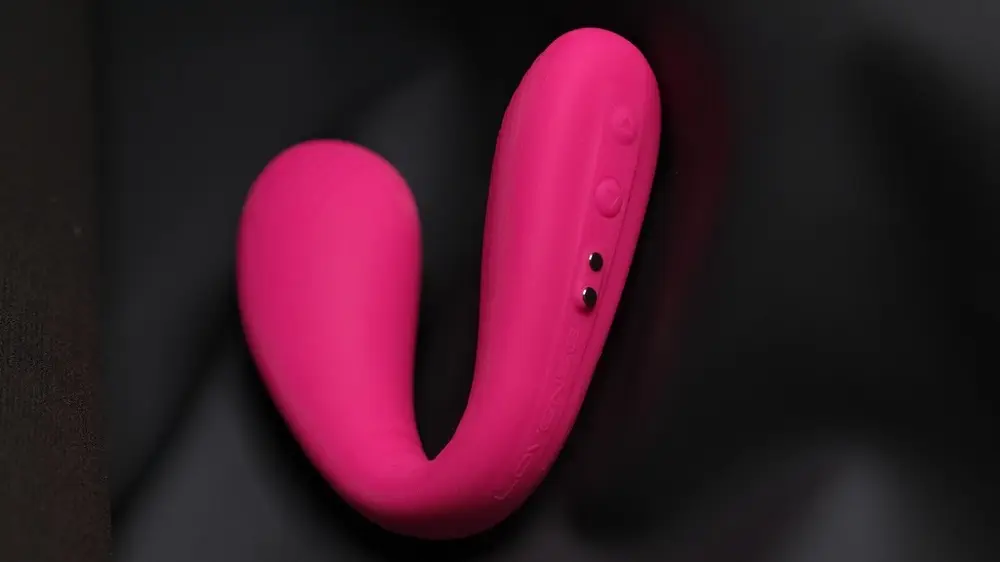 Formerly known as "Quake," I would certainly call Lovense Dolce the 'smart one' with its high level of pleasure and flexibility.
The Lovense Dolce acts as if it knows where the pleasure points are and finds its way there, doing what it is supposed to do to make intimacy deep and satisfying.
To me, this is one of the best toys produced by Lovense. Let's examine it more.
The Examination
Let me not get ahead of things. Let's start with the shape and flexibility of Lovense Dolce. I also want to talk about how it works so you can understand it better.
If you were to buy one of these, then you don't have to second guess. This toy was definitely designed for clit and g-spot pleasure.
In fact, it can be used anywhere on the vagina for pleasure. The Lovense Dolce has a bulb-like shape like a horseshow with a narrow midsection.
It is similar to the Lush 3, another of Lovense's products. I insert the larger part of this toy into my vagina, turn it on, and then feel my g-spot being stimulated.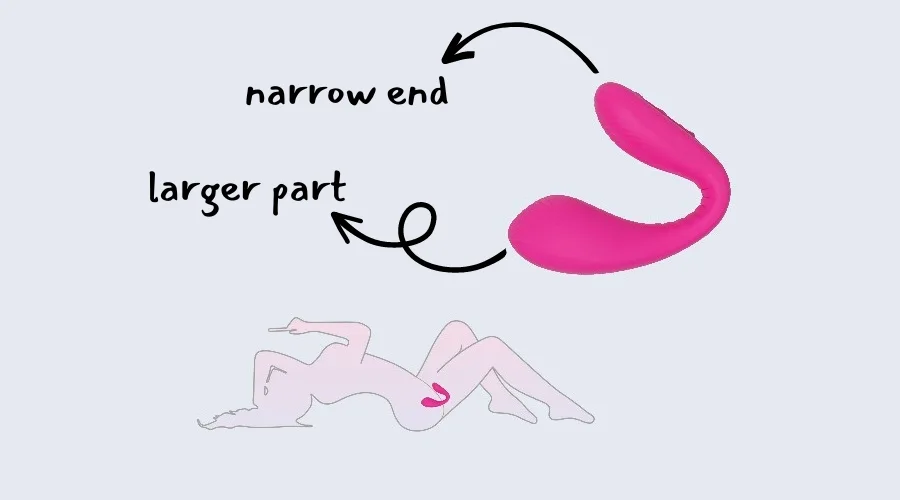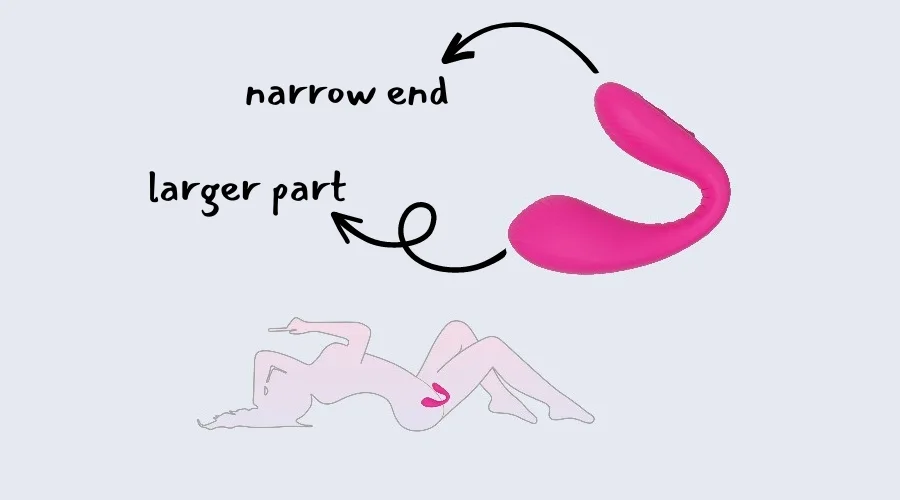 The narrow end is where I control everything and I use that part to also stimulate the clit when I am looking to reduce the intensity.
I like how it can be twisted in different positions, making it easy to get to hard-to-reach places and I love that it cannot break, no matter what my partner and I put it through.
It just keeps satisfying us, over and over again and in the right places.
One Size Fits All
Lovense Dolce is one of those innovative toys that can go where it needs to go and has no bearing on its size since it is one size for everyone.
Many of these same toys have to conform to fit, but not this one. Who wants a sex toy that is inflexible?
And, since none of us are identical, having a standard toy would be useless.
Lovense must have considered this and that is why this one is flexible and versatile for anyone, so that pleasure doesn't have to be lost in trying to make it fit.
In this case, Lovense has combined versatility with flexibility to make this wireless toy smarter than the average.
Lovense looks like they were in touch with the needs of people like me, making a toy that has dual functionality and is compatible with the internet, fitting any size.
The Expectations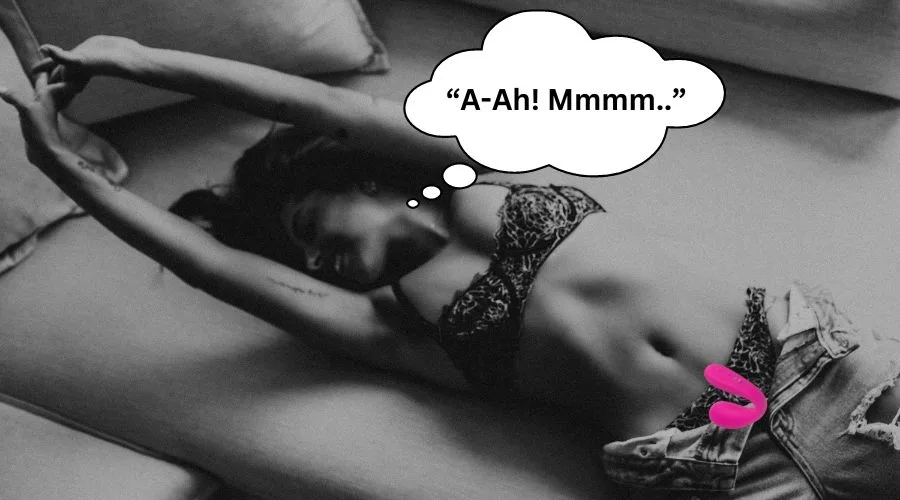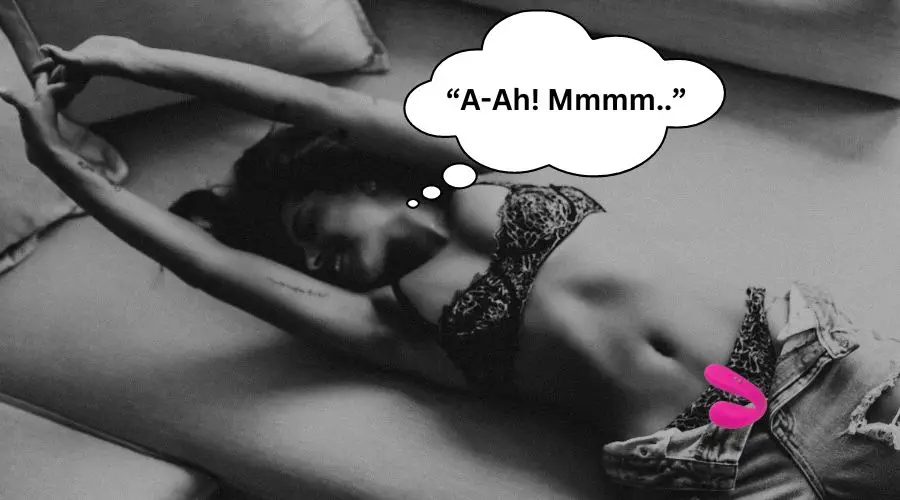 I didn't expect that the Lovense Dolce vibrator would be almost flawless. I was definitely surprised that the pros outweighed the cons.
It made me cum in less time than it usually took to say how satisfied I was feeling. Of course, my partner loved the idea of watching me moan with pleasure.
The first thing I hear before we start our sexual adventure is 'where is your orgasmic friend?'
The Pros
For one, you get a storage bag, charging cable, and user manual with this product.
It has a 1-year warranty.
It provides a plethora of people with a way to achieve pleasure and satisfaction during intercourse.
It is flexible enough to bend, no matter the sexual position, whether anal, vaginal or clitoral. It is so flexible, you can use it in threesomes and orgies.
It comes with an app, which allows you to start where you left off. The app updates automatically. The app helps to avoid always using the built-in buttons.
Long battery life.
Comfortable insertion from its rounded tips.
The Cons
Once inside the vagina, the angle is not easy to adjust.
The motor is not all that quiet. However, it gets quieter under water.
Lovense Nora, the Long Distance Solution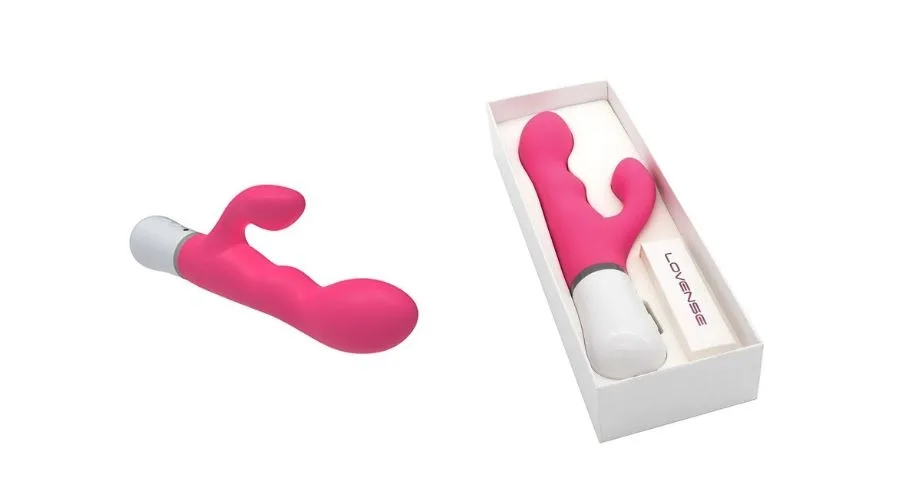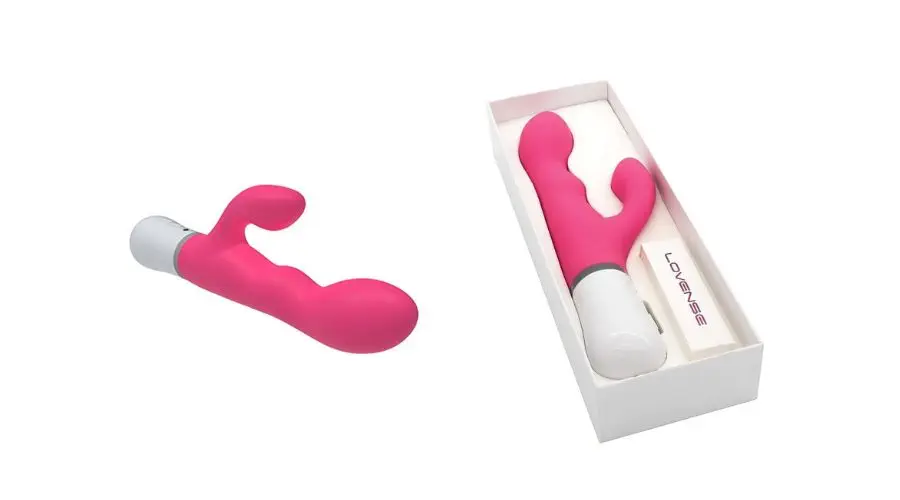 The Lovense Nora has many of the features that have contributed to my orgasms. It is controlled by an app.
This rabbit-style device is of high quality, made of silicone and safe to use on the body. It also comes with a plastic handle and rotating head that brushes up against my g-spot.
It also comes with an additional arm, which is smaller and made just for clit stimulation. It has buttons located on the handle, which any user can control.
It can also be controlled remotely by someone using the app. This is perfect for long-distance relationships.
I found out that it can be synced with the male version of the Max 2 Masturbator.
I found this captivating, since when I moved my Lovense Nora vibrator, my partner thousands of miles away from me could feel the reaction through his sex toy, allowing us to have an interactive experience.
No wonder I fell in love with the Lovense Nora.
The Design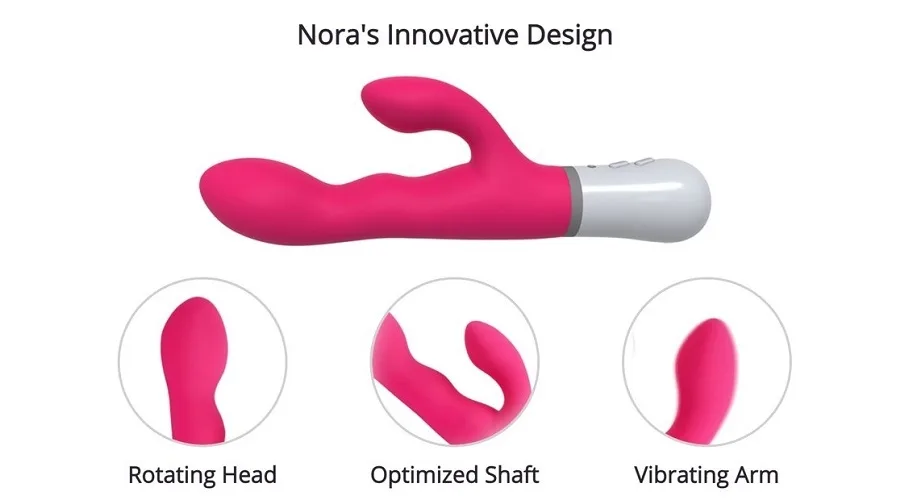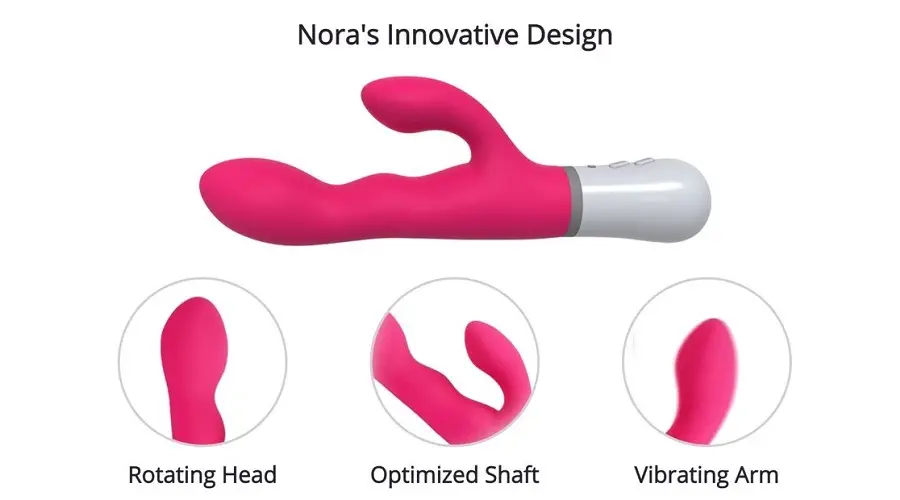 Lovense Nora is designed for dual interaction; clit and g-spot. However, there are additional features that make it really amazing, especially when it comes to inducing orgasms.
For example, the smaller arm shows a lot of flexibility because of its slight curve that positions right on the clit and around that whole area.
The other arm is longer and tips toward the g-spot while it spins. Once you give this a try, trust me, you won't choose another vibrator for masturbating.
The Pros
Lovense Nora is so easy to operate.
Made with a high-quality product.
Is app operated, and great for long-distance relationships.
It can last for 4 hours once fully charged.
Uses USB charger which comes in the package.
3 Settings on rotating head – low, medium and high.
Waterproof.
Bluetooth technology.
Can sync with music.
7 settings on vibrating arm – low, medium, high, wave, earthquake, pulse and fireworks.
The Cons
Lovense Nora takes two and a half hours to fully charge.
Shaft has little vibrating activity.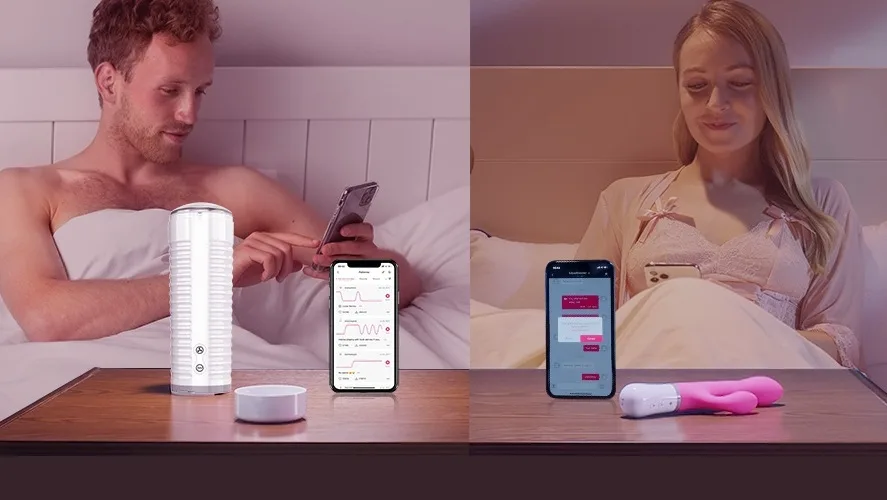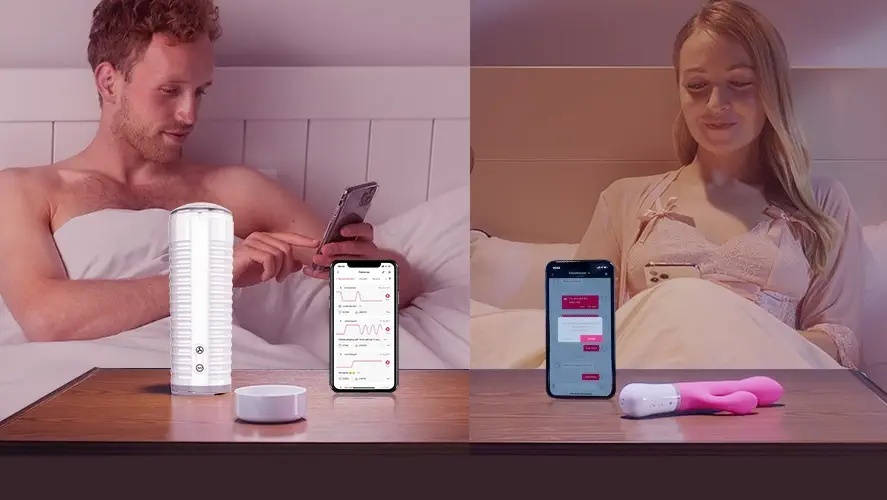 It is more ideal to use the app with a partner who will be able to remotely or physically control the vibe rather than going solo with it.
I tried it both with my partner and alone and I found it to be more enjoyable with my partner. Once he downloaded the app, I sent him an invite to where he was at.
We both got a kick out of sexting while in foreplay. My partner was also able to make an intimate request from me through the app.
Lucky for me, my partner had bought the Masturbator Max 2 and was able to connect with me on a different level after we synced the two vibrators.
Lovense Hyphy With Its Powerful Energy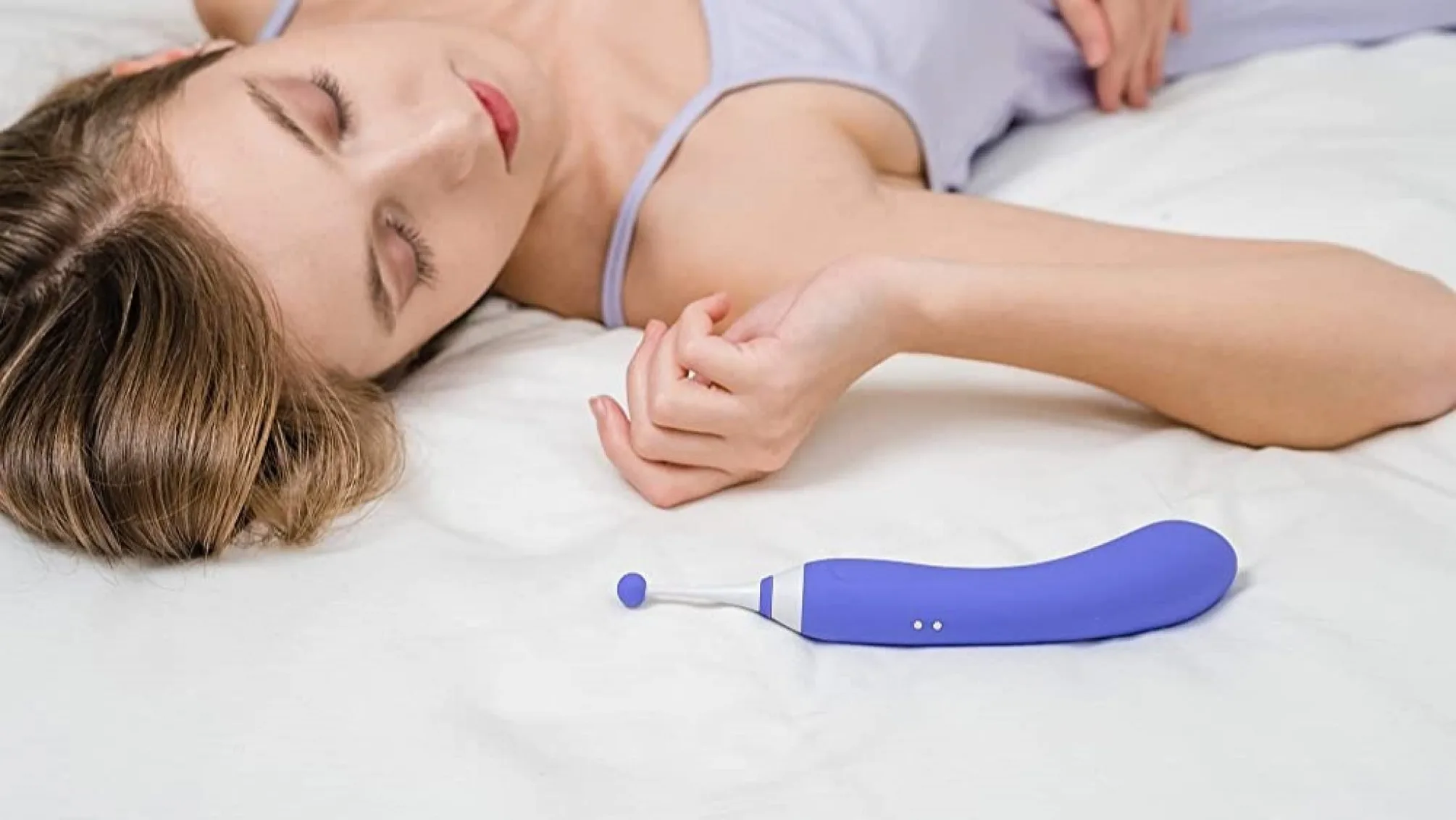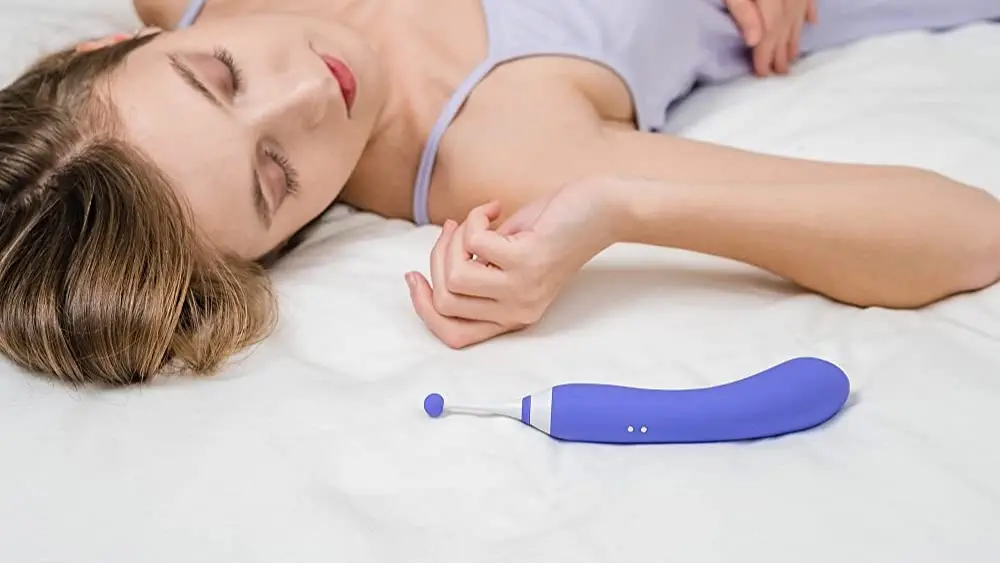 I was looking for a powerful vibrator that would have high speed to steam roll my clit into submission.
The Lovense Hyphy was the ideal choice for me and I am not overstating it. In addition, it has a side handle that is powerful for my g-spot. What a combination?
I love the strength that this device offers. It gives tight clit pressure with a lot of intensity for quicker orgasm.
Lovense Hiphy doesn't give you much to think about. It goes straight to the point, showing off its powerful vibration speed.
The Pros
Comes with 2 motors Very versatile.
Has extra power.
High frequency.
Strong tips.
It comes with a circular attachment that gives expansive stimulation.
Waterproof.
Rechargeable.
Powerful g-spot vibration.
Targeted bluetooth technology with app that helps to control the device remotely.
The Cons
It does not have a low vibration speed, but works for those looking for faster orgasms.
Both ends of the device cannot vibrate at the same time.
Not recommended for beginners who are not looking for powerful clit suction. It is all about preference for this device.
We-Vibe Chorus With Its Impressive Two Joints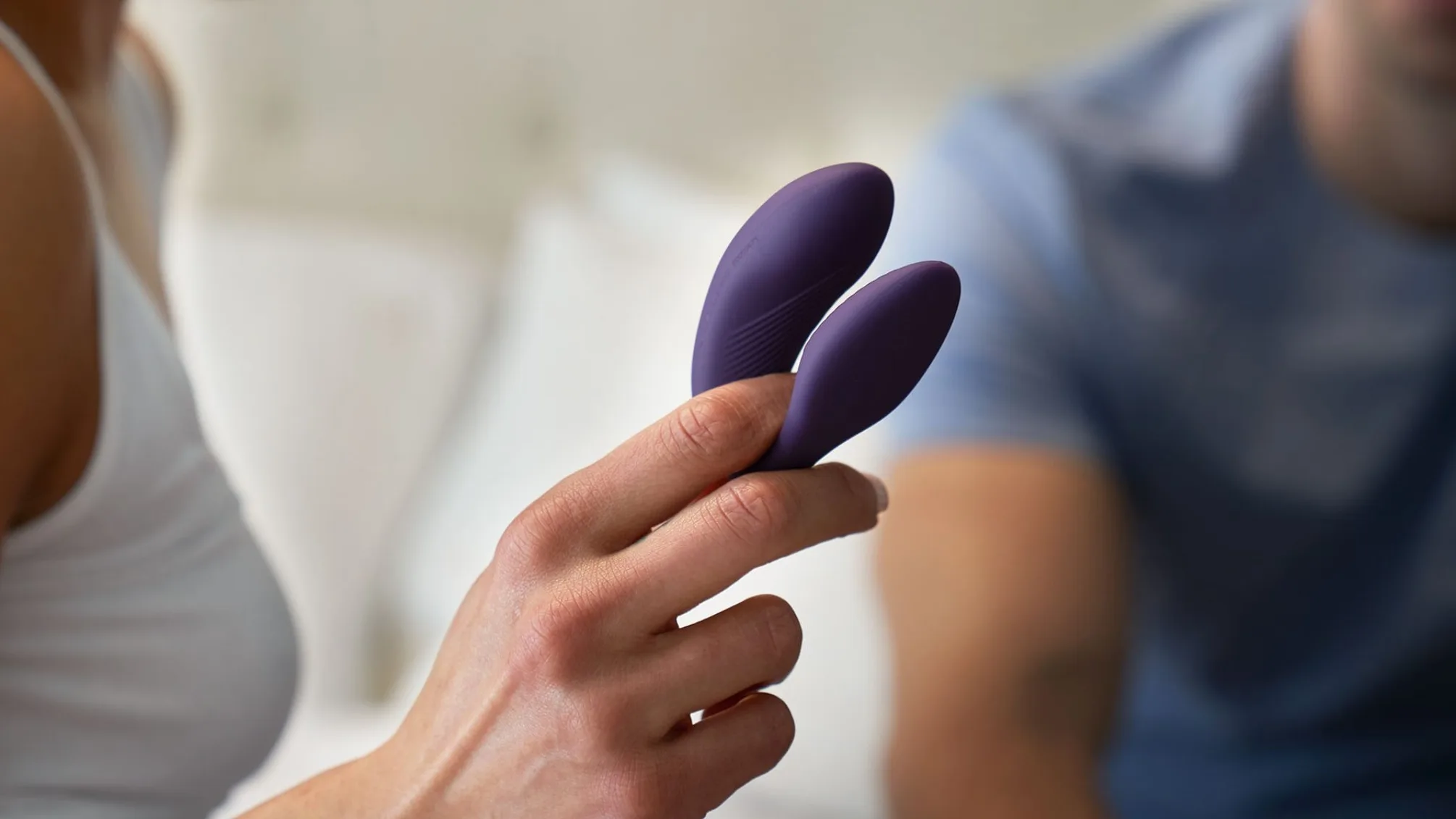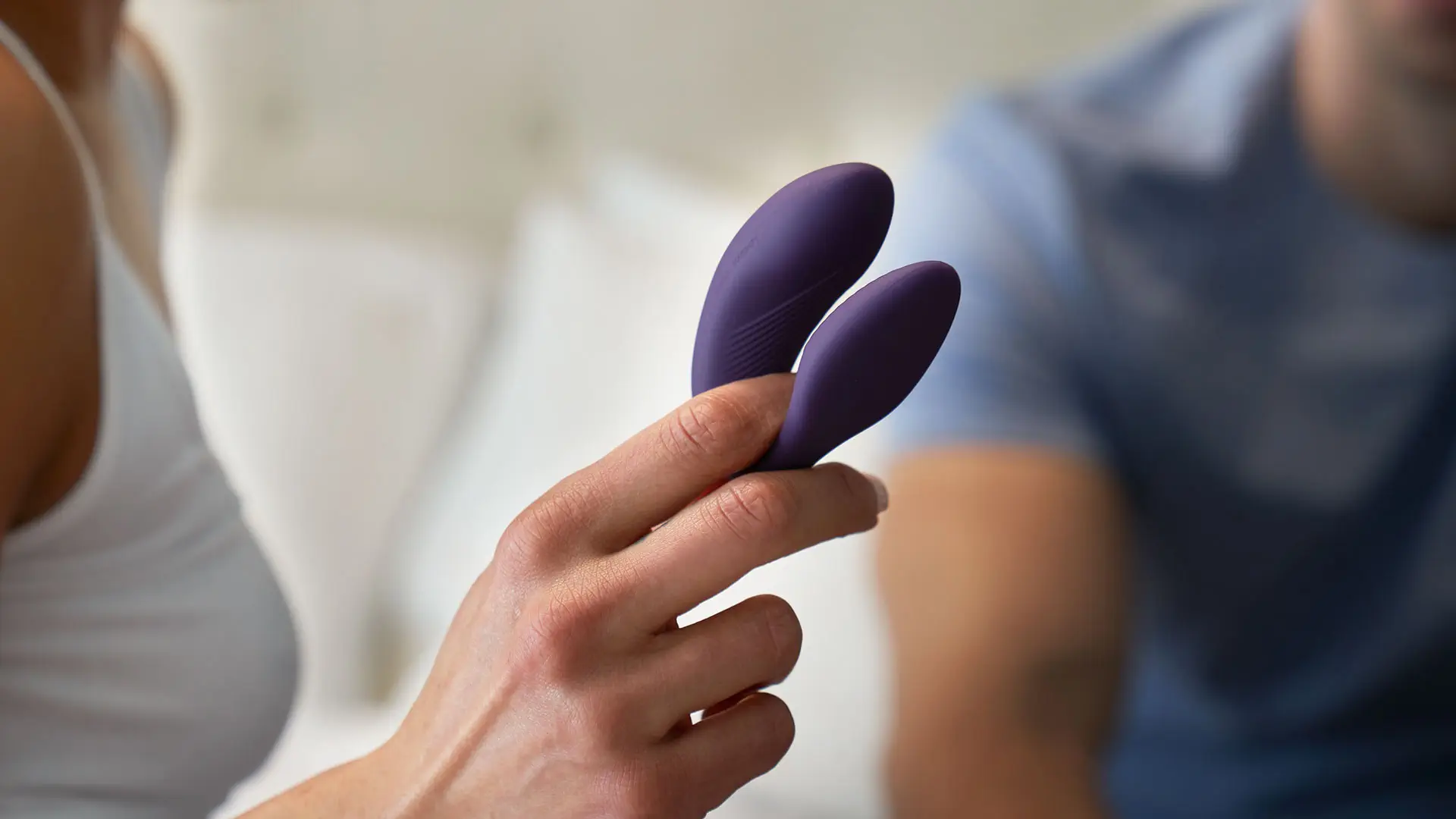 We-Vibe Chorus is quite impressive, if you ask me. I was able to customize it to meet my personal needs.
It has two joints. One joint is located in the upper neck and the other is in the lower neck. I was able to pull them apart to create wider and smaller angles.
When I discovered a good position, I was able to get them to remain in place. I think this is important since many people have bodies with varying angles.
The Design
We-Vibe Chorus is one of the newest sex toys for people in relationships. I loved We-Vibe Sync, but then the Chorus came out, it piqued my interest and I fell in love with it.
It comes in purple, blue and pink. I chose the powder blue because of its unique pastel tone.
It is designed with multiple features I had not seen with other vibrators. You can use it while doing PIV sex where a male and female are involved.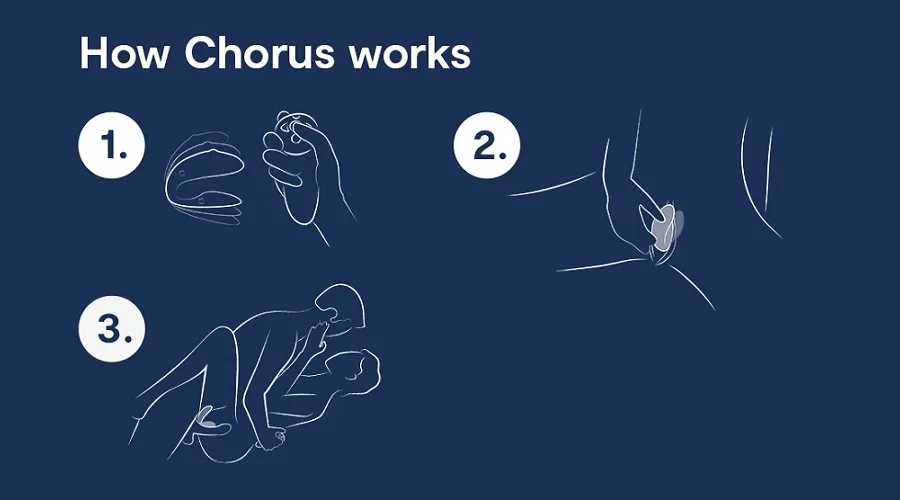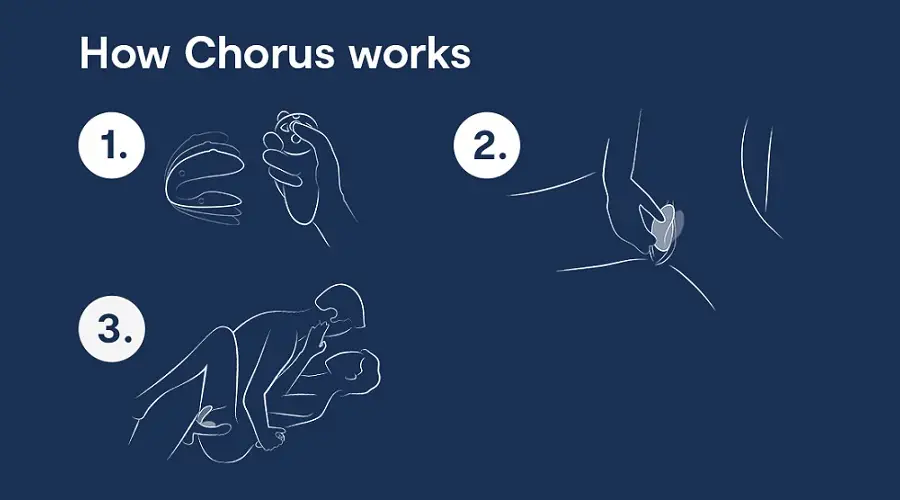 The Pros
Shorter, slimmer arm easily slips in the vagina while resting on the g-sport.
Larger arm rests on the clit.
The shorter and larger arms both vibrate to enhance satisfaction and pleasure for both partners.
The vibrations are steady and stronger than the We-Vibe Sync.
I always get an orgasm – it never fails. It does not make a lot of noise. My partner and I hear the quiet buzz, which is not at all distracting.
The Cons
Won't work for gay or lesbian sex unless they want to be creative.
There is an internal arm inside the vagina, making it quite snug, but enough for the penis to fit. But, not all body dimensions are the same. So, this could either be a pro for someone and a con for another.
The clit arm is stronger compared to the internal arm, but it still carries enough power.
Ohmibod Fuse – Paying Homage To Responsive Stimulation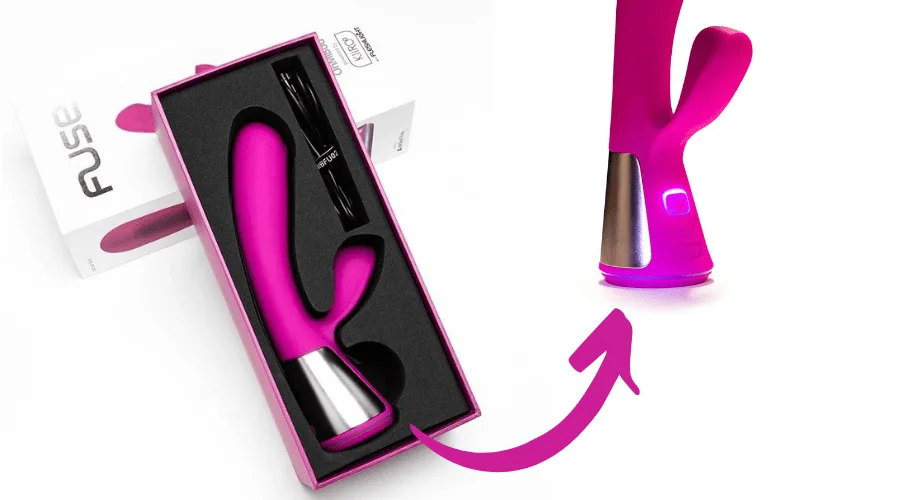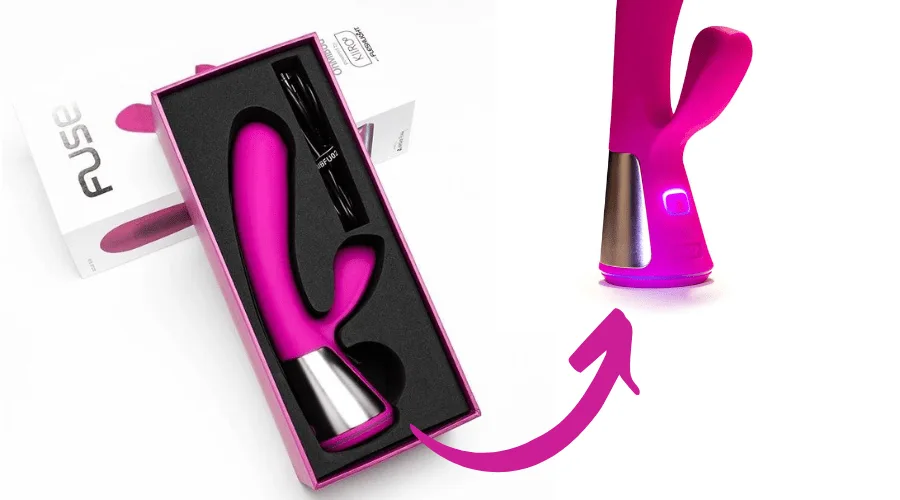 Ohmibod Fuse has a standard design for those looking for simplicity. It looks similar to any other rabbit vibrator on the market.
The one difference is its tapered cone at the base, which makes it easy to be placed upright and remain stable.
Ohmibod Fuse is designed using silicon- safe for the body. Its appearance is sleek and elegant.
In comparison to other silicone-made toys, this one is distinct as it relates to its resistance, whether you have lubricant or not.
The clitoral arm is approximately 2 inches in length. Because of that, I think Ohmibod Fuse is extremely pliable and mobile, easy to bend and quite responsive.
The Design
Ohmibod Fuse is 7.1 inches long and 1.3 inches wide.
It has a raised platform on the clitoral arm and g-spot arm, giving a flavorful and sensual experience.
The clitoral arm has a brush that pays homage to clit stimulation in a special way, all because of how it is designed.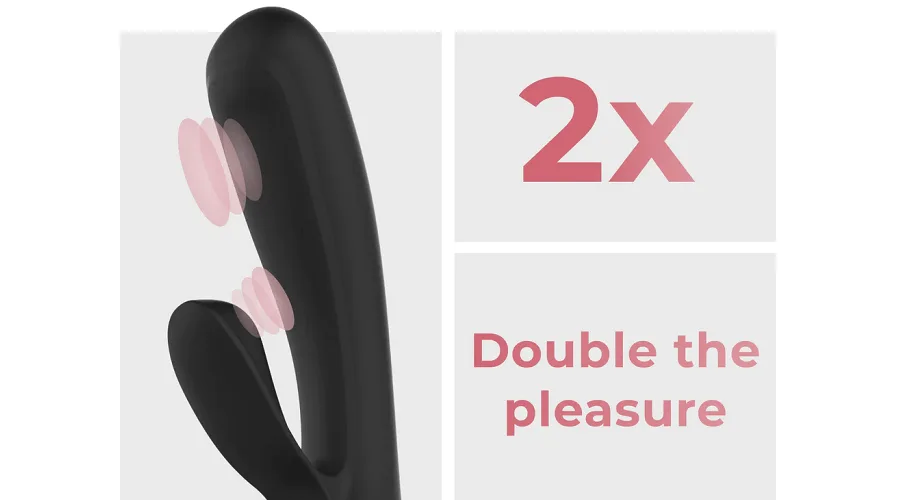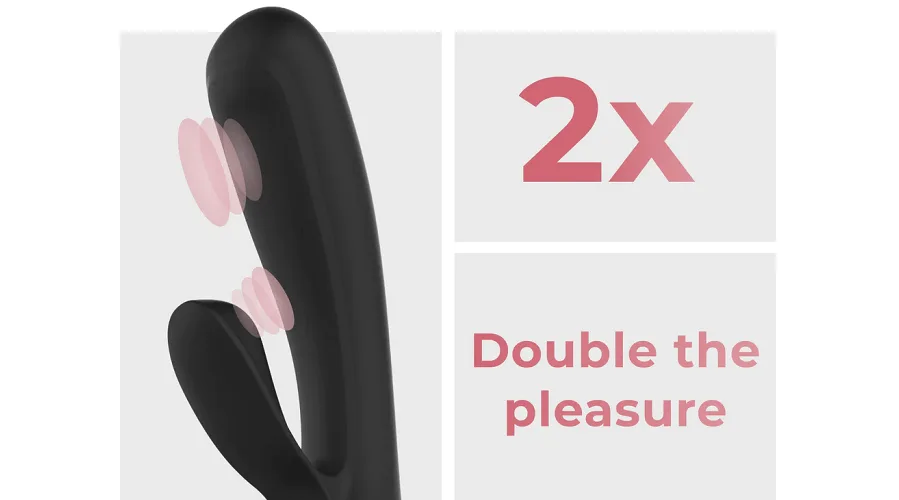 The Pros
Dual motorized stimulation.
Able to detect how deep it is inserted.
Able to alter the intensity.
The vibration gets stronger the deeper the insertion.
Easy to customize Bluetooth technology.
Comes with a manual to guide you on how to use it.
Can be controlled by remote app.
Easy to reset.
Manual mode comes with several vibration features; low, medium, and high being the main ones.
The Cons
Four other modes have varying undulation patterns and vibration patterns, which could get confusing. I did not read the manual and so that is what happened to me.
One hour of battery charge will only provide an hour's playtime.
We-Vibe Nova 2 – Providing Stimulating Enjoyment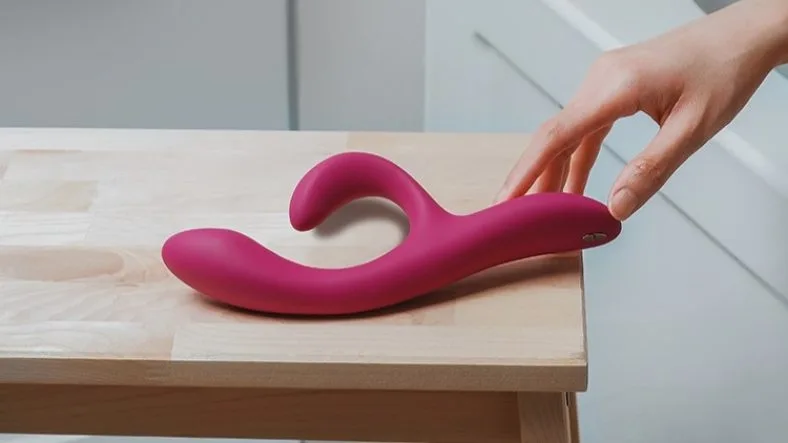 We-Vibe Nova 2 is a basic rabbit vibrator with dual stimulation for the clit and g-spot.
We-Vibe Nova 2 allows me to enjoy powerful orgasms at the same time from both pleasure points.
The clitoral arm is flexible and has a fixed shaft that taps against the clit while the primary shaft sits inside of the vagina.
It continues to vibrate against the clit while thrusting and even if you are not. We-Vibe Nova 2 is like a one-size fits all vibrators.
The Pros
Soft outer layer.
Dual density.
Cushioning, adjustable shaft.
Can be configured to any body type.
Flexible bending.
Two colors.
Easy to clean and seamless.
Has 5 buttons.
The Cons
Hard shafts, but soft tips.
Buttons are not as easy to click. Have to press down hard.
Buttons are also not easy to feel with the fingertips.
We-Vibe Sync – Giving Versatile Connection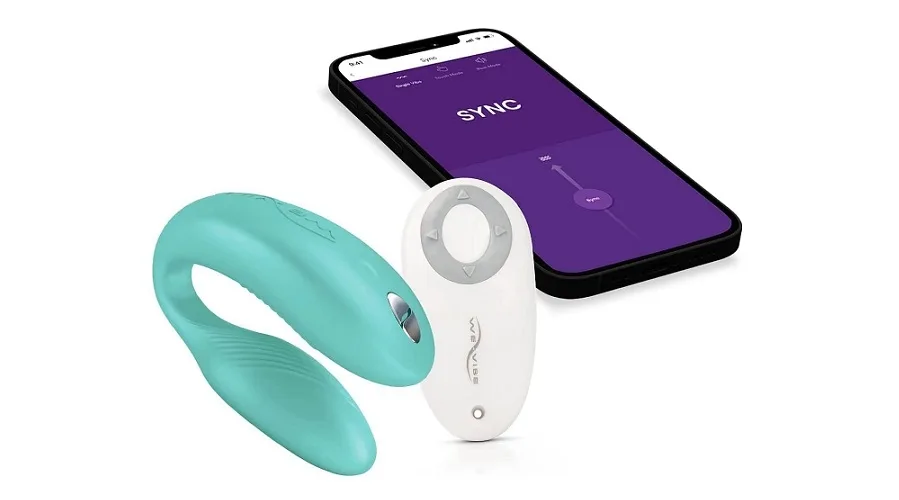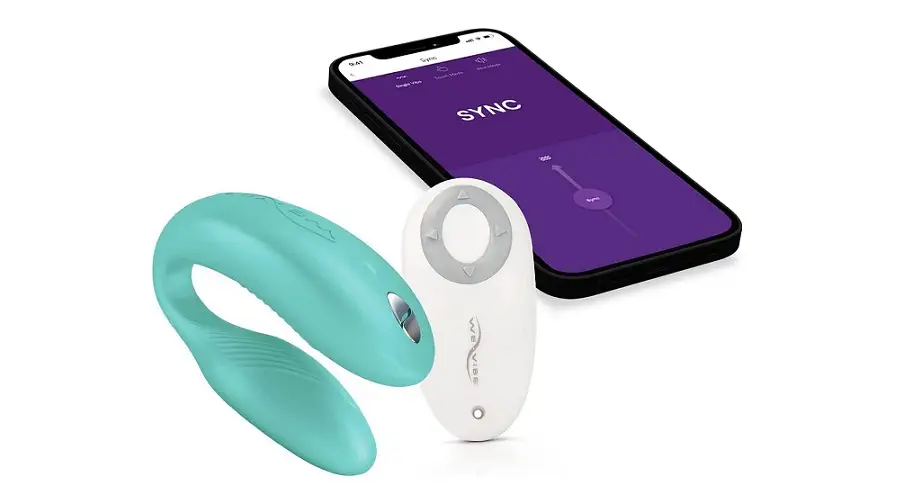 We-Vibe Sync helps partners to enjoy orgasm together. It has remote control and I was able to connect to my phone with an app I downloaded.
As soon as I unboxed the We-Vibe Sync vibrator, I put it to use to test it out, paying attention to how it felt and the battery life.
We-Vibe Sync is worth the investment because of its flexibility, versatility and advanced features.
The Pros
Reliable.
Can be used with a partner.
Great design.
Remote control by app.
Provides stimulation to clit and g-spot.
The Cons
It takes some to set up.
It arrives without being charged.
Need to use extra lubricant.
If no lubricant is used, it can be a little painful.
Frequently Asked Questions About Double Vibrators
How Does The Double Vibrator Perform Efficiently?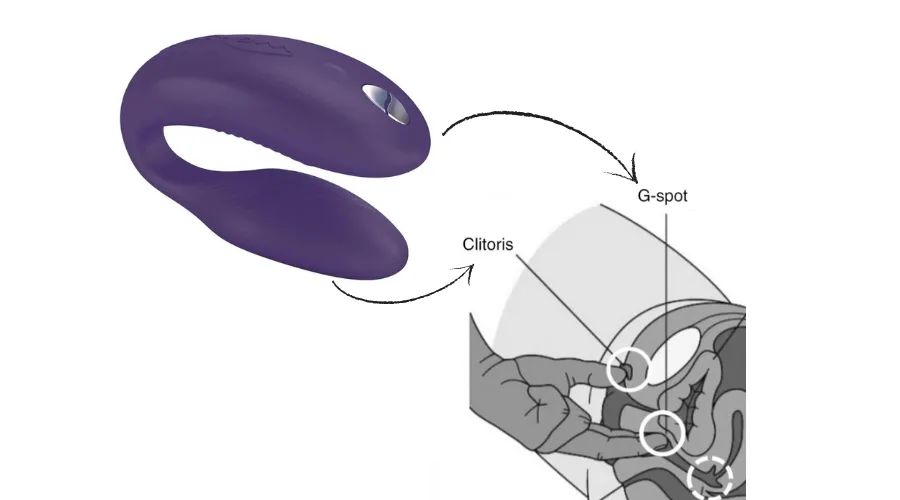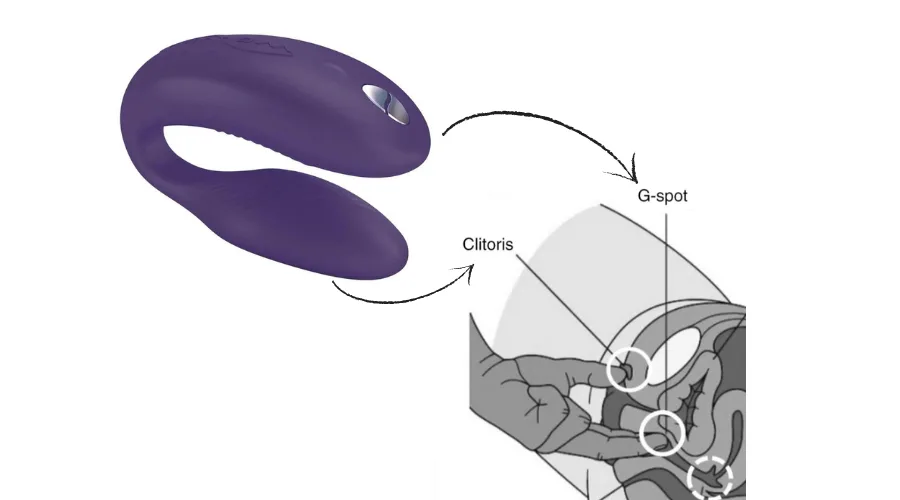 Vibrators all utilize motors that rotate electrically. This is what produces the stimulating vibrations.
It is designed to give satisfaction, operating at high frequency and creating a sensation when directed at the clitoris and g-spot.
It is quite intimate for both partners.
Most of the double vibrators are customized in different ways, some better than others, but they all achieve their own results, depending on someone's individual needs.
Are Double Vibrators Quiet?
Most double vibrators operate quietly and set the standard for being discreet, even when they perform at full power.
Yes, you will find some louder than others, but for the most part, they are quiet enough.
What Is It To Love About Double Vibrators?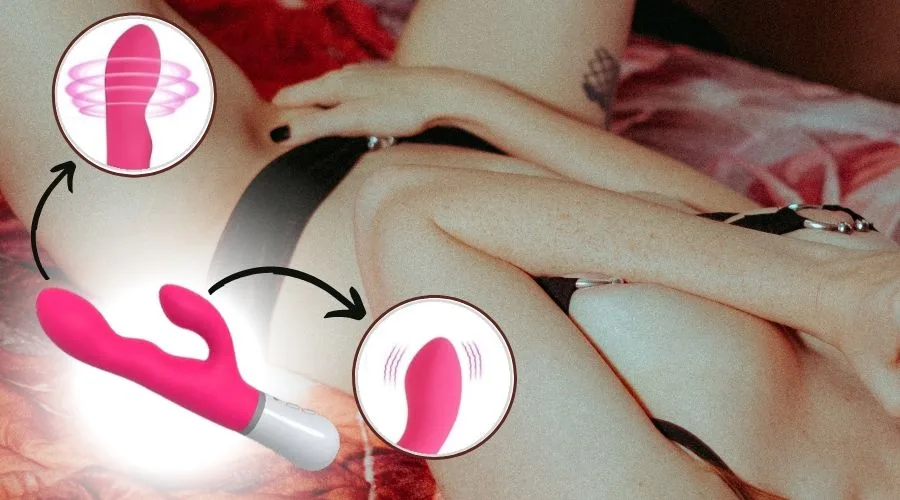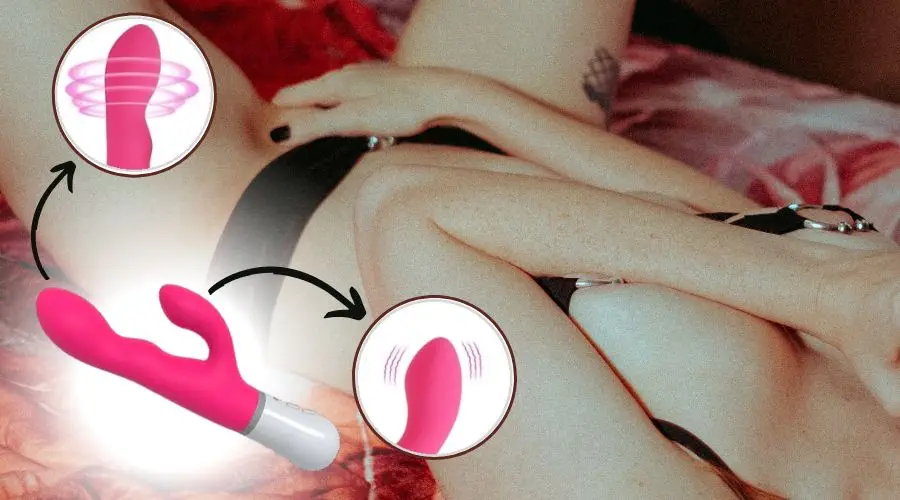 There are so many things to love about double vibrators.
I personally love that most of them come with a flap that emulates a tongue as its rubbing sensation ignites my emotions while it stimulates my clit.
It is like having my partner rub his hands up and down my vulva and under the hood of my clit. It is so sensational.
It also comes with another curved flap, great for the g-spot.
It is so subtle, but not easy to thrust or grip to move in and out of the vagina. However, my partner and I make it work for us.
Double vibrators also great for long-distance relationships and is versatile to handle.
How Long Will Double Vibrators Last?
Most double vibrators last as long as you take care of them. Most are designed specifically to last for many years.
They are made with high-quality and durable material, rechargeable batteries and good motors.
Do All Couples Get Enough Satisfaction From Double Vibrators?
Millions of partners enjoy double vibrators. It doesn't matter the age group or what walk of life they are from.
Double vibrators offer sensual and intimate satisfaction for couples who want a little extra enjoyment, whether on a daily basis or they are celebrating a special event such as a wedding, Valentine's Day, birthday or any other special occasion.
What Is The Idea of Having Two Arms On Double Vibrators?
The double vibrator was specifically made to provide maximum satisfaction to the highest level because of the two arms that target sensitive areas of the body, especially the clit and g-spot.
Most double vibrators come with several vibration patterns as well to lower or heighten the intensive levels.